Best Homemade Hummus Recipe
Sep 02, 2016, Updated Jun 01, 2023
The best homemade hummus recipe you can make or eat is here! Follow my simple recipe for how to make great homemade hummus using just a few ingredients and tips to get there.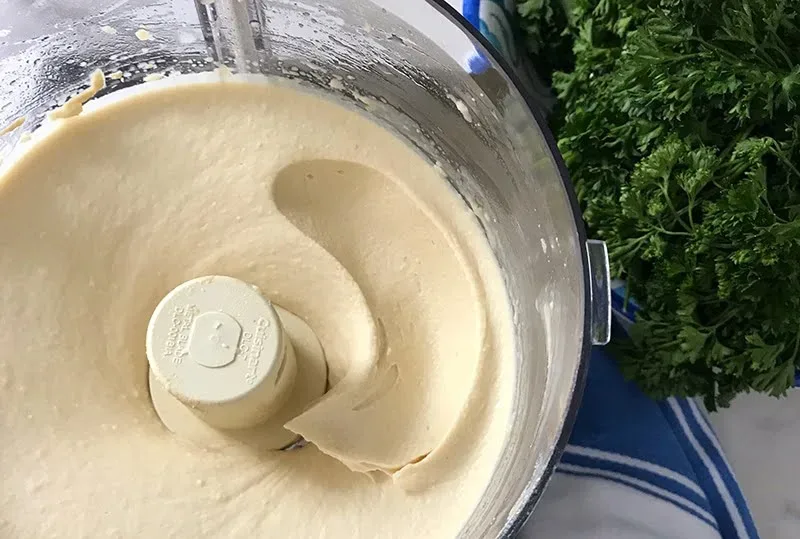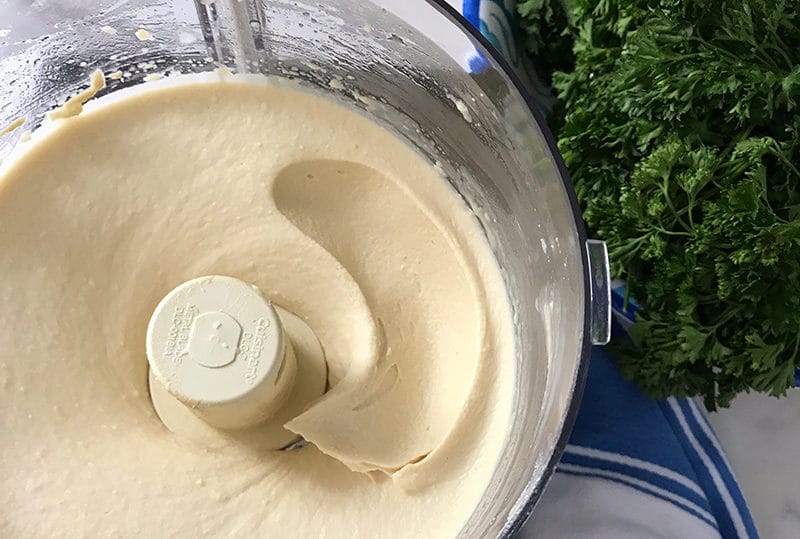 Level up your hummus game by making homemade hummus! This is the best homemade hummus recipe: easy, with just a few simple ingredients (think chickpeas, tahini, fresh lemon juice), and my pro tips (I've been making this recipe for a looong time to get to the best!) for a dip that is creamy, smooth, and mouthwatering.
Hummus is an essential Middle Eastern dish that is part of "mezze" or small plates for appetizers or noshing. Once you make, and more importantly TASTE!, homemade hummus using my easy hummus recipe, the store bought versions will become a thing of the past. Or at least a less frequent appearance!
How to make the best homemade hummus.
Keep in mind that authentic hummus always includes chickpeas. "Hummus" is the Arabic word for "chickpeas," so chickpeas are the most important ingredient. Below you will get all of the tips you need to make hummus with chickpeas from dry or canned. Whenever hummus does not include chickpeas, it may be a delicious dip, but authentic hummus it is not!
There are just a few ingredients in hummus, and just a few steps to make the hummus recipe.
The equipment is also a short list, but important: a food processor is needed here my friends! We know the Sittos (grandmothers) of the Middle Eastern old words did not have food processors for their hummus. But their hummus was not as good as ours! Smooth, lush texture is achieved with the wide blades of a food processor.
Watch my quick video tutorial on how to make hummus:
---
Hummus Ingredients.
Chickpeas. Start with canned or dry chickpeas.
For canned: drain and rinse.
For dry: soak overnight, then drain and simmer in lots of water for a couple of hours until tender.
This next step with your chickpeas is KEY, so listen closely: chickpeas have an outer skin or peel that is the culprit of grainy texture hummus. It's a job to get the peels off of chickpeas, but it's worth it. Trust! Read on to find out out it's done.
---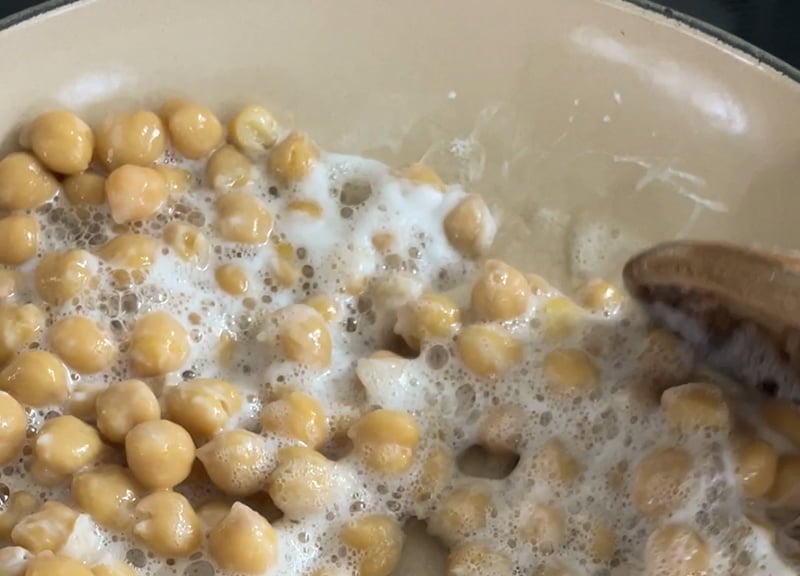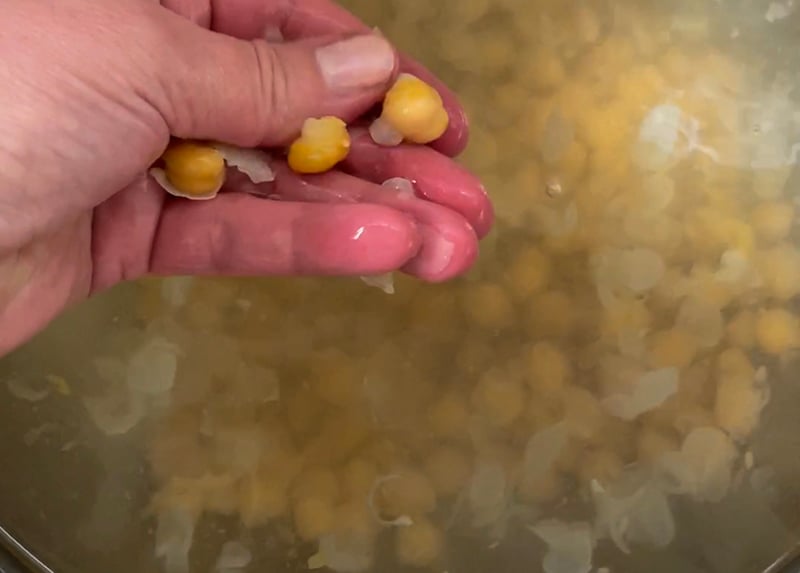 Tahini. We've all had bitter, sludgy, separated tahini. Mediocre tahini makes anything it touches just okay, rather than the luscious and delicious hummus you can't wait to make again soon. After tasting and testing enough tahini to fill Little Traverse Bay, I recommend Soom, Al Wadi, and Lebanon Valley Tahini. Shake the jar occasionally. Your tahini will last more than a year in the pantry.
Fresh Lemon Juice. Fresh-squeezed, nothing but. Period. The end.
Garlic cloves. Fresh, hard heads of garlic are best. Squeeze the head and watch for any hollow or soft sections. Cut the green sprout out of your garlic cloves if there is one by cutting the clove in half lengthwise and pulling the green spout out. An annoying but worth-it extra minute to avoid raw garlic burn.
Liquid. Hummus needs some loosening up with a bit of liquid during processing. If you are cooking chickpeas from dry, save some of the chickpea cooking liquid. If your chickpeas are canned, some of the canned liquid (aquafaba) works well. Water is also a fine option, though it won't add the same body and flavor as the chickpea liquid. Either should be cold, and add it sparingly so your end result is thick enough to make a well in the center with the back of a spoon when serving, in which we'll drizzle olive oil and sometimes other toppings too.
Extra Virgin Olive Oil. Your best finishing oil thanks you for finally employing it here. Drizzle olive oil over the top of hummus, not blended into the the mix. This keeps the it light and easy. We love Lebanese Extra Virgin Olive Oil.
A dash or two of salt is of course a must; add a little, then taste, then add more if needed.
Sumac spice or paprika sprinkled on top makes an authentic look with bright flavor. Other garnishes that adore hummus are sesame seeds, ground cumin, and fresh parsley.
---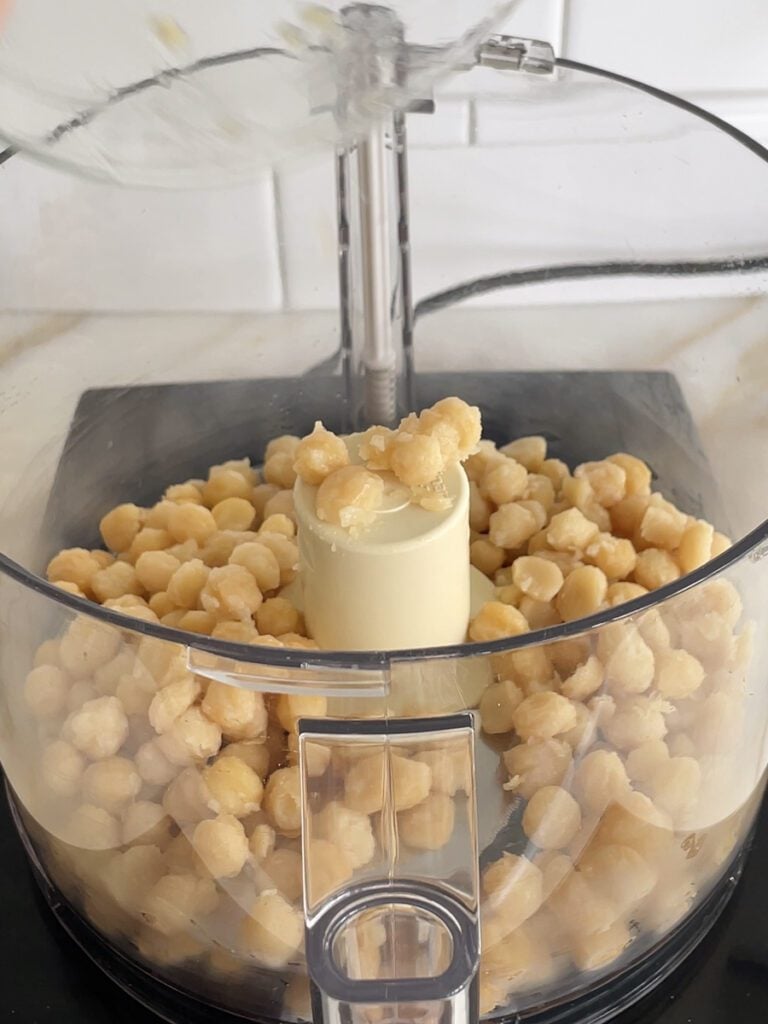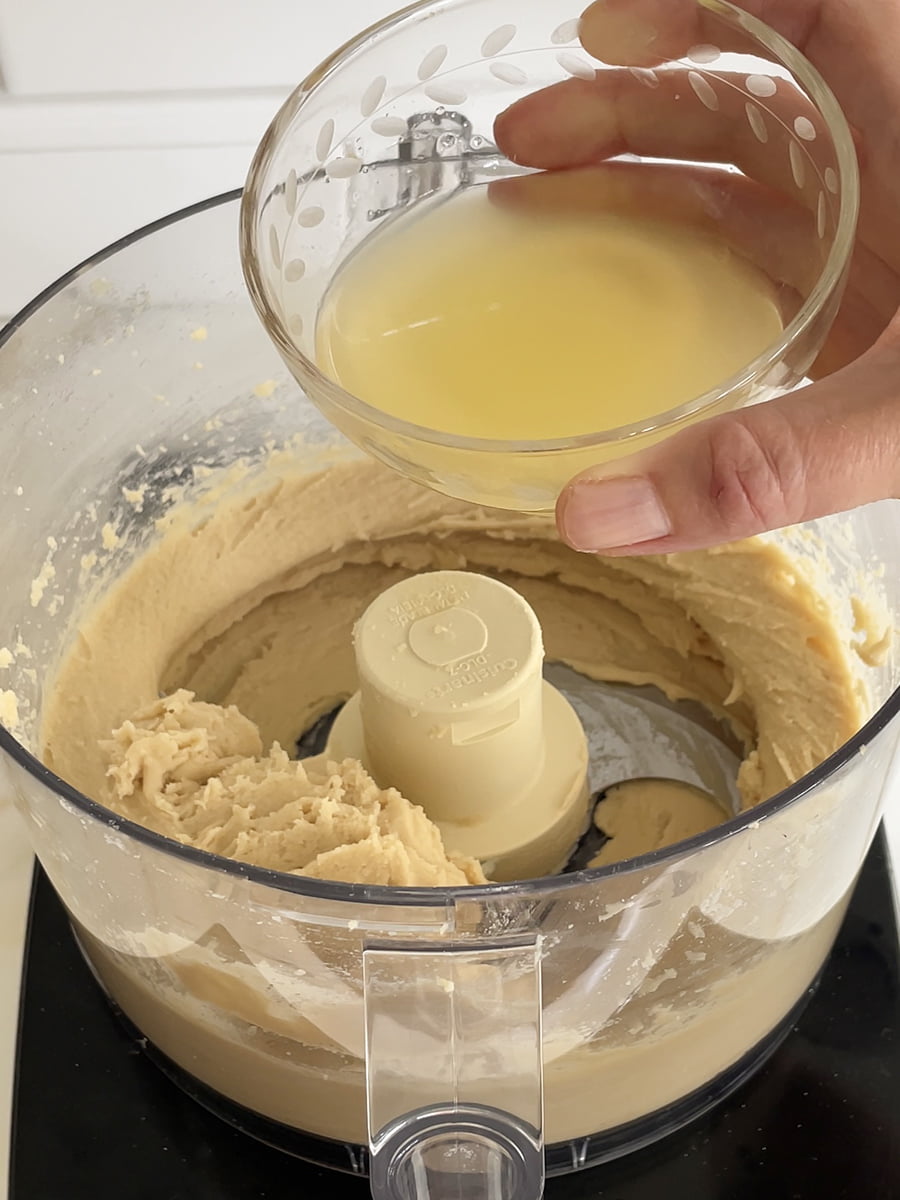 ---
How to make Hummus
Step 1: Prepare the Chickpeas. Start with canned or dry chickpeas. For canned, drain and rinse. For dry, soak overnight, then drain and simmer in lots of water for a couple of hours until tender. Warm the chickpeas in a sauté pan with a tablespoon of baking soda. Then immerse the chickpeas in a huge bowl of water in the sink. Agitate, popping the skins off every chickpea you can grab. Pour off the water with the skins. Repeat, and repeat again. Know too that there's another option here, what I call Smooth Hummus Chickpeas in my shop! The skins are off, so the chickpea need only be simmered until tender for about 90 minutes.
Step 2: Process the ingredients. Use a Food Processor! Hummus becomes smooth and lush when it is blitzed in a food processor. The blades are wide and they do the job perfectly. Does a blender work? Hmm. If there's no food processor in sight, this is the next best tool. The blender requires more stopping and scraping down as you go, to keep all everything near the blades.
First blend the chickpeas and garlic. Before adding any liquid, get those chickpeas pulverized with the garlic. They'll break down better without the liquid there.
Slowly add liquids. This means lemon juice and a touch of cold cooking liquid or cold water. Hold back here, adding liquid slowly so as not to make it too thin.
Stop and scrape it all down. It's a pain, but do stop frequently and scrape down the sides of the processor bowl. You'll get any little pieces of chickpea or garlic blended in this way. If you wait until the end to scrape down the bowl, your gorgeous smooth hummus will get grainy from the pieces that weren't blended in earlier.
---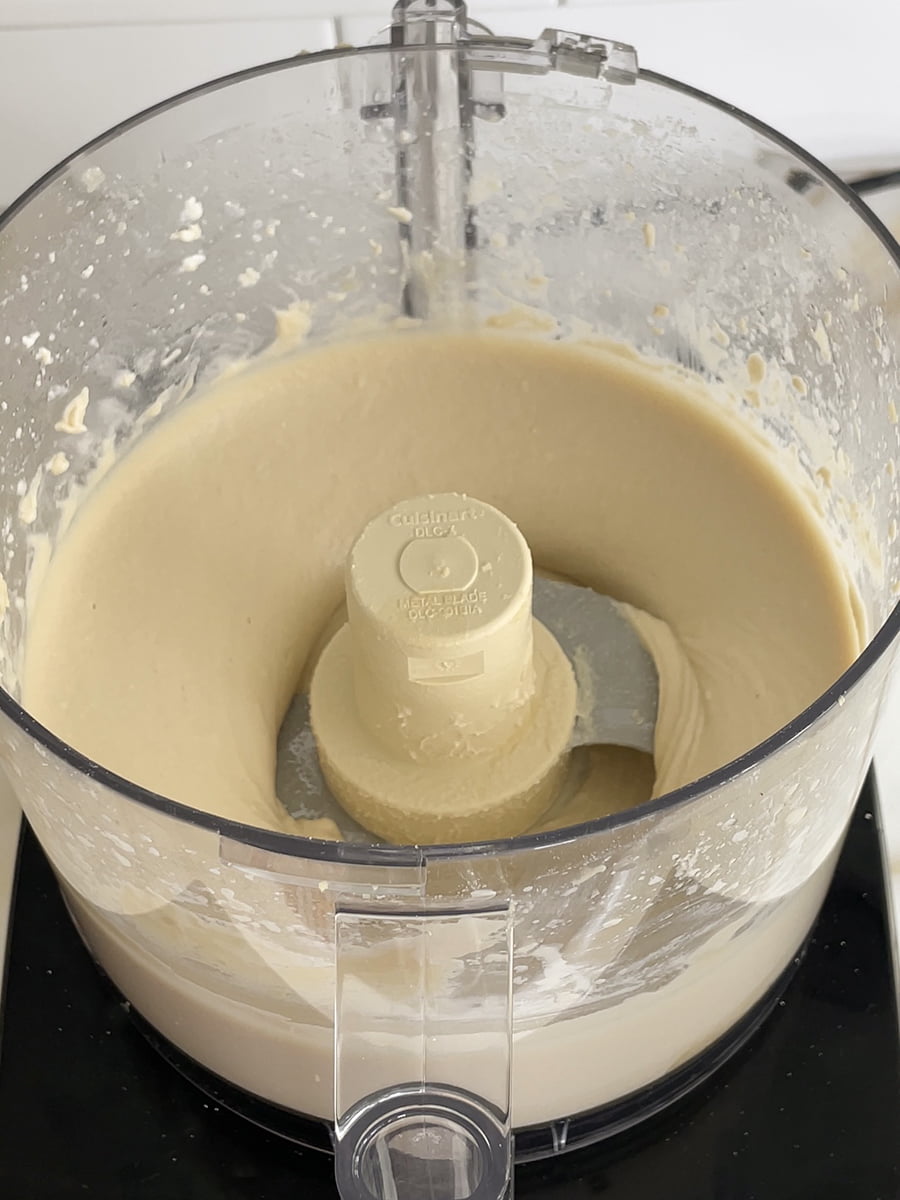 ---
FAQ and Tips for Making the Best Hummus ever!
What can I add to my hummus to make it better?
First, make sure your basic ingredients are all high quality. Then, have fun playing with add-ins! Add red bell pepper or roasted red bell pepper right in the mix while processing (add with the tahini), or pile sautéed peppers on top when serving. Try roasted garlic rather than fresh. Ground cumin adds another flavor profile, as does Lebanese 7 Spice (baharat) and finishing with fresh parsley or other herbs and/or toasted sesame seeds
What makes hummus hummus?
My favorite question! Hummus is the Arabic word for chickpea, so chickpeas make hummus hummus. The other ingredients in hummus may vary, but chickpeas are a must to make authentic hummus.
Can I eat hummus every day?
Hummus is a food with so many nutritional qualities that it can be part of a daily diet, high in fiber and plant protein. Plus it is such a versatile food, with so many ways to eat it: as a dip for veggies or pita chips, as a spread on sandwiches, burgers and wraps, as a base in a bowl with other ingredients (try it with my Tabbouleh salad recipe).
How long will homemade hummus last?
It lasts a good week in an airtight container in the refrigerator.
Can I make hummus without tahini?
Hummus with no tahini is so do-able! Just leave the tahini sesame paste out of the recipe and add more liquid (chickpea cooking liquid, canned chickpea liquid, or cold water) as needed to make a smooth, creamy hummus.
How to make your hummus thicker
The best way to make it thicker is to add it to another, thicker batch. You can add more chickpeas and process the mixture; the end result won't be as smooth and creamy as when you process the chickpeas without other ingredients as the first step, but the dip will be thicker.
What are substitutions?
Substitute chickpeas with cannellini beans or black beans. Instead of lemon juice, use a small amount of rice vinegar, but not as much vinegar as lemon juice. Try granulated garlic or roasted garlic instead of fresh garlic.
Can I make hummus ahead of time?
Yes, hummus will stay great in the refrigerator in an airtight container for a week. To serve, bring to room temperature and stir or whisk with a touch of lemon juice or water, if needed, to help smooth it out.
Can I make it by hand?
Hummus has been around a lot longer than the food processor, so yes, hummus can be made by hand. The chickpeas must be mashed using a mortar and pestle or potato masher, or the tines of a fork. Stir in the other ingredients. The end result will be a thicker, grainy texture but a delicious dip to devour!
---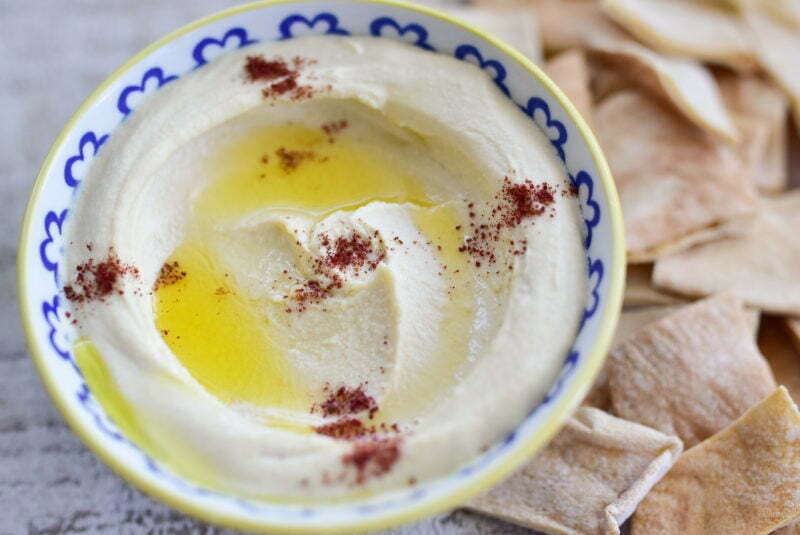 ---
More hummus recipes to try
---
Authentic Homemade Hummus Recipe
The key to smooth, luscious hummus is to make every ingredient the best it can be. Peeled chickpeas are essential to the texture of your hummus. To skin your own canned or cooked chickpeas, saute the chickpeas over medium heat with a touch of baking soda, then put them in a bowl with lots of water. Agitate and rub the chickpeas with your fingers and pour off the water with skins; repeat several times.
Ingredients
2

cups

cooked skinless chickpeas (they take about 2 hours to cook properly from dry)

1

clove

garlic, green sprout removed and minced

1/2

teaspoon

kosher salt

Juice of 1 lemon

Chickpea cooking liquid, or cold water, as needed
Instructions
In the bowl of a food processor, puree the chickpeas and garlic until a thick paste forms. Stop and scrape down the bowl, then process a couple of minutes longer, to get the chickpeas very well pureed.

Add the tahini, salt, and lemon juice and process until well-blended. Taste and see if you'd like the hummus thinner or lighter. If so, Slowly add cold cooking liquid or water, a tablespoon at a time, until the hummus is very smooth and light but thick enough to spoon up and hold its shape.

Spoon the hummus onto salad plate or bowl, spreading the hummus with the back of a spoon to form a well in the center. Drizzle with olive oil and sprinkle with sumac, and serve immediately.
Nutrition information is automatically calculated, so should only be used as an approximation.
Like this recipe? Leave a comment below!
SaveSave
(Visited 84,334 times, 1 visits today)