Hummus with Lamb and Sumac.
Oct 24, 2013, Updated May 01, 2023
Hummus with lamb and sumac is a luscious, healthy way to change-up your hummus fix by adding marinated, sauteed lamb atop smooth hummus. Get all of the info and tips for how to make hummus here!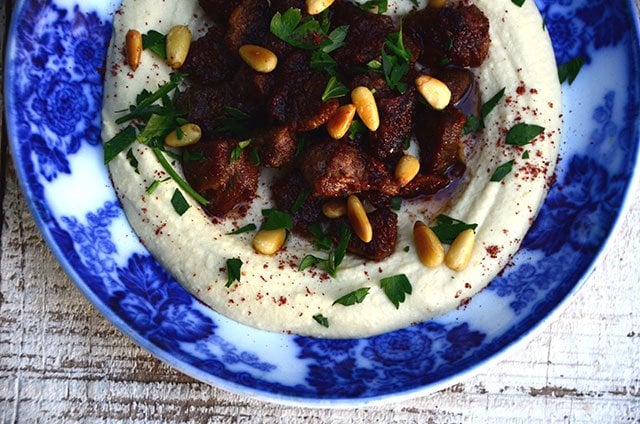 For some, texture is important because it bothers them. They say of their aversion to eating raw oysters that "it's a texture thing." For me, I love eating raw oysters, and yes it is a texture thing. A good texture thing. Texture in all of its variations is part of my great kitchen quest. For hummus, it's the ultra-smooth. For hummus kwarma, it's the contrast of the smoothest chickpeas and tahini with chewiest, tangy spiced meat on top that sends me into a tailspin of mouth-watering delight. I think it will you too, even if you're in the "bad texture thing" camp.
The lamb (kwarma) is ideally a tougher cut, like shoulder for stew, that gets a quick marinade for flavor and a little softening, and then a sizzling sauté for deep caramelization. Beef stew meat would work equally well. Either one is chopped by you, coarsely.
The hummus I've been making with pre-peeled chickpeas is so smooth and has such amazing texture, body and flavor that I can't help but feel as though we, as a world of hummus eaters (of which there are ever so many), have not properly known hummus until we've eaten it like this. When you have hummus that is so good you can't stop reaching for another spoonful, can't stop thinking of it as snack, condiment, and basic food group, then it's only a matter of time before it busts out of the world of dips and becomes much, much more.
This dish of spiced lamb over hummus is not something new in the Lebanese repertoire; it's a classic dish, but one that many, in my clan at least, haven't had on the table at home. It's interesting to me to consider which dishes have remained important, have held on as mainstays, among the long line of our immigrant forbears here in the U.S., and which dishes either never made it or just lost their place along the way.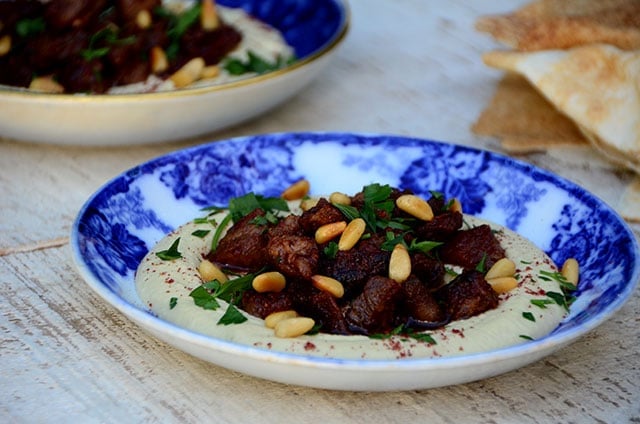 Much of that depends, no doubt, on families and where they came from in the old country and whether a mama loved to cook or not (though it doesn't seem there was much room at a certain time for a Lebanese woman to not love to cook, or at least just to not cook like crazy regardless of how she felt about it).
Hummus kwarma–hummus smoothed out on a small plate and topped with caramelized, tangy sumac-spiced lamb, along with herbs and toasted pine nuts–is so succulent and downright luscious that I'm hoping to bring it to new prominence around here, and over there where you are too.
It's true that this dish can be made with hummus of any sort: the coarser textured, the store-bought (do what you have to do; and if you must, Sabra is the smoothest and best tasting of all, in my view). Hummus kwarma can also be made with lamb or beef that is ground rather than coarsely chopped. While that will be really so very delicious, it won't be a perfect textural balance. And who doesn't love perfect?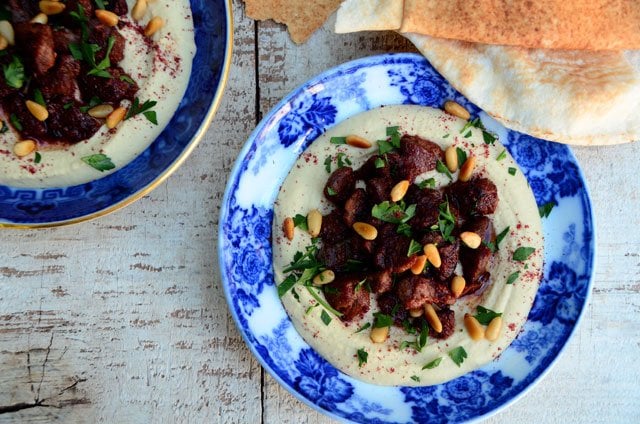 Hummus with Lamb and Sumac
The lamb is meant to be somewhat chewy and tangy with the lemon juice and sumac, making an extraordinarily delicious meal out of your hummus plate. Serve with pita bread.
Ingredients
For the hummus:
1

clove

garlic, green sprout removed

1/4

cup

tahini

Juice

1/2 lemon, plus more as needed

Kosher or sea salt, to taste
Instructions
To make the hummus, in the bowl of the food processor, puree the chickpeas and garlic clove. Stop and scrape down the bowl as you go, processing for several minutes until everything is completely pureed. This mixture may be very thick and ball up in the processor, depending how much liquid may be left in the cooked chickpeas.

Add the tahini, lemon juice, and a pinch of salt. Process, taste, and add more salt or lemon juice to adjust texture and taste as needed.

To make the lamb, cut the lamb shoulder into 1-inch pieces, cutting away excess fat and gristle.

In a medium bowl, combine the lamb with the lemon juice, minced or grated garlic, salt, and one tablespoon of the sumac. Stir well and let the mixture rest for 30 minutes at room temperature.

In a large sauté pan, heat the oil over medium high heat until hot but not smoking. Drain the meat and pat it lightly with a paper towel to dry it off so that the meat will brown properly.

Add the meat to the pan and sauté over high heat until the meat is completely browned and caramelized, 5-10 minutes. Season with the remaining tablespoon of sumac and cinnamon. Taste and adjust seasonings to taste.

Spoon the hummus onto 6 plates and make a well in the center of each with the back of a spoon. Place a spoonful of the lamb on top of each plate, and garnish with pine nuts, herbs, and a drizzle of olive oil. Serve immediately.
Nutrition information is automatically calculated, so should only be used as an approximation.
Like this recipe? Leave a comment below!
(Visited 10,663 times, 1 visits today)