Avocado Hummus
Mar 03, 2022, Updated Apr 30, 2023
Avocado hummus takes the best of two worlds–smooth, luscious hummus and silky, healthy avocado–to create flavor and texture magic! Find chickpeas with the peels already removed, along with excellent tahini and sumac, at my online shop here. Try my Best Homemade Hummus recipe too!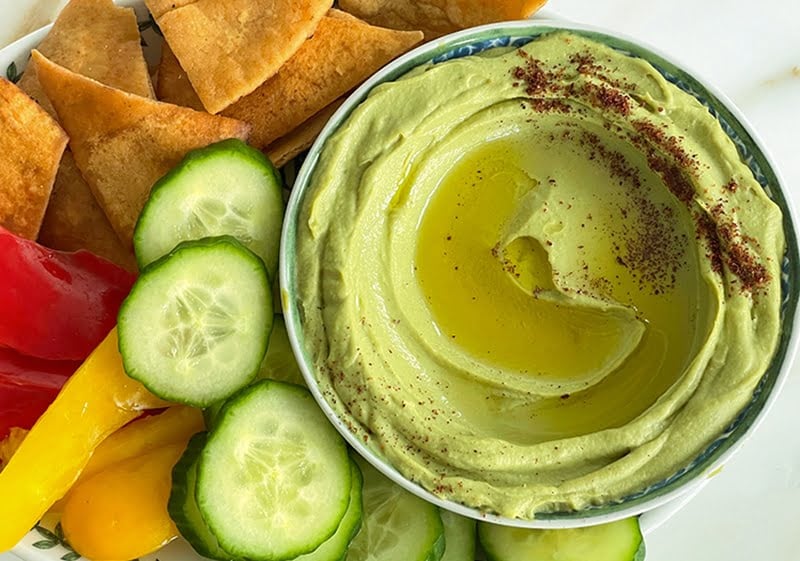 I've always been a critic of anything labeled "hummus" that doesn't include the very basis of hummus: chickpeas. The very word "hummus" means chickpea in Arabic, so purists like me are hard on posers. But here, the foundation of avocado hummus is my gorgeously smooth hummus recipe, taken a step beyond with one of the ultimate in silky blend-ins, avocado.
Start Smooth, Stay Smooth
The way to smooth hummus is to get the peels off of the chickpeas. This can be done in a labor-intensive yet simple process of warming cooked or canned chickpeas in a dusting of baking soda to loosen the skins, then rubbing them off of in a giant bowl of water multiple times.
I start processing the chickpeas with very little if any liquid, an easier way to smooth them out. I liken this to adding wasabi to your soy sauce: start with just a drop or two of soy in the wasabi, smooth it out and add a few more drops as you go. Otherwise you'll get a bowl of soy sauce with pieces of wasabi in it rather than wasabi dissolved throughout.
The beauty of adding avocado is that it wants so badly to be smooth and lush. Add avocado pieces after getting the chickpeas pulverized, along with garlic if using, then move on to liquids.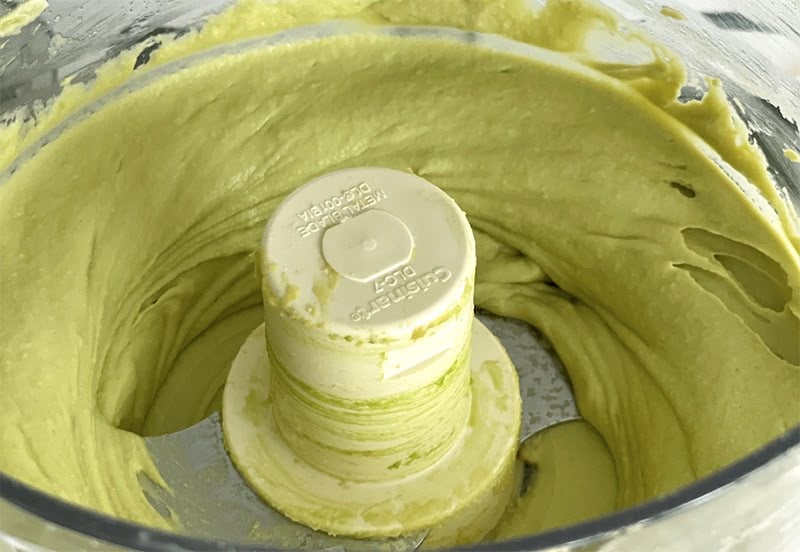 The lemon key
Lemon juice does a couple of things for the avocado (and any!) hummus: the acidity of lemon ramps up the flavor complexity by a lot, balancing off the richness of the tahini. With avocado, lemon also keeps her nice and green.
I always, always finish hummus of any kind with a drizzle of extra virgin olive oil. Using olive oil as a finish rather than blended into the hummus keeps it light and easy. But then the EVOO isn't optional; I hate to call it a "garnish" because while garnishes are fabulous, at home we might be inclined to dispense with them. There's no leaving off the olive oil here! It's essential even though it's not added into the mix.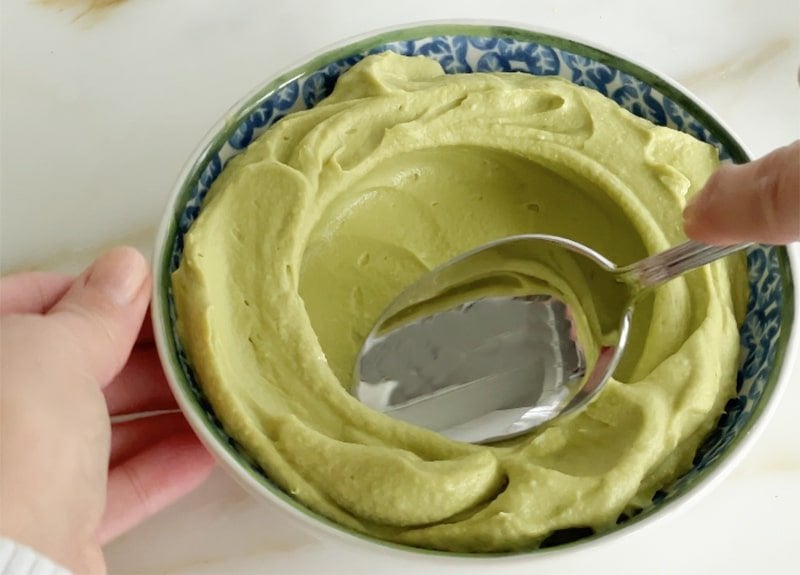 Mix-In Joy
Once you start adding ingredients like avocado to your hummus, you might just catch the same bug I have and start thinking of all of the ways!
Consider hummus with beets or hummus with fresh herbs for a color and flavor explosion. Or top classic hummus with sautéed red bell pepper, olives, or spiced meat.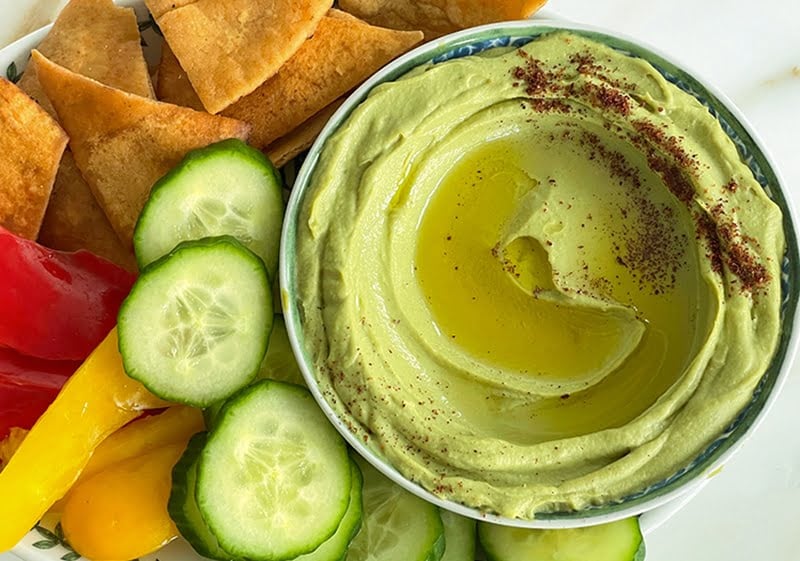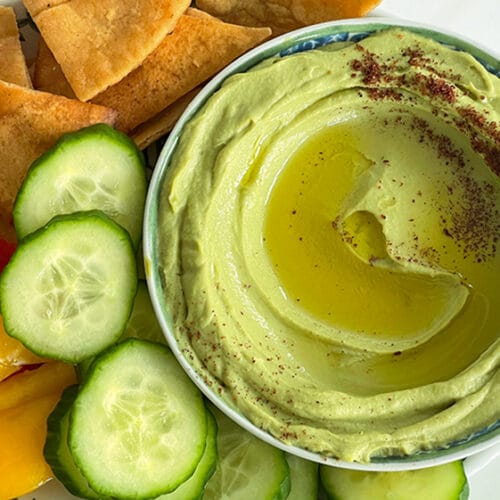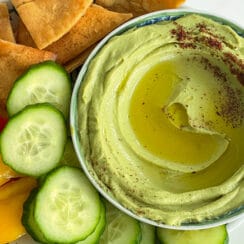 Avocado Hummus
Avocado hummus takes the best of two worlds–smooth, luscious hummus and silky, healthy avocado–to create flavor and texture magic! Find the best ingredients like skinless chickpeas, tahini, spices and olive oil in my online market here.
Ingredients
1

cup

or 1 15 oz can chickpeas, drained and rinsed with peels removed

2

ripe avocados, peeled and chopped

1 lemon, juiced

1/2

cup

tahini

1

teaspoon

kosher salt

olive oil, for finishing

pita chips and vegetables, for serving
Instructions
In a food processor, pulverize the chickpeas. Stop and scrape down the bowl occasionally.

Add the avocado and process until smooth. Add the lemon juice, tahini, and salt and process until smooth.

Dollop the hummus into a bowl and create a well in the middle with the back of a clean spoon. Drizzle with olive oil, dust with sumac, and serve immediately with pita chips and vegetables.
Nutrition information is automatically calculated, so should only be used as an approximation.
Like this recipe? Leave a comment below!
(Visited 4,175 times, 1 visits today)