Tabouli Salad: A Lebanese Tabbouleh Recipe
Aug 10, 2011, Updated May 08, 2023
SaveThis Lebanese tabbouleh salad recipe (also called tabouli or tabooli) is a fresh herb salad with a simple lemon vinaigrette. Get this salad right by using just a little bulgur wheat; the main ingredient here is fresh herbs!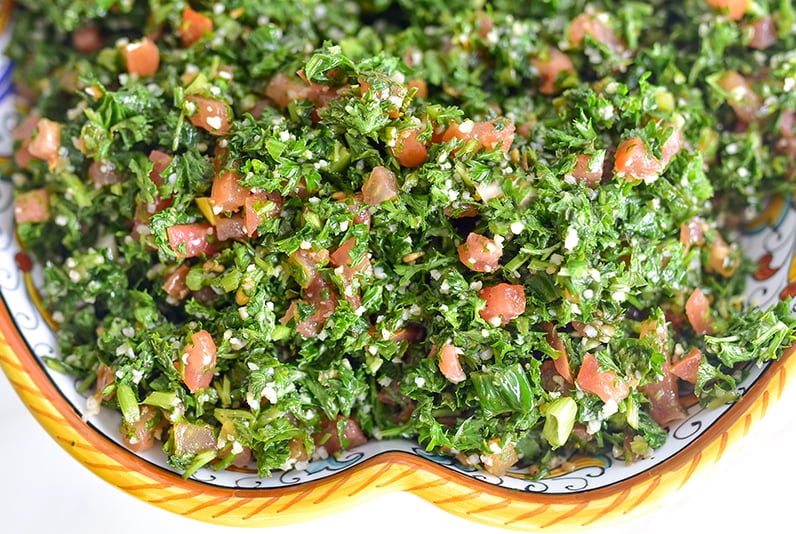 This traditional Lebanese Tabbouleh Salad recipe is both healthy and packed with flavor. My authentic Lebanese recipe is made with lots of parsley, mint, tomatoes, and fine bulgur wheat. Tabbouleh is an all-time favorite Lebanese salad because of its very fresh flavor and because it is so light and easy, it goes with all kinds of other foods. The vinaigrette is so delicious that we fight over who gets to dip their pita bread into the juices at the bottom of the salad bowl….
(Read my story about tabbouleh-love here!)
What is Tabbouleh Salad?
If you're asking yourself what cuisine is tabbouleh salad from: it's Lebanese! Lebanese tabbouleh is essentially a chopped salad. Authentic tabbouleh is made with lots of fresh parsley leaves, diced tomato, thin slices of scallion, fresh mint leaves, and a bit of soaked fine bulgur. The truth of tabbouleh is this: it's a labor-of-love salad. A salad whose basis is fresh herbs could be nothing but, when you consider how those herbs need special treatment. The washing! The drying! The picking from stems! The chopping…. And then the other ingredients that require a fine chop: the tomatoes and the onions.
The other truth of tabbouleh? It's SO worth the labor! We may make tabbouleh in small batches for smaller gatherings here because of all of that effort, but when we do, we go all in knowing that this very favorite, very delicious Lebanese salad is going to be so very good.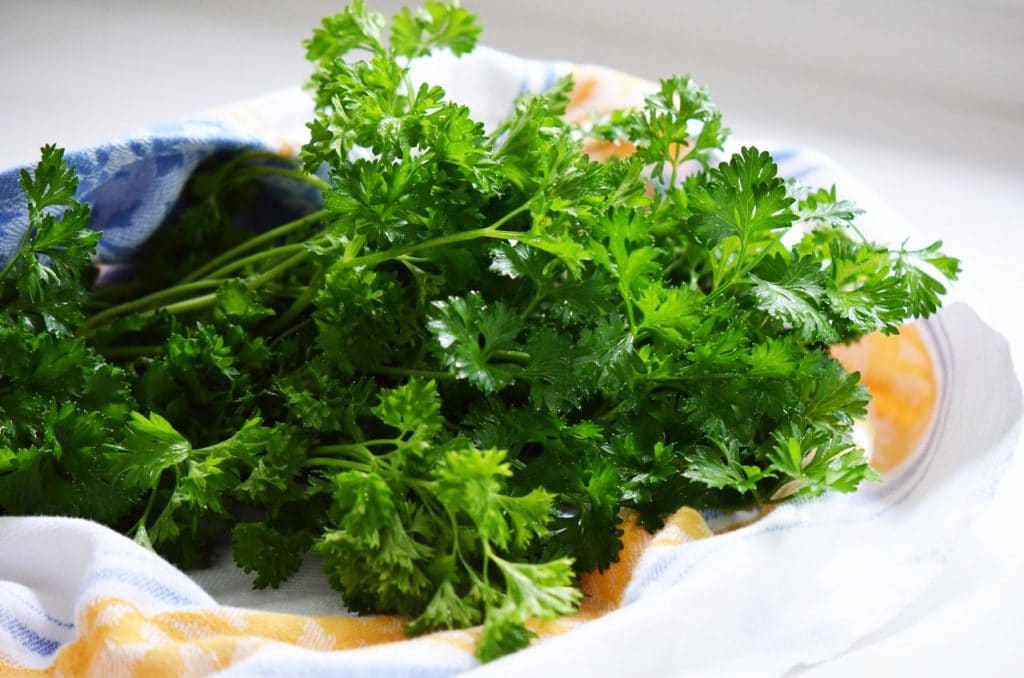 Tabouli Recipe Ingredients.
Here's everything you need to make tabbouleh:
Parsley.
There are arguments galore about whether tabbouleh should be made with flat leaf (Italian) parsley or curly parsley. I've used both and both are wonderful. If you do use curly parsley, just be sure to pluck the curly leaves from the not-so-tender stems very well—and chop it like there's no tomorrow! Finely chop, so the texture is . . . fine. If you use flat leaf, just know that there is very little loft (hence: flat) so use more flat leaf parsley than curly parsley.
Mint, fresh and dried.
Lebanese "nana" is fresh mint, the flavor maker of most every Lebanese salad! This is typically spearmint, which is also the mint you will find in grocery stores. Tabbouleh is primarily made with the parsley, so the mint is a supporting ingredient here but adds tons of the fresh Lebanese flavor we love. Add dried mint to the vinaigrette for even more traditional Lebanese flavor.
Tomatoes.
Use large tomatoes so you can easily remove the seeds and finely dice the beautiful flesh.
Green onions, scallions.
Such easy fresh onion flavor here, not as strong as sweet or yellow onion, the perfect compliment in tabbouleh. The entire stalk of the onion is used, both the white and green parts.
Fine Bulgur.
Also known as #1 (#2 is coarser, #3 moreso, and #4 even coarser). Fine bulgur granules are tiny and will soften in liquid (here, the salad dressing) without the need to be cooked.
Lemon Juice and quality extra virgin olive oil.
These are for the dressing. Use fresh lemon juice and extra virgin olive oil for the best treatment of all of those finely chopped labor-of-love ingredients. The olive oil lemon juice vinaigrette is fabulous on tabbouleh and many Lebanese salads.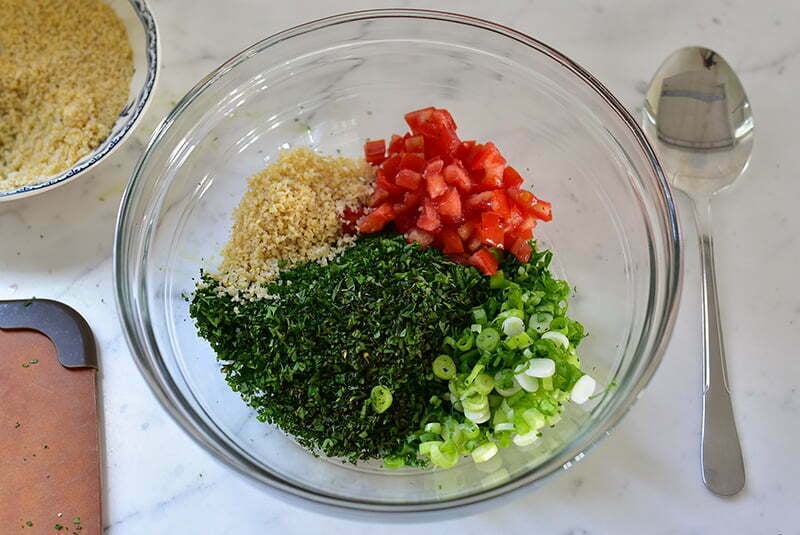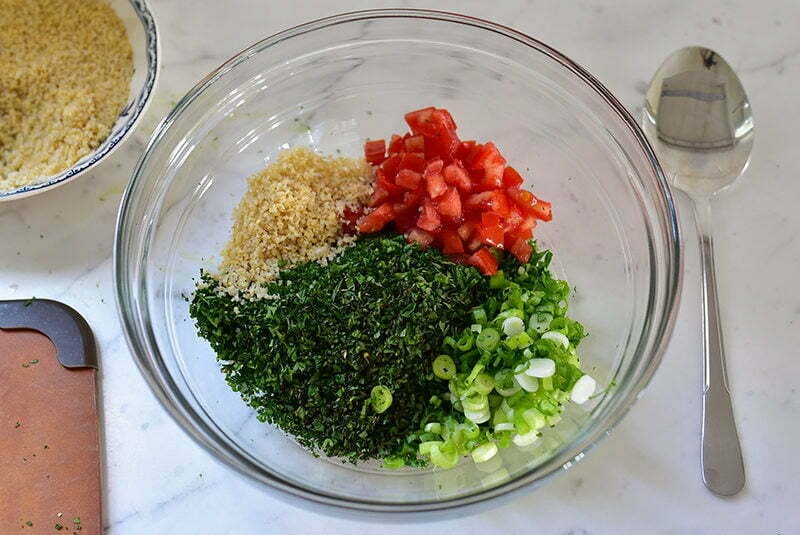 How to Make Tabbouleh Salad.
Step 1: Wash. Prepare the parsley well in advance, the day before serving the tabbouleh if possible, by thoroughly washing and drying it. See this.
Step 2: Rinse the bulgur. Soak the bulgur to soften it in the salad vinaigrette. Whisk the lemon juice, olive oil, salt, pepper, and dried mint in a small bowl. Add the bulgur and set aside to soften for 15 minutes, or while you make the salad.
Step 3: Chop. Every ingredient in tabbouleh is finely chopped. The original chopped salad! So be sure your big sharp knife is sharp (at least once a year, get knives sharpened; you won't believe how much easier it is to cook when you have sharp knives). Chop the parsley and mint when they are thoroughly dried to make the chopping easier.
Step 4: Combine the parsley, tomato, onion, and softened bulgur in a medium bowl. Add lemon juice, olive oil, salt and pepper. Stir, taste, and adjust seasoning.
How to Serve Tabbouleh.
Lebanese tabbouleh salad is traditionally eaten with romaine lettuce leaves as little scoops. Serve tabbouleh on a platter in lettuce cups, either Little Gem romaine or the smaller butter lettuce leaves. This way tabbouleh can become finger food!! Little tacos! Perfect at a cookout or picnic. Or you can serve tabbouleh from a salad bowl. Tabbouleh is delicious on its own, eaten with thin pita bread so you can dip the bread in the juices on your plate or the salad bowl. It is the ultimate cookout salad because it pairs so perfectly with any grilled meat, fish, or vegetable whatsoever. Tabbouleh with hummus is one of the world's all-time greatest food pairings (albeit a sleeper!). Check out my Tabbouleh Hummus Platter.
Tabbouleh Salad Recipe Tips
It is tempting to go for a faster way to chop all of the parsley and mint. I know great Lebanese cooks who make tabbouleh using the blender or food processor to chop the herbs. They simply pour off any liquid or consider that liquid a delicious part of the vinaigrette. Tabbouleh made this way is softer in texture. I always chop by hand which is a labor of love (yet less than 30 minutes) but this is to say, you're not alone if you go the other route!
Play with your tabbouleh! I love to add cucumber for added freshness and crunch. The smaller, thin Persian cukes are great for tabbouleh, but English cucumbers work fine too. Be sure your cucumbers are firm.
How to Store Tabouli Salad
You can keep tabbouleh in an airtight container in the fridge for up to 4 days. It's important to try and drain some of the juice out before refrigerating leftover tabouli. The flavors will continue to meld and taste great. Due to the high water content in the fresh tomatoes, cucumbers and herbs this salad cannot be frozen.
Tabbouleh Salad FAQ
What is the difference between Tabouli and Tabbouleh?
Both words, tabouli and tabbouleh, refer to the same dish, the Lebanese salad. The only difference is simply spelling. Arabic words like these don't always hold to a hard and fast rule in the way they are spelled in English!
What is Lebanese tabbouleh made of?
Tabbouleh salad is made of curly parsley or flat leaf parsley, fresh mint leaves, tomatoes, onion, and bulgur wheat.
Does Tabouli contain cucumber?
Traditional tabbouleh does not always contain cucumber but including cucumber in a tabouli salad is delicious! Be sure to dice the cucumber as small as the tomato.
Is Tabbouleh made from wheat?
While tabbouleh does include fine bulgur wheat, the salad is not a wheat salad. Tabouli is a fresh herb salad of parsley and mint! Read more about what is bulgur! Some grocery stores carry fine bulgur. Most Middle Eastern markets will have bulgur. Check out my fine bulgur here in my shop. Note too that you may see fine bulgur called cracked wheat. The two are a little different: bulgur is a par cooked wheat granule and cracked wheat is not. Fine bulgur does not need to be cooked; it is simply softened in liquid.
Why is tabbouleh healthy?
This Middle Eastern salad a healthy part of the Mediterranean diet because it includes fresh herbs and vegetables with a very light and healthy vinaigrette.
Other Tabbouleh Salad Recipes
Quinoa Tabbouleh, for a gluten free version of tabouli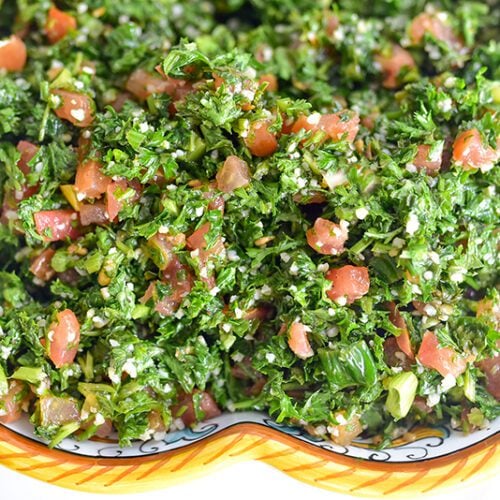 Tabouli Salad: A Lebanese Tabbouleh Recipe
Tabbouleh is delicious on its own, eaten with thin pita bread so you can dip the bread in the juices on your plate or the salad bowl…. It is a perfect accompaniment to grilled meats, especially shish kebab, lamb chops or steaks.
Ingredients
1/4

cup

fine bulgur

2

lemons, juiced

4

tablespoons

extra virgin olive oil

1/2

teaspoon

kosher salt

1/8

teaspoon

black pepper

1

teaspoon

crushed dried mint

2

cups

finely chopped curly parsley (about 3 bunches, washed and dried)

1

large

seeded, diced tomato (¼" dice)

5

finely sliced scallions, white and green parts

1/4

cup

finely chopped mint, from about 20 leaves
Instructions
Rinse the bulgur and cover with cold water just to the top of the bulghur. Soak for 15 minutes, until it is soft and plumped up. Pour off and squeeze out any excess water.

In a small bowl, whisk the lemon juice, olive oil, salt, pepper and dried mint.

Combine the parsley, tomato, scallion, mint, and soaked bulgur in a serving bowl. Pour the vinaigrette over top and stir to combine. Serve immediately or chill, then serve.
Nutrition information is automatically calculated, so should only be used as an approximation.
Like this recipe? Leave a comment below!
(Visited 30,790 times, 1 visits today)