How to make yogurt.
Feb 21, 2022, Updated Jan 25, 2023
Here is such a simple recipe for how to make successful yogurt. Homemade yogurt requires just two ingredients and no special equipment.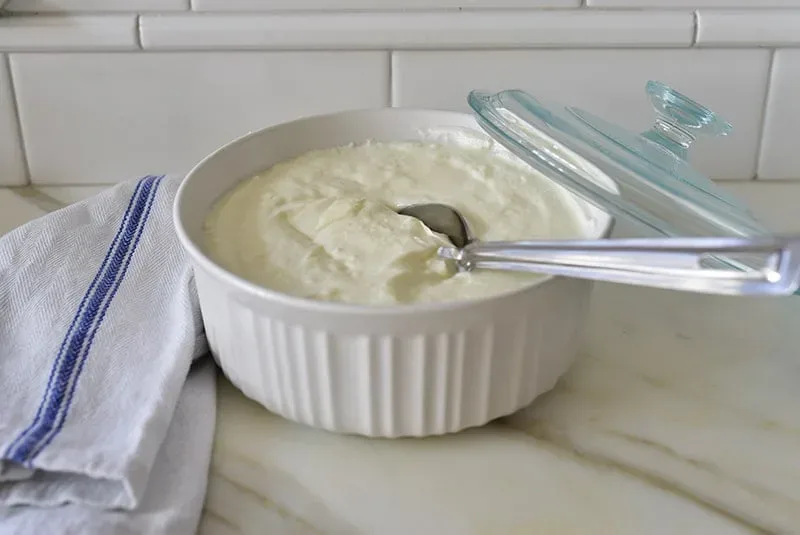 Ready to make your own yogurt at home?! It couldn't be simpler. There are great reasons to make your own yogurt–it's economical, and also: so much more flavorful than commercial yogurts. Yogurt, or laban, is a Lebanese tradition we cherish. Use yogurt in soups, baking, salads, dips, and much more. Here are the basics:
Just two Ingredients for homemade yogurt:
1. Milk.
I always use organic milk, because anything I eat that much of, I like it to be as clean as possible. Yogurt can be made with skim, 1%, 2%, or whole milk. Of course, whole milk is the best in terms of flavor and texture. Heck, I've even taken a page out of Aunt Hilda's play book and poured in a pint of heavy cream with my milk. Good Lord, that's like the wedding gown of all laban—some seriously luscious, special-occasion loveliness.
Sometimes I make yogurt using a whole gallon of milk, especially if I'm draining it for thick labneh. That reduces the quantity substantially! But I especially enjoy smaller-batch. Read about my laban-making foibles here.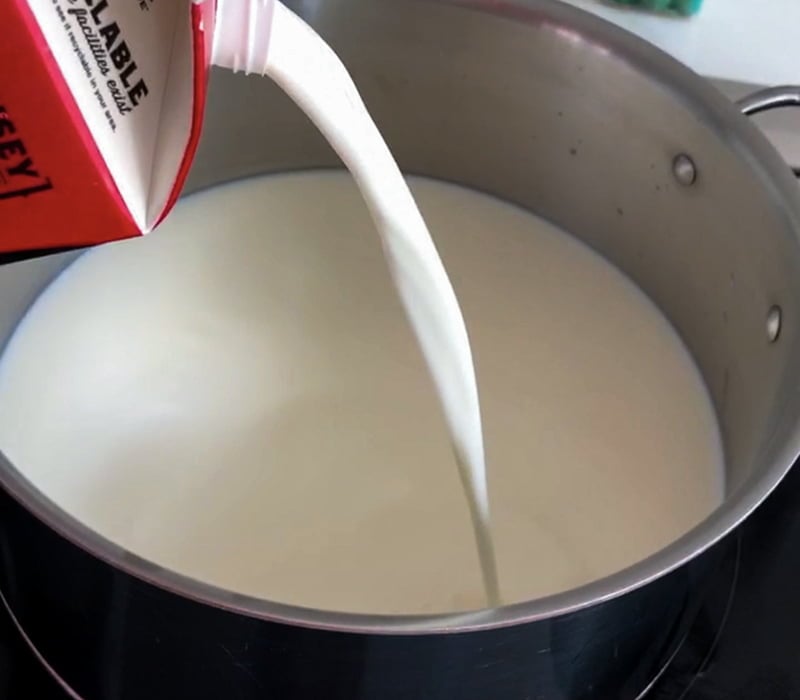 2. The Starter.
Yogurt is made like sourdough, with a starter—called "rawbi" in Arabic—from your last batch. If you have no last batch, use yogurt from the store. Much of your yogurt-making success depends upon the starter. If you do buy commercial yogurt for your starter, be sure it's plain (not vanilla). I generally use a whole milk (not non-fat) rawbi, even if I'm making a low-fat laban with low-fat milk. Thicker labneh or plain "Greek" yogurt can work for rawbi, but I've experienced fails with that once or twice. I tend to stick with regular, unstrained (thinner) yogurt. The starter should be room temperature when it's stirred into the milk, so let it sit out for a while before you make your yogurt, or warm it in the microwave for a few seconds. You'll "temper" the starter (bring it to similar temperature as the milk) with a little warm milk from the pot as well.
Also: don't use much starter! That may not feel intuitive–seems like "more" should equal "better." But you need just a tablespoon or two for half-gallon to a gallon of milk.
It may be lore, but the less I stir the starter into my heated-then-cooled-to-110°F, the smoother, glossier the resulting yogurt. So I just give the starter a quick stir into the milk and leave it at that.
Greek yogurt, or labneh (labna, labne, thickened Lebanese yogurt), can be used as a starter.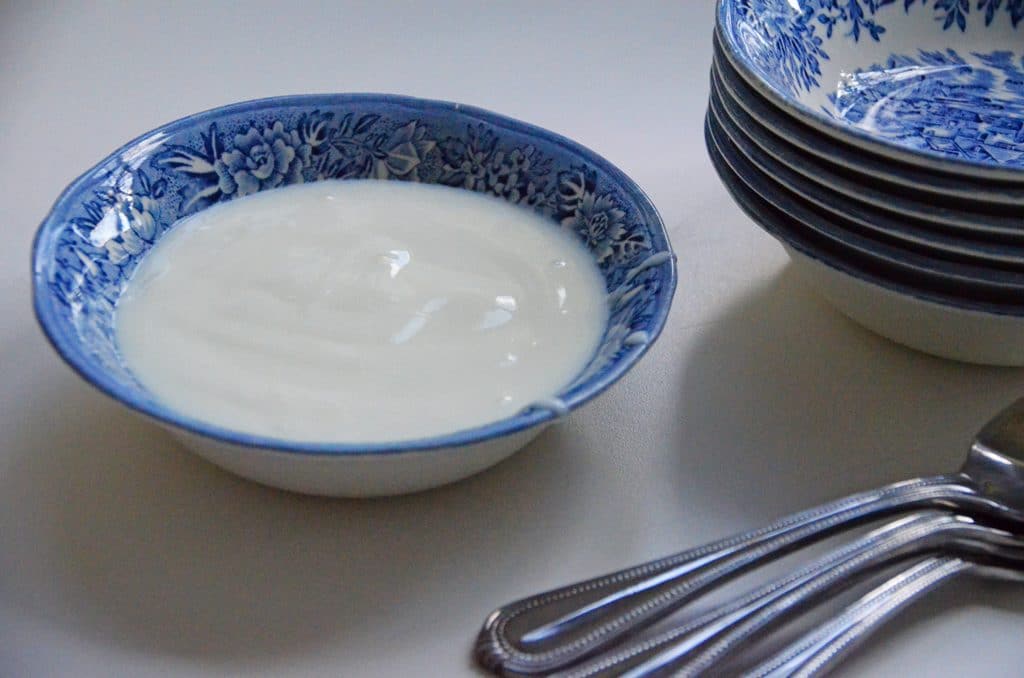 Just 3 basic steps to make yogurt.
The steps for making yogurt are very few and very simple, but there are special tips and tricks to keep in mind with each step:
In a large, heavy-bottom pot, bring the milk just to a boil (or 210 degrees F) OVER MEDIUM LOW HEAT. The low heat takes longer to get to a boil, but this low-and-slow method helps prevent the milk from burning on the bottom of the pan. Milk burns easily! If your milk is room temperature rather than straight from the refrigerator cold, the heat time will be much shorter.

Once the milk foams up to a boil, remove it from the heat immediately. Take care here! Milk will boil over quickly once it reaches the boiling point. Stand by, and as you see the milk rise up, pull the pot off the heat. Now allow the milk to cool down to 110-115 degrees F. Use a thermometer or the pinkie test like Sitto taught me: when you can just barely run your pinkie through the milk to the count of ten without pulling it out from the heat, you're there.

Add the starter. I like to temper the starter by spooning a little of the warmed milk into it just before adding it to the pot. Just give the starter in the milk a quick stir, cover the pot with the lid and place in a warm spot to rest and incubate for 8 hours, sometimes longer. Jiggle the pot to see if the yogurt has solidified at this point. If yes, you've done it! You've made yogurt! If the yogurt is still liquid, put the lid on the pot and allow it to incubate for another 4-8 hours.
How to get great flavor in homemade yogurt.
Yogurt is made with such simplicity, and so few ingredients, that it is going to taste only as good as your ingredients. The Lebanese enjoy their yogurt with a certain tang, a certain depth of fermented flavor that is unlike the typical sweetened or even unsweetened plain commercial yogurt. Commercial Greek yogurts sometimes capture this flavor, but truly not quite.
When my homemade yogurt lacks depth of flavor, I add lemon juice to the starter (just a squeeze), then salt it a bit and leave it out on the counter for the day. This allows the starter yogurt to ferment. Taste your starter and know that this will be the finished flavor of your homemade yogurt. If when I taste my finished yogurt the flavor is lackluster, I add more lemon juice for more tang, as needed.
Ideally, the key is to find a starter that has better flavor. Get a few tablespoons from a friend who makes great homemade yogurt. The Lebanese have been sharing starters with each other forever! Our neighborly expression is not "can I borrow a cup of sugar," but rather: "can I borrow a cup of starter?"
Another option is to purchase good flavored yogurt at a Middle Eastern market. Often these places make their own yogurt with that complex flavor we love.
Authentic Lebanese laban is often made with goat's milk, which is super flavorful, rich, and good!
See how it's done! Watch my video tutorial.
Favorite Recipes with Yogurt
Yogurt Cucumber Salad with Mint
How to Make Yogurt
Homemade yogurt requires just two ingredients and no special equipment.
Check this out
for more on straining the laban, and the very many special ways to enjoy eating it.
Ingredients
1/2

gallon

milk (skim, 1%, 2%, or ideally, whole organic milk)

1/4

cup

yogurt (plain yogurt with live active cultures; ideally whole milk), room temperature
Instructions
First, heat the milk: Rinse a large heavy saucepan (3-quart or larger) with cool water. Add the milk. Bring the milk o just below a boil (210 degrees) at medium low heat, about 15 minutes. Stay nearby, because the milk will froth up and as it begins to boil it will rise up swiftly in the pan. Remove from the heat immediately.

Next, cool the milk: Allow the milk in the pan cool down to 110-115 degrees, stirring occasionally. If you are not using a thermometer, the equivalent is when your pinkie can just withstand being swirled in the milk for ten seconds. Arriving at this temperature can take an hour. If the milk cools below 110 degrees, gently warm it up to 110-115 degrees. If in this process of reheating, the temperature goes above 115 degrees, wait again until it comes back down to 110-115.

Spoon a few tablespoons of the milk at this temperature into the yogurt (rawbi) starter, then stir that starter yogurt into the milk. You will notice a skin forms on the surface of the milk; that can be stirred right in with the starter, or spooned out.

Cover the pot with a lid and lay a kitchen towel over that to promote warmth. Set the pan aside, undisturbed, in a warm spot for anywhere from 8 to 10 hours, or overnight. An ideal incubator is the oven, turned off (the oven can be heated on the lowest setting for a minute before placing the pan in, just to encourage warmth, but be sure to turn it off immediately).

Chill the yogurt: Remove the pot from the oven. The milk will have thickened into yogurt. Place, undisturbed as of yet, into the refrigerator for 1-3 days to further set the yogurt before eating or straining to thicken.
Nutrition information is automatically calculated, so should only be used as an approximation.
Like this recipe? Leave a comment below!
(Visited 4,341 times, 43 visits today)