Lebanese Hummus Recipes
Nov 13, 2022, Updated Dec 19, 2022
Ohhh how we love our Lebanese Hummus Recipes! Each one has that smooth, luscious texture and flavor (that comes from chickpeas that have the peel or skin removed). Toppings and mix-ins abound with hummus as your base.
Learn how to make hummus with all of the tips and information that makes it easy. And, find skinless chickpeas, great tahini, and other ingredients for the best hummus in my shop!
Hummus with Lamb and Sumac.
Hummus with lamb and sumac is a luscious, healthy way to change-up your hummus fix by adding marinated, sauteed lamb atop smooth hummus. For some, texture is important because it bothers them. They say of their aversion to eating raw oysters that "it's a texture thing." For me, I love eating raw oysters, and yes
Hummus topped with Spicy Sauteed Red Pepper
Hummus with spicy sauteed red pepper makes a feast of a lunch. Keep homemade smooth hummus at the ready in the refrigerator, then the red pepper is a snap to prepare. The aroma of the saute is as divine as the hummus topped with red pepper is to eat. This recipe is vegan!, and gluten-free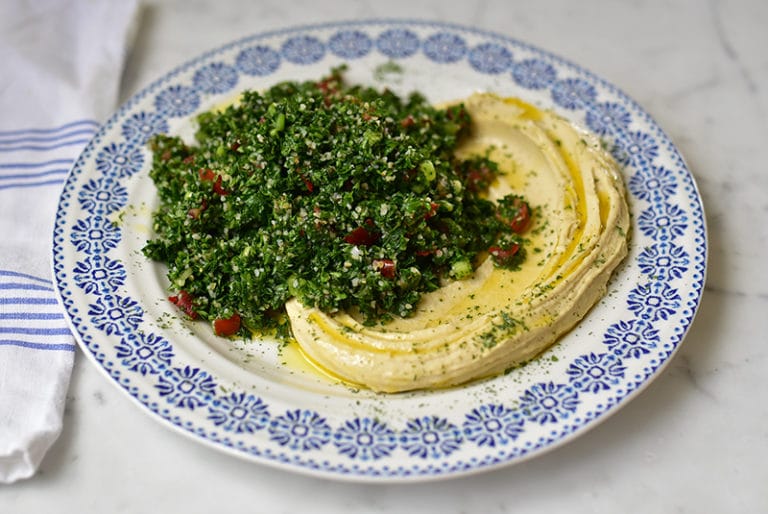 Tabbouleh Hummus Platter
The Tabbouleh Hummus Platter is perfect on your grill buffet, as a side dish and a vegetarian main. Make it gluten-free using quinoa in the tabbouleh. Eat the tabbouleh hummus with thin pita bread or crisp romaine leaves. Someone asked me recently what is my favorite way to eat hummus. That's a toughie, because I
Fresh Mint Hummus
The variation of herbs in the hummus is flexible—I like mostly mint, but I always add some basil to bring up the green color more, and it tastes great. But the skinless chickpeas are not flexible! Buy your chickpeas already skinned in my shop, or add 1 ½ teaspoons baking soda to drained canned chickpeas and heat them in a saute pan. Then immerse the chickpeas in a huge bowl of warm water and rub them til the skins fall off, draining and rubbing several times until every skin is gone. This recipe expands with ease. Finish the hummus with excellent olive oil.
Red Beet Hummus
Red beet hummus is both a beautiful and super delicious way to add color and even more nutrients to our daily hummus fix, which is vegan and gluten-free. Make roasted beets or use canned (or even pickled) beets to make it fast and easy. We're hitting the height of fall color here in Michigan. The
Hummus with Olives, Pine Nuts and Olive Oil Crostini
 Hummus with olives, pine nuts, and crostini make for a beautiful, holiday-worthy appetizer. Healthy and luscious and lovely, all in one! Get out the good china! Hummus is rightly an everyday or at least an every-week food. And sometimes the everyday gets (rightly) set aside for the special times, the feasts, the celebrations. But smooth
(Visited 2,328 times, 1 visits today)