Lebanese Baba Ganoush
Jan 31, 2014, Updated May 31, 2023
Lebanese Baba ganoush is an easy Middle Eastern dip made with charred eggplant, tahini, garlic and lemon juice. Similar to hummus, but with eggplant instead of chickpeas (and even easier to make)!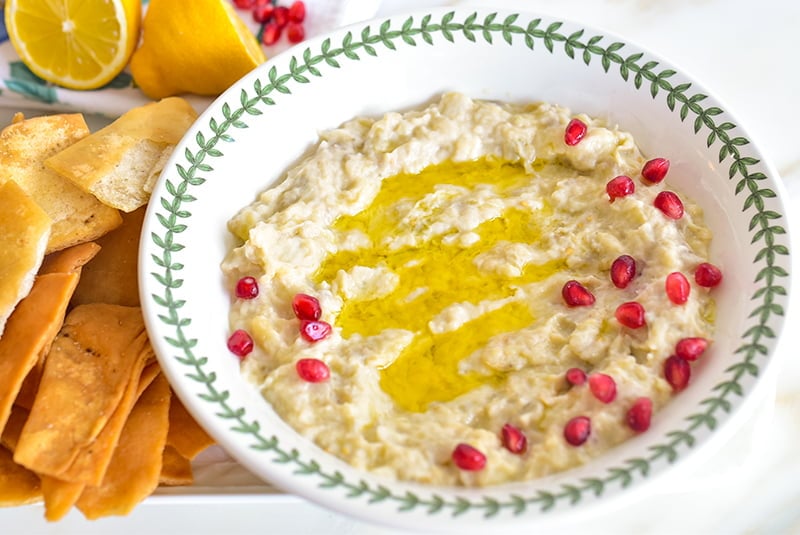 ---
Baba ganoush (also known as baba ghanouj or baba ghanoush) is one of the most popular dips in Lebanese cuisine—and at my table! That is because the flavor of this creamy dip is so bright and smokey. It's luscious texture goes with dippers of every sort: crackers, pita chips, pita wedges, fresh veggies, you name it. Plus this dip is so easy to make with just a handful of ingredients, mixed together simply by hand.
What is Baba Ganoush?
Baba Ganoush is a beloved dish in Lebanese and Middle Eastern cuisine. The word "baba" means father in Arabic (and I loved calling my dad that so affectionately!)—so just for that reference to father-love alone do I adore my baba gannouj, not to mention the truly fabulous flavor of roasted smokey eggplant mashed up with tahini and lemon and garlic. 
Think of baba ganoush as very similar to hummus. The difference: the main ingredient in hummus is chickpeas, and in baba ganoush it's roasted eggplant. In either recipe, that foundational ingredient is mixed with garlic, lemon, tahini and salt to make a delicious dip or foundation for toppings. That's it!
The eggplant in baba ganoush is roasted for the smokey flavor this dip is known for.
Baba Gannouj is an essential item for mezze, small plates or appetizers in Lebanese cuisine. Silky, smokey eggplant pairs beautifully with the very few yet flavor-packed ingredients in this recipe. Like hummus, this dip is so good to scoop up with a pita chip, cracker, or veggie.
---
Watch my video tutorial for how to make baba ganoush:
---
Baba Ganoush Ingredients
The beauty of this roasted eggplant dip recipe is that it achieves so much flavor with a few simple ingredients and method. Here's what you'll need:
Globe eggplant. These are the larger, deep purple eggplant. When you squeeze your eggplant at the market, there should be little to no give. Look for unblemished, shiny skin. Narrower, medium-sized eggplant tend to have fewer seeds.
Tahini. Stir tahini well before you use it, as it can separate during storage. We want to avoid a spoonful of oil and make sure we have thick, luscious, emulsified tahini paste.
Garlic cloves. Adjust to your taste—at least one large clove will be really flavorful. Garlic lovers will want even more! Fresh garlic will tastes so much better than jarred prepared minced garlic.
Fresh lemon juice. Fresh is best!
Salt.
Extra virgin olive oil. Drizzle the EVOO over top to finish the baba gannouj.
Finishing touches. Sprinkle pomegranate seeds, sesame seeds, and/or fresh herbs on baba gannouj, which adds color, texture, and more flavor! Though they are optional, pomegranate seeds in particular impart a gorgeous color atop baba gannouj, along with that pop of sweet-tart flavor that is so excellent with the smokey eggplant.
---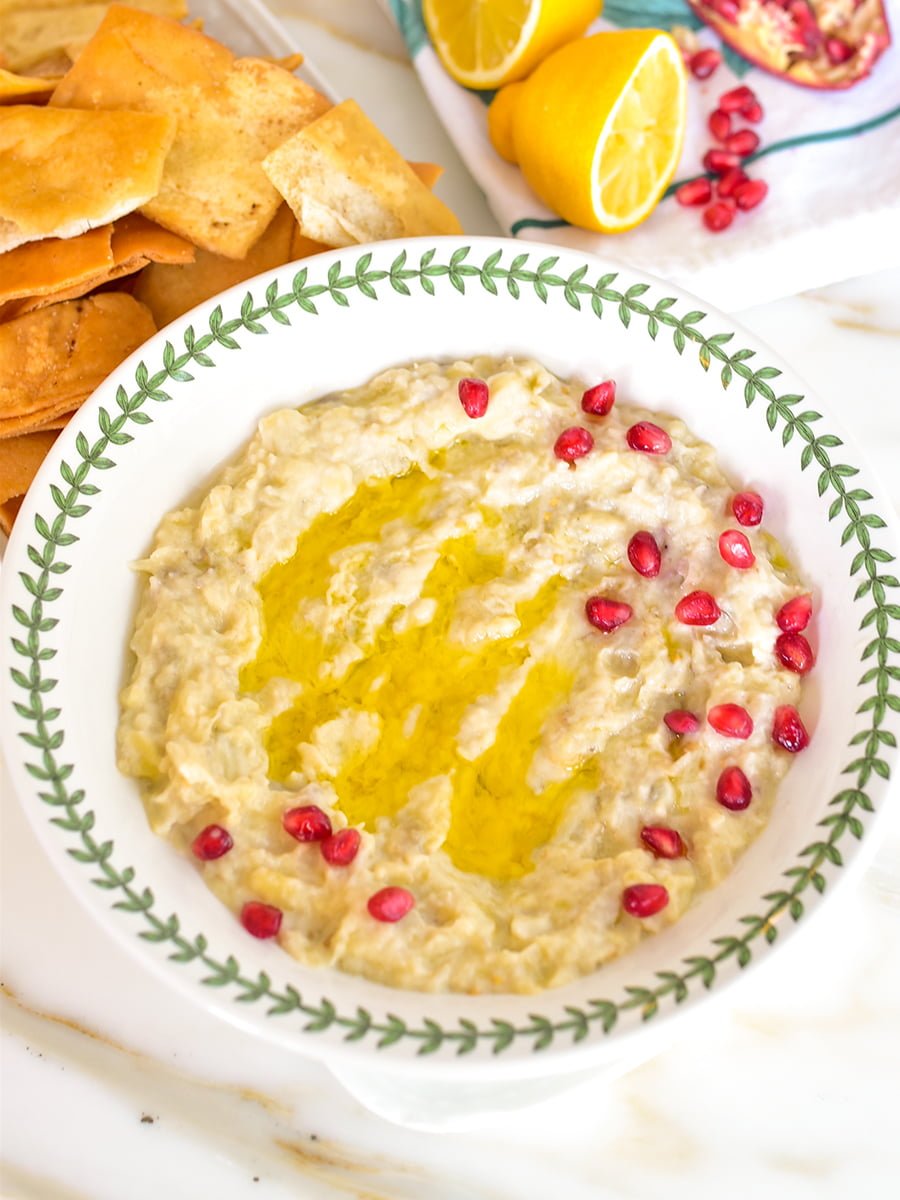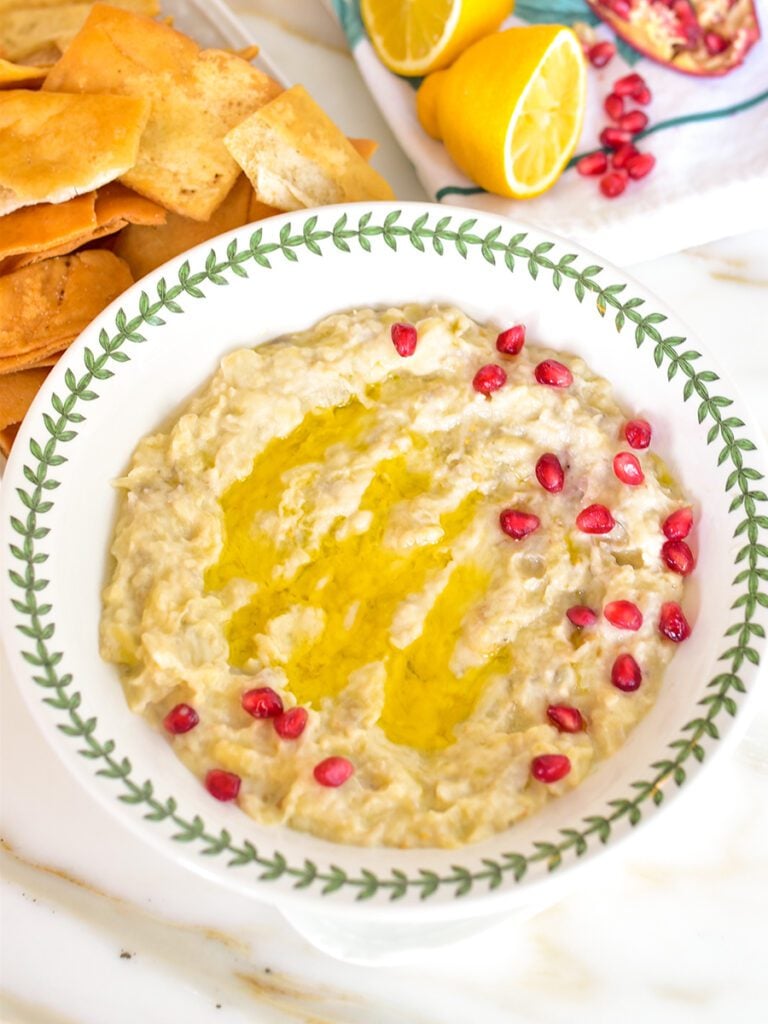 ---
How to make authentic Baba Ganoush
Step 1: Char the eggplant. Poke a few holes in them with a knife or skewer so the skin won't burst. Cook the eggplant one of three ways:
On the grill:
Simply place eggplants on the hot grills.
On a gas burner:
Keep the flame on high and hold the eggplant over the open flame with metal tongs.
Under the broiler in the oven (takes the longest, about 30 minutes):
Arrange the oven rack a few inches under the broiler. Place the eggplant on a baking sheet lined with parchment.
Turn the eggplants halfway through cooking. When the skin is blistered and the eggplant is very soft, remove them from the heat.
Step 2: When the cooked eggplant are cool enough to handle, peel the charred skin off with your fingers and cut away the stem end. Open the eggplant and pull out the lines of seeds using the tines of a fork or your fingertips. The seeds loosen easily; then discard them.
Step 3: Chop or mash the eggplant. In a large bowl, combine the eggplant with the tahini, salt, garlic, and lemon juice. Taste and adjust the seasonings, then spoon the baba gannouj onto a plate or small bowl. Make some swirls in the top of the dip with the back of the spoon, and drizzle olive oil over the top. Sprinkle with pomegranate seeds, and serve with pita chips, crackers, and vegetables.
---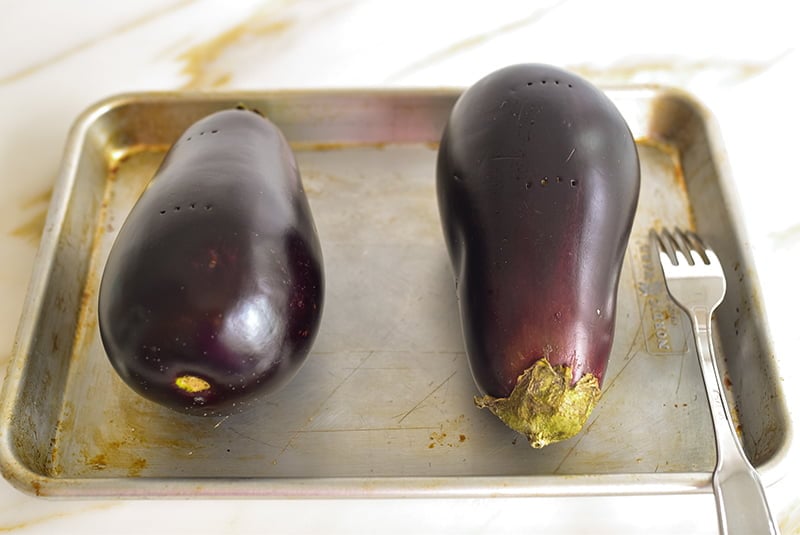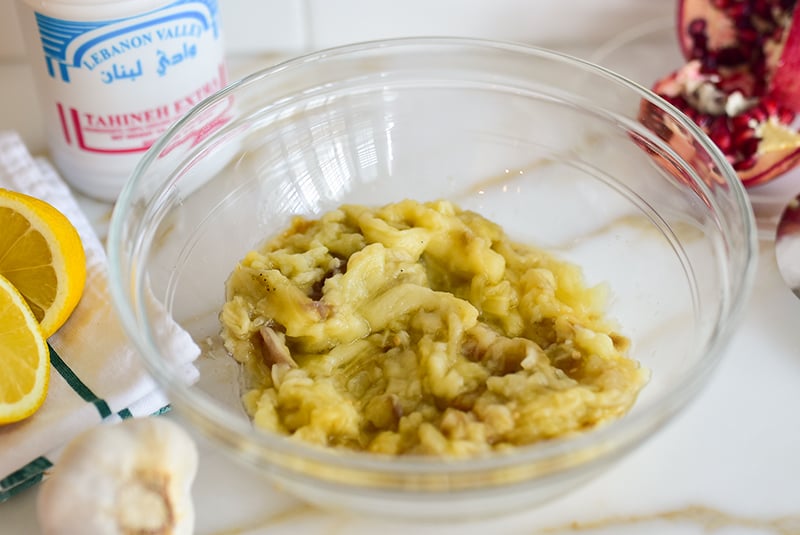 ---
Tips for making the best Baba Ganoush
Making baba gannouj isn't too tricky, yet here are a couple of tips to ensure your baba is the very best, authentic, delicious dip:
Make your baba gannouj by hand! It may be tempting to use a blender or food processor for baba gannouj, but mashing or crushing by hand with a spoon yields the texture we're looking for here. Look for little pieces of eggplant in the finished dish rather than the smooth puree so desirable in the best homemade hummus recipe.
There are just a few ingredients in baba gannouj, so choose the best of everything for the best flavor. This is the time to grab your better olive oil ("finishing oil"), and to use fresh garlic (look for a firm head of garlic), just-squeezed lemon juice, and firm, medium-sized eggplants.
Rather than mince garlic with a knife, try grating garlic with a microplane grater. This is very fast, very easy, and my favorite way to quickly and finely mince garlic.
---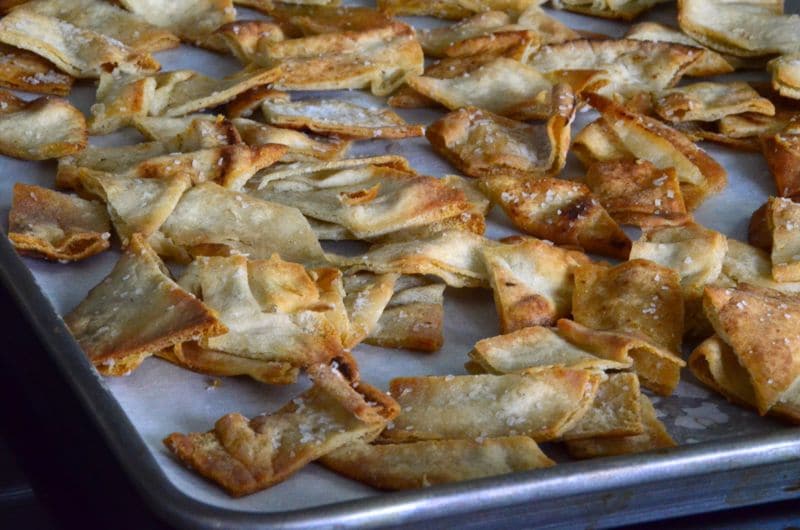 ---
What to serve with traditional Baba Ganoush
Baba gannouj is so dippable! Fresh veggies (try cucumber slices, carrot and celery sticks, snap peas), and good pita chips are winners. It's also very good as a foundation for toppings, eaten like a bowl-style meal with sauteed vegetables, chicken, lamb, or a little salad with chickpeas on top.
As part of a Lebanese mezze platter, baba ganoush is right at home alongside little bowls of labneh, hummus, tabbouleh (tabouli) salad, olives, pickles, fresh herbs and stuffed grape leaves.
FAQs
Is baba ganoush healthier than hummus?
Both dishes are healthy because they contain relatively few, low fat ingredients. Hummus includes chickpeas, which are high in protein and fiber. 
What is the difference between hummus and baba ganoush?
Hummus is a Middle Eastern dip of chickpeas, tahini, lemon juice, and garlic. Baba ganoush is also a Lebanese dip but it calls for char-roasted eggplant rather than chickpeas.
What does baba ganoush taste like?
One of the best things about this dish is fhe flavor is lightly smokey. The soft flesh of the eggplant takes on a charred, smokey flavor from an open flame or broiler.  Sesame tahini paste gives this dip that nutty tahini flavor that is so delicious, along with bright lemon and savory garlic flavors.
How long will it keep?
It will stay fresh for up to four days in the refrigerator.
How to store baba ganoush
The best way to store baba gannouj is in the fridge. Place the dip into an airtight container and seal the container well. Baba gannouj will keep this way for up to four days. Allow it to sit on the counter for fifteen minutes or so before serving to bring it up to room temperature. Stir well before serving and add a little lemon juice if needed, to loosen.
What do you eat baba ganoush with?
Eat Baba ganoush as a dip with veggies, pita chips, pita bread, crackers. It's also delicious as a spread on wraps and sandwiches, or as a foundation for bowl-style meals with toppings such as roasted vegetables, chickpeas, meat, or salad.
Can I make baba ganoush without a food processor?
The best way to make it is by hand! This is one of the things that makes this such an easy baba ganoush recipe. So absolutely, no food processor or blender is needed to make it an authentic dip.
Can I freeze baba ganoush?
Baba ganoush will freeze in an airtight container for up to 3 month, but the texture will not be the same as fresh.
More Middle Eastern Dips to try
Muhammara – roasted red pepper and walnut dip
More Eggplant Recipes
Sheik al Mehsheh eggplant layered with tomato sauce and sauteed ground lamb or beef and baked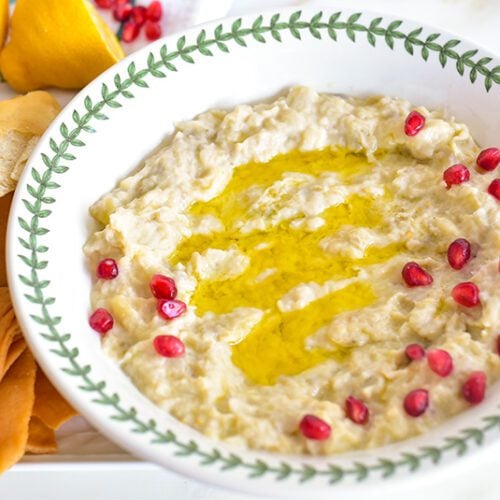 Lebanese Baba Ganoush Recipe
Select eggplant that is very firm when squeezed, and fairly narrow, which often means fewer seeds. The bitter baba you may have had now and then is attributable to the cook not removing the seeds from the eggplant before mashing it up. Do that, and you'll have a much different baba gannouj on your plate than you would otherwise. Use at least two eggplants, since removing the seeds reduces the amount of eggplant you have left to work with. Don't skip the pomegranate seeds if at all possible; they add beautiful color to the dip and a delicious tart flavor too.
Ingredients
2

firm globe eggplant

3

tablespoons

tahini (well-stirred before measuring)

1

teaspoon

kosher salt

1

clove garlic, minced

2

tablespoons

freshly squeezed lemon juice

Few grinds of black pepper

2

tablespoons

pomegranate seeds
Instructions
Char the eggplant by poking a few holes in them with a knife or skewer (so the skin won't burst). Cook them on a hot barbecue, a low flame on the gas burner, or under the broiler. If you're broiling the eggplant, place them on a parchment lined baking sheet a few inches under the broiler. Whatever the heat source, turn the eggplants over halfway through cooking (use tongs) to char them evenly. When the skin is blistered and the eggplant is very soft, remove them from the heat. Under the broiler this takes about 30 minutes.

When they are cool enough to handle, peel the skin off with your fingers and cut away the stem end. Open the eggplant and pull out the lines of seeds, and discard them.

Chop or mash the eggplant until it forms a dip-like texture. In a bowl, combine the eggplant with the tahini, salt, garlic, lemon juice, and black pepper. Taste and adjust the seasonings, then spoon the baba gannouj onto a plate. Make some swirls in the eggplant with the back of the spoon, and drizzle olive oil over the top. Sprinkle with pomegranate seeds, and serve with pita chips, crackers, vegetables.
Notes
Be sure to watch my video tutorial above!
Nutrition information is automatically calculated, so should only be used as an approximation.
Like this recipe? Leave a comment below!
Save
(Visited 17,277 times, 23 visits today)