Lebanese Salad (Salata)
Mar 03, 2023, Updated May 06, 2023
My traditional Lebanese Salad (salata) is a crisp salad of romaine, cucumbers, onion, and tomato with a garlicky, lemony vinaigrette. Mouthwatering! We eat this one almost every day.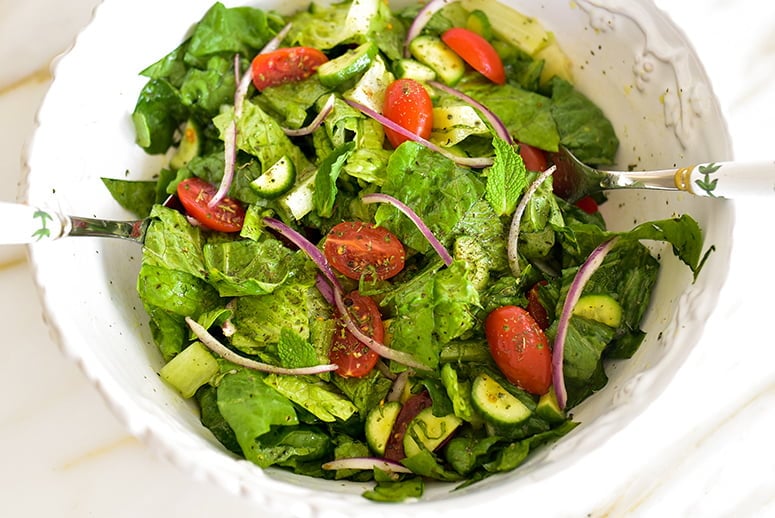 When my mother used to say "we had a salad on the table every night growing up," Lebanese salad is what she was referring to. No matter what other foods are on the plate, this salad is so versatile, so fresh and crisp and bright, that it "goes down easy!" with everything.
I love this salad, also known as salata (SUH-luh-tuh), for the crave-able flavors it brings to the plate: all of the fresh, crisp romaine and veggies dressed in a very lemony vinaigrette. This is the salad I make the most, as do many cooks of Lebanese recipes.
There are a couple of versions of Lebanese Salad—one version is a "village salad" that contains no lettuce. This recipe is for the version made with romaine lettuce and just a few other ingredients. Here's how it's done, with ease: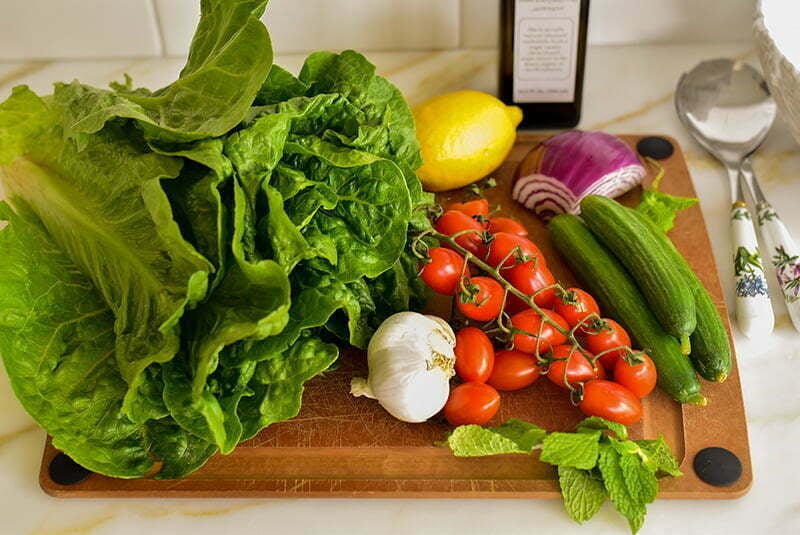 Ingredients to make Lebanese Salad
Romaine lettuce. Choose big, fresh, leafy heads of romaine. The lettuce is the centerpiece and must be fresh, cold, and crisp when eaten!
Red onion or sweet vidalia onion.
Persian cucumbers. These narrow, smaller cukes are sweet and have few seeds.
Tomatoes. In summer, I'm all about beefsteak, cut in juice chunks. Rest of the year here in Michigan, I go for bright red cherry or grape tomatoes and halve them.
Fresh Mint. THE Lebanese food flavor maker to beat all flavor makers!
For the vinaigrette: Garlic, lemon, salt, extra virgin olive oil (try these, from Lebanon!), dried mint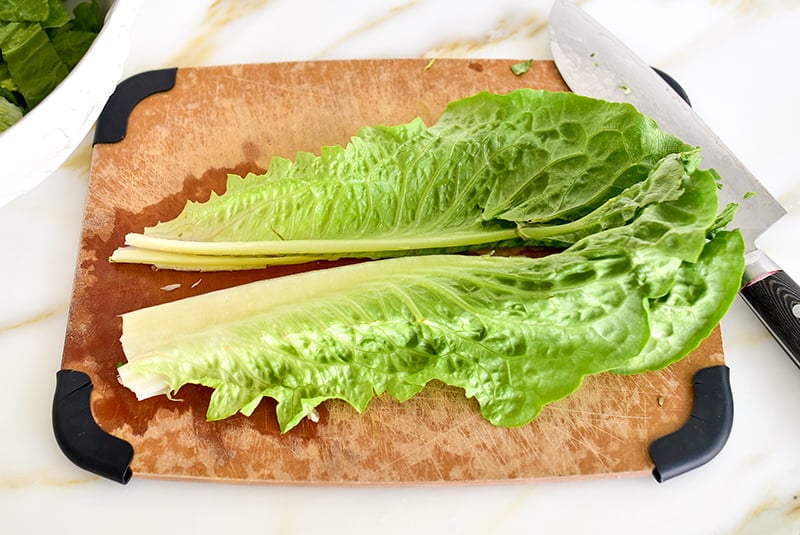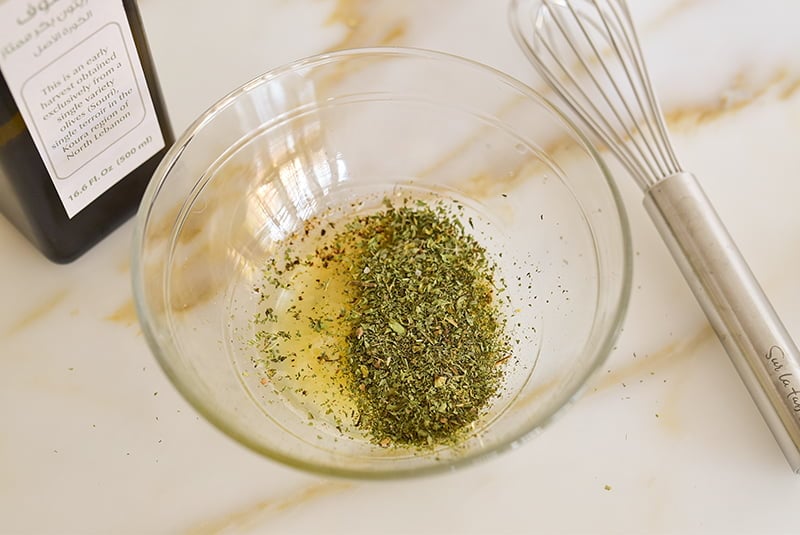 How to make salad, Lebanese-style
Step 1: Remove the Romaine leaves from the core. Lay the leaves in a stack. Slice down the center lengthwise along the rib to halve the leaves. Then, cut crosswise into pieces. If these still seem too big, give them a little chop to cut the large pieces smaller.
Step 2: Chop the other vegetables. Cut the cukes into small wedges. Cut the tomatoes in chunks or halve cherry tomatoes. Slice thin strips of onion; make these pretty by first halving the onion, then cutting the slices across from the core or stem end.
Make the vinaigrette. I like to grate the garlic on a microplane grater (used for zest)—this makes such quick work of mincing garlic! You can adjust the garlic level here; one large clove is my go-to for a family salata. Whisk the grated garlic with fresh lemon juice, salt, pepper, dried mint, and olive oil.
Step 3: Finely chop the mint. Use dry herbs for the easiest chop that won't clump as you chop.
Step 4: Get your big salad bowl out and toss the romaine and mint with vegetables and then the vinaigrette.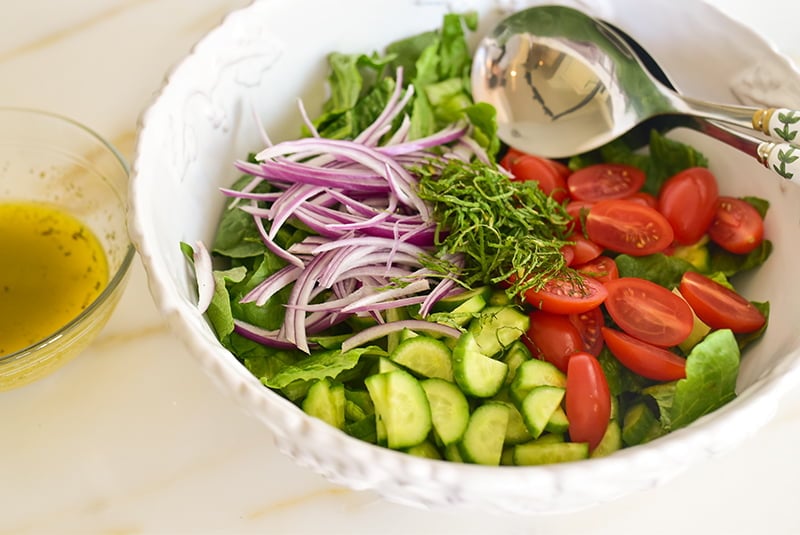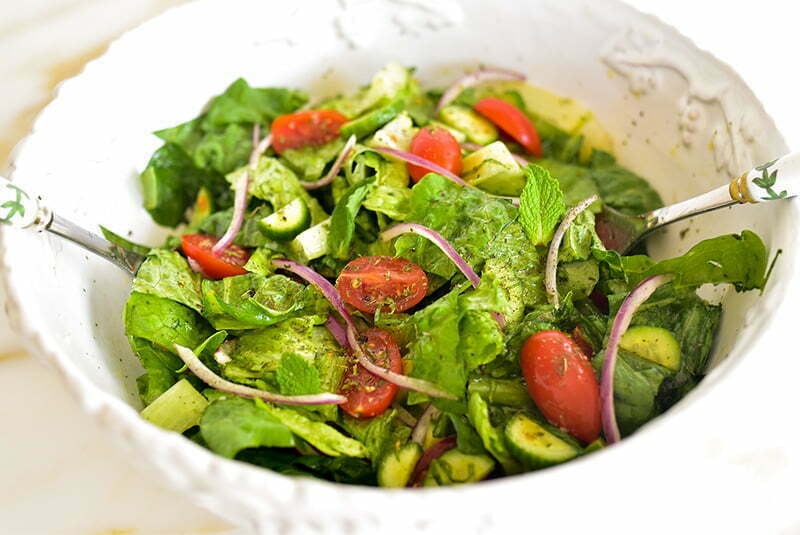 How to store Lebanese Salad
Once the salad is dressed, it is best served right away. Leftover salata is truly loved in our household, eaten casually with some flatbread or pita rather than served at another meal, because it becomes very soft and "marinated" with the vinaigrette. Store leftover salad in an airtight container.
How to make ahead
To make the salad ahead up to one day ahead, prepare the lettuce and all of the vegetables. Keep them chilled, undressed, until you're ready to serve the salad. Dress the salad just before serving. Store the undressed salad in zip lock bags, airtight containers, or right in the salad bowl, covered with plastic wrap.
Make the vinaigrette up to 5 days in advance. I keep vinaigrettes on hand so salads with the Lebanese flavors we love come together very quickly. I make a double batch (or more!) in a jar and keep it in the refrigerator. Because the olive oil solidifies when chilled, take the vinaigrette out of the fridge a good hour before using so the olive oil will come to room temperature. To speed this process up, run the jar under warm water and shake it several times to take the chill off the dressing faster.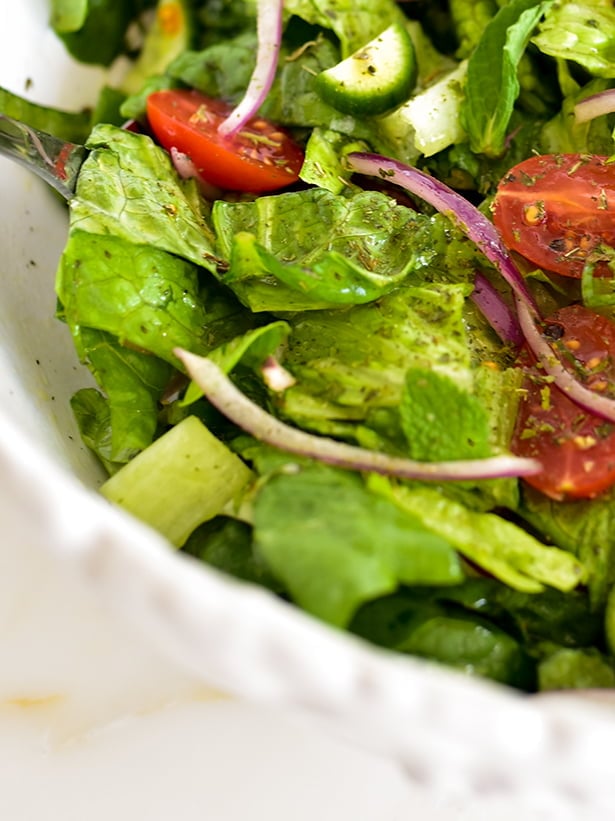 What to serve with Lebanese Salad
What a versatile salad this is! That's because the flavors are so bright, fresh, and easy they pair with many, many meals. Chicken, beef, fish, lamb: yes! Kababs, shawarma. Grilled vegetables. Hummus, baba gannouj, labneh. I could list my entire web site, minus dessert, here! Though we kind of eat this salad for dessert…the juices at the bottom of the bowl are so delicious that we practically fight over who gets to dip a piece of flatbread or pita in to soak up the goodness when dinner is done.
Lebanese Salad is delicious on its own too, as a light meal with flatbread or pita bread. Tear off a piece of bread, pick up a bit of salad with it, and you are happy!
Top Lebanese Salad with any protein or with some chickpeas or other legume.
More Lebanese Salad recipes to enjoy
Malfouf, Lebanese Cabbage Slaw
Easy Cabbage Salad with Garlic and Lemon
Cucumber and Tomato Salad with Mint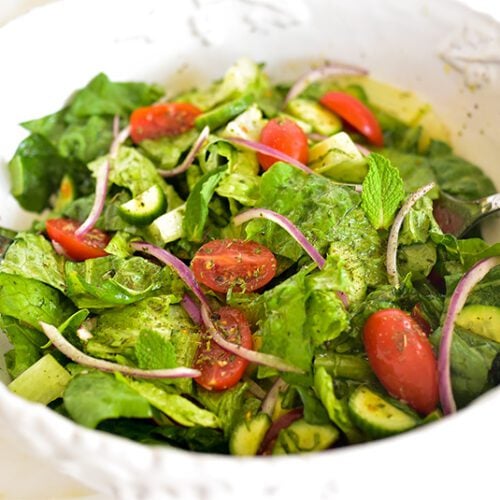 Lebanese Salad (Salata)
My traditional Lebanese Salad (salata) is a crisp salad of romaine, cucumbers, onion, and tomato with a garlicky, lemony vinaigrette.Mouthwatering! We eat this one almost every day.
Ingredients
For the salad:
8

cups

coarsely chopped romaine lettuce

1

large

tomato, coarsely diced, or 1 pint cherry or grape tomatoes, halved

2

Persian cucumbers, cut in wedges

1/2

small

red onion or vidalia onion, thinly sliced

10

leaves

fresh mint, chopped
Instructions
In a large salad bowl, combine the lettuce, tomato, cucumbers, onion, and fresh mint.

In a small bowl, whisk the garlic, lemon juice, salt, pepper, dried mint, and olive oil until combined and emulsified. Pour over the salad, toss to coat evenly, and serve.
Nutrition information is automatically calculated, so should only be used as an approximation.
Like this recipe? Leave a comment below!
(Visited 5,715 times, 1 visits today)