Tabbouleh Hummus Platter
Aug 15, 2019, Updated May 06, 2023
The Tabbouleh Hummus Platter is perfect on your grill buffet, as a side dish and a vegetarian main. Make it gluten-free using quinoa in the tabbouleh. Eat the tabbouleh hummus with thin pita bread or crisp romaine leaves.

Someone asked me recently what is my favorite way to eat hummus. That's a toughie, because I know no way of eating hummus that isn't a favorite.
But then, I do gravitate to hummus as a foundation, or rather, a partner to something else. Lamb kwarma atop a swirl of hummus is, in Dan's word: crayhayhayzie.
Red bell pepper, quickly and simply sautéed, finished with garlic and cayenne, and spooned into the well in the center of a hummus plate is truly my go-to lunch or on the rare occasion I'm eating dinner solo.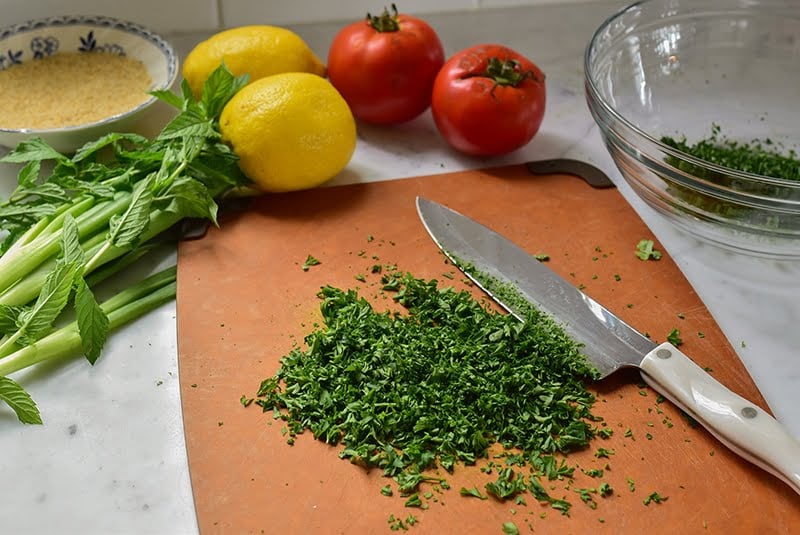 There is another way I crave my hummus, and I satisfy that craving, on a regular basis. It's the same way I crave my tabbouleh: together.
These two are a match, a total fit, a dream date of healthy meets luscious and they get along perfectly.
Now is the time for making a truly great bowl of tabbouleh, with the herbs and tomatoes and onion being so fresh and local at the height of summer.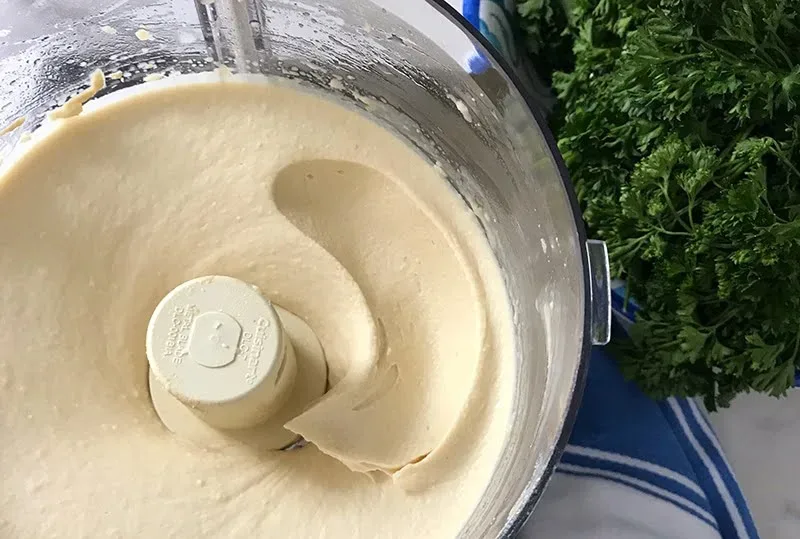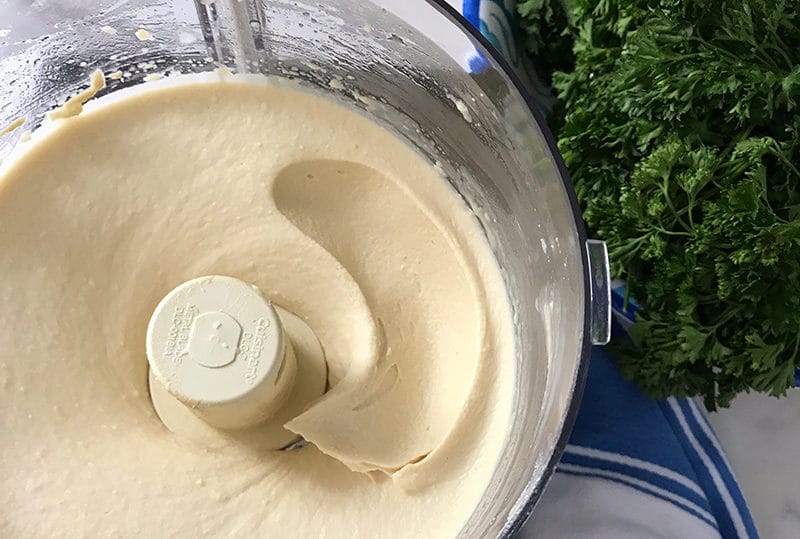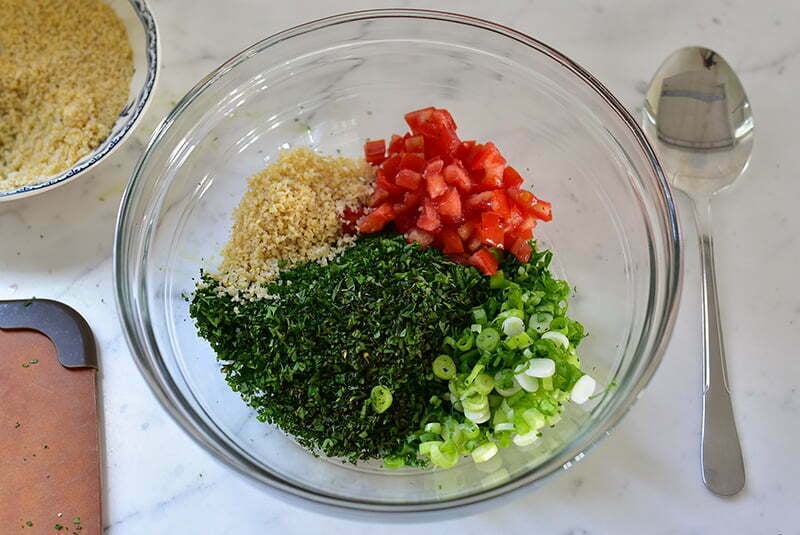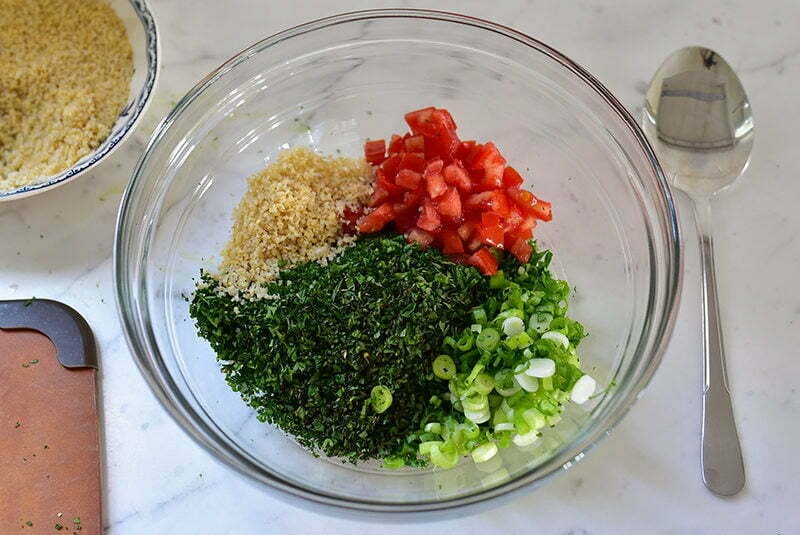 Remember that tabbouleh is a simple salad with just a few ingredients that hardly need to be measured: lots of finely chopped parsley, a good handful of fresh mint finely chopped, thin-sliced scallion, seeded chopped tomato, and a bit of soaked fine bulgur.
Remember too that the bulgur is par-cooked dry wheat, not cracked wheat which needs to be cooked. A quick soak in water, and your bulgur is good to go. Replace the bulgur with a little cooked quinoa to make gluten-free tabbouleh.
The bright lemon vinaigrette with all of tabbouleh's freshness, piled high on a swoosh of smooth, deeply tahini-y hummus, and here is the Tabbouleh Hummus Platter. I admit that while such a platter belongs on your grill buffet aside steaks or kebabs or shawarma or lamb, the tabbouleh hummus platter is also a thing of great beauty on its own for being so healthy (high plant-based protein + dark green leafy vegetables), and jammed with flavor and lush textures.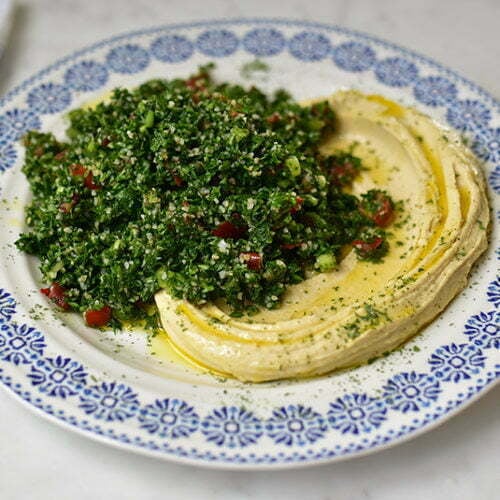 Tabbouleh Hummus Platter
The key to smooth, luscious hummus is to make every ingredient the best it can be. Peeled chickpeas are essential to the texture of your hummus, which you can get here. To skin your own canned or cooked chickpeas, saute the chickpeas over medium heat with a touch of baking soda, then put them in a bowl with lots of water. Agitate and rub the chickpeas with your fingers and pour off the water with skins; repeat several times. Plate the tabbouleh and hummus right before serving, and serve with crisp romaine leaves, little romaine gems, or thin pita bread–all of which can be torn and used to pick up the tabbouleh and hummus to eat.
Ingredients
For the hummus:
1

clove

garlic, green sprout removed, minced

1/2

teaspoon

kosher salt

Juice of 1 lemon

Chickpea cooking water, or water, as needed
For the tabbouleh:
1/4

cup

fine bulgur

2

bunches

curly parsley, washed, dried, picked from stems, and finely chopped

1

large

ripe tomato, seeds removed and finely diced

2

scallions, thinly sliced

Handful fresh mint leaves, finely chopped

2

tablespoons

extra virgin olive oil

Juice of 1 lemon

1

teaspoon

kosher salt

Few grinds black pepper
Instructions
Make the hummus:
In the bowl of a food processor, puree the chickpeas and garlic until a thick paste forms. Give this a full 3 minutes to get the chickpeas very well pureed. With the machine running, add the tahini, salt, and lemon juice. Taste and see if you'd like the hummus thinner or lighter. If so, Slowly add cold cooking liquid or water, a tablespoon at a time, and process for 3 minutes, or until the hummus is very smooth. Taste and
adjust with salt and lemon juice as needed.
Make the tabbouleh:
In a small bowl, rinse the bulgur and barely cover with cool water. Set aside to soften while you chopped the herbs and vegetables.

In a medium bowl, combine the chopped parsley, tomatoes, scallions, and mint. Add the bulgur, and season the salad with the olive oil, lemon juice, salt, pepper, and dried mint. Taste and adjust as needed.
Assemble the platter:
On a beautiful platter about 12"- to 14"-inch platter, dollop the hummus on one side and create a well out of 3/4 of the hummus, leaving the center flat. Spoon the tabbouleh onto the platter, partially over the center of the hummus and filling the other side of the platter. Drizzle the hummus generously with olive oil, and dust with more dried mint. Serve immediately.
Nutrition information is automatically calculated, so should only be used as an approximation.
Like this recipe? Leave a comment below!
(Visited 10,439 times, 1 visits today)