Lebanese Garlic Sauce, Toum
Apr 18, 2018, Updated Oct 18, 2023
Learn how to make toum, traditional Lebanese garlic sauce. This is the the Middle Eastern dip people go bonkers over! This thick, creamy garlic spread comes together with from just 4 simple ingredients and tastes great on just about everything.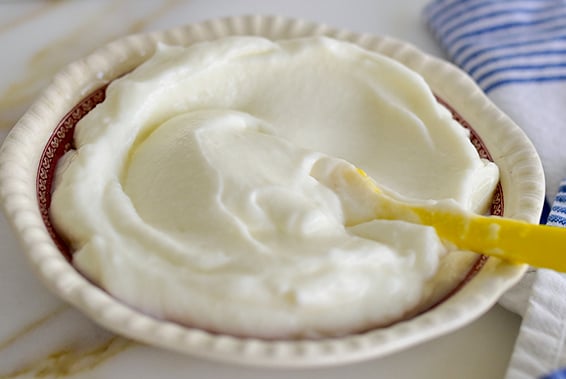 Toum is to Lebanese food as parmesan cheese is to Italian: there are so many dishes that are more flavorful with toum that it's a MUST to keep on hand at all times! Ethereal, light, smooth . . . toum is addictive, the ultimate expression of garlic. Most of us eat authentic toum as a popular condiment in Middle Eastern restaurants or Lebanese restaurants with pita bread, chicken, shawarma, kafta and more. In recent years, toum devotees are happy to find the thick garlic paste of a sauce available in grocery stores, too.
I enjoy making Lebanese toum sauce an obsession in my own kitchen. I pursued toum-making to develop the recipe for my cookbook, and made it my business to question every person, chef and home cook alike, and read everything I could get my hands on to understand various methods.
Then I put them all to the test, making every mistake possible to ultimately find the simplest way to successful homemade toum garlic sauce.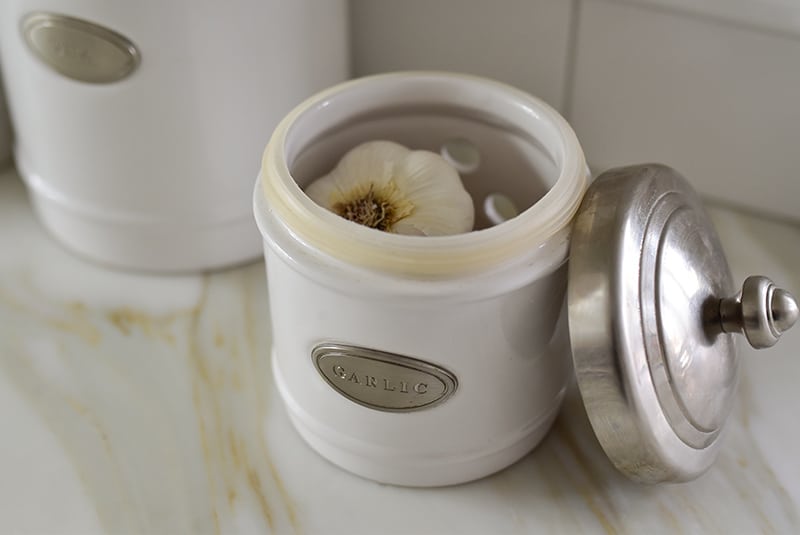 What is toum?
Toum is an emulsion of garlic, oil, lemon juice and salt. When combined properly, these ingredients form a creamy, thick paste or sauce that is often compared to aoli.
Toum is all about the garlic, a sauce devised somewhere deep in Lebanese history to allow us all to eat garlic as a spread, a dip, a sauce, a joy. "Toum" is the Arabic word for, you guessed it, garlic!
Consider toum a condiment to for spreading (make the best garlic toast in the world with toum spread), as a dip, and as an accompaniment to all kinds of foods, especially grilled or roasted meats and vegetables.
Toum goes by all kinds of names: creamy garlic sauce, Lebanese garlic dip, garlic paste, garlic spread. Sometimes toum is a fluffy garlic sauce, and sometimes toum is a creamy spread or creamy sauce. These variations are determined by the amount of liquid in the mix (ice water droplets or fresh lemon juice).
What is the difference between toum and aioli?
Toum and aoli are alike in that they are both emulsions. Toum is an emulsion of garlic, salt, lemon and a neutral oil and can be thick enough to use as a spread. Traditional aioli is an emulsion of garlic and olive oil, but more often is a garlicky mayonnaise. Mayonnaise is a version of aioli that also contains eggs.
Toum is a traditional Lebanese garlic sauce. Aioli is a traditional European sauce from France and Spain.
What does toum garlic sauce taste like?
Though toum includes oil, lemon, and salt along with the garlic, the flavor of toum is very forward and clear: toum tastes like light, airy garlic! The best garlic you have ever eaten! Garlic lovers, this is for you.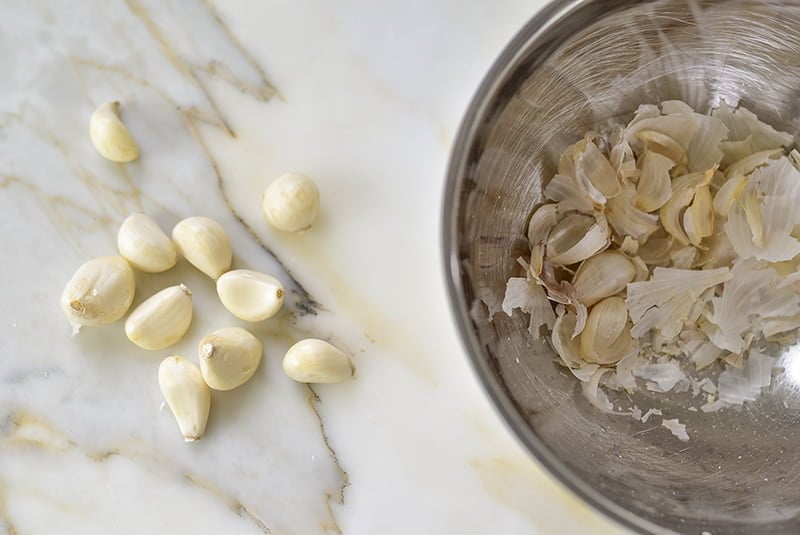 What is toum sauce made of?
The ingredients for Lebanese garlic sauce are just a handful:
Garlic is the main ingredient in toum. All of the other ingredients are there to support the garlic. Look for the firmest, freshest garlic you can find, squeezing the whole heads of garlic to avoid any hollow or old heads. Use at least one full cup of peeled garlic cloves. The greatest thing to happen to me as a cook recently is the organic peeled garlic cloves at Whole Foods. These, my friends, are a homemade toum game changer. No peeling of the garlic cloves anymore! That step was time consuming. Also, make sure the garlic does not have a green sprout in each clove. Remove them by cutting the clove in half and pulling out the sprout. Also this is a sign of older garlic.
Oil suspends the garlic in its emulsion. This is one of those rare Lebanese recipes that does not call for olive oil. Olive oil imparts a bitterness and color to toum that we want to avoid. Use a neutral oil, which is a flavorless oil such as canola oil, vegetable oil, avocado oil, grapeseed oil, safflower oil, sunflower oil. I typically choose expeller-pressed canola or avocado oil.
Lemon juice. Most important thing to note about the lemon juice: fresh is best. Use fresh lemon juice for toum. The lemon juice adds a fresh, bright flavor dimension, balancing the strength of the garlic. It is also important to the emulsification process.
Salt is essential not only as a flavoring, but also to help all of that the slippery garlic gain the traction it needs at the start of processing.
How to make creamy Lebanese garlic sauce (toum recipe).
The best way to make toum sauce is in a food processor (large or prep-sized). Here are my tried (and tried again!) and true step-by-step instructions:
Step 1: Prep the garlic cloves by peeling enough cloves to make about 1 ½ cups. If using pre-peeled cloves, all the better and a much faster process.
Step 2: In the bowl of a food processor, process the garlic and salt, stopping to scrape down the bowl of the processor several times.
Step 3: Introduce just a tiny bit of the oil. The initial introduction of oil into the garlic is the most critical step in making toum. Use a teaspoon for better control the first time adding oil, to dribble one droplet of oil, then two droplets, then three into the drip hole in the top of the food processor while it is running. Stop and scrape down the sides of the bowl, then run the processor again and add drops of oil one at a time. The less oil you add here very slowly, the more success for emulsion you'll have.
Step 4: Keep adding the oil slowly, then in a slow steady stream. The garlic will begin to take on a slight creaminess as it accepts the oil correctly, then more and more creaminess as you dribble in more oil. When the oil is introduced too quickly or too much at once, it is more difficult for the emulsion to take. When this happens, the mixture becomes liquid that looks like garlic coated with oil, rather than a thick creamy sauce. Adding the oil takes a bit of a long time, but patience will yield results!
Once creaminess is achieved, and the emulsion is set, I've discovered that it really doesn't matter how much more oil you add. Add much more to make a larger batch, or not a ton more for a smaller batch, and the flavor and texture are fine either way. Try one cup of oil to the cloves of two heads of garlic (about a cup depending on the size of your garlic) in a mini-processor. In a standard processor (about 11 cups), use at least 1 ½ – 2 cups of garlic cloves and up to 4 cups oil, which makes a big batch.
Step 5. Alternate now adding the oil in a slow stream and the lemon juice in droplets, until the toum is the consistency of thick yogurt. The consistency of a thick spread is best here, then the toum spread can be thinned out as needed to make dips and sauces.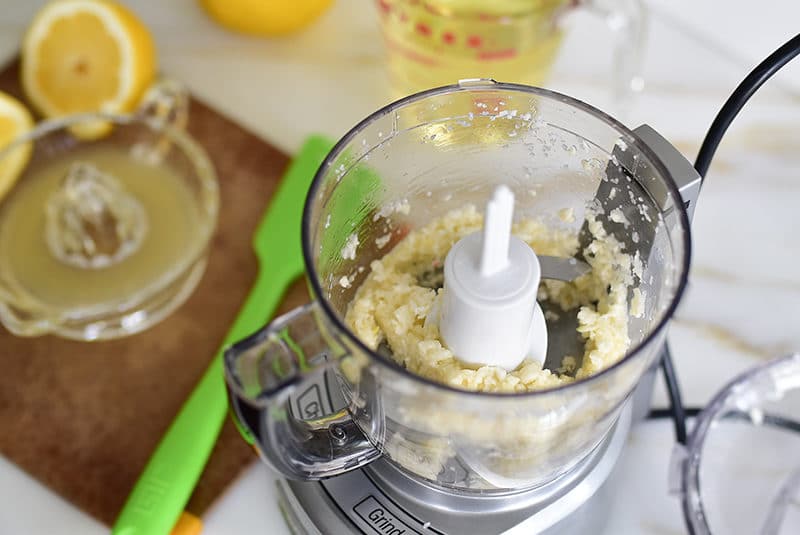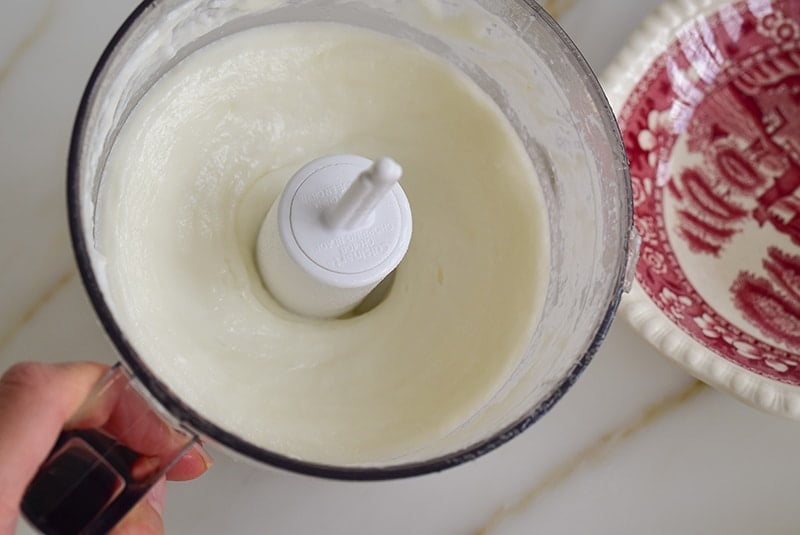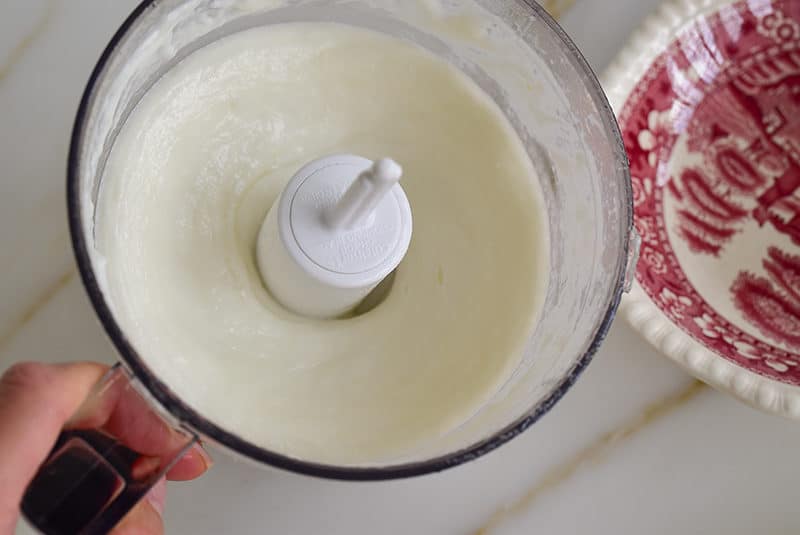 How to make this Lebanese garlic sauce recipe without a food processor.
Make toum by hand the following way:
Use a whisk and a bowl or a mortar and pestle. Start with minced fresh garlic, about 8 cloves. Whisk or pound the minced garlic with ½ teaspoon kosher salt until creamy. Start adding the oil one droplet at a time, whisking or pounding after each addition. The emulsion will begin to take and the toum will continue to look creamier. Keep adding the oil in droplets until you achieve a thick creamy consistency. Then add the oil in a slow, thin, steady stream while constantly whisking or pounding/stirring. Stop as you go and alternate with adding lemon juice just a few droplets at a time until the toum is a fluffy texture and spreadable.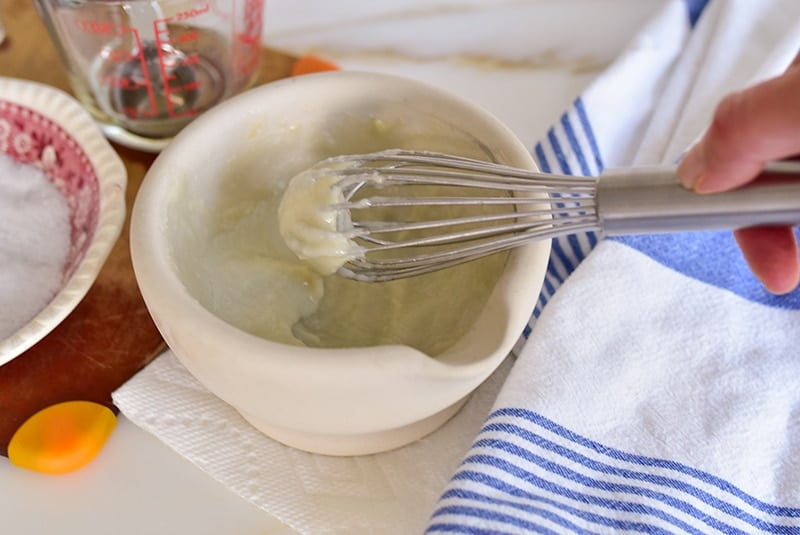 What to eat with garlic sauce?
Toum is a staple of Lebanese cuisine because it goes so many directions. It's fabulous with anything that loves garlic: in salad dressings, thinned a bit as a dip for pita bread, pita chips, veggies, or a favorite way to eat toum is as a sauce for Grilled Chicken Shawarma or Shish Tawook, Grilled Chicken Skewers.
Try toum as a spread for your next batch of garlic bread. Spread on top of slices of good bread and broil until toasty.
A tablespoon of Lebanese garlic sauce makes a great base layer for a white pizza, or any pizza. So much flavor!
Use toum as a sandwich spread. And, there may be no better dipping sauce for french fries than garlic toum, such a great thing.
Eat toum alongside a juicy rotisserie chicken, for example, to ramp up flavor.
Frequently Asked Questions
What if the emulsion breaks and the mixture is liquid?
This surely happens to most toum-makers at some point or another. The liquid will not be toum sauce, but can be put to use in recipes such as vinaigrettes, pasta sauces, that kind of thing. Try again making sure the initial addition of oil takes place very slowly.
Where to buy toum garlic sauce?
Commercial toum is available more and more. Check out Anne's Toum and other toum sauces at Whole Foods and other specialty shops. These are a good option when you can't made your own, but homemade garlic sauce always tastes best, tough.
Is toum garlic sauce made with egg whites?
Some recipes do call for raw egg white as a way to make the mixture hold together better.
What if my toum has a very strong garlic flavor?
The strength of the garlic flavor depends on the freshness and general flavor of your garlic cloves. If your toum is burning or too strong, know that it will mellow on its own over several days in the refrigerator. Add the strong toum to other ingredients such as yogurt or tahini to make a sauce that is includes the toum but is not as strong.
How to store toum?
Keep toum in an airtight container in the refrigerator.
How long does garlic sauce keep?
It's amazing: toum will keep in an airtight container in the refrigerator for months at a time.
Can you freeze toum?
Store toum in the refrigerator than in the freezer. Freezing toum does not extend how long the toum keeps since it keeps so well in the refrigerator.
Can you use an immersion blender to make it?
No, the immersion blender does not have enough blade surface area to properly pulverize the garlic and create an emulsion.
More Lebanese with Garlic
Easy Cabbage Salad with Garlic and Lemon
Garlicky Lebanese Lentil Soup, Rishta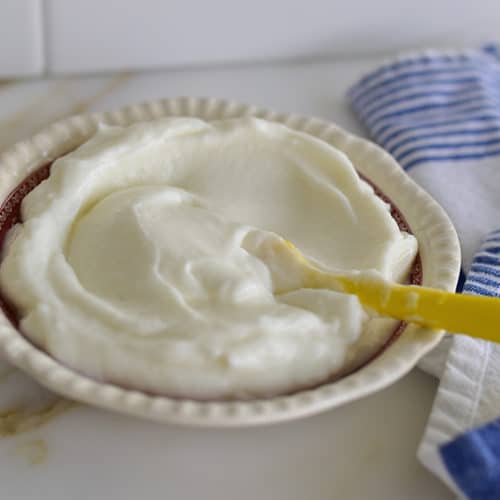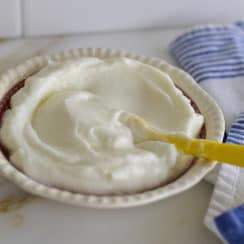 Toum, Lebanese Garlic Sauce
One simple way to peel a whole head of garlic is to loosen the cloves, then shake them like crazy in a glass jar or between two large metal bowls. This releases the cloves from the peels for the most part. Toum made by hand is delicious, though not as smooth and light as toum made in the food processor. If your toum is too bracing in garlic flavor, whisk in more ice water and lemon juice, which will also make it saucier. Let the toum rest in an airtight container in the refrigerator for a few days. The flavor will mellow with time. Serve toum with any grilled meat or fish, as a dip with bread or chips, or in vinaigrettes or any recipe you want to add garlic to. The toum will keep in the refrigerator for several weeks.
Ingredients
By hand:
8

cloves

garlic, peeled

1

teaspoon

kosher salt

1

cup

neutral oil, such as canola or safflower

1

tablespoon

fresh lemon juice

1 to 2

tablespoons

ice water
For small-batch, In a mini-processor:
1

cup

garlic cloves, peeled (from 2 heads)

1

teaspoon

kosher salt

1

cup

neutral oil, such as canola or safflower

Juice

of 1/2 of a lemon

2-3

tablespoons

ice water
For large-batch, in a standard processor:
1 1/2

cups

garlic cloves, peeled (from 4 heads)

2

teaspoons

kosher salt

2 to 4

cups

neutral oil, such as canola or safflower

Juice of 1 lemon
Instructions
To prepare the garlic, slice the cloves in half lengthwise and remove any green sprouts. Worth the effort here, as the sprouts contribute to burn and bitterness.

If making toum by hand, mince or grate the garlic on a fine grater into a medium bowl. Set the bowl over a towel or use a non-skid bowl, to hold it in place as you whisk. If making toum in a processor, blitz the garlic with the salt until it is minced, stopping to scrape down the bowl as you go.

Take your time here. Whisking constantly or with the processor running, use a teaspoon to drop a droplet of oil into the garlic. Stop and scrape down the bowl. Then add another droplet, stop and scrape, then another. Continue in this way even though at first it seems like nothing is happening.

Once the garlic begins to look a bit creamy, you can add the oil a couple of droplets at a time, stopping and scraping the bowl down as you go. Stay with it.

Continue in this way until the garlic becomes thick and spreadable. Once the emulsion is fully formed and what you have looks like a thick white spread, you can increase the speed of adding the oil. Rather than droplets, add the oil in a slow, thin, steady stream while processing or whisking. Stop and taste and keep adding more oil if the toum is too strong. Don't be surprised if this process takes up to 15-20 minutes.

Finish by processing or whisking in the lemon juice and ice water.
Nutrition information is automatically calculated, so should only be used as an approximation.
Like this recipe? Leave a comment below!
(Visited 34,520 times, 1 visits today)