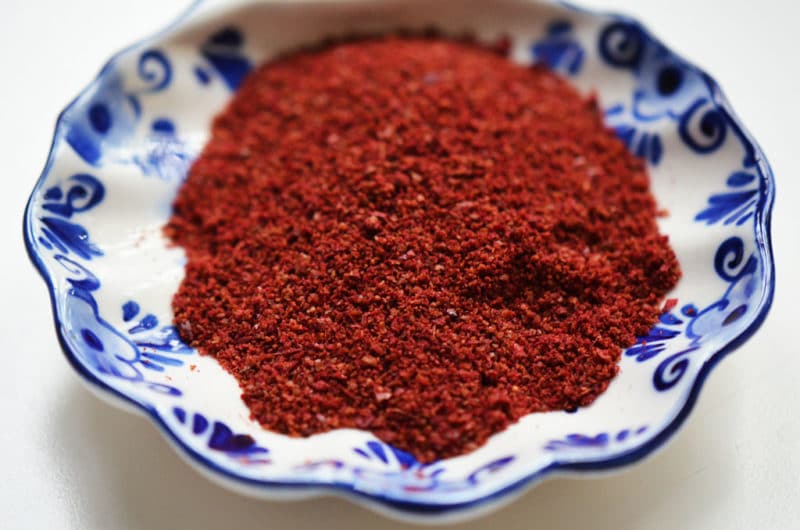 The trifecta of Lebanese spices in my pantry includes za'atar, cinnamon, and sumac. Some versions of za'atar get citrus notes from sumac mixed with roasted thyme and sesame seeds. Sumac powder is made from pulverized dried sumac berries, and the spice has been ramping up Middle Eastern dishes, it seems, since the beginning of time. It's an ancient spice, with a flavor that is tangy, lemony, bright—not surprising, given its bright red hue.
Buying sumac (SOO-mahk) can become a little precious—meaning: pricey—depending on where you buy it. Middle Eastern grocery stores, where sumac is right at home, sell big plastic containers of it at low prices.
When sumac leaves its humble beginnings and steps out into the wide world, it gets packaged in little spice jars and becomes an exotic wonder at a much different price point. I remember when I was living in Chicago and ran out of rose water. No time to make the hike up to the Middle Eastern market, so I tried my local Treasure Island. They had my rose water alright, but it was in a tiny blue bottle with a pretty, yet somehow irritating, label from France. The price tag was $12. Sometimes that can be worth it, especially if you're in a pinch or if you're after a particularly beautiful or special or organic version of a product. But a typical 10 oz. bottle of Lebanese rose water is under $5.
The upside of keeping even a small jar of sumac on hand is that it may not get used up all that quickly. Sumac can be a sprinkling spice, giving a shake of lemony flavor to hummus or chicken. But the primary function of my sumac is its classic taste and color atop a fattoush salad. We're making a great big bread salad, in true Lebanese style, this week and our great big container of sumac is standing at the ready.
(Visited 3,703 times, 1 visits today)