Kibbeh Footballs, Arras Kibbeh
Sep 12, 2012, Updated May 01, 2023
Kibbeh footballs, or "arras kibbeh" is an incredibly delicious and beautiful way to prepare classic Lebanese kibbeh. The balls are shaped with the kibbeh and stuffed with househ, a lemony meat/onion/pine nut mixture.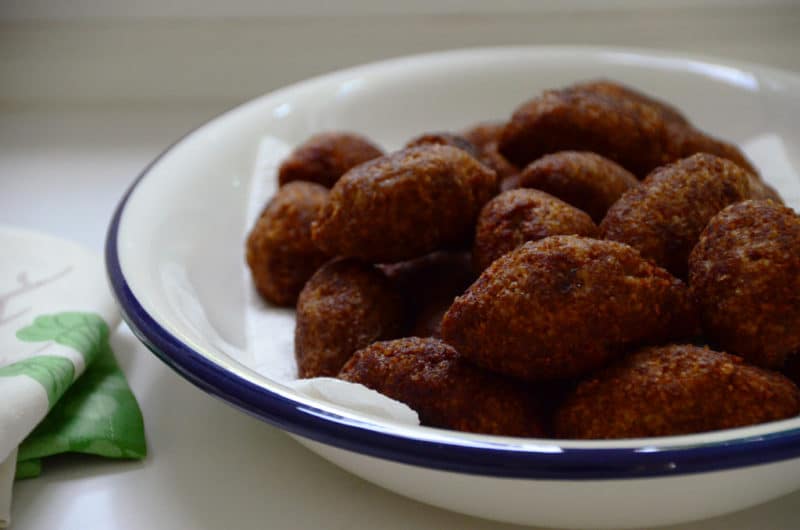 One of the many great things about my home state of Michigan is that there are lots of Lebanese populating the state. This translates to one's ability to find good Lebanese restaurants pretty much around the corner, at least if you live in the Lansing or Detroit area. It is a luxury that we take for granted until we spend any amount of time in other places, where there is no such thing as good pita bread and certainly no such thing as a go-to Lebanese restaurant nearby.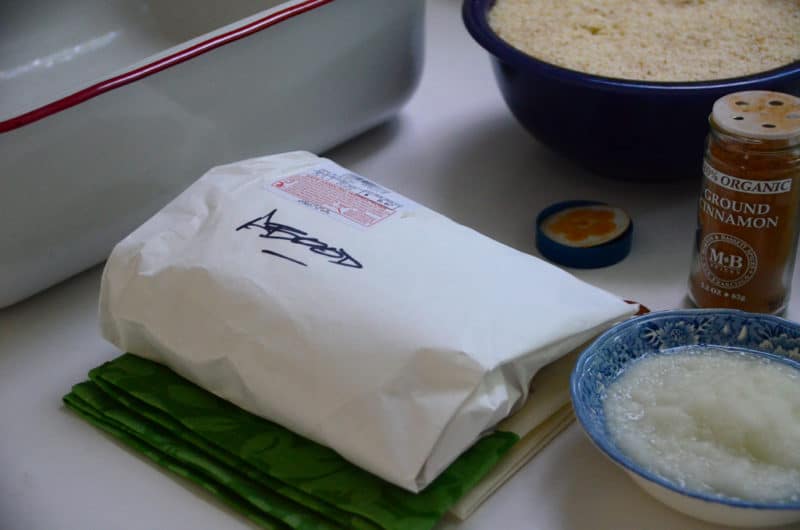 In East Lansing, you can get phenomenal, traditional Lebanese food from Woody's Oasis. The Lebanese eat there, if you know what I mean. Woody's has always made it seem perfectly normal to have foods like fatayar and arras kibbeh (kibbeh footballs) at events like tailgaters or your kid's fifth birthday party, even when your last name is Smith.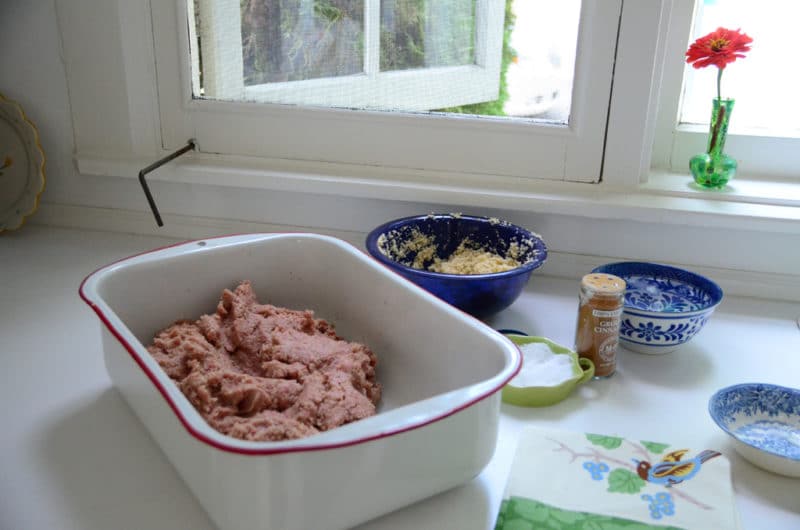 So if we were putting together a tailgate menu and decided to make the chicken but not the fatayar or the kibbeh footballs, that wouldn't mean we'd be going without those delights. It just means we'd be getting them from Woody's.
But say you are making the kibbeh footballs yourself this time, and you grew up eating lots of them from Woody's, and you discover that the perfect football shape doesn't come so easy (more often my mom has made a round kibbeh ball or kibbeh patty-shape). Then you might ask to take a "tour" of the kitchen at Woody's in hopes of catching a glimpse of one of the Sittos in the back shaping her footballs. Or you might get your booty on a plane and go to Lebanon, and take a class with a woman dubbed "the kibbeh queen."
I did enjoy making kibbeh with Georgina and our little cooking class at Tawlet in Beirut. I loved the restaurant and everything about being there, including the rosewater elixir that started our evening and the butter cookies (we'll make them) that ended it. But I didn't walk away having pocketed the secret formula, the golden ticket of kibbeh-shaping techniques that I had hoped for. We made big domes that were meant to be grilled, a specialty of northern Lebanon. Nice, but still.
I was, and still am, after the perfect shape, the football shape, that Woody's puts out like a machine (but not) and that seems so elusive when the arras are made at home.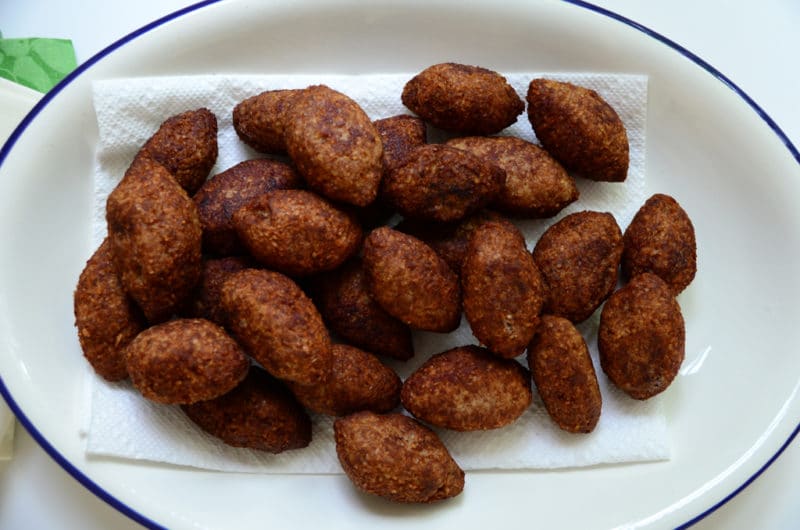 I know, I know, the rustic look is so Saveur magazine. So real-deal. And no matter the shape, the arras are so savory and good that you can't stop eating them even when there is a tin of seven-layer cookie bars, a bag of Snickers, and an apple in your pocket still to be had. It's just that there is this part of me that craves the ability to make the perfect lines of a perfect kibbeh football the way my brothers crave a perfect Hail Mary touchdown or the perfect good-old-days of Lou Holtz.
The secret to making perfect kibbeh footballs is no doubt the same one that wins the game: practice, practice, and then practice some more. And if you love doing it while you're at it, you're going to play like a champion.
---
More Kibbeh Recipes
Fried Kibbeh Bites with Tahini Dipping Sauce
Kibbeh Footballs, Arras Kibbeh
The kibbeh balls are versatile—they can be shaped as patties, balls, or the traditional torpedo/football. They can be stuffed or not stuffed at all. One of the most delicious things you can eat is a kibbeh football right out of the fryer (but they can be baked). Kibbeh footballs are great for a picnic eaten room temperature, or served warm with tahini sauce or hummus, labneh, and good flatbread or pita bread. This recipe makes about 40 arras kibbeh.
Ingredients
For the househ:
1

medium

sweet onion, diced 1/4-inch

2

tablespoons

extra virgin olive oil

1

pound

coarsely ground round

2

teaspoons

kosher salt

1

teaspoon

cinnamon

Few grinds black pepper

Juice of 1 lemon

1

cup

toasted pine nuts
For the kibbeh:
2

cups

fine bulgur

1

medium

sweet onion, pureed

2

pounds

leg of lamb or eye of round beef, trimmed entirely of all fat and gristle

1-2

tablespoons

kosher salt

1/2

teaspoon

black pepper

2

teaspoons

cinnamon

1/4

teaspoon

cayenne pepper (optional)

1

cup

ice water
Instructions
For the househ:
Heat the olive oil in a large skillet over medium heat. Add the onion, season with a little salt, and sauté until soft and translucent but not browned. Add the meat, season with salt, cinnamon, and pepper. Cook the meat, breaking it up into small pieces as it cooks, until just cooked through. Stir in the lemon juice. Remove from the heat, transfer the househ to a bowl, and add the pine nuts. Set aside.
For the kibbeh:
Rinse the bulghur in cold water, drain, and cover to 1⁄2 inch with cold water. Soak for 1⁄2 hour, or until the bulghur is softened.

Either ask the butcher to grind the meat for you (three times on sterile blades), or grind it yourself. To grind meat, slice the trimmed meat into rectangles, about 4×2 inches. Season lightly with salt and pepper and freeze for 30 minutes. Grind the meat once on the fine/small holes on the grinder, or twice on the large holes.

To combine the kibbeh meat, keep a small bowl of ice water nearby to keep hands wet and cold. In a large bowl, knead the meat with the pureed onion and about half of the cracked wheat. If there is any visible water left in the bulgur from soaking, squeeze it out of the wheat before adding it to the kibbeh. Dip your hands in water as you knead, adding about 1⁄4 cup of the water in total; be careful not to add too much water to the kibbeh or it will become mushy rather than simply soft. Add the wheat 1⁄2 cup at a time until it's fully incorporated. Season with salt, pepper, cayenne and cinnamon, tasting and adjusting the seasoning.
Shape the arras:
Keep the bowl of ice water handy. Take about 2 tablespoons of the meat "dough" and shape into a ball. Wet the the palm of the hand the dough is resting in with cold water, and use your first finger of the other hand to hollow out the ball of meat by pushing into it. The walls of the meat should be about 1/8" thick all the way around. Keep the meat in an oblong/torpedo shape for footballs, or a ball shape for balls.

Using a demitasse spoon, spoon a teaspoon or two of filling into the kibbeh shell. Don't overstuff, and be careful not to get the filling on the edge of the shell that is going to be closed up, so that it will close easily. Push the kibbeh together at the open end and gently shape the kibbeh into a torpedo in the palms of your hands, using the tips of your fingers to pull each end out to a point. Smooth the kibbeh with a touch of cold water, making sure there aren't any openings. Set the kibbeh footballs on a sheet pan as you make them.

To fry the kibbeh footballs, fill a large, heavy, nonstick skillet with enough canola oil to reach halfway up the sides of the footballs. Heat the oil to 375 degrees, or until a small piece of herb dropped in bubbles up right away. Place several kibbeh balls gently into the oil using a large spoon to slide them in (my skillet held ten with some space around each one). Fry until deep golden brown, then turn over with tongs and fry the other side until deep golden brown, about 4 minutes total. Remove the kibbeh from the pan with tongs to a paper towel-lined platter.

Alternately, bake the kibbeh footballs on heavy sheet pans in a 400 degree oven. Brush first with olive oil or melted butter and bake until deep golden brown. Cool slightly and serve warm, or cool and serve room temperature. The kibbeh footballs freeze well, and will hold in the refrigerator for a couple of days.
Nutrition information is automatically calculated, so should only be used as an approximation.
Like this recipe? Leave a comment below!
(Visited 15,887 times, 1 visits today)