Lebanese Pumpkin Kibbeh
Oct 19, 2022, Updated May 06, 2023
Kibbeh is a Lebanese tradition of meat or pureed vegetables with bulgur wheat, spices and fillings. Pumpkin kibbeh is a simple vegetarian Lebanese kibbeh recipe filled with spinach and chickpeas.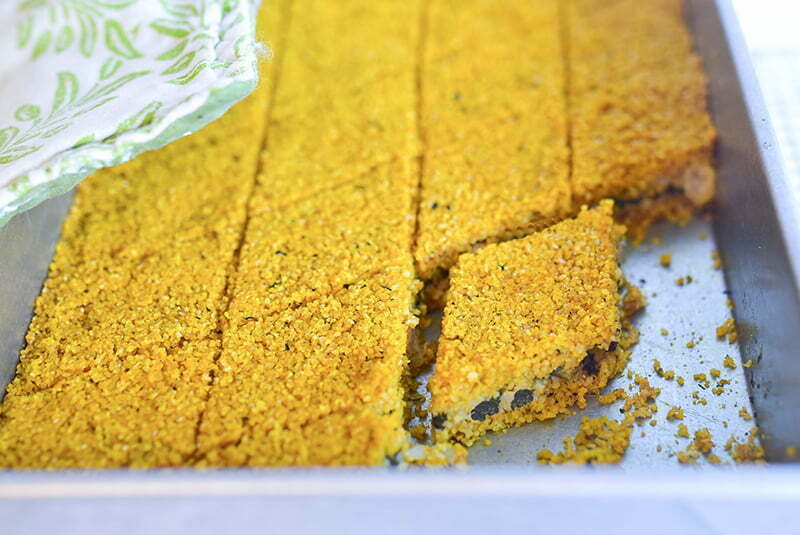 My fascination with pumpkin kibbeh began years ago when I was first scouring Lebanese cookbooks of all stripes. I had no idea, growing up as I did with Lebanese food on the table all of the time, that there were so many versions of kibbeh. The array is stunning, from the kibbehs my mother made of raw meat kibbeh nayyeh, baked kibbeh sahnieh, arras fried filled kibbeh balls to vegetarian kibbehs made with potato, tomato, and yes, pumpkin.
I first tasted pumpkin kibbeh at the Taverna restaurant in D.C. Shaped into arras, little kibbeh balls filled with spinach, onion and pine nuts, I could not get over how similar this tasted to the meat version. I had a similar experience when I tasted the smokey fire-roasted tomato kibbeh at Albi (also in D.C.!). Eyes closed, I couldn't say meat or no meat.
The perfecting of the pumpkin kibbeh recipe has practically become a fall sport in my kitchen. Every fall I take a variation on the recipes I've read and gone for it. Nobody, including or even especially, me has wanted to eat the resulting kibbeh. If you could have seen my mother's face as she watched me work on this and then tasted the finished dish! I thought I'd never get to a recipe I'd want to share with you. Til now!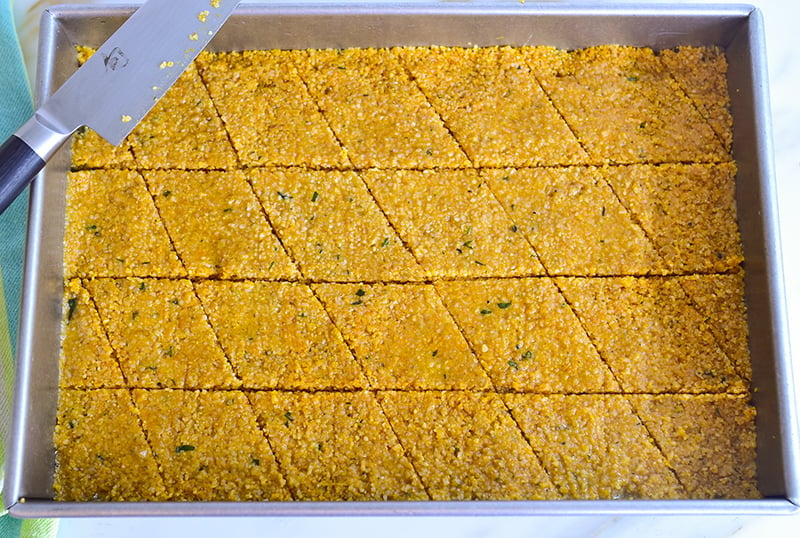 How to make pumpkin kibbeh
The basis of all kibbehs is a combination of finely ground wet ingredient (meat, potato, tomato, pumpkin) blended with fine bulgur wheat to create a kind of dough that can be shaped, then cooked.
Then there is another binding ingredient, pureed sweet onion. I've tested all kibbehs with both sweet and yellow onion, and you want the sweet. The flavor is far more palatable and delicate, yet still essential.
Even though this was not done in my family, I've experienced many a kibbeh recipe and many a kibbeh dish that includes fresh mint in the kibbeh "dough." Here, together with the pumpkin blend the fresh mint is an excellent flavor maker.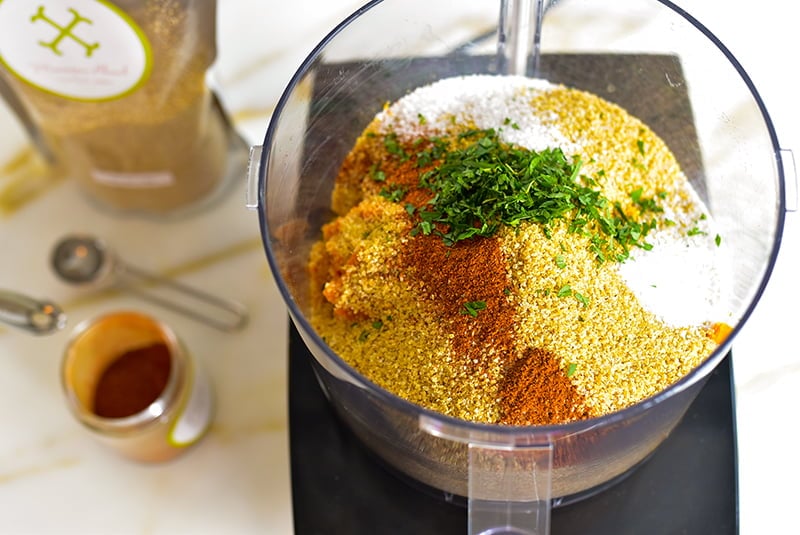 The other key to great kibbeh of any kind: spices. I did not have my 7 Spice when I was on the pumpkin kibbeh crusade all those years and I know now that this was the missing element. When I tipped a healthy spoonful of Lebanese 7 Spice into my pumpkin kibbeh blend, I knew from the scent alone that we were headed for success. The spice has a combination of many flavors, including cardamom, a little cumin (it works so well here), clove, coriander and several others. You can blend your own or purchase a 7 Spice, also known as baharat.
Layering and filling pumpkin kibbeh
The sahnieh, or layered kibbeh, is simple to execute and made extra delicious with a highly seasoned filling. I applied the same method and ingredients I use for my potato kibbeh filling for the pumpkin: a lemony, onion-laden saute of spinach (use frozen chopped or fresh) with a heap of cooked chickpeas for added protein, texture, and flavor.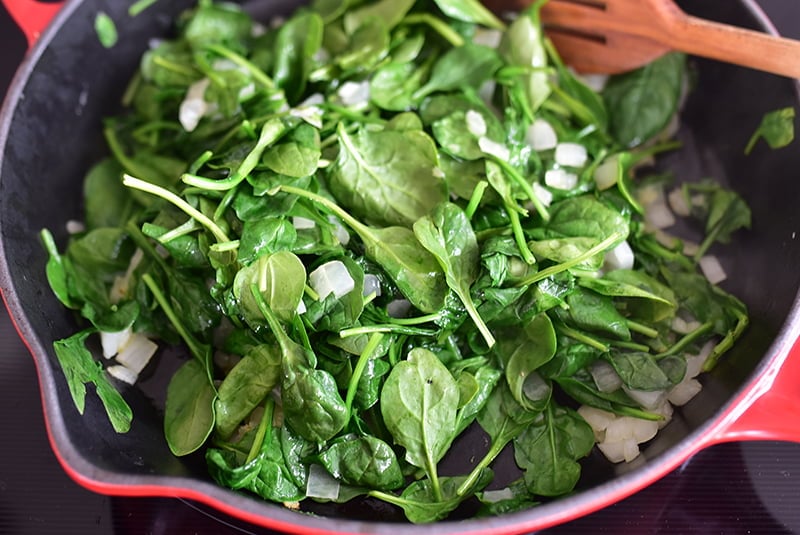 This filling belongs in the category of "make too much" because you'll find yourself taste testing until it's nearly gone, it tastes so very, very good.
The pumpkin-bulgur dough is pushed into the base of the baking dish to a thickness of 1/2 inch or so. The dough needs to be moist enough to hold its shape, but not too wet that it falls apart. The top is smoothed over with a hand dipped in water, then brushed with olive oil or clarified butter to encourage browning and add even more savory flavor.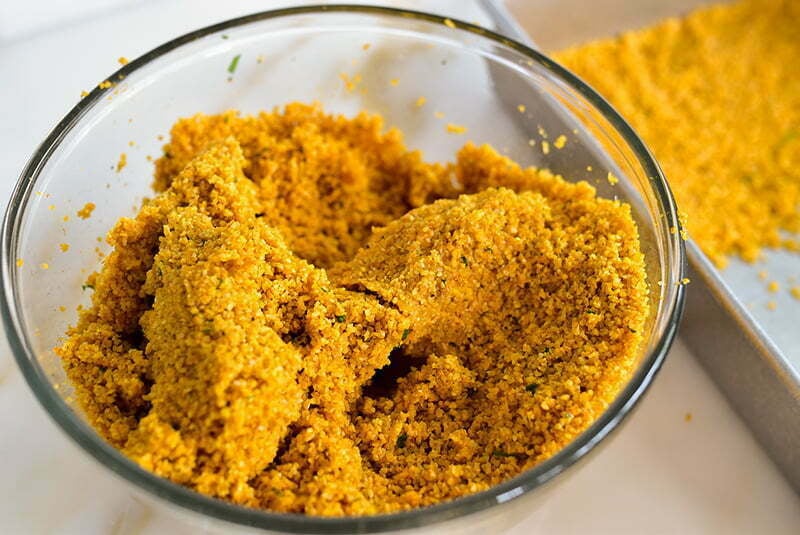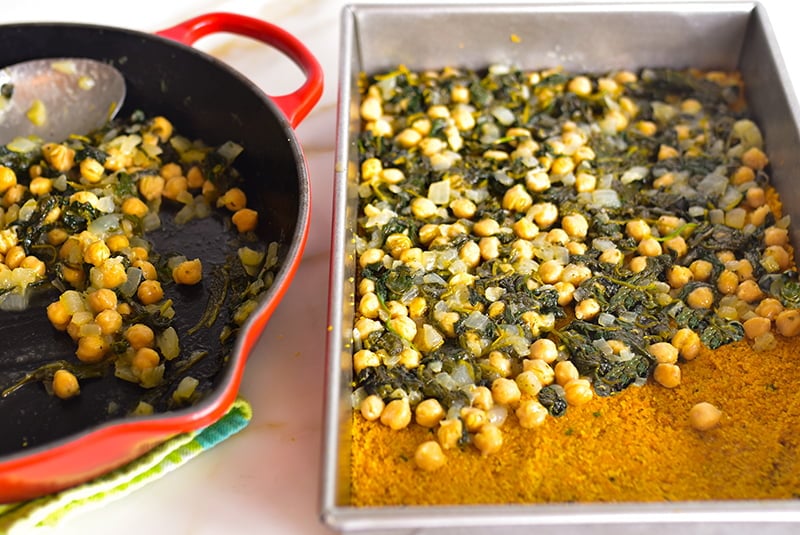 The winning pumpkin kibbeh recipe was confirmed for me when Dan gave it a taste. He seemed open-minded even though he'd been down the pumpkin kibbeh road before with me, many times. His first piece wasn't even that warm, and that man likes his food heated to very steaming hot (and yet he never burns his mouth. Bionic).
His reaction was not in words, but in the "mmm. Mmmm" that he makes involuntarily when he eats something delicious, as he heads into the pan for more.
More Kibbeh Recipes
Kibbeh Bites with Tahini Sauce
Lebanese Kibbeh Nayyeh (Raw Kibbeh)
Baked Kibbeh or Kibbeh Sahnieh in a Round Pan
Lebanese Pumpkin Kibbeh
This delicious blend of pureed pumpkin, bulgur, onion and spices with a lemony spinach and onion filling is one of the many versions in the great Lebanese kibbeh tradition. Use canned pumpkin puree or make your own. Use chopped frozen spinach or fresh.
Ingredients
For the kibbeh:
2

cups

fine bulgur, rinsed

1

15 oz.

can pumpkin puree

2

teaspoons

kosher salt

2

teaspoons

7 Spice or baharat, or a combination of cinnamon, ground clove, black pepper, cumin, nutmeg, cardamom

20

fresh mint leaves, finely chopped

1

medium

sweet onion, pureed

1/4

cup

melted clarified butter or extra virgin olive oil, for finishing
For the filling:
3

tablespoons

extra virgin olive oil

1

medium

sweet onion, diced

2

teaspoons

kosher salt

20

oz.

spinach, fresh or thawed from frozen

1

15 oz.

can chickpeas, drained and rinsed

Juice of 2 lemons
Instructions
In a large bowl (or in a food processor), combine the fine bulgur, pumpkin puree, salt, 7 Spice, chopped mint, and pureed onion. Allow the mixture to rest while you make the filling.

In a large skillet, heat 3 tablespoons olive oil over medium heat. Add the diced onion and 1 teaspoon of the salt. Cook until the onion is soft and translucent but not browned. If using fresh spinach, add in batches and as the spinach wilts add more. If using chopped thawed from frozen spinach, add it all at once.

Season the spinach with another teaspoon of salt and saute until wilted and warmed through. Stir in the chickpeas. Add the lemon juice and stir until combined.

Brush the bottom of a metal 13x9x2-inch baking pan with some of the 1/4 cup clarified butter or olive oil.

Remix the pumpkin bulgur mixture with your hands or a spoon. Squeeze some of the mixture in your hand; It should hold together. If it feels dry and falling apart, add cool water 1/2 cup at a time until you have a soft, cohesive mixture.

Use half of the pumpkin mixture as the bottom layer of the kibbeh, pushing it into the base of the pan to about 1/2-inch thickness. Spoon the spinach-chickpea filling over the bottom layer of pumpkin kibbeh.

Use the other half of the pumpkin mixture to form the top layer of the kibbeh, one handful at a time, flattening it over the spinach layer. Use some water on your hand to smooth over the top.

With the tip of a sharp knife, score the top of the kibbeh into squares or diamonds. These will be your guide to cutting out the pieces after the kibbeh is baked. Brush or dab the top of the kibbeh with the remainder of the clarified butter or olive oil.

Bake the kibbeh until the top is crisp and golden, about 30 minutes. Cut pieces and serve immediately.
Nutrition information is automatically calculated, so should only be used as an approximation.
Like this recipe? Leave a comment below!
(Visited 4,724 times, 1 visits today)