Hummus with Spicy Red Pepper
Feb 15, 2018, Updated Apr 30, 2023
Hummus with spicy red pepper makes a feast of a lunch. Keep homemade smooth hummus at the ready in the refrigerator, then the red pepper is a snap to prepare. The aroma of the saute is as divine as the hummus topped with red pepper is to eat. This recipe is vegan!, and gluten-free if eaten without the pita bread.
For many people, the drive to get back on track hits hard at the New Year. Me, I'm still eating donuts at that point.
Come February, thank heavens just past birthday cake season, I pick myself up and get serious about making some changes. Stimulus is Lent, that annual opportunity many of us have to take a closer look at oneself, and to work on shedding whatever it is that needs to go.
From a spiritual standpoint, this can get tricky, and the journey inward is worthwhile. From a physical standpoint (not unlinked to the spiritual of course), it's plain and simple: I've got to take better care of the feeding and watering of me.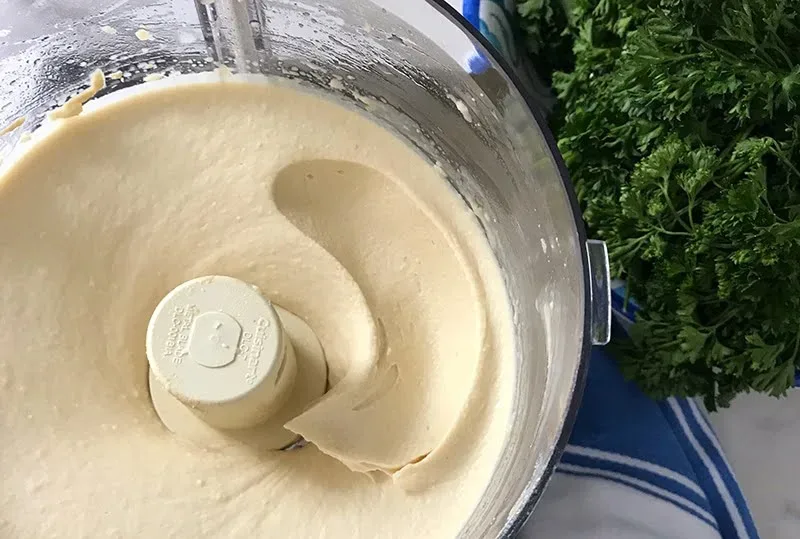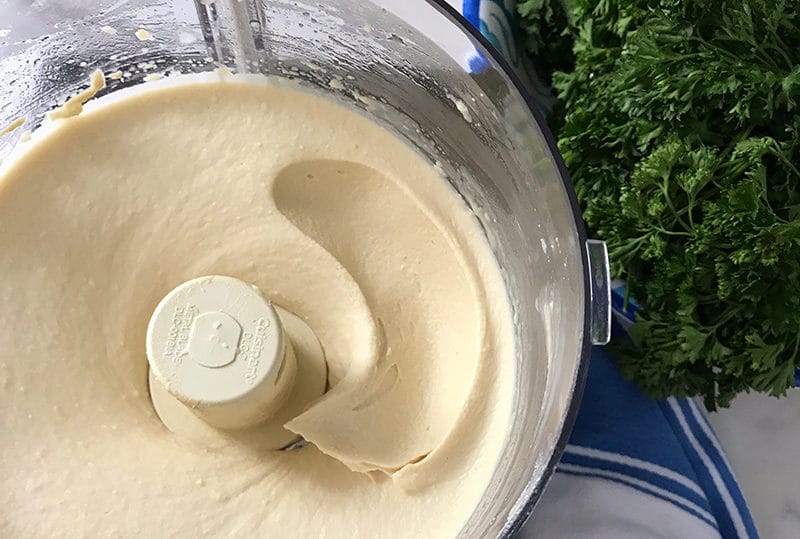 I've focused heavily over the last few years on my regrettable breakfast practices (see this, this, this). While the healthy breakfast is an ongoing effort, I notice another meal of the day takes a continual hit. By that I mean lunch, which I rarely eat.
When I mentioned to Cindy recently that I don't eat lunch, her eyes got huge in a kind of disbelief. I LOVE LUNCH!, was all she said. I do too!, I said. And I do. But I just don't eat it. I take a lot of spouse-pride in sending Dan off with his brown bag more mornings than not, a Danny lunch filled with baggies of vegetables, fruit, cheese, nuts, water, and some kind of protein-y wrap. Granted, he texts me around 8:30 a.m. to say how good the lunch was, but no matter when he eats it, at least he is eating a good portion of the pyramid. Often, that's more than I can say for myself.
I could keep a food journal to see what's really getting in there every day, but that's the kind of reality I'm going to go ahead and avoid. I could try the Whole30, but, well, NO WAY.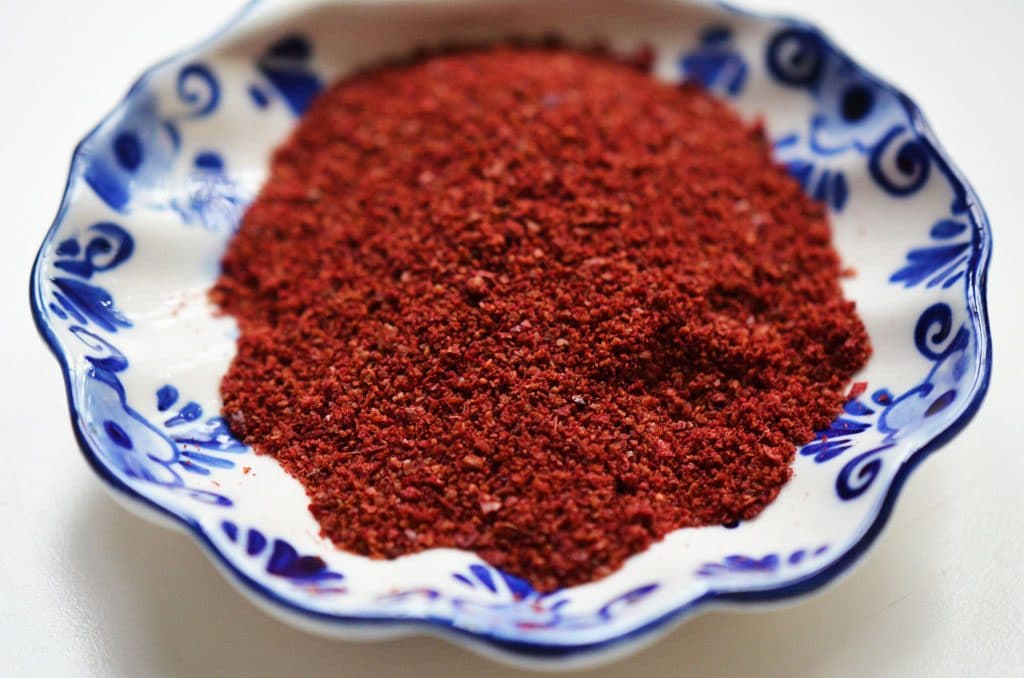 When I was doing my bridal boot camp several years back, I ate health-packed breakfasts and a decent lunch. That satisfied, full feeling prevented my hand from wandering over to snap off a piece of chocolate (and then another, and another, and so on) mid-afternoon. I'm all for a little daily chocolate, but when you're hungry and you haven't eaten many calories, you think you can justify more than a little chocolate. It's not really thinking at all; it's visceral, primal hunger that takes over and grabs whatever is easiest and most enticing and fast-processing. Then, with just chocolate to run on for human fuel, you feel nothing but ridiculous, especially when food and the Mediterranean Diet and all of that, are your thing.
So here we are. Lunch needs some T.L.C.
Given that the primary reason lunch takes a hit is time, I know that having lunch-ready healthy food is key. Keeping the refrigerator equipped with things like homemade laban and smooth hummus and tons of vegetables, I can get after it with relative ease.
Hummus is, as so many have let me know over the years, more foundational base for a meal than a dip in Lebanon. Here, we dip and we do it well; I don't apologize for that.
But I do love the incredibly satisfying meal that can be made with a little plate, a hefty dollop of smooth hummus, and a topping of unceasing choices. Traditional hummus kwarma, sautéed marinated lamb shoulder, makes us very happy, very very happy. Lately, and because of the fasting part of Lent and because I like to reduce the meat intake in general, I've wanted a vegetarian option that is just as satisfying as the lamb.
Enter red bell pepper, sautéed in olive oil just until warm but still with some body and tooth to it. You could marinate the pepper, but there's plenty of flavor to be had with sumac, garlic, and fresh herbs. Finish this one off with infused hot chili oil, and I'm telling you!! Dan got wind of my new lunch program and tells me his cold-cut style lunch is just not going to cut it when he knows I'm home eating this.
Lunch, I'll never forsake you again.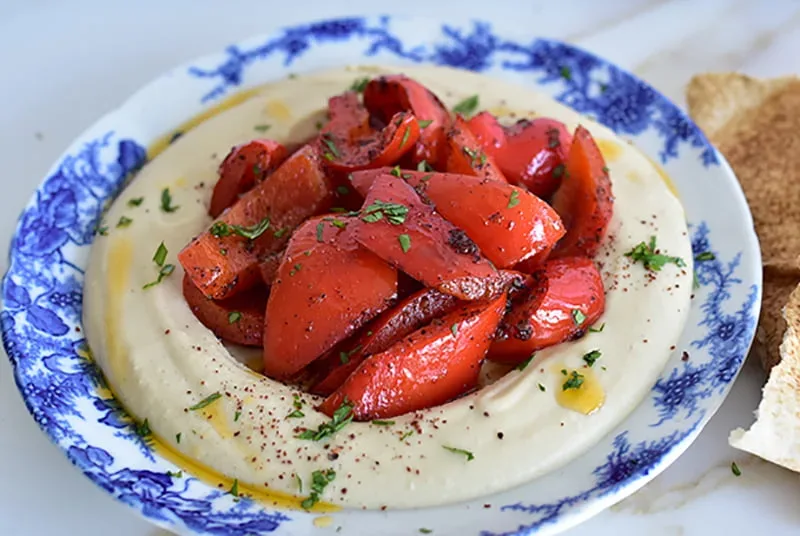 ---
More Hummus Recipes
---
Hummus topped with Spicy Sauteed Red Pepper
Keeping homemade smooth hummus on hand in the refrigerator makes this come together very quickly and easily (try making it with the Smooth Hummus Kit from Maureen Abood Market!). Bring the hummus to room temperature (I take it out in the morning at breakfast) and loosen it up by stirring in a few teaspoons of water or lemon juice. This recipe is vegan, and gluten-free if you don't eat it with pita.
Ingredients
2

tablespoons

extra virgin olive oil

1

red bell pepper, cut in 1- to 2-inch pieces

1

tablespoon

sumac

1/2

teaspoon

granulated garlic powder

1

teaspoon

kosher salt

pinch

cayenne pepper

1

clove

garlic, minced or grated

2

tablespoons

infused chili oil

Few sprigs

cilantro, mint, or parsley (or all three), finely chopped
Instructions
Spoon the hummus onto a 6-inch plate and turn the back of the spoon around the middle of the dollop to create a well with "walls."

In a medium sauté pan, heat the olive oil over medium heat until hot but not smoking. Add the red pepper and stir to coat with the oil. Season with sumac, garlic powder, salt, and cayenne pepper. Continue to sauté until the pepper pieces are blistered and charred in spots, but still have some crunch to the texture, about 10 minutes.

Add the minced garlic and a tablespoon of the chili oil, and continue to cook just until fragrant, less than one minute.

Spoon the pepper into the well of the hummus plate. Drizzle with the remaining oil and finish with a dusting of chopped fresh herbs. Eat immediately with pita bread, or all on its own.
Nutrition information is automatically calculated, so should only be used as an approximation.
Like this recipe? Leave a comment below!
(Visited 3,512 times, 1 visits today)