Soft-scrambled eggs with asparagus; let the Lenten fast begin
Feb 22, 2012, Updated Jan 09, 2023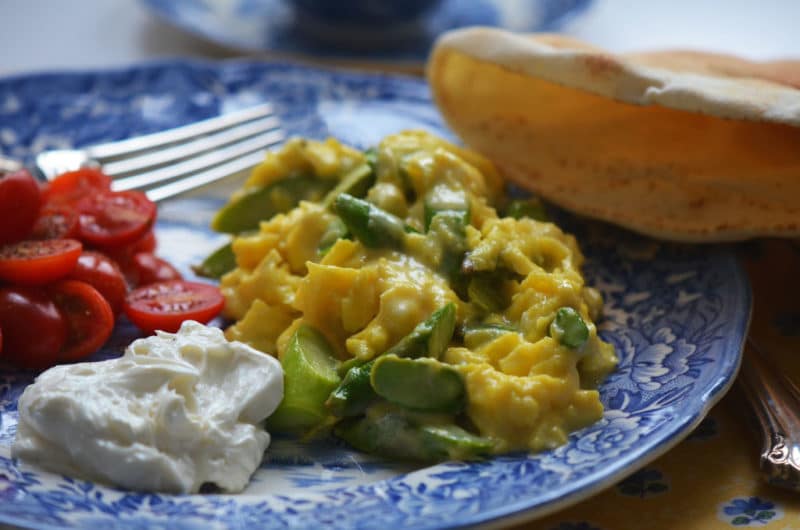 One of the more memorable Ash Wednesdays of my career was when I was just out of college. I was hyper-involved in social justice causes at St. John's, the Catholic student parish at Michigan State. Hours I didn't have to give when I was supposed to be studying for my master's classes were spent in committee meetings, at protests, and the zinger of all tedious tasks: whiting out certain words from the songbooks and writing in gender-neutral language.
For Ash Wednesday, I was invited to read the Gospel and deliver the homily at mass. Not a typical role for a woman; I don't think reading the Gospel was allowed for anyone except the priest. And yet we did it.
My father was at that time, and for many years before and after, the attorney for the Catholic diocese of Lansing. That meant he handled all manner of church issues throughout mid-Michigan. He was friend and colleague to many a bishop. And he himself had studied for the priesthood before deciding he wanted to have a family instead. When I told him about my plans for Ash Wednesday, he was quiet for a minute. He rubbed his hands over his face. Then, what he said was nothing about my break from protocol, but instead he asked what I wanted to talk about in my homily. I was taken aback, and in turn asked him to help me write it.
My homily ended up with a focus on hunger, because much of what we do in Lent is about taking our most basic need for food and turning it on its head by fasting and abstaining. The lack of sweet or something favorite with flavor, our hunger, is meant to turn our hearts and minds to higher ground, reminding us as the ashes do on Ash Wednesday that our bodies, yes temples of the Holy Spirit, are nonetheless temporary. It is the soul that we believe lives on, and the body that returns to dust. So we must take care to feed the spirit as carefully as we feed the body. The emptiness that is felt when we fast is meant to help us think of where in our lives there is room for growth.
We also emphasized hunger because of our family's dedication to the Greater Lansing Food Bank, an organization my father founded many years ago to aid the hungry in the community. After Dad passed away, the Food Bank, of which my brother is now a leader, created a program in honor of my father called Camille's Kids, to direct funding to children in particular.
That time of my life was intense but good, because as the pendulum swings far in either direction, it then comes back to center, where ultimately it rests. We're supposed to fast and pray in private, but mine is going to be somewhat on my shirtsleeve this year with you: no refined sugar, no sweets (other than honey in my Lebanese café blanc). Good Lord above help me! And no meat, on Fridays or days like today, Ash Wednesday. Thankfully the Lebanese eat a lot of good vegetarian dishes, simple things like scrambled eggs (ijee) with green onions, squash, or asparagus. When I make these eggs for dinner I think of how good simplicity is for a soul, and how I want to be the kind of person who listens to others, like my dad, who I saw standing with my mother in the back of a packed church that Ash Wednesday, and whose eyes I met to steady myself as I stood on the altar, and spoke.
Soft Scrambled Eggs with Asparagus, or Ijee
The key to these eggs is their melting soft texture. If that is not your style, of course you can cook them a bit longer to suit your taste. A splash of cream is divine.
3-4 stalks asparagus
2 farm fresh eggs
Sea salt
½ tablespoon butter
1 tablespoon cream or half and half
Clean and trim asparagus and cut on the bias (an angle; it's pretty) into ½ -inch pieces.
Mix the eggs with two pinches of salt with a fork until the eggs are well incorporated.
In a small, non-stick skillet, heat the butter just to foaming over medium low heat. Add the asparagus and sauté until tender, about 3 minutes, stirring constantly.
Pour the eggs over the asparagus. Draw the egg from the edges of the pan into the center with a wooden spoon or spatula, creating large, soft curds. After less than a minute, when the eggs are still wet, remove from heat. Residual heat will continue to cook the eggs but removing from the heat now will ensure that you don't overcook them.
Pour a tablespoon of cream over the eggs and continue stirring with a spatula.
Eat the eggs immediately, with some sliced tomatoes, labne, and soft pita bread. Some olives would also be delicious.
Find a PDF of this recipe here.
(Visited 1,773 times, 1 visits today)