Mom's Special Lebanese Rice
Nov 01, 2017, Updated Apr 30, 2023
Lebanese rice is such an essential part of our table that I'm sheepish that I haven't shared it here before…. My mom's version is so special and delicious that it's as at home on your weeknight menu as it is the holiday table.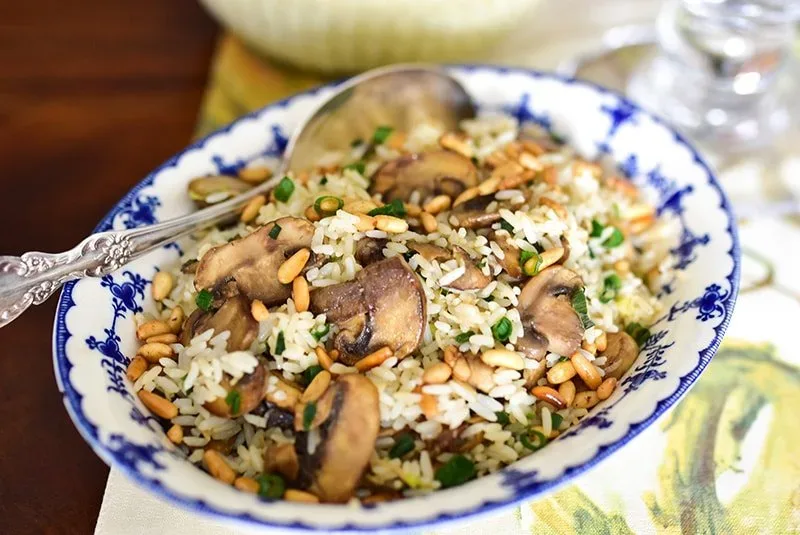 The attributes my mom has passed on to me are legion. Among them:
A love of family.
About half of her calm nature (the other half, all Dad).
A petite frame (but NOT the silken black hair, darn it).
A fascination with the world of Lebanese cuisine, and her many ways of making food taste delicious.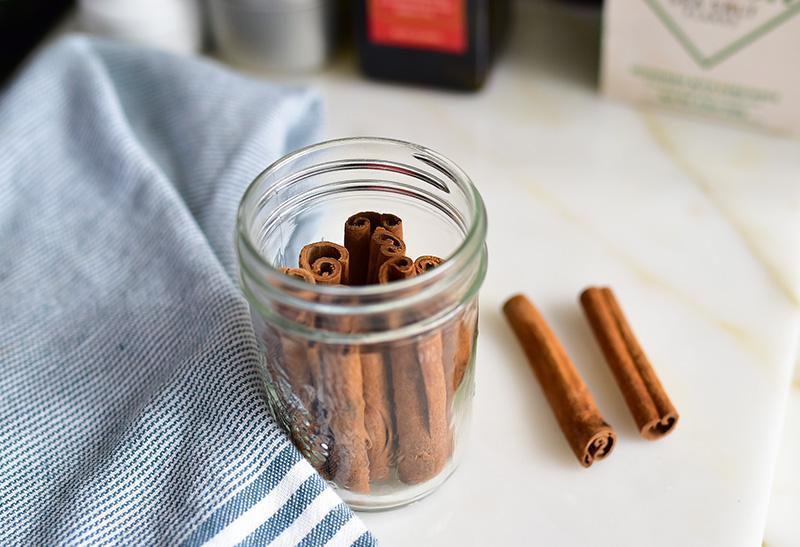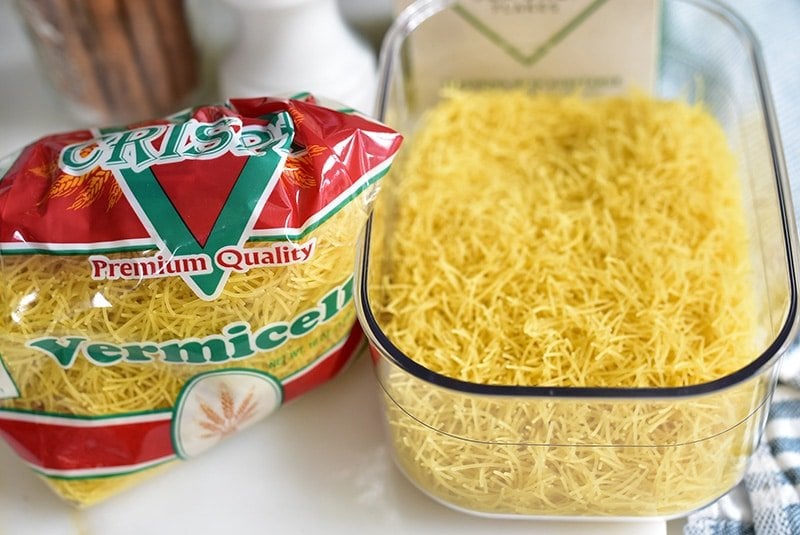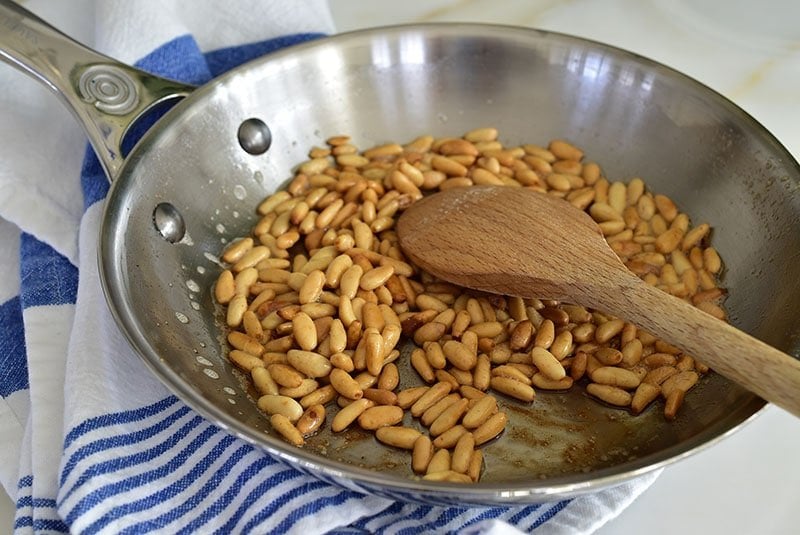 If I were to make a recipe file, or say, a blog post or a cookbook, of the best recipes my mom makes, there we would have a treasure trove of gold. Like so:
Mom's Pie Crust (Thanksgiving necessity). And not just the crust, but the rope pinching move she uses to crimp the pies. When it comes down to it, crimping the crust in the way she taught me is one of my life's pleasures.
Sheik al Mehsheh topped with mozzarella cheese. Brilliant woman.
Cranberry sauce studded with walnuts and fruit, made and eaten, then made and eaten again, and then again and again, from November 1 through January 1.
Oven fried chicken. This impacts our lives the most (well, that and the unfailing love that is never, ever anything but kind—that too) because we make it so often. I see why she did too, when we were growing up. It comes together fast and always tastes wonderful.
Grandma's cookies. A spice cookie studded with dried apricots and raisins (no, I haven't shared this one yet).
Deep golden brown color on the baklawa, which we will discuss here very soon.
Toast all of the nuts when you do it, then freeze them in little baggies that way. Now they're ready when you are for rice, salads, hushweh, all of it. Not a recipe, but a trick of her trade.
Mom's Special Rice, a mélange of Lebanese cinnamon-scented rice with mushrooms, scallions, and a shower of toasted pine nuts.
The list does not end (oh, the chocolate buttercream which never turns out grainy but did in those photos…), but we'll pause with it here because I feel a tremendous responsibility for not having shared the rice with you as of yet. The Grandma's cookies held close to the vest I don't feel as badly about (they're good, but they're spice, and in my world spiced sweets rarely win; here's how I feel about that).
But the rice? Lebanese vermicelli rice scented with cinnamon is the basis for so many plates that keeping our version of the rice from its fully realized life out here with you is…criminal.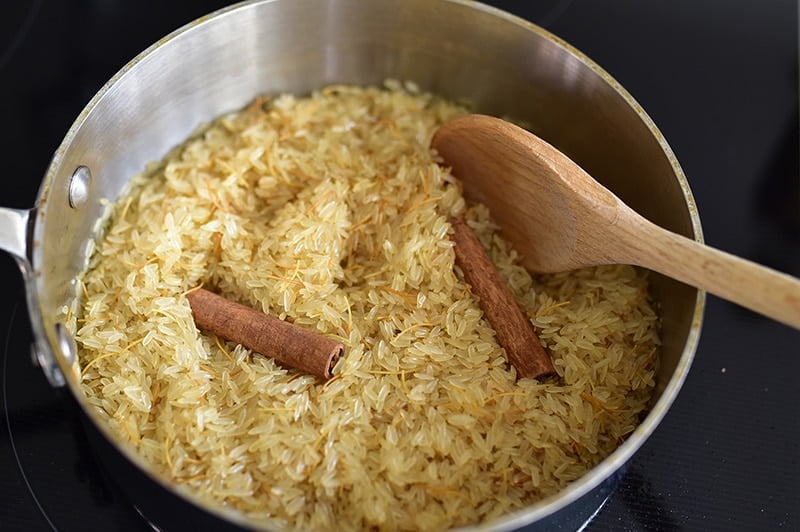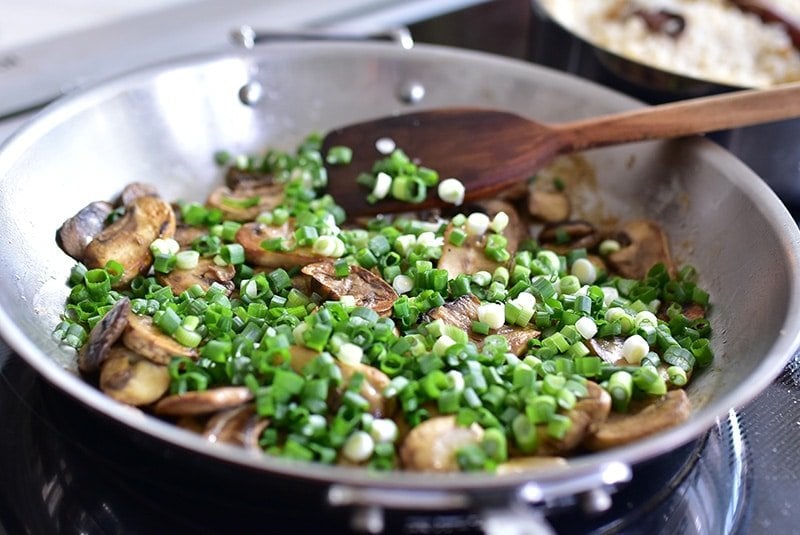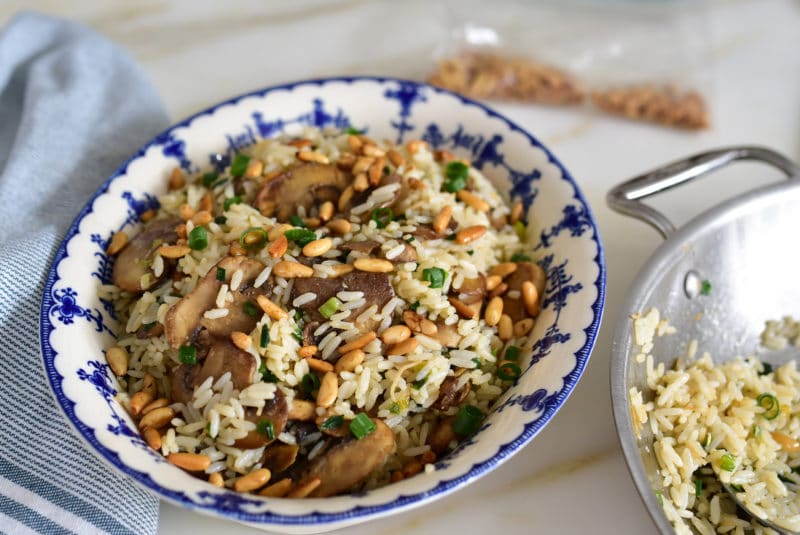 Mom has always studded the already delicious, simple Lebanese cinnamon rice with the incredibly savory addition mushrooms, garlic, scallions, and pine nuts. She uses Uncle Ben's rice, without apology (you can use basmati or any long grain rice and it will cook up just fine).
You might want to start auditioning Mom's Special Rice right now for Thanksgiving and Christmas, because it's as weeknight-worthy as it is holiday table. Meanwhile, I'll keep at my list to see what other Mom-treasures need to see the light of day here with you….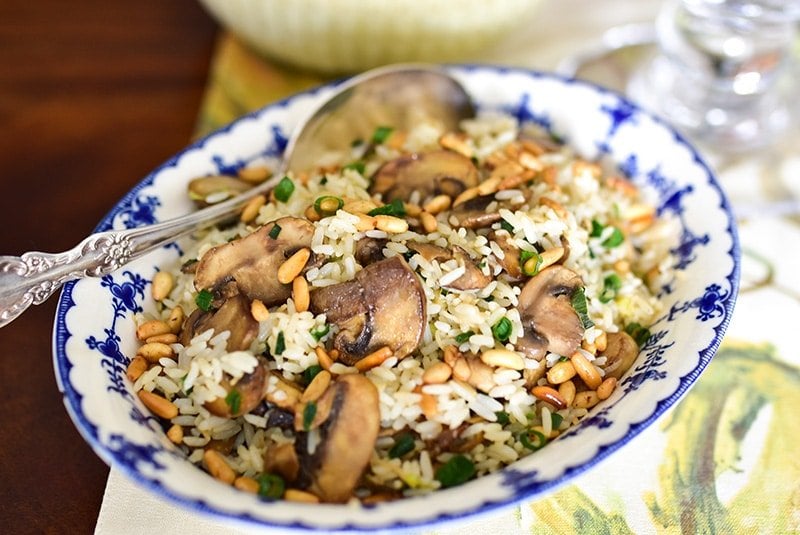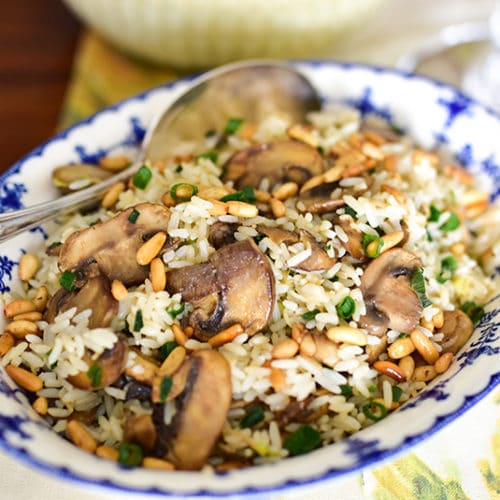 Mom's Special Lebanese Rice
My mom used converted (Ben's) rice, without apology. You can use basmati or any long grain rice and it will cook up just as nicely. The addition of broken vermicelli is optional. The recipe scales up very easily for a big crowd. Also, you can make this dish in advance and reheat it with more broth and another handful of freshly cut scallions. Hold to garnish with pine nuts until serving.
Ingredients
For the rice:
1

tablespoon

extra virgin olive oil

1

tablespoon

butter (optional)

1/4

cup

vermicelli, broken into 1-inch pieces

1 1/2

cups

long grain rice

Big pinch

kosher salt

2

sticks

cinnamon

3

cups

chicken or vegetable broth
Instructions
In a 3-quart saucepan, heat the oil and butter over medium high heat until foamy. Add the vermicelli, if using, and cook until the pasta is deeply toasted. Add the rice and salt, and stir to coat it with the oils. Tuck in the cinnamon sticks, add the broth, cover and bring to a boil. Reduce the heat to medium low and cook until the rice is soft and has fully absorbed the broth, about 20 minutes.

In a large sauté pan, heat the olive oil over medium high heat until it is hot, but not smoking. Add as many of the sliced mushrooms as will fit in one layer. Leave them to cook without disturbing them for a few minutes, to encourage browning, then stir and continue cooking until they are nicely browned but still somewhat firm. Push the mushrooms to one side and sauté the remaining mushrooms in this same way if there wasn't room in the first round. Add more olive oil if the pan gets dry.

Reduce the heat to medium and add the garlic and scallions, reserving a small handful of the sliced green scallion for garnish. Cook just until the scallions are starting to wilt. Taste and add more salt if needed.

Stir the rice into the mushroom mixture, discarding the cinnamon sticks. Drizzle with more olive oil, and taste. Add more salt if needed. The rice can now rest, covered, on the stovetop until you are ready to eat (up to several hours). Just warm it over low heat.

Garnish with the raw scallions and pine nuts, and serve immediately.
Nutrition information is automatically calculated, so should only be used as an approximation.
Like this recipe? Leave a comment below!
(Visited 33,754 times, 1 visits today)