Cranberry Sauce with Rose Water & Pistachios
Nov 14, 2017, Updated May 02, 2023
Cranberry sauce is such a natural with rose water, which brings out the cran-flavor and balances the sweet-tart beautifully. Be sure to use the rose water with restraint!
We had a trial-run of Thanksgiving dinner recently, making good on what we say every year on Thanksgiving—which is: why don't we eat this delicious meal more often?! The answers to that question may be obvious (um, a LOT of cooking, a LOT of fat, a LOT of a LOT), but I figured that at least some version of the grand turkey dinner could be made and enjoyed on a more regular basis. Plus there has been this turkey question, all my own and nobody else's, regarding roasting a whole turkey vs. roasting breasts/thighs/wings without the big bird that I wanted to try out.
The reason is that I want to brine the heck out of the turkey (I need flavor, people!) and it's been, shall we say, challenging to brine a massive bird. Also, the all-important roasting time. If I roast the white and dark pieces separately, I can control the white meat by taking it out when it's ready rather than making it hold, and overcook, while the dark meat does its thing.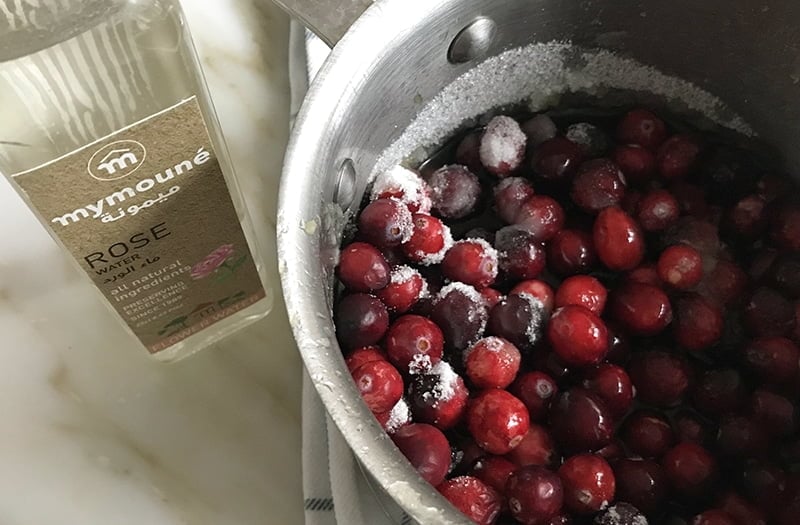 So I went for it.
Deconstructed, brined turkey: brining bag, check. Infused brine with lemon rind, peppercorns, sage, check. My brother Dick didn't miss a beat in shaming my idea when I told him I wanted to do turkey this way, in pieces rather than the whole bird. He just out with "Oh, and when Aunt Louise asks for a thigh, you'll say there isn't one? And when Mom wants the wishbone? 'No wishbone for you, Mom!'" Still, I had to give it a whirl.
Roasted Brussels Sprouts with Mulberry Syrup and Toasted Hazelnuts.
Mashed Potatoes. I add a few peeled garlic cloves to the potatoes as they cook and mash them right in.
Turkey gravy.
We sat down to eat the feast and while the turkey was juicy and flavorful as could be, nobody seemed to give a hoot except for me. My soliloquy on turkey brining and roasting times was met with comments and questions, but not the comments and questions I anticipated.
Where is the stuffing? (Chris)
These sweet potatoes are good, but I've got to have Mom's. I mean, no brown sugar? (Peggy)
This gravy, I think it's missing something honey. (Dan. I never knew the homemade stock, which was not on the trial run menu, would be so noticeable…)
I need cranberry. (Mom, simply stated)
I love this! (Michael, who knows his poultry. Thank God for Michael)
The turkey dinner wasn't bad; it was good. It just wasn't a Thanksgiving dinner. And of course, I get why. Here, the terroir of Thanksgiving was missing. All that makes Thanksgiving dinner what it is, the sides (clearly more important than the turkey, which I now know absolutely has to be a whole bird roasting all day if for the aroma alone), the profusion of pies, the silver and crystal and the linens. Oh, and the people. Our big huge group of Lebanese people, kind of like the whole bird, giving love and thanks in a way that can't be small-scale replicated, no matter how you try.
Cranberry Sauce with Rose Water and Pistachios
Take it ever so easy on the rose water–it's meant to bring out the flavor of the sauce rather than stand out on its own. Add the rose water, then taste, then add more if you like. This is a perfect make-ahead dish, as it is best served chilled and will hold in the refrigerator for a week.
Ingredients
1

cup

sugar

1

cup

water

12

ounces

cranberries

1/2

teaspoon

rose water

1

cup

(8 oz.) canned crushed pineapple or drained pineapple chunks

1

cup

canned mandarin oranges, drained

2

tablespoons

chopped pistachios or toasted walnuts, plus more for garnish
Instructions
In a medium saucepan, combine the water and sugar and bring to a boil over medium high heat.

Stir in the cranberries and reduce to simmer, stirring occasionally and cooking until the cranberries pop and the mixture thickens a bit, about 20 minutes.

Remove from the heat, and add the rose water, pineapple, and drained mandarin oranges.

Cool to room temperature, then chill completely (at least a couple of hours).

Immediately before serving, stir in the nuts and garnish with more nuts on top.
Nutrition information is automatically calculated, so should only be used as an approximation.
Like this recipe? Leave a comment below!
(Visited 6,446 times, 1 visits today)