Chocolate Glazed Pumpkin Cake, and a little song too
Oct 25, 2012, Updated Apr 30, 2023
Chocolate glazed pumpkin cake is so moist and delicious, it'll get even the most skeptical pumpkin-spice eaters (like me)! Make the pumpkin cake as mini-bundts for extra pizazz, but it's great as a big (10-inch) bundt too.
For every occasion, there is a song. And if there isn't a song, I will make one up. My repertoire of tunes-by-Maureen is limited to the a capella (no instruments), and those ditties are typically sung for children. You could say that's because it's much easier to make up songs with rhymes for a child; you could also say that it's easier to feel like a rock star with your brilliant rhyme and rhythm when the only other person in the room is a one-year-old for whom your every facial expression is cause for laughter.
I was never so proud as when the song-making rubbed off on my sister. When she and her roomie Rebecca lived in their 5th floor walk-up in Boston right out of college, they had two small rooms and barely two pennies between them. Restaurants and movies were rare and special treats, so I guess they started baking, and singing songs, for some fun (necessity breeds invention). When I visited them that first fall (after missing my flight and in the absence of cell phones, sister going on the T all the way to the airport to get me, only to discover I was not, and would not be, there that day) they were excited to show me around. I never have gotten over the North End and the array of Italian goodness that we ate there.
One thing I did get over was the loaf of pumpkin bread they made for my visit. The song that went with it, however, was right up my alley: Pumpkin bread, Pumpkin bread! Everybodyluvsalittle Pumpkin Bread! ….wiiiith butter! (then the whole tune sung again, changing keys) But the treat itself—I'd rather eat, well, nothing.
I'm sorry Peg for this confession, but spice breads and spice cakes and really pumpkin-y desserts rank up there for me the same way your scones do. Thanks, but no. Unless they are paired with chocolate. Then we've entered a whole new territory.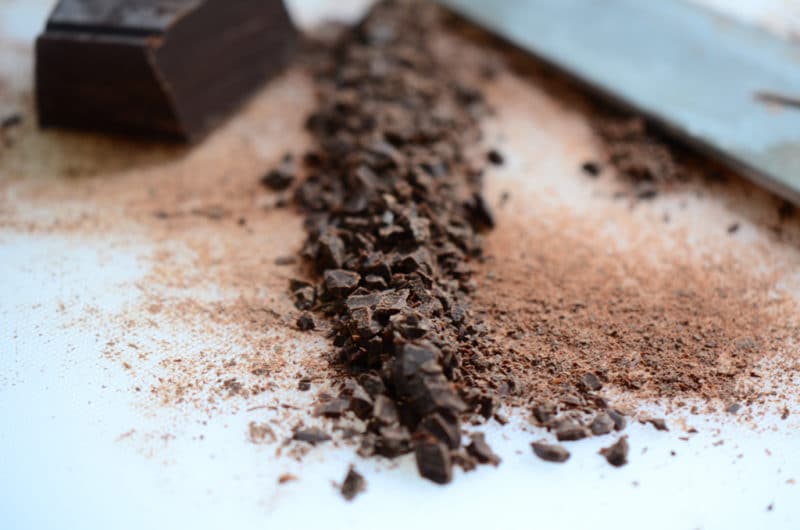 Despite all of that, this month I wanted to bake with pumpkin and I wanted to make the chocolate-covered miniature bundt cakes like the ones I used to salivate over at the Corner Bakery during my lunch hour in the Loop in Chicago. I know Corner Bakery isn't Bittersweet Cafe, but finding treats within a block of the office makes everything look and taste better than it actually is.
In my search for a pumpkin dessert that I could truly love for you, I found that the chocolate-glazed pumpkin bundt is very traditional, very well-known. I went for the mini-bundt because I do like things small, even cake. I hoped and prayed as I made the cakes that I could report to you that they taste great. All I can say, or sing, is: Pumpkin cakes, Pumpkin cakes! Everybodyluvsalittle Pumpkin Cake! …wiiiiith chocolate! (change key; repeat)
What I love best about the cakes, besides their sweet, moist crumb, is the combined flavor of spice with chocolate that, like that mini-bundt shape, takes me back to the Loop. This time it's to the Christkindlemarket, a magical German Christmas market there that sells beautiful imported sweets, including Lebkuchen, traditional German spice cookies enrobed in chocolate. Many a holiday-season-afternoon did I sit at my desk with the snow falling over the city outside my window, eating the cookies I'd brought back from the Christmas market, listening to Christmas music on the radio my dad gave me for my office when I got my first job.
Do try these pumpkin cakes with a heaping spoonful of melted chocolate glaze over top. They'll have you making up songs in no time.
Chocolate Glazed Pumpkin Cakes
The walnuts add a textural contrast to the very moist crumb of the pumpkin cake. This recipe is based on one from the Miette cookbook, along with the chocolate glaze we used at Tante Marie's Cooking School. Be sure to let the glaze cool down substantially so that it drizzles slowly and most of it stays on the cake. Makes one 10-inch bundt cake or about 15 mini-bundt cakes (depending on the size of your mini-bundt pans). The cake freezes well, wrapped twice in plastic wrap, for up to 2 months. Wrap and refrigerate to serve within three days of baking.
Ingredients
For the cake:
1 3/4

cups

cups all-purpose flour

1 1/2

teaspoons

baking soda

2

teaspoons

cinnamon

1

teaspoon

nutmeg

1/2

teaspoon

ground clove

3/4

teaspoon

kosher salt

4

large

eggs, room temperature

1 2/3

cup

granulated sugar

1

tablespoon

vanilla extract

1

cup

vegetable or other neutral oil

1

cup

toasted walnuts, chopped
For the chocolate glaze
3.5

ounces

bittersweet chocolate (50% – 70%), finely chopped

4

tablespoons

(2 oz.) butter

1

tablespoon

corn syrup (for shine)
Instructions
For the cake
Preheat the oven to 350 degrees. Liberally butter the bundt pan(s). Dust with flour and tap out the excess.

In a small bowl, whisk together the flour, baking soda, cinnamon, nutmeg, cloves, and salt.

In the bowl of a stand mixer fitted with the whisk attachment, combine the eggs and sugar on medium speed until lightened in color and fluffy, about 2 minutes. Reduce the speed to low and slowly pour in the oil until combined, then increase speed to high for 1 minute. Switch to the paddle attachment and add the pumpkin puree, mixing on medium speed just until combined. Add the flour mixture in three additions, mixing just until combined after each addition (about 5 seconds each time, on low). Remove the bowl from the mixer, scrape down the sides with a rubber spatula, and mix in the walnuts.

Pour the batter into the prepared pan(s) and bake until the cake springs back when touched and a tester inserted in the center comes out clean, about 45 minutes for a large bundt pan and about 20 minutes for mini-bundts. Cool in the pan for about 10 minutes, then invert the cake(s) onto a plate or wire rack and cool completely.
For the chocolate glaze:
Melt the chocolate, butter, and corn syrup for 30-second intervals in the microwave, or over a bain-marie (double boiler) of low-simmering water. Let cool until slightly thickened, then spoon over the cake(s). Let the cakes with chocolate firm up before serving, about 30 minutes.
Nutrition information is automatically calculated, so should only be used as an approximation.
Like this recipe? Leave a comment below!
SaveSave
(Visited 3,135 times, 1 visits today)