Kibbeh in Yogurt Sauce, Kibbeh bi Laban
Jan 11, 2018, Updated Dec 19, 2022
Kibbeh with yogurt sauce is such a luscious way to prepare Lebanese kibbeh. The little kibbeh balls, or arras kibbeh, are poached in laban or yogurt which is seasoned with lots of dried mint. Topping the kibbeh with yogurt sauce with garlicky olive oil infused with fresh parsley and mint is sophisticated, beautiful, and delicious.
It is striking to me when I realize how many food memories I have that are tied to the time surrounding my father's passing. Somehow traditions instilled from childhood, like Sitto's bread-baking days and all that was life growing up in at our Lebanese table–have always reign in the grand scheme of what I know and love about Lebanese food and family.
But if I line each Lebanese dish up with particular memories, more than a few call to mind that most painful, most impressive time when my father died. It hardly seemed like childhood in that I was 32 years old, though as that recedes deeper into the past, it starts feeling . . . more and more like childhood.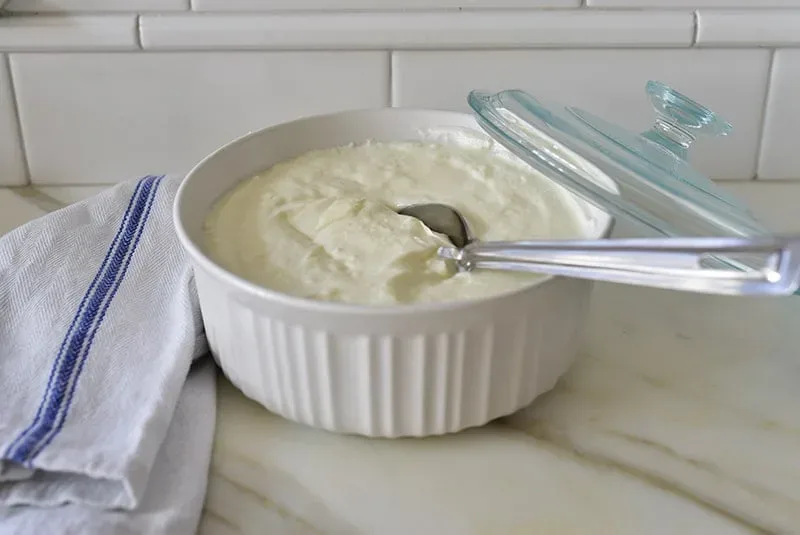 There was the chicken and hushweh, inspiring as the food my dad wanted most at the end, and so Mom made it for him. Then there was the huge tray of hushweh that was delivered to the house later, just before the funeral. This hushweh was topped with a mix of crunchy, salty, toasty nuts unlike anything I'd ever experienced. One family member in particular, my great-uncle's wife, my aunt from Lebanon, brought us unforgettable food that gave me the feeling I was experiencing my true first trip to Lebanon without leaving home at all. Awatef made sfeha, perfectly shaped and dotted with tomato and meat, different than the meat pies we made, and incredibly good.
As she described how she had beds available with fresh pajamas for anyone who had come to town for the funeral and needed a place to rest (Lebanese hospitality knows no bounds), she warmed the tall pot she'd brought on the stove. One cousin took the lid off the pot and literally jumped up and down singing a little song: "Kibbeh with labneh!, kibbeh with labneh!" The rest of us crowded around and filled our bowls full of arras kibbeh that had been poached in highly seasoned laban (yogurt).
The yogurt gently cooks the kibbeh and infuses it with all of the creaminess and tang that is laban, while the kibbeh in turn seasons the laban with all of its own spicy, flavorful goodness. The kibbeh footballs are served with the yogurt-as-sauce, rather than yogurt as a soup that has kibbeh in it.
Here was a dish that gave a whole new meaning to kibbeh for me—which until then I had known only as raw, and then fried or baked with a very definite deep golden crust. But never had I eaten kibbeh poached, with softness reigning all the way through, a gentleness that defines comfort food. This dish also gave a new meaning to laban for me, which until then I had known only as a cold dish, eaten with cucumbers as a salad, or thickened as labneh and used as a condiment or a thick dip with bread and olives.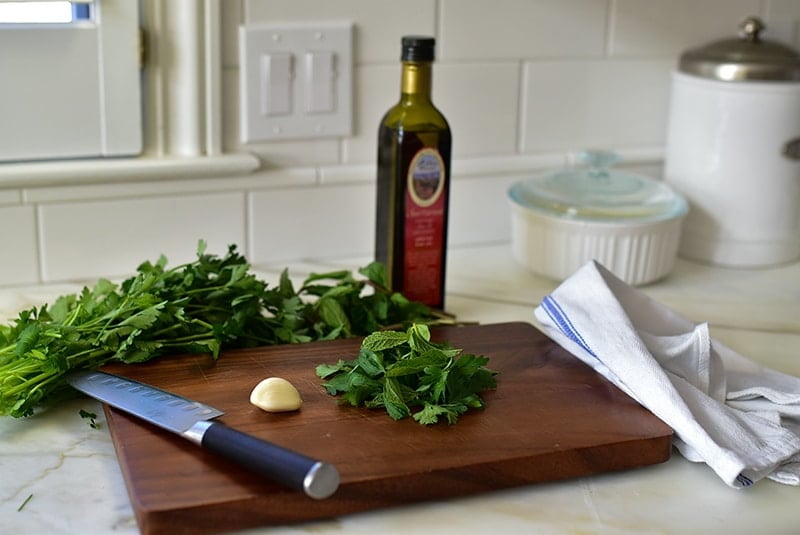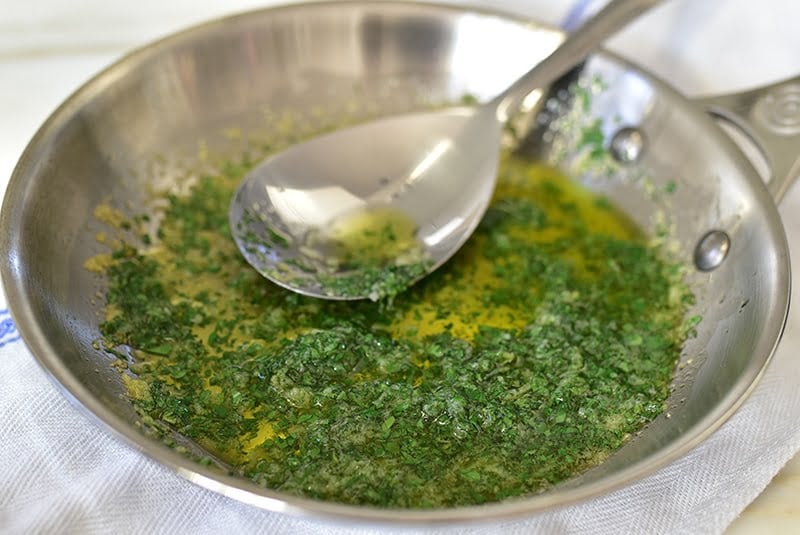 The jumping up and down and the little song that had welcomed the kibbeh into the kitchen that day were ever so well-warranted, and yet I never really thought about cooking with laban in this way until I wrote my cookbook. Then I rediscovered the whole world that is kibbeh, and that is laban-as-sauce, poaching kibbeh and also stuffed koosa. Any dishes like these that can take the family from crying to smiling, or at least to eating something amid the grieving, is what comfort food is all about. It's softness around the edges, smoothness in the delivery.
What else are you poaching in your laban that's song and dance-worthy, that's comfort-the-family worthy? I've been asked a lot about a little pasta-like dumpling with meat cooked in laban, Lebanese shish barak. Do you know it? I'd love your recipe if you have it….
More Recipes like this:
Lebanese Shish Barak, dumplings in yogurt sauce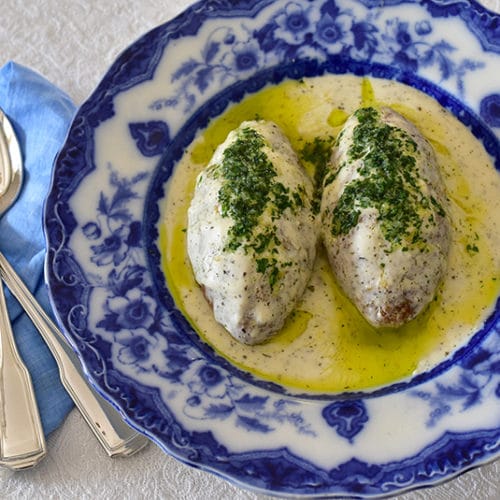 Kibbeh in Yogurt Sauce
Use my recipe for arras kibbeh, which are stuffed with househ (sautéed meat and onions with pine nuts), or use the mint-stuffed kibbeh balls in my cookbook, or even simple unstuffed kibbeh meatballs. Make the kibbeh balls any size you like; the ones I used for the photos above are quite large at 3- to 4-inches long. To make a larger batch of kibbeh in laban, simply double or triple the yogurt mixture to accommodate the amount of kibbeh balls you have.
Instructions
In a large heavy saucepan, begin to warm the laban over medium heat.

In a small bowl, dissolve the cornstarch in the cold water. Whisk the cornstarch mixture into the yogurt, along with the crushed dried mint, salt, and lemon juice.

Spoon the raw kibbeh balls into the yogurt, bring it to a boil, and then reduce the heat and simmer until the kibbeh are cooked through and the yogurt is slightly thickened, about 20 minutes.

While the kibbeh cooks, make the herb-garlic oil. In a small skillet, warm the olive oil over medium low heat. Add the garlic and cook just until it is fragrant and warm, about 1 minute. Add the parsley and mint, a pinch of salt, and warm that for 30 seconds. Remove the oil from the heat and set it aside until serving.

Serve the kibbeh in warmed soup bowls, placing a few of the kibbeh balls (the number per bowl depends on the size of the balls), along with a ladle full of the yogurt sauce. Drizzle each with the herb-garlic oil.
Nutrition information is automatically calculated, so should only be used as an approximation.
Like this recipe? Leave a comment below!
(Visited 17,601 times, 1 visits today)