My round-pan quest for kibbeh
May 31, 2018, Updated Oct 12, 2023
This is a story post about my kibbeh-making fun with various size pans. Click over to get the recipe for Lebanese Baked Kibbeh!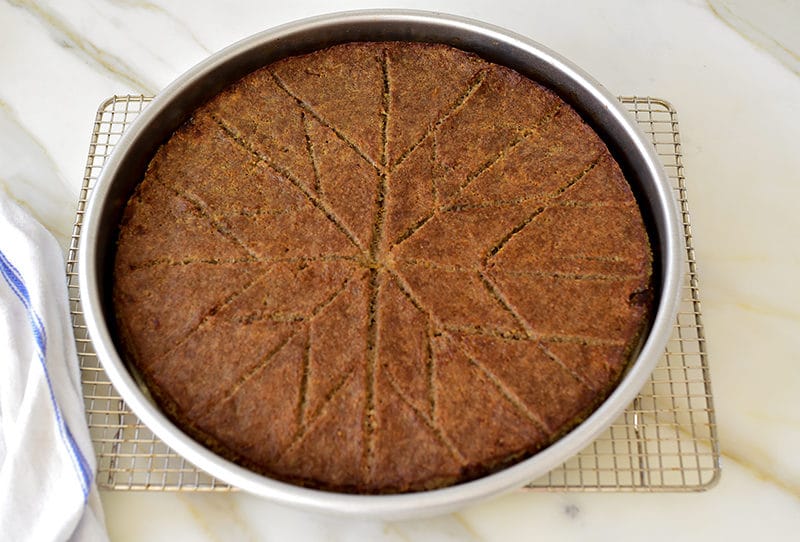 While I've been diving in whenever possible lately to the experiment of perfectly tinted buttercream, piped into perfectly defined swirls and roses and leaves, my mind gets to wandering over into the land of Lebanese cuisine (surprise), and which dishes are the more intricate, the more complicated—projects that would rank up there with learning to pipe a buttercream rose-adorned cake.
The ever-growing list:
Baklawa, of course. The diamonds, the fingers, the rosettes, the nests, the turbins. You know it's all coming your way!!
Fatayar. The triangles are the more challenging, if only to keep the seams closed. But the square sfeha rank up there too.
Manakeesh. Okay, the flatbreads can be rustic. But I want perfect rounds and I want them all the same size and thickness.
Kibbeh. How's your torpedo-shaped arras coming along? Dan reminds me that the key here is repetition. Practice makes perfect. If I'd just do a weekly 2-3 dozen arras, I'd have perfect torpedoes down cold. He'll stand by and give me feedback, just as they emerge hot from the fryer….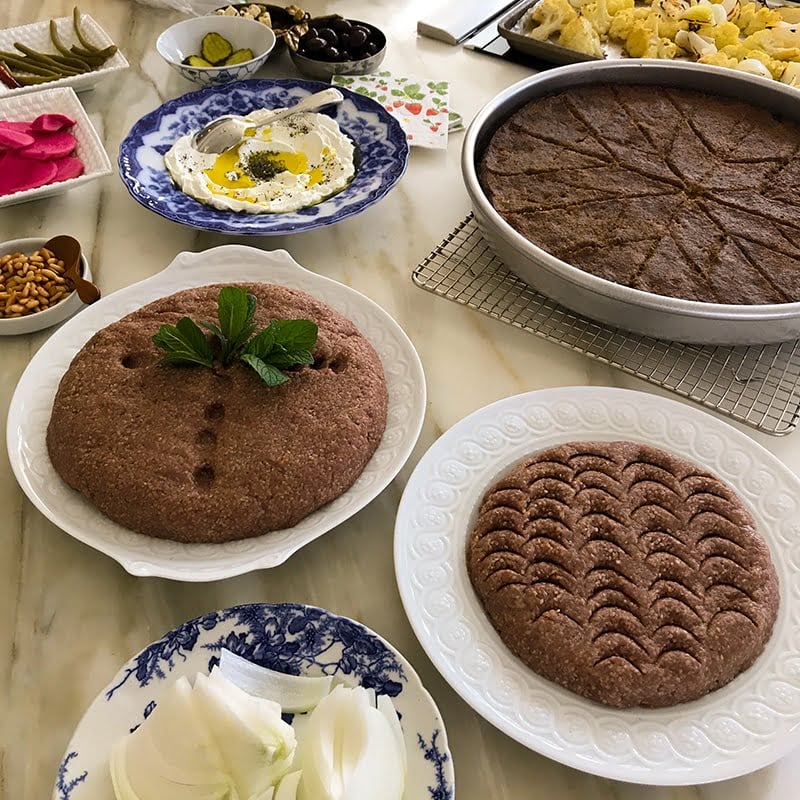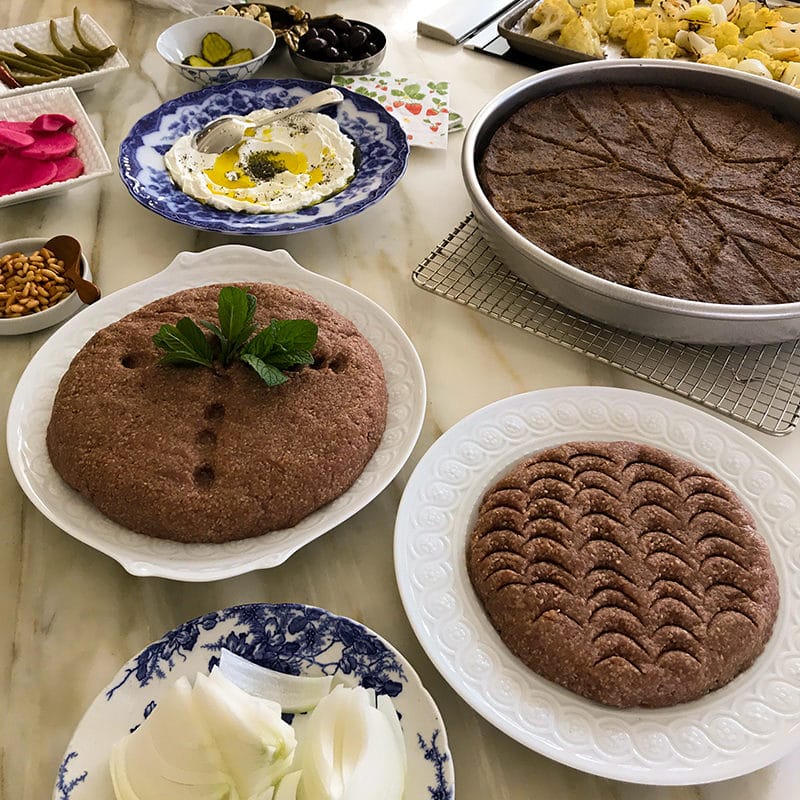 For my kibbeh nayeh, I'm content where I am with the plating. We love to have more than one kibbeh spice-level option for our kibbeh dinners, so usually I make two platters of raw kibbeh. One, the easier flavor that is not at all spicy, like my mom's. The kibbeh is mounded high and shaped into a circle or an oval, with a cross deeply imprinted in it and a bouquet of fresh mint in the center. Sometimes raw sweet onion slices are arranged around the kibbeh perimeter, sometimes offered in a bowl next to. And another platter for spicy hot, a flat platter, decorated with the tip of a spoon to make scale-like indentations. I see room for experimentation here, where the scales could take on various patterns. Ohhh fun.
There is another kibbeh shape that has captured my imagination and attention: the huge, round layered and baked sanieh—two layers of kibbeh top and bottom, filled with ground meat/onion/pine nuts and baked to deep golden brown—scored in diamonds that form a kind of geometric flower. This is not traditionally the baked kibbeh of Aboods, or Abowds, or of our local Woody's Oasis Lebanese restaurant. The tradition there is for squares or rectangles. The reason seems obvious enough: an easier cut, and at least for a restaurant like that, easier to serve in large quantities from big sheet pans.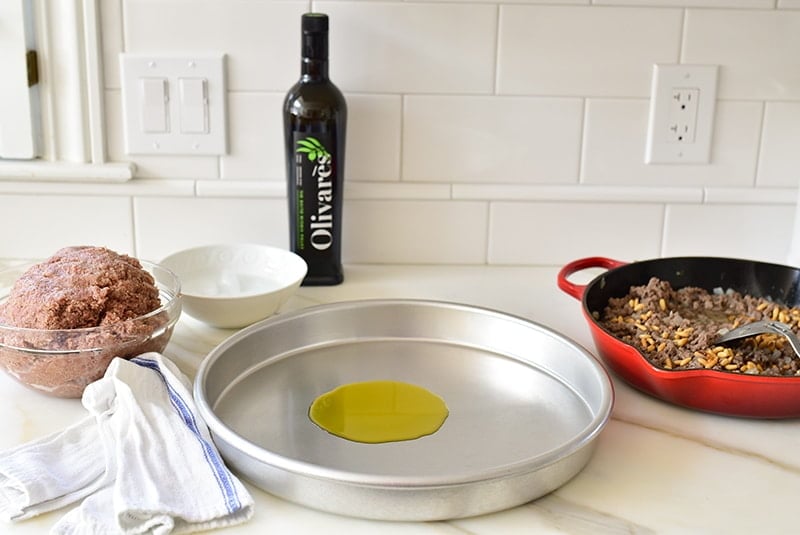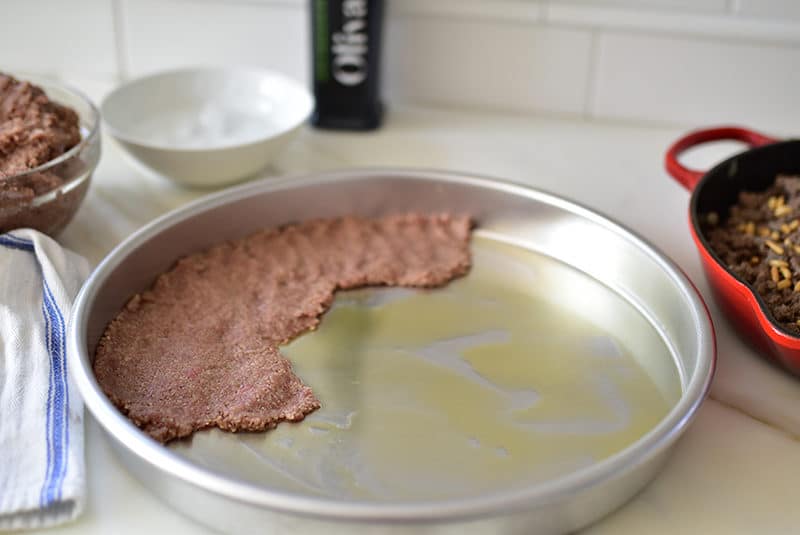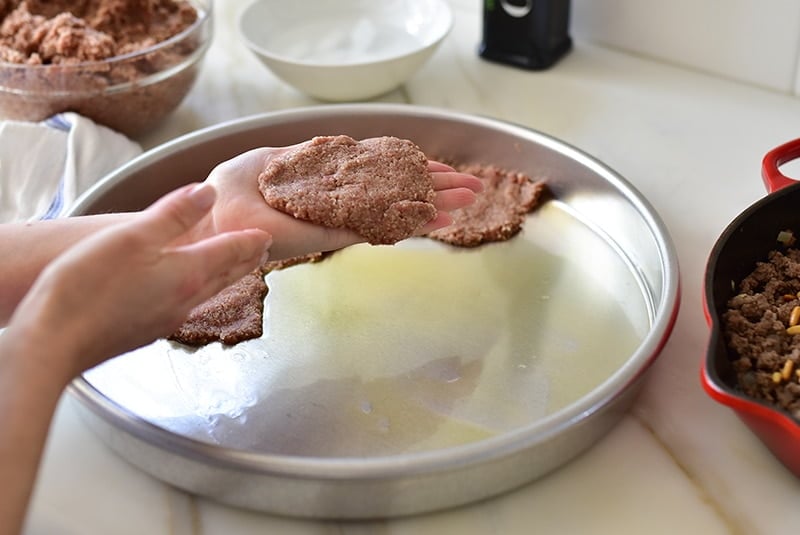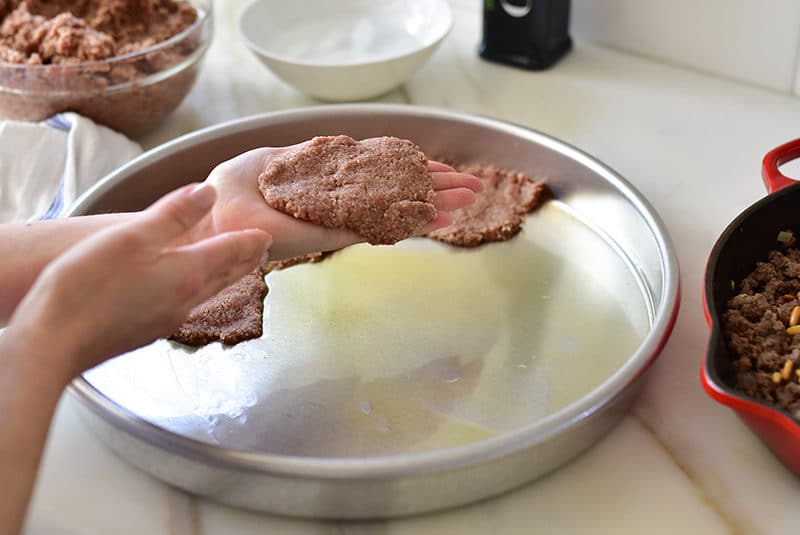 But that big round kibbeh! I needed to master it. The first challenge was to find a pan large enough to make the correct pattern. My round cake pans go up to 10 inches, which is not big enough to get the design right. I knew I could find huge round pans for this express purpose at the kitchenware shops in Dearborn, but what about all of you? I wanted an option that could be had swiftly, without a big online search and mail order.
When I sauntered unsuspecting down the cakey pan aisle at Meijer, I was floored to find a big, huge "deep dish pizza" pan, 14 inches and perfect for my sanieh. The sides are just a tad higher than the pans made for sanieh (of kibbeh or baklawa), but no matter.
As I carried the pan, too large for a bag, proudly out through the Meijer sliding doors, a gal walking out nearby must have seen the satisfaction on my face. "You're going to love that pan," she said. "It can be used for so many things, not just pizza."
You can't make this stuff up. Or, you can, but I didn't! I'm hoping you can find the big 14-incher nearby too.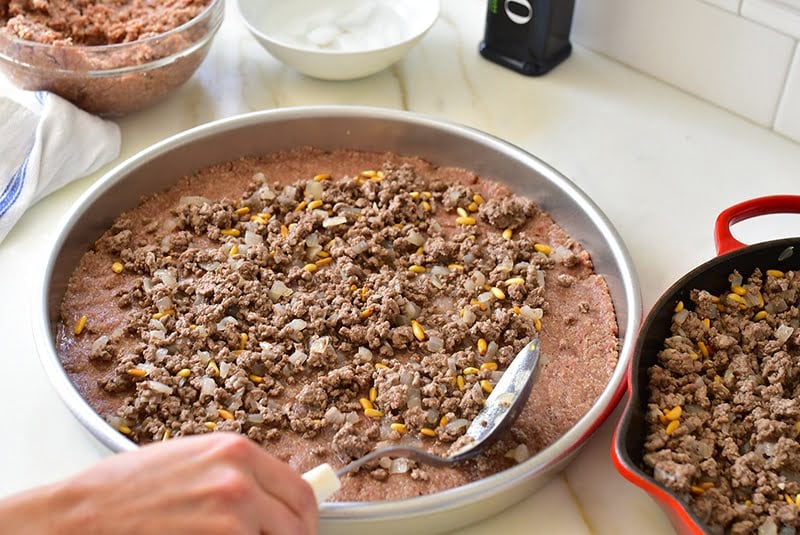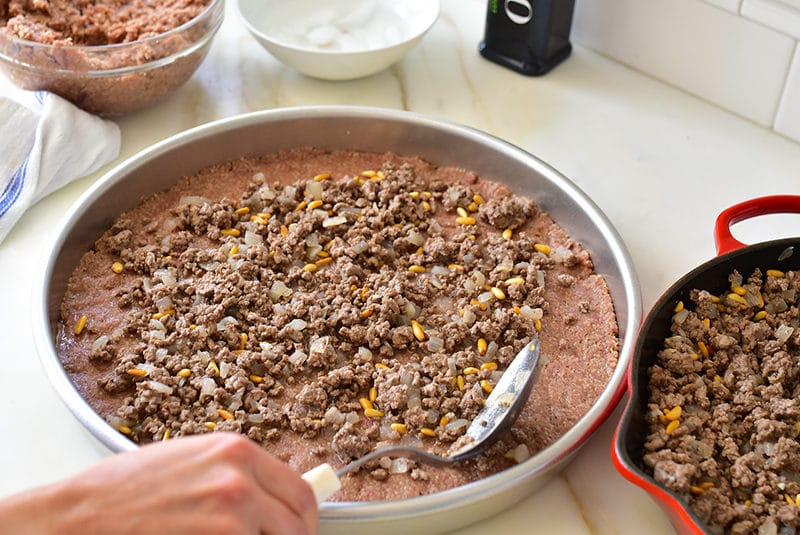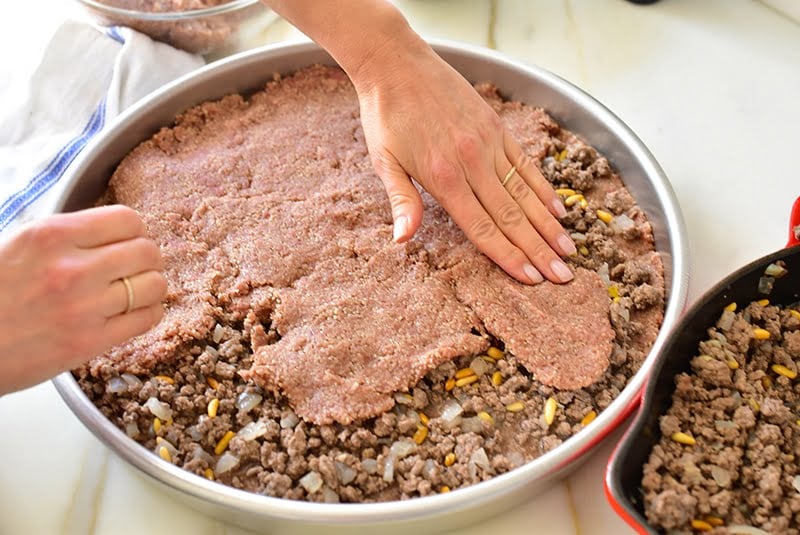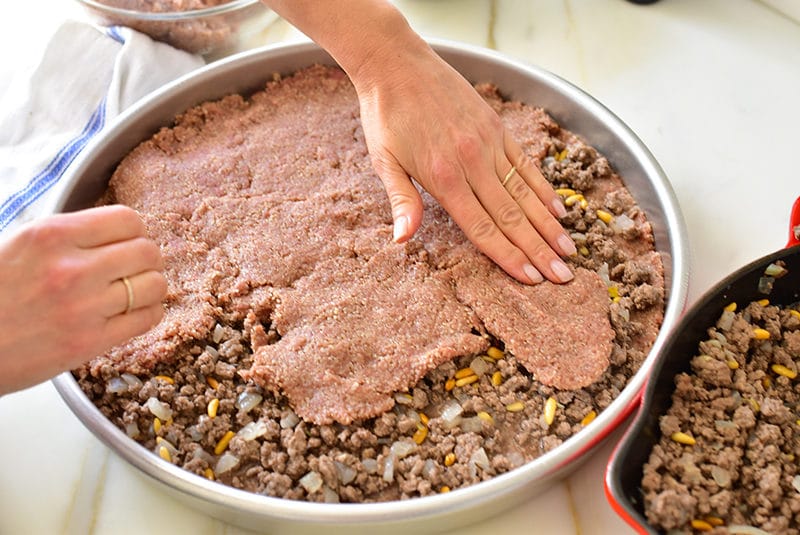 The next, more serious challenge: the cutting of the kibbeh. I studied, and studied. I found making a map not only very helpful, but also satisfying.
The first time you go for it, trace your pan on a sheet of newspaper, then draw the cuts. When you do same with your knife on the kibbeh, score lightly to get it right.
The beauty of the top of a kibbeh sahnieh is it's like a white board. You can just smooth away any scoring that didn't work out, using a hand moistened with some ice water.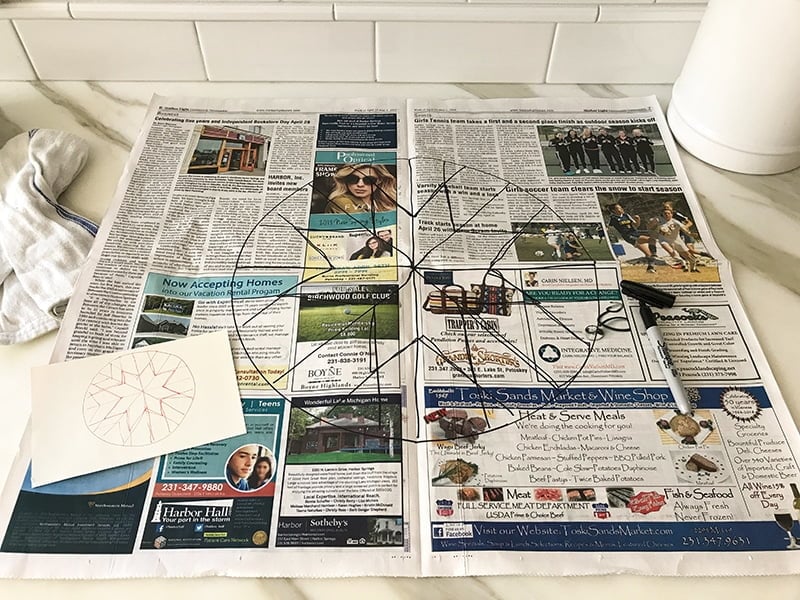 Also, there is a key refinement I've made to my kibbeh sahniehs in the last couple of years, and that is with the layers. Top and bottom, I've gone even thinner than I used to. We're talking quarter inch or so. Then the filling spread in the middle is not as dense as I used to do. Overall this makes an even less meatloaf-y, more delicate kibbeh that still holds itself together. We love it.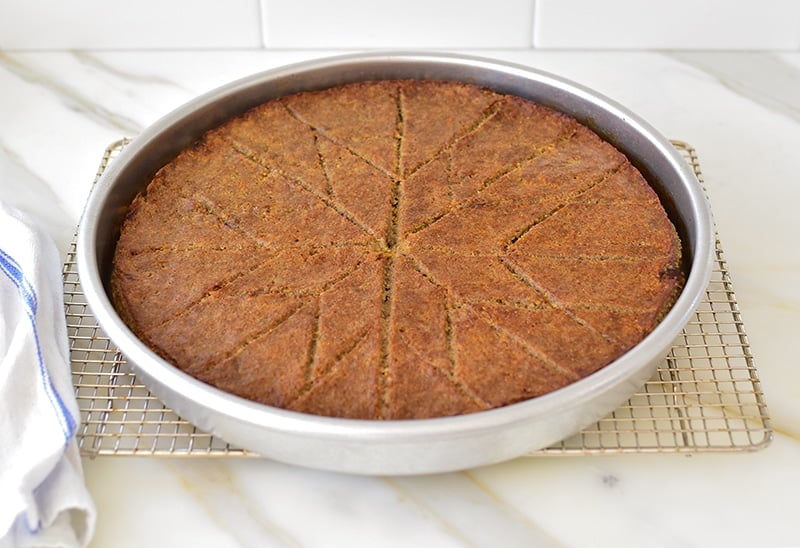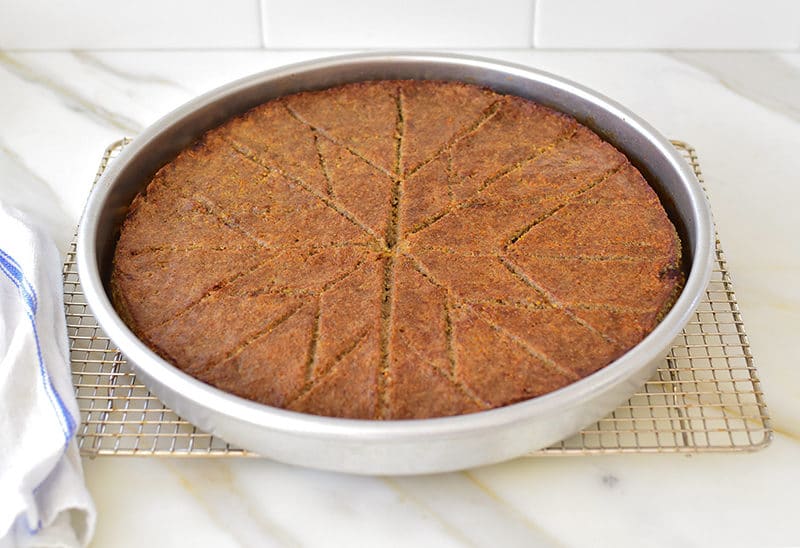 (Visited 12,580 times, 2 visits today)