Lebanese Fattah: Chickpeas, pita chips, and labneh with garnishes
Apr 24, 2015, Updated Jan 04, 2023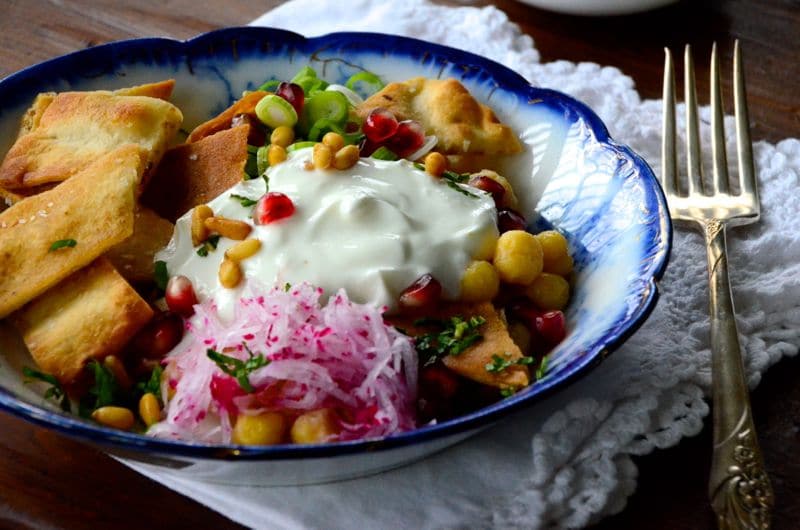 If I had a pita chip for every time in the last year that I discovered or developed a new Lebanese recipe that I wish could have been in my cookbook, I might have enough chips to fill a big bowl for fattah.
I'm happy to report that even though the fattah is just coming to light for me lately, the chips did make it into the book. One review I read said that the book's introduction alone was worth the price of admission (I had to give myself a little hug when I read that!). So nice. I'd add that the pita chips are right up there with worth it. They're just so darn simple and the result so irresistible: you've got the crunch, the salt, the DGB (deep golden brown), the aroma of just-baked from the oven.
I've been making the pita chips so often that I've started wondering what I can do with them in addition to crunching on fists full over the stove. There's always dip, such good ones. But they're so…obvious.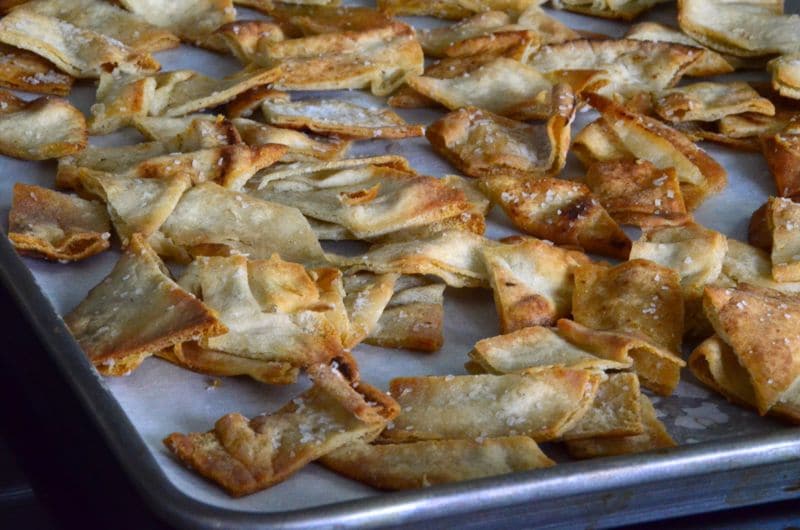 The fattah—a bowl layering warm chickpeas, pita chips, beautiful garnishes, and garlicky yogurt, has showed it's pretty little face to me in the oddest places. I started seeing fattah on blogs that have absolutely nothing to do with Lebanese cuisine (I mean, tabbouleh all over the place I get, but the fattah surprises) and wondered how such a brilliant use of pita chips and chickpeas had passed me by all these years. Mom? How did we miss this one?!
I poked around my library of Middle Eastern cookbooks, and sure enough fattah was there like the classic that it is.
Then when I was in D.C. recently and finally had dinner at the renowned Lebanese Taverna, I was in fattah la-la land. The menu offered at least three variations on fattah: with fried eggplant, with roasted lamb, with chicken. I went for the eggplant and swooned.
At home I can be lazy when it comes to a casual bowl of food like this, so the fattah I've been making doesn't have any of the Taverna's eggplant, lamb, or chicken. The fun of it is you can add whatever you want from the produce or protein you have on hand (roasted vegetables would rock it).
I'm heading out to do lots of cooking demos, classes, and media for the launch of the Rose Water & Orange Blossoms cookbook, and I keep thinking: the fattah! I wish I could show off fattah! It's just that it's . . . not in the book!
But that's okay that isn't it, because lookey here: here we have a blog, the one that started all of this to begin with, and here is where we get to keep on sharing the new, the classic, and the wonderful Lebanese dishes we just love to love.
Lebanese Fattah: Chickpeas, pita chips, and labneh with garnishes
This dish comes together quickly when you have a well-stocked larder with labneh, chickpeas, and pita chips. I like to make these regularly and keep them on hand at all times! You can use [url href="https://maureenaboodmarket.com/products/peeled-chickpeas?variant=1096620717″ target="_blank" title="Pre-Peeled Chickpeas"]peeled chickpeas[/url], my favorite, but from dry or canned will work fine here too. Add fried eggplant, roasted chicken or lamb for extra oomph.
Ingredients
For the chickpeas:
2 cups chickpeas
1/2 cup water
Big pinch kosher salt
1 tablespoon extra-virgin olive oil
For the labneh:
1 cup l[url href="https://maureenabood.com/best-lebanese-recipes/yogurt-labneh-laban/" target="_blank" title="Yogurt, Labneh, and Laban"]abneh[/url]
1 clove garlic, minced
1/2 teaspoon kosher salt
Squeeze of lemon juice
For the garnishes:
Pita chips
Scallions, thinly sliced
Radish, grated
Pine nuts, toasted
[url href="https://maureenabood.com/ingredient-mint-or-nana/" target="_blank" title="Ingredient: Mint, or Na'na"]Fresh mint[/url], finely chopped
Pomegranate seeds
Instructions
In a small saucepan, heat the chickpeas with the water and salt until warmed through. Strain the chickpeas and in a small bowl, stir in the olive oil
Mix the labneh with the garlic, salt, and lemon juice.
In two lovely bowls, mound the warm chickpeas in the center. Spoon a big dollop of labneh on top. Surround the chickpeas with the pita chips, scallions and radish, then garnish with pine nuts, fresh mint, and pomegranate seeds. Serve immediately.
link
(Visited 11,620 times, 1 visits today)