The Ultimate Lebanese Salad Dressing
Nov 09, 2022, Updated May 06, 2023
This is Pomegranate Vinaigrette, the ultimate Lebanese Salad Dressing! And the only dressing you need to gild nearly every salad with bright, delicious flavor.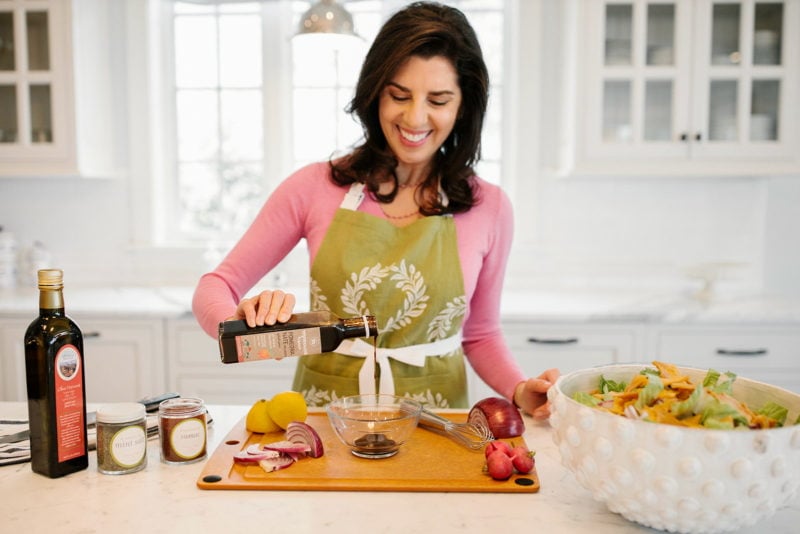 I say it often, that Lebanese Fattoush Salad is my all-time favorite. I eat it "every week," and so on. Fattoush is known for its inclusion of crunchy pita chips, like an Italian panzanella.
And those crunchy chips-in-salad earn their fame, for texture and flavor and wow-factor.
But not to be overlooked here is the fattoush vinaigrette. My version of this ultimate Lebanese salad dressing was built over time. At first, I made a lemon vinaigrette that is so essential for Lebanese salads. A hit of garlic, the key dried mint. Then my friend Janet, who is not at all Lebanese herself but her husband sure is, and so too then her children, schooled me in the ladies room at a culinary conference we were both attending years back.
"That dressing! The pomegranate molasses is the flavor!" And with that she brought her fingertips together in a point and kissed them to her lips with that universal Mediterranean love language for "this is delicious". God bless you Janet. I went directly home and started in on my pomegranate vinaigrette.
The results have been so so SO delicious that I find myself making this vinaigrette for pretty much all of my salads. From Tomato Cucumber Salad to Lebanese Couscous Salad to Lebanese Slaw (Malfouf Salad), and beyond, this dressing makes everything it touches taste double great.
Ingredients in the Ultimate Lebanese Salad Dressing
So yes, pomegranate molasses is essential. This is a syrup made of pure pomegranate juice. Can you make it yourself by reducing pomegranate juice stovetop? I suppose, but the truth is that the good bottles of this nectar are made with a "sour" pomegranate. There are sour and there are sweet pomegranates. The juice we drink is sweet. So no, just buy a quality bottle and you'll use the heck out of it!
Vinegar, or acidity, is also important. Use fresh lemon juice. Or, my favorite vinegar that I don't seem to salad without: unseasoned rice vinegar. I use bottle after bottle of rice vinegar. Such a smooth flavor.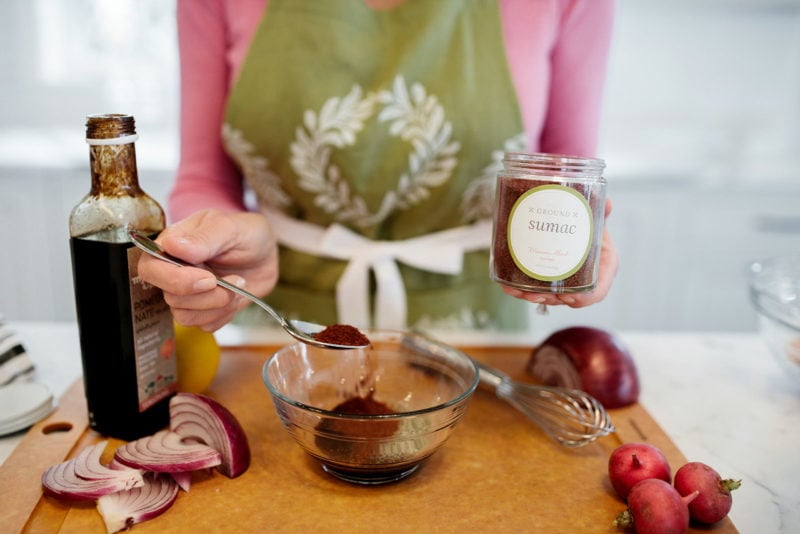 Sumac. Another bright, citrusy flavor lending much harmony to your ultimate vinagrette. Use some in the dressing and then dust the top of the salad with more before serving. Really pretty and so appetizing.
Dried Mint. You know the Lebanese can NOT eat salata of any kind without a crush of dried mint over top. This is what led me to create my Mint Salt spices–sometimes I just don't have dried mint from my garden handy and so I want to reach for a jar at-the-ready. Again, in the vinaigrette and on the salad to finish.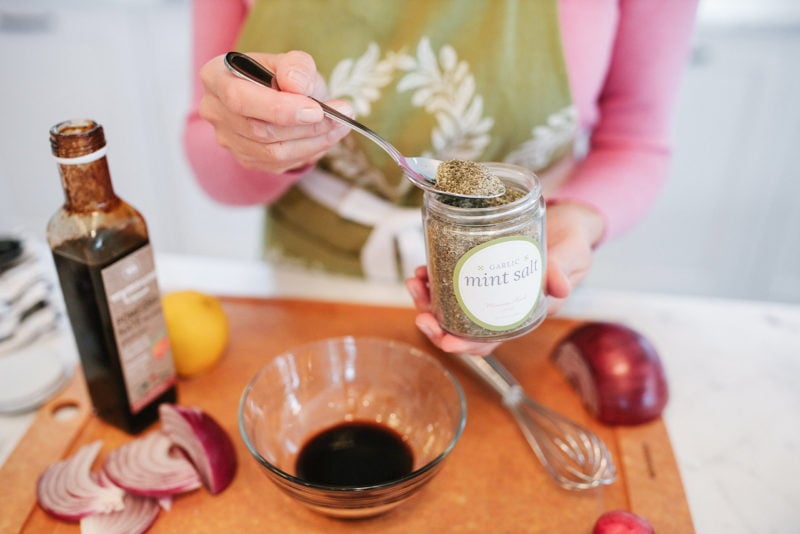 Garlic. You're the decider here on how much garlic gives you joy. I go in double: both garlic powder and fresh garlic. The powder must be granulated–look for golden brown garlic powder rather than bright white. Much nicer flavor that won't come back to bite you! Crushed fresh from a clove or squeezed from a tube (some days get busy, no?), a solid hit of garlic is heaven, in my book of ultimates.
Olive Oil. Extra Virgin. Get a good one and use it in salads every day! Now you're living the Mediterranean diet like native, and loving the flavor of that!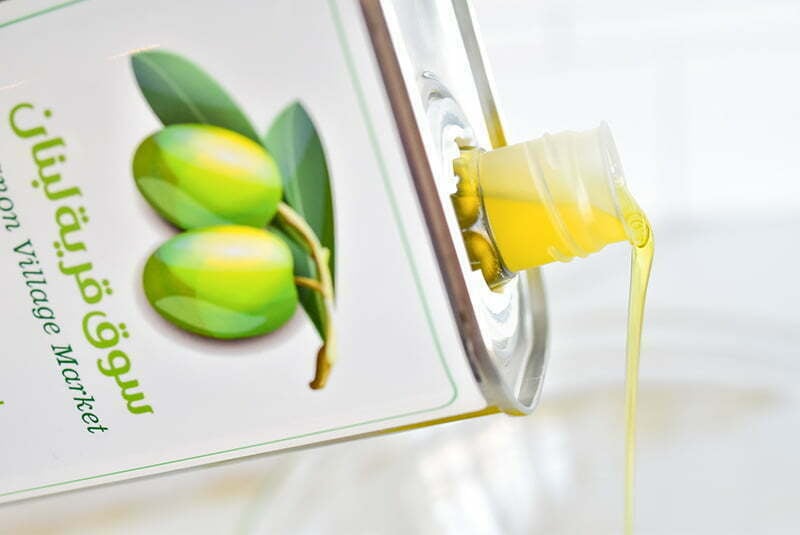 Make Ahead and Shake it Up.
I often simply whisk my vinaigrette with my little whisk meant just for this purpose, especially of I'm making and using right that minute. Which usually I am. But for holidays and other big events, I make the vinaigrette ahead and keep the jar at the ready in the fridge. Seriously weeks are fine on this. Make a big batch and then shake and pour whenever you want. How easy.
Ingredients at the Ready!
So happy to have the very best ingredients we all want and need to make this vinaigrette. Here they are:
Lebanese Extra Virgin Olive Oil
Frequently Asked Questions
what is lebanese salad dressing made of?
There are some variations! Get Lebanese flavor in your salad with fresh and dried mint, ground sumac, lemon juice, pomegranate molasses, and garlic. And great extra virgin olive oil!
What is lemon za'atar dressing?
Also delicious. Simply include za'atar in the mix with the recipe above. Lemon za'atar dressing will always include olive oil, fresh lemon juice and za'atar, a spice blend of sumac, wild thyme, and sesame seeds.
Does lebanese salad include tahini?
Lebanese salad does not alway include tahini, but many Lebanese salads are dressed with a tahini dressing! Tahini is liquid sesame paste.
What defines a creamy dressing?
Creamy salad dressings include a creamy element such as yogurt (labneh or Greek yogurt), sour cream, heavy cream, or tahini.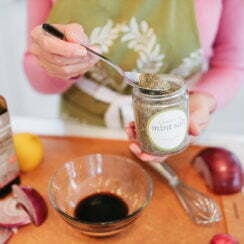 The Ultimate Lebanese Salad Dressing
Here you go . . . the most flavorful, favorite vinaigrette that belongs on nearly every salad you make. Get ready for a new go-to right here!
Instructions
In a medium bowl or jar, whisk or shake all of the ingredients except the olive oil.

Drizzle in the olive oil, whisking constantly or stopping to shake after each quarter cup is added.

Taste and adjust seasonings, if needed.

Use immediately or store in the refrigerator for up to two weeks. Bring to room temperature and whisk or shake to combine before dressing your salad.
Nutrition information is automatically calculated, so should only be used as an approximation.
Like this recipe? Leave a comment below!
(Visited 9,484 times, 5 visits today)