Sumac Roasted Sweet Potatoes
Nov 14, 2015, Updated Apr 30, 2023
Sumac roasted sweet potatoes are a natural! The bright, citrusy flavor of the sumac balances the sweetness of the potatoes perfectly.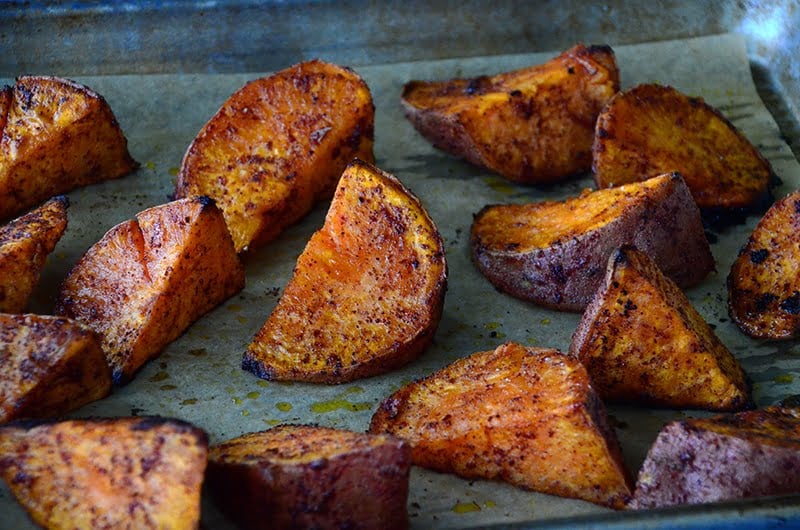 When I think about what makes the Thanksgiving plate so mouthwatering-good, it doesn't take much for me to realize that it's driven by sweet. Oh, and fat. Yes, there is the salty tenderness (brine it, baby!) of the turkey, the profound savory of the stuffing. But all of that for me is the backdrop to the cranberry and the sweet potatoes.
And not just any cranberry and sweet potatoes. Of course. I'm talking about my mother's cranberry sauce, my mother's sweet potatoes, and none other. The sauce is studded with walnuts (the Lebanese can't keep away from them) and glistening with gems of mandarin orange, green apple, and pineapple.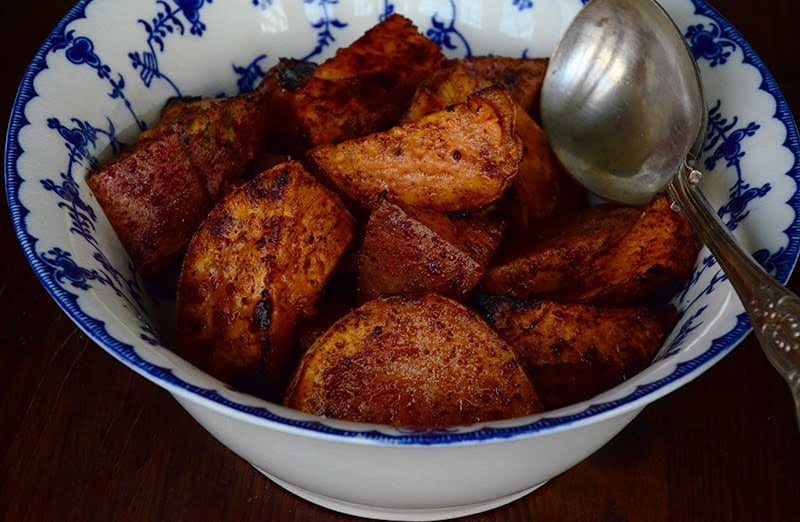 The sweet potatoes are not marshmallow-topped—to my surprise, really, given the affinity both Mom and I have for anything marshmallow. Instead, Mom candies her potatoes in a buttery, dark brown sugar syrup.
Of all of the dishes, Lebanese and otherwise, I've inherited from her through study, practice, osmosis, or any path that will get them into my repertoire, the candied sweet potatoes have eluded me. She says they're not difficult: boil the potatoes skin on, then slip the skins off when they're cool enough to handle. Make a caramel-like syrup, pour over potatoes that have been halved in a huge baking dish. All of this she breezes over as though it's no big thing: It's just candied sweet potatoes, honey. But there's more to it, Mama! The potatoes have to be boiled in that initial step…to perfection, not overcooked as mine were in the one attempt I made at the potatoes, with a mushy end result. You have to stay on them, piercing them until you have just the right amount of resistance and give. The syrup also has its nuances. Mine separated, and nothing good came from that.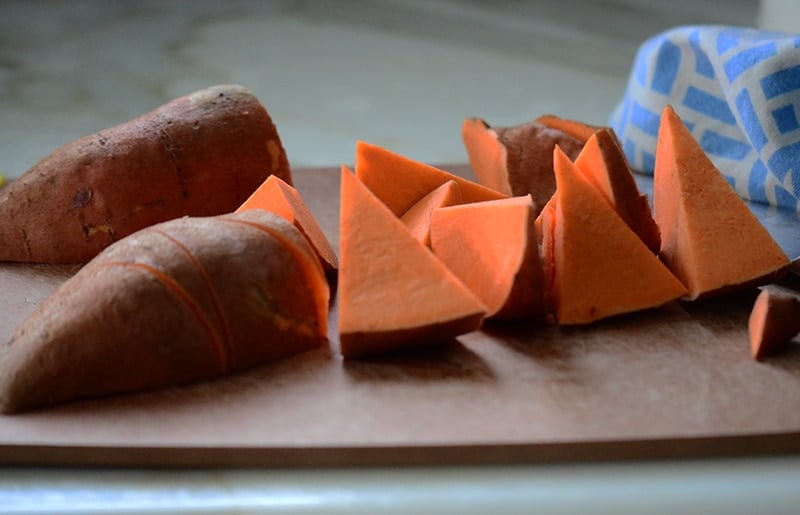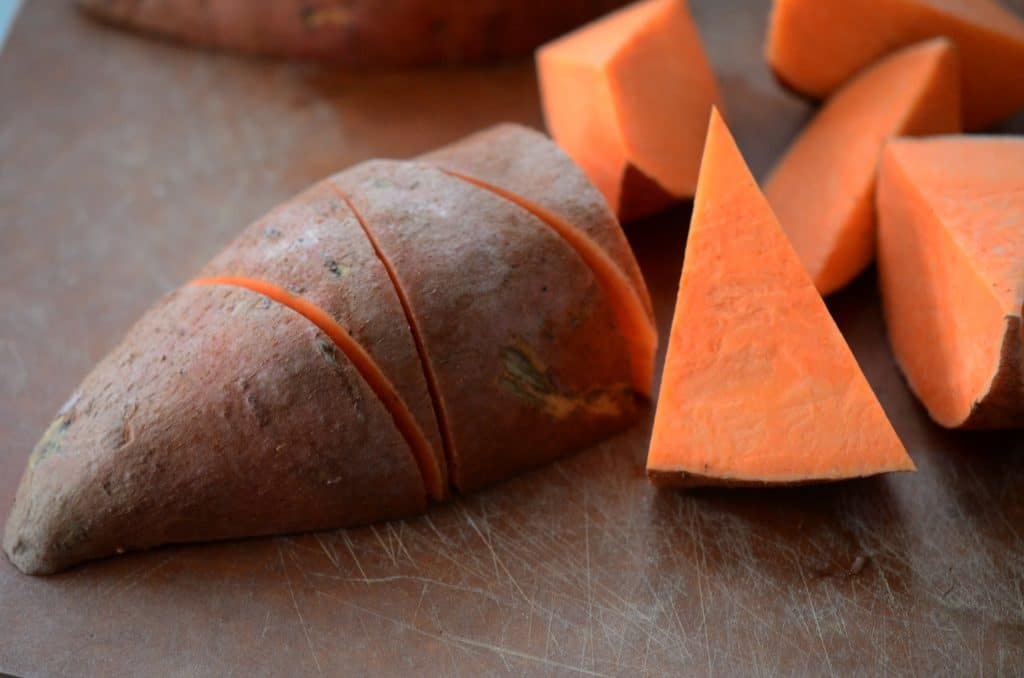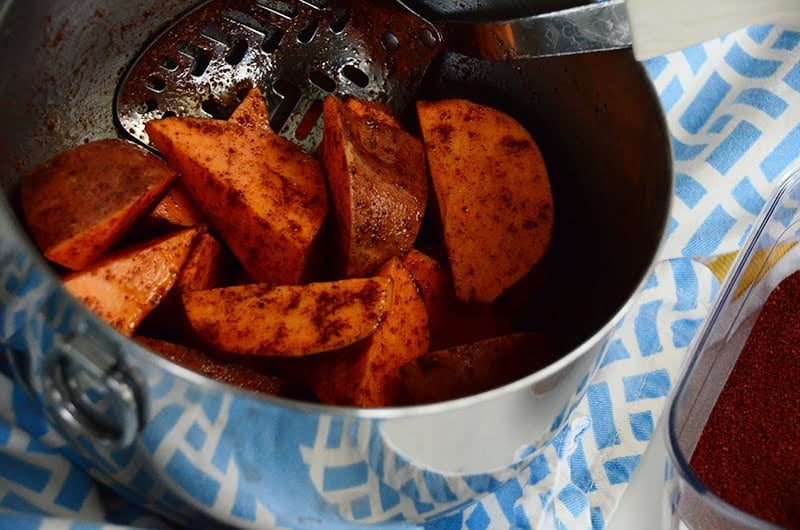 So I decided long ago that I'd only eat Mom's candied sweet potatoes on Thanksgiving; I work on other things, like the gravy (I start weeks early, making the dark turkey stock, then nurse it all Thanksgiving day to a smooth, rich sauce). The pie, of which I will make at least four. Stay tuned for one of them here shortly.
Then there is my version of sweet potatoes, spiced with sumac, a hit of cayenne, a drizzle of honey, and roasted to a blistery beauty. Easy as it comes. They're so crazy delicious and unrecognizably different from my mother's that I could bring them to the Thanksgiving table and there would be no protest.
Other than my own.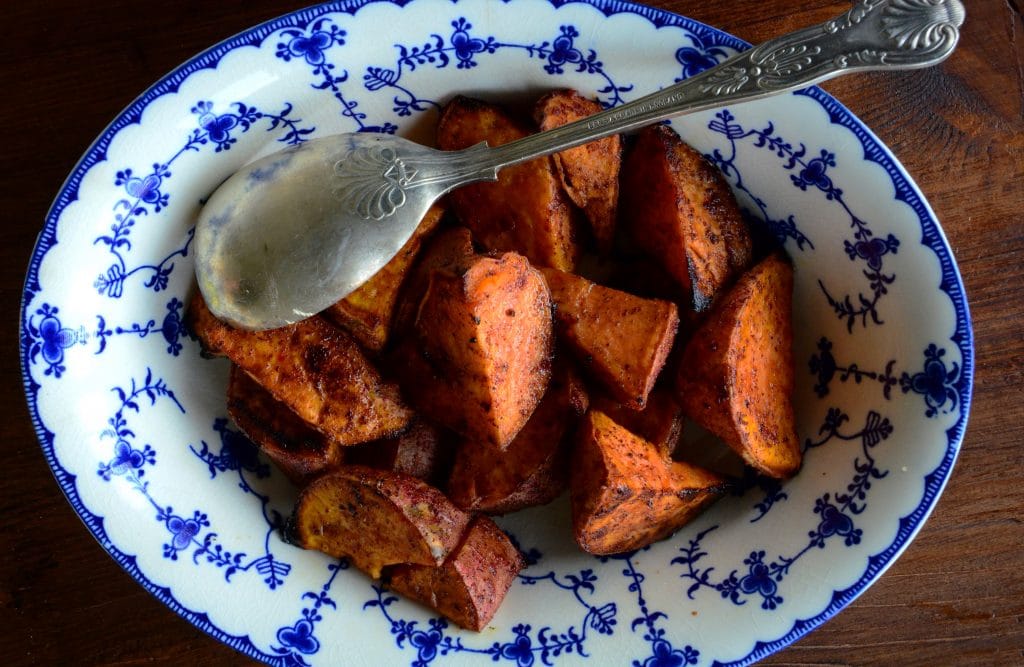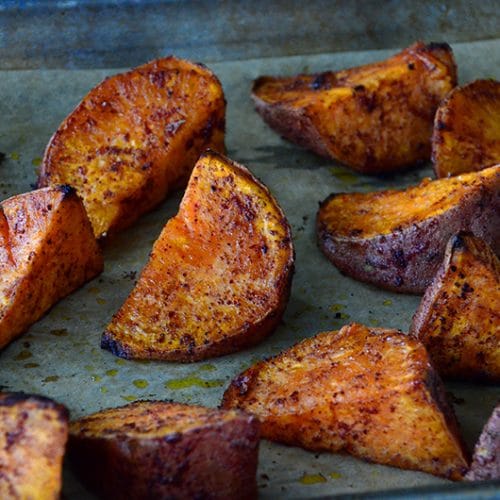 Sumac Roasted Sweet Potatoes
Perfect with poultry, pork, lamb, beef, grains, greens–pretty much everything!
Ingredients
2

large

sweet potatoes or yams

2

tablespoons

neutral oil, such as grapeseed or canola

1

teaspoon

kosher salt

2

teaspoons

sumac

1/4

teaspoon

cayenne pepper (or more!)

Few grinds black pepper

2

tablespons

honey

1

tablespoon

extra virgin olive oil
Instructions
Place a large sheet pan in the oven and heat to 500°F.

Scrub the sweet potatoes. Leaving the skins on, halve the potatoes crosswise, then halve them lengthwise. Lay the cut-side down and slice the potato crosswise into 2- to 3-inch wedges.

Place the potato wedges in a large bowl. In a small bowl, whisk the neutral oil, salt, sumac, cayenne, black pepper, and honey until combined. Pour over the potatoes and stir with a large spoon until the potatoes are well coated.

Remove the sheet pan from the oven reduce the oven to 425°F. Line the pan with parchment. Place the potatoes on the pan, arranging them so they aren't touching one another.

Roast the potatoes for 20-30 minutes, turning the potatoes over with tongs halfway through roasting, until they are golden brown and cooked through. Take care not to overcook them.

Serve the potatoes warm, drizzled with olive oil.
Nutrition information is automatically calculated, so should only be used as an approximation.
Like this recipe? Leave a comment below!
Save
(Visited 19,634 times, 1 visits today)