Garlicky Sumac Shrimp Grill
Jun 07, 2019, Updated Mar 14, 2023
Garlicky Sumac Shrimp Grill is ON for summer dinners alfresco. Everything about this gluten-free recipe is quick: a fast 30-minute marinade, and just 6 minutes on the grill will get you an incredibly delicious, healthy, party-worthy dish.
"Nothing says a party like shrimp!"
That's my brother Tom's line, circa a good many years ago, in the menu run-down for some gathering or another my sister and I were having when we lived in Chicago. Little did he know we'd be saying that for the rest of our lives, for any party big or small.
The line is especially funny to me because it captured an as of yet, at the time, unspoken affinity my dad had for shrimp. In Dad's book, shrimp cocktail was a luxury—one we enjoyed once in a while, but certainly not always, when we went out for dinner. Seafood wasn't a big part of his growing up in Michigan; plenty of whitefish, plenty of trout (the traditional Lebanese Spicy Fish I discovered much later would have been such a great preparation for these), but not plenty of pricey imported seafood. When my dad first moved to Boston as a freshman in the seminary, he was taken under wing by dear Lebanese family friends who fed him a lobster feast. He always joked about how he didn't know what to do with the bright red creature on the plate in front of him, and could barely eat it. He felt bad because he sensed it was a splurge, the lobster they served, as back in the Midwest lobster was not for dinner for the Aboods, ever.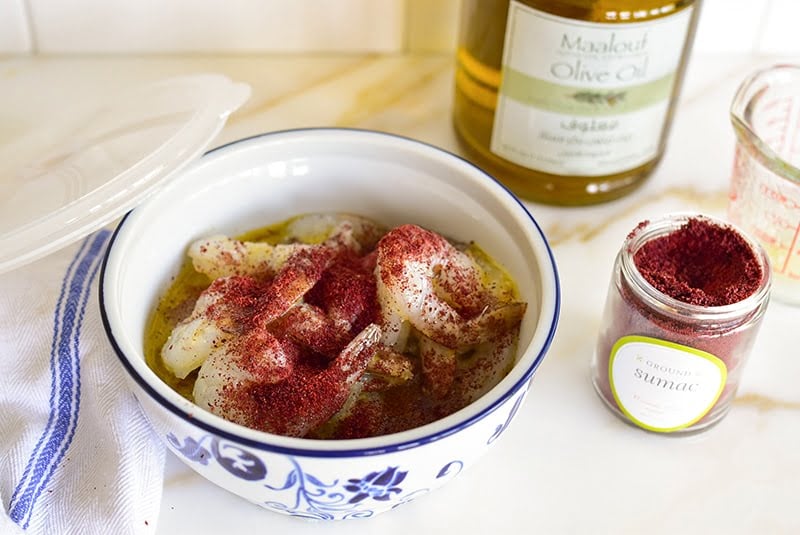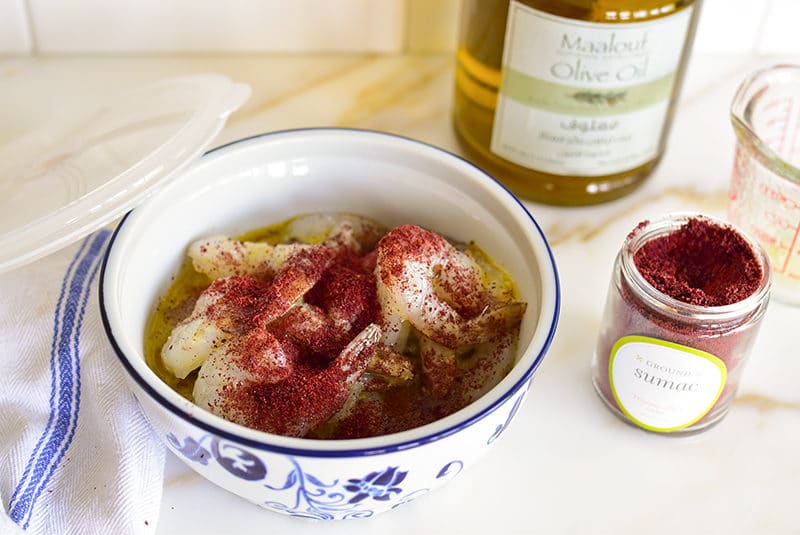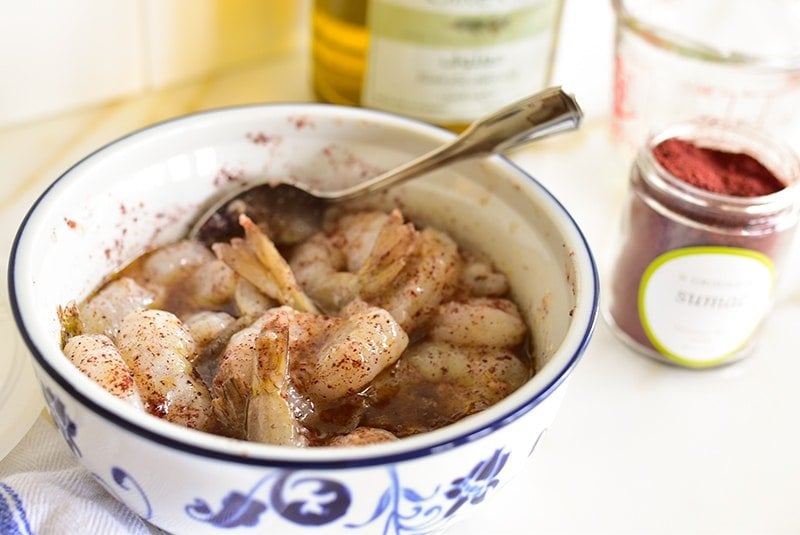 So pulling out the shrimp for any celebration here does feel like a splurge. We're going for the shrimp for Father's Day this year, and putting it on the grill scampi-style.
The visual being such a huge part of any appetite inspires my marinade, which is graced with bright red sumac. One of my favorite spices of all time, and one I always keep at the ready in the kitchen, sumac is a Middle Eastern spice with a tart, citrus-y flavor. I count on sumac's an injection of flavor and color in all kinds of dishes: in my fattoush salad, which is on the menu here multiple nights every week (sometimes with the pita chips, sometimes without), then also on roasted or grilled or steamed vegetables (any and all). And, on shrimp! Think of sumac as a counterpart to lemon from a flavor profile; a twin, a good friend, a sibling who knows how to party.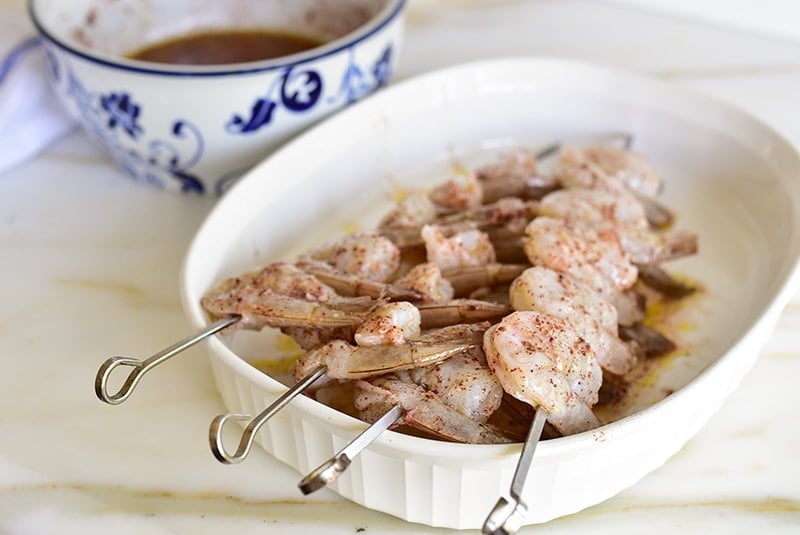 The look of the sumac is mouthwatering when it marries its intended, but also I love sumac just sitting there on the counter looking pretty. Sumac is one among a bunch of factors that inspired a transition of the MaureenAboodMarket.com spices from tins to glass jars. I want to see that color! The more I see the beautiful spices, the more I want to cook and eat with their flavors and good health.
For the Garlicky Sumac Shrimp Grill, get your summer char going with the grill, and get your sumac going with your marinade and a final dusting, along with a shiny slick of great olive oil . . . and now you better make triple what you think people will eat, because this here is a party. The shrimp says so!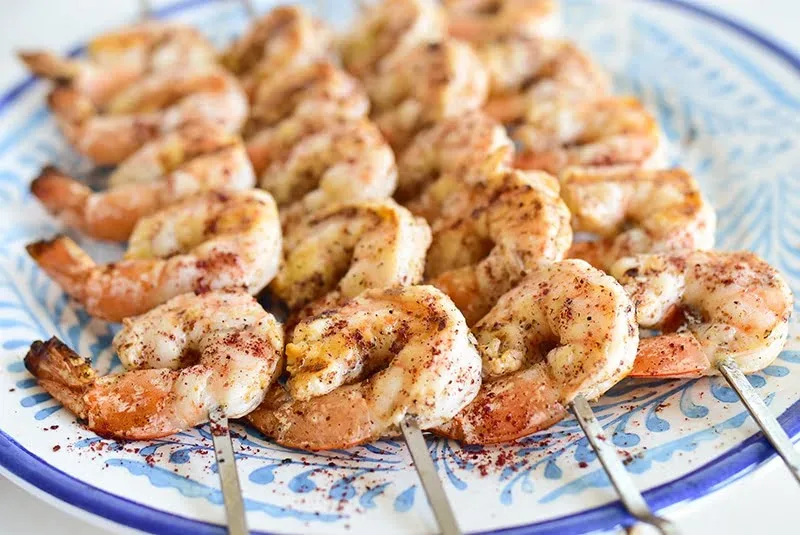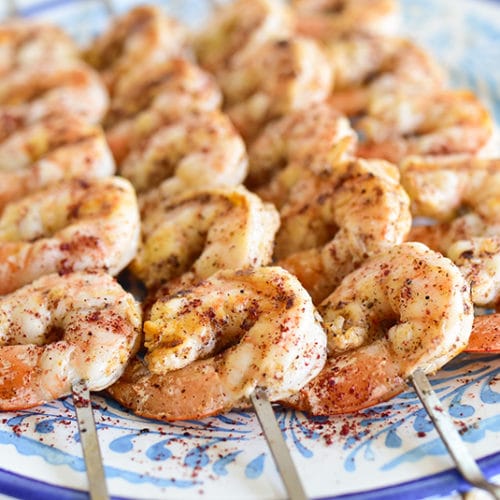 Garlicky Sumac Shrimp Grill
This recipe comes together in no time, with a quick 30-minute marinade and a grill time of just 6 minutes. You can also expand the recipe with tremendous ease! Garlicky Sumac Shrimp Grill makes a great appetizer, or a main dish served with rice and salads, or served over fattoush or other salad.
Instructions
In a medium nonreactive (non-metallic) bowl, combine the olive oil, lemon juice, garlic, sumac, salt and pepper.

Add the shrimp and coat each one well with the marinade. Cover and refrigerate for 30 minutes.

Heat the grill to medium high.

Thread the shrimp on skewers, about 5 per skewer. Discard remaining marinade.

Coat the grill grates with a bit of oil, using tongs and a folded paper towel. Lay the shrimp skewers on the coated grates and cook for 2-3 minutes. Turn and grill the other side of the shrimp skewers for 2-3 minutes, or until the shrimp are opaque and light pink.

Remove the skewers from the grill and brush the hot shrimp generously with olive oil. Dust them with more sumac, then push the shrimp off of the skewers to serve.
Nutrition information is automatically calculated, so should only be used as an approximation.
Like this recipe? Leave a comment below!
(Visited 12,746 times, 1 visits today)