Lebanese Turnip Pickles
Aug 03, 2011, Updated Aug 20, 2023
Lebanese turnip pickles are the little pink slices wrapped up in you Middle Eastern wraps like shawarma. They get their pink hue from a beet in the jar! They are versatile, delicious on their own and with other pickles. This is an easy recipe for refrigerator pickles, no canning necessary.
Lebanese pink pickled turnips are a Lebanese favorite that evoke soooo many memories and so much family feel for me. My Aunt Hilda made turnip pickles often, never without lots of jars to share with all of us. She enjoyed a lot of heat in her pickles, so many of her pickle jars were loaded with garlicky heat. Read one of my first post stories about Aunt Hilda and her turnip pickles here.
Why you'll love Lebanese turnip pickles
Lebanese pickled turnips, also called "lift," are the pink pickles that fans of Middle Eastern food see peeking out from your shawarma wrap! They get their pink hue from a slice of red beet included in the jar with the turnips. This Middle Eastern staple can be eaten different ways: on its own as any pickled root vegetable, wrapped in a sandwich, or as part of an assortment of crunchy condiments and olives on the dinner table.
They are a simple, quick pickling addition to your pickle repertoire, easy to make and a great way to enjoy flavor at the ready in the fridge.
What do you eat with Lebanese pickles?
There are limitless possibilities of what to eat with these pretty pink pickles. Serve them alongside chicken shawarma, tossed with green beans, on top of falafel wraps (or pita wraps), as for crunch with a spread like baba ganoush or hummus, or as a snack like regular old crunchy pickles!
Just slice the pickles into thin sticks to add them to wraps.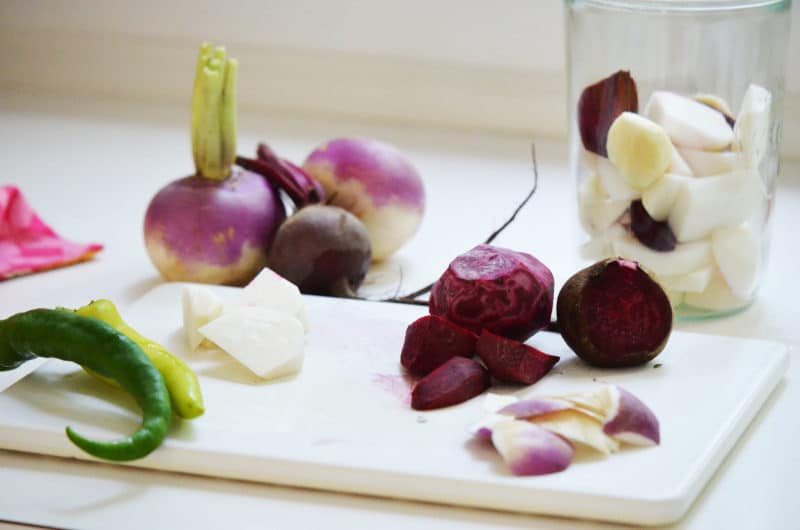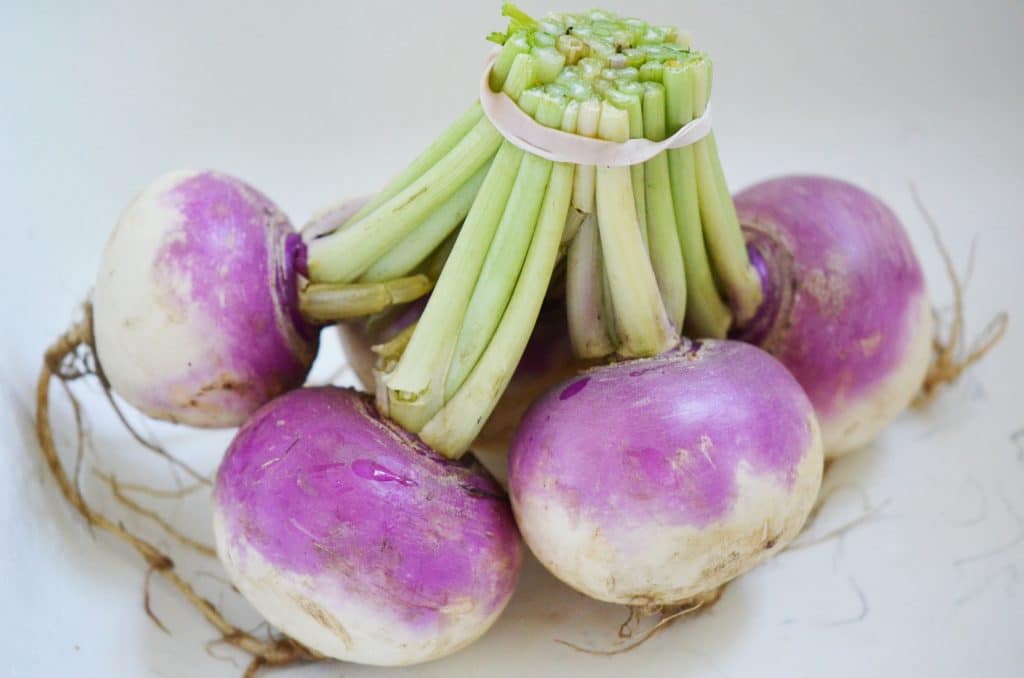 Ingredients to make Lebanese pink pickled turnips
White vinegar. This is the best type to use, but apple cider vinegar, sweet vinegar, or white wine vinegar would do the job in a pinch.
Cold water. Cold water will be part of the pickling brine as it will balance out the vinegar.
Kosher salt. Be sure to use a good amount of salt, and make sure it's kosher salt. Table salt will make the pickling solution very bitter.
White turnips. I prefer white turnips for this recipe, both for the taste and the color they take on from the beet. Large turnips work best; small ones are fine, just buy more of them to fill the jar.
Beet. One red beet, trimmed and peeled, will yield pink turnips. I love the gorgeous pink color! Two really small beets also do the job.
Garlic. I use three cloves of garlic, peeled. Use as many or as few as you'd like depending on how garlicky you like your pickle brine.
Jalapeño. These are a delicious way to get some heat on your pickled turnips. Like the garlic, you can control a sharper flavor or mild flavor by cutting the ribs and seeds out of the jalapeño, or leaving them!
Pickling spice. You will find pickling spice in most grocery stores. Go with personal preferences in terms of using it or not, but the spice comes alive with the fermentation process and gives a tangy flavor.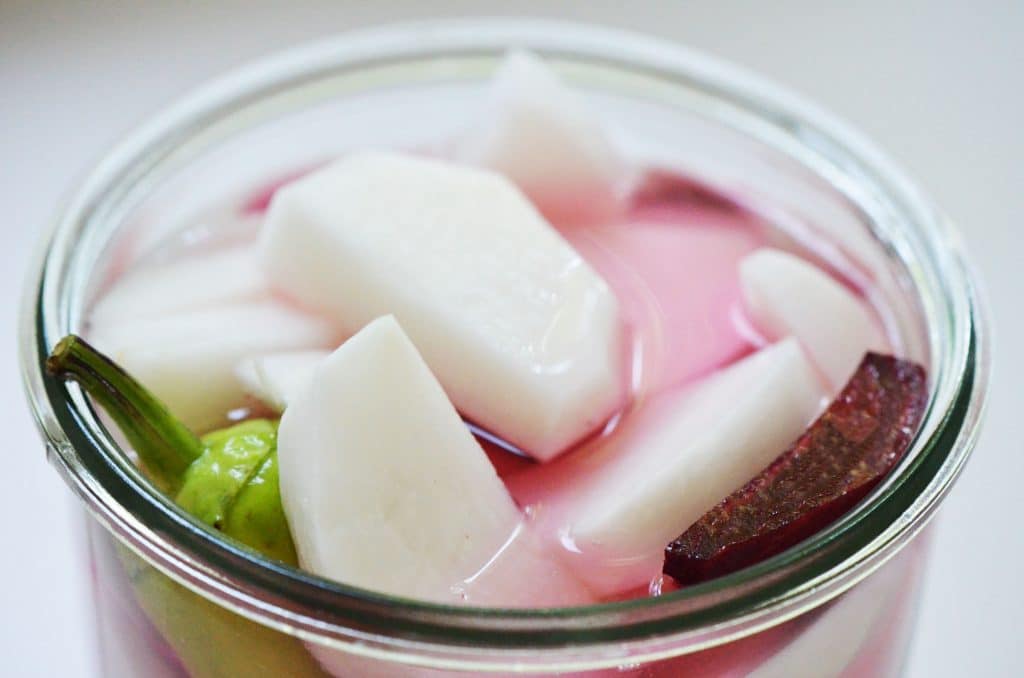 How to make the brine
In a small bowl, combine the vinegar, water, and salt to make a quick brine. Let the mixture sit for a few minutes, stirring occasionally until the salt is dissolved.
How to pickle the turnips
Step 1. Cut the turnips and beet from top to bottom, and then into ½-inch thick wedges. Pierce the jalapeño with a sharp knife for mild heat, or cut it in half lengthwise to expose the seeds and ribs for more heat.
Step 2. Pack the turnips and beets tightly into a quart-sized glass jar, put the garlic cloves in at the top of the jar, tucking in the jalapeño as you go. Add the pickling spice. Leave about an inch of space at the top above the brine.
Step 3. Pour the brine into the jar, and leaving an inch headspace on top, close it with a tight-fitting lid. Refrigerate for three days or up to a couple of weeks. Shake the jar occasionally at first to distribute the gorgeous pop of color from the beet.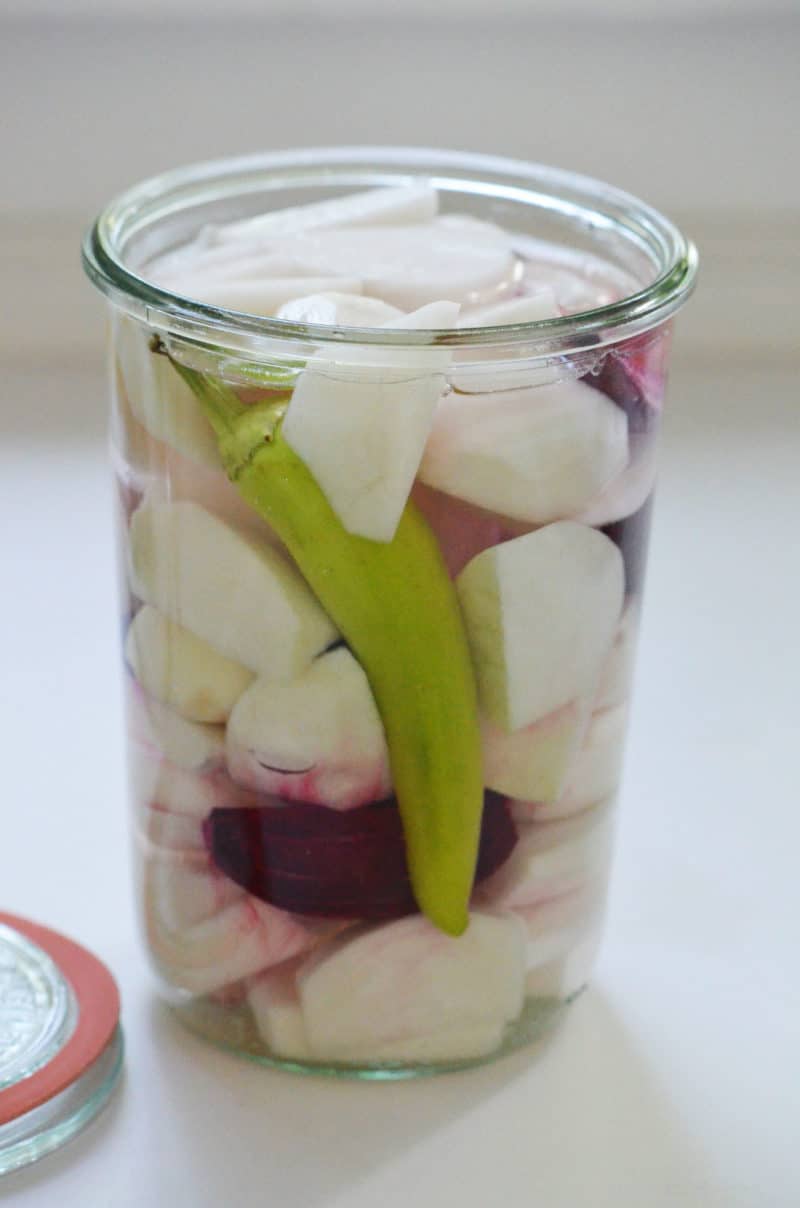 Variations to try
Use different herbs or aromatics instead of pickling spice to change up the flavor profile of the turnips recipe. You can try bay leaves (one bay leaf per jar is plenty), and fresh herbs to accomplish this.
Try different ways of making your quick pickles spicy. Jalepeño, red peppers or red chili are great avenues to heat.
Some like to boil the vinegar mixture before putting it in a jar with the crunchy vegetable. To do this, add the vinegar and cold water to a small saucepan over medium heatl. Make sure to allow the mixture to return to room temperature before pouring it into the jar.
Golden beets will result in a more yellow pickle, not pink, but they are still delicious!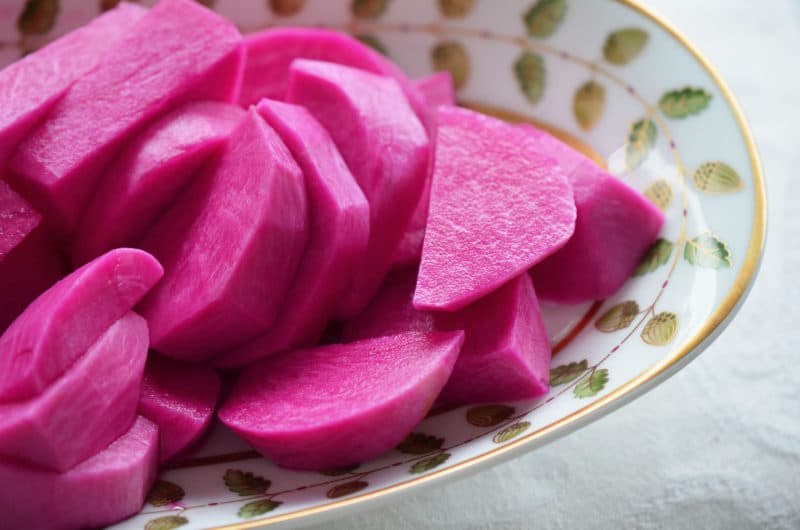 Frequently Asked Questions
What makes them pink?
The beet! Cut into thin slices and put into the jar along with the vinegar salt water, will give regular turnips a beautiful color.
Are pickled turnips good for you?
Yes! This refrigerator pickle is great for contributing to your daily values of several different nutrients like vitamin c, filling and satisfying for those on a low calorie diet or other special diets, and supports gut health.
Can you buy pickled turnips?
Yes, although the homemade version is even more delicious (better texture, crunchier), requires no special equipment, and is easy for a first time pickler, you can get jarred pickled turnips next time you're at your local Middle Eastern market or Middle Eastern restaurants.
Can I ferment turnips?
Turnips can absolutely be fermented, it will result in a different kind of pickles. If this is your plan, avoid using a smaller jar so that the turnips, and the rest of the ingredients, are not too tightly packed. Fermenting turnips is different from pickling because the mixture is just salt and a couple cups of water. No vinegar!
How long does it take to ferment turnips?
Store the jar of turnips in a dark place and they will be fermented in approximately 5-7 days.
How do you store Arabic pickles?
They can be stored in the pickling jar at room temperature in a dark place for about a month if jarred for shelf life. Refrigerate once opened. Refrigerator pickles that have not been canned with sterilization and heat should be stored in the refrigerator.
More Pickle Recipes
Asparagus Pickles with Grape Leaves
Bread and Butter Sweet Pickle Chips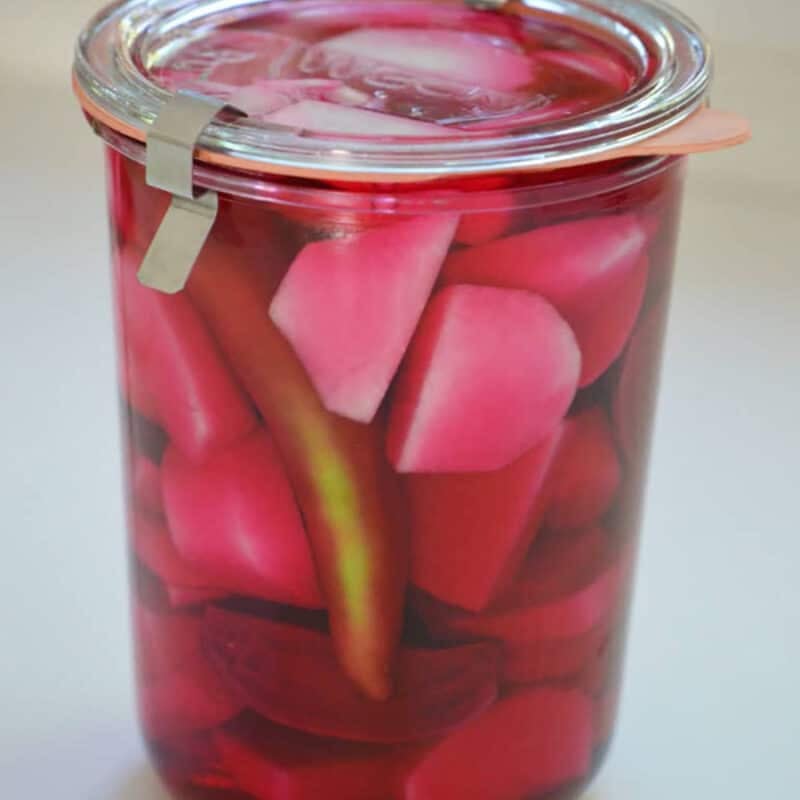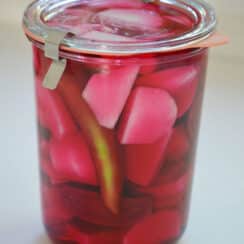 Lebanese Turnip Pickles
These are simple refrigerator pickles that gain zest, character and crunch over time. Aunt Hilda loved hers spicy with plenty of garlic. Select turnips that are heavy and hard, the smaller the better. Lift should last a month or so refrigerated. The pickles are delicious on their own or alongside a sandwich, a hummus or babaganouj plate with bread, or shawarma—or served with olives and cocktails.
Ingredients
1

cup

distilled white vinegar

1/2

cup

cold water

1 1/2

tablespoons

kosher salt

1 1/4

pounds

white turnips, tipped, tailed, peeled

1

small beet

trimmed and peeled

3

cloves

garlic, peeled

1

jalapeno pepper (optional), or 1 teaspoon red chili pepper flakes (optional)

1

teaspoon

pickling spice
Instructions
In a small bowl, combine the vinegar, water, and salt to make a brine. Let the mixture sit for a few minutes, stirring occasionally until the salt is dissolved.


Cut the turnips and beet in half from top to bottom, and then into 1/2-inch thick wedges. Pierce the jalapeno with a knife for mild heat, or cut it in half lengthwise to expose the seeds and ribs for more heat.


Pack the turnips and beets into a quart jar layered with the garlic cloves, tucking in the hot pepper next to the glass as you go (it's pretty that way). Top with hot pepper flakes (if using instead of the jalapeno) and the pickling spice.


Pour the brine into the jar, leaving about 1/2-inch headspace. Top the jar with a lid and refrigerate for at least 3 days and up to a couple of months, shaking the jar occasionally at first to distribute the pink hue of the beet.

Nutrition information is automatically calculated, so should only be used as an approximation.
Like this recipe? Leave a comment below!
Save
(Visited 29,029 times, 1 visits today)