Avocado Tabbouleh, the original chopped salad
Jun 23, 2022, Updated May 06, 2023
I call my Avocado Tabbouleh Salad the original chopped salad because it's all about the finely chopped herbs and vegetables. A simple lemon vinaigrette lets all of the flavors shine.
The truth of tabbouleh is this: it's a labor-of-love salad. A salad whose basis is fresh herbs could be nothing but, when you consider how those herbs need special treatment. The washing! The drying! The picking from stems! The chopping…. And then all of the other ingredients that require a fine chop: the tomatoes, the onions, and in my recipe, the cucumber (so much crunch and fresh flavor!) and the avocado (ohhh yessss).
The other truth of tabbouleh? It's worth the labor! We may make tabbouleh in small batches for smaller gatherings here, but when we do, we go all in knowing that this very favorite, very delicious Lebanese salad is going to be so very good.
What is Tabbouleh?
Tabbouleh is an herb salad, even though the boxed versions appear to be bulgur salads flecked with a little green. The essential ingredients are parsley (flat leaf or curly), mint, tomatoes, green onions, and fine bulgur. I love to add cucumber to the mix for added freshness and crunch.
My other favorite tabbouleh addition: avocado! I have a few helpful tips below and in the recipe, too, for the best way to include the avocado in tabbouleh.
Lebanese tabbouleh salad is traditionally eaten with romaine lettuce leaves as little scoops. I love to serve tabbouleh on a platter in lettuce cups, either Little Gem romaine or the smaller butter lettuce leaves. This way tabbouleh can become finger food!! Little tacos! Perfect at a cookout or picnic.
The tabbouleh salad dressing could not be simpler: fresh lemon juice, olive oil, salt and pepper. With the flavor explosion of all of the herbs, the vinaigrette is there simply to heighten and brighten those flavors.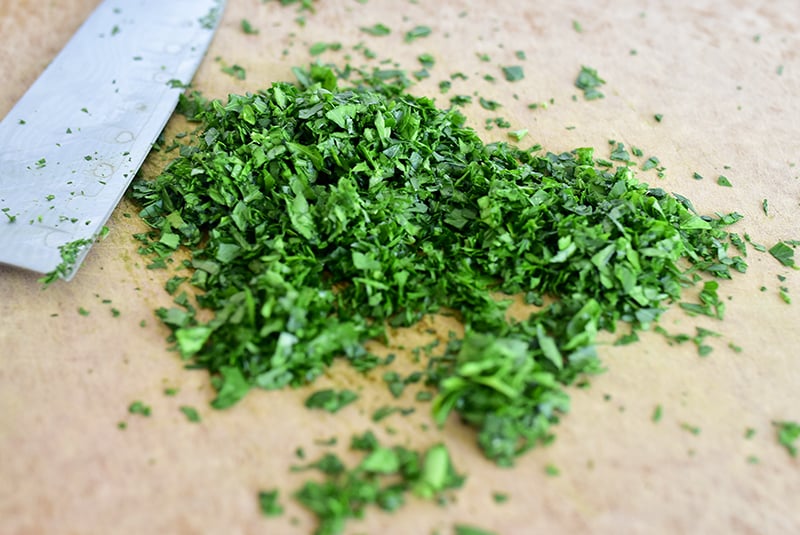 Ingredients for Tabbouleh Salad
Parsley. There are arguments galore about whether tabbouleh should be made with flatleaf (Italian) parsley or curly parsley. I've used both and both are wonderful. If you do use curly parsley, just be sure to pluck the curly leaves from the not-so-tender stems very well—and chop it like there's no tomorrow! Fine chop, so the texture is . . . fine.
Mint. Lebanese "nana," the flavor-maker of every Lebanese salad! This is typically spearmint. Tabbouleh is primarily made with the parsley, so the mint is a supporting ingredient here but adds tons of Lebanese flavor we love.
Tomatoes. Use large tomatoes so you can easily remove the seeds and finely dice the beautiful flesh.
Green onions, scallions. Such easy fresh onion flavor here, not as strong as sweet or yellow onion, the perfect compliment in tabbouleh. The entire stalk of the onion is used, both the white and green parts.
Cucumber. The smaller, thin Persian cukes are great for tabbouleh, but English cucumbers work fine too. Be sure your cucumbers are firm.
Avocado. Oh how I love what avocado does to tabbouleh! This is in my cookbook and such a favorite. Just be sure your avocado is firm-ripe, with some give when pressed but not soft. Too soft will turn the avocado to mush when mixed with the salad. Also, wait to add the avocado until after everything is mixed, just before serving. A squeeze of lemon juice on the avocado after dicing keeps it green and flavorful.
Fine Bulgur, also known as #1 (#2 is coarser, #3 moreso, and #4 even coarser). Fine bulgur granules are tiny and will soften in liquid (here, the salad dressing) without the need to be cooked.
Lemon Juice and olive oil, for the dressing. Use freshly squeezed lemon juice and extra virgin olive oil for the best treatment of all of those finely chopped labor-of-love ingredients.
How to make Tabbouleh
Wash. The herbs needs to be dunked several times in cold water to get them clean.
Dry. The herbs must be bone dry when you chop them, otherwise it's beyond a labor of love…it's frustrating and messy!
Chop. Every ingredient in tabbouleh is finely chopped. The original chopped salad! So be sure your big sharp knife is sharp (at least once a year, get knives sharpened; you won't believe how much easier it is to cook when you have sharp knives).
Soak. The bulgur must be softened in liquid. My sister-in-law soaks her bulgur for tabbouleh and for kibbeh using the seasonings. Here, soak the bulgur in the lemon juice and spices.
Mix. Combine all of the ingredients except the avocado and lettuce cups. Drizzle with a little olive oil, then taste. Add more of anything needed. Rarely is much more needed! Tabbouleh is a flavor explosion! Once everything is combined, gently stir in the diced avocado.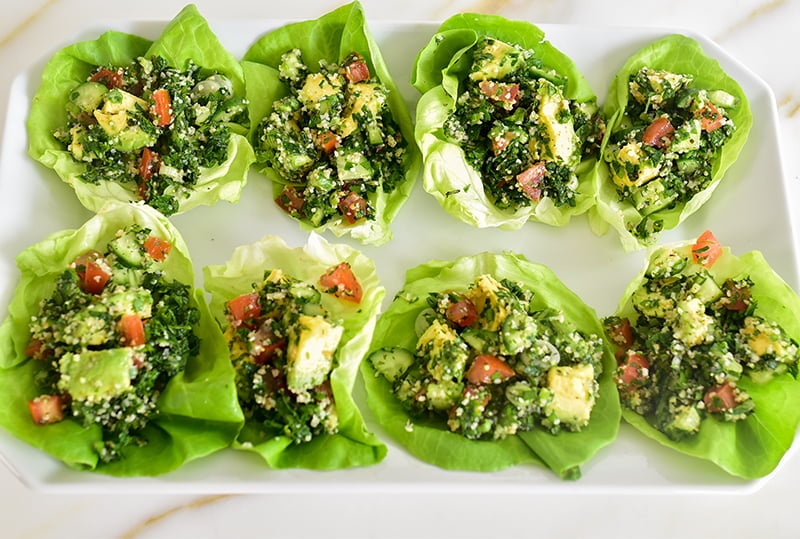 How to Serve Tabbouleh Salad
Tabbouleh is the ultimate cookout salad because it pairs so perfectly with any grilled meat, fish, or vegetable whatsoever. I also love, and I mean LOVE, tabbouleh with hummus. Check this out.
Serve tabbouleh from a salad bowl, or scoop into small lettuce cups and serve that way.
My Tabbouleh Recipes
More Lebanese Salad Recipes
Avocado Tabbouleh Salad
This Lebanese chopped salad is a labor of love! SO worth it! I use a blend of parsley and mint as the foundation of this salad, along with diced tomato, sliced green onion, cucumber, and my special twist: avocado! Be sure to select firm-ripe avocados that aren't too soft for this recipe. Serve the salad in little lettuce cups, Lebanese-style.
Ingredients
1/4

cup

fine bulgur

Juice of 3 lemons, divided

2

teaspoons

kosher salt, divided

Few grinds black pepper

2

large bunches

flat leaf parsley, washed, dried, picked from stems, and finely chopped

Handful

fresh mint leaves, finely chopped

1

large

ripe tomato, seeds removed and finely diced

2

scallions, thinly sliced

2

Persian cucumbers, cut in 1/2-inch dice

2

avocados, firm-ripe, cut in 1/2-inch dice

2

tablespoons

extra virgin olive oil

1

teaspoon

dried mint, crushed, or my Mint Salt

16

Baby Gem, cut standard Romaine, or small Butter Leaf lettuce cups, for serving
Instructions
In a small bowl, rinse the bulgur. Add the juice of 1 lemon, 1 teaspoon of salt, a few grinds of pepper, and 1/4 cup cold water. Stir to combine, and set aside to soften.

In a medium bowl, combine the chopped parsley, mint, tomatoes, cucumbers, and scallions. Add the bulgur, stir to combine, and season the salad with the olive oil, juice of 1 lemon, salt, pepper, and dried mint. Taste and adjust as needed.

Dice the avocado just before serving and gently toss with the juice of 1 lemon.

Gently add the avocado to the tabbouleh. Arrange the lettuce cups on a platter. Spoon the tabbouleh into the cups evenly. Serve immediately.
Nutrition information is automatically calculated, so should only be used as an approximation.
Like this recipe? Leave a comment below!
(Visited 2,524 times, 1 visits today)