Easy Cabbage Salad with Garlic and Lemon
Jan 19, 2023, Updated May 06, 2023
My easy cabbage salad with garlic and lemon is SUCH a winner! It comes together in a snap and packs incredible fresh flavor. So healthy too!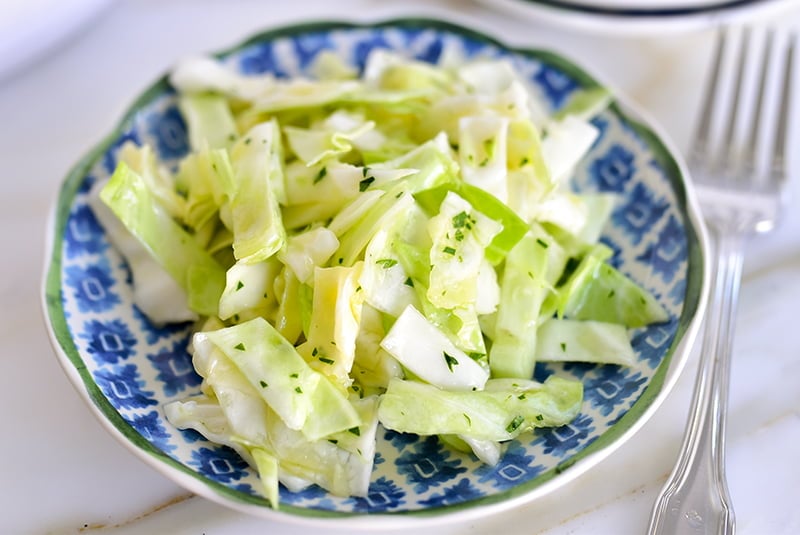 This salad is a winner in every way: the salad comes together in a snap, packs incredible fresh flavor in just a few ingredients, and is at home with most every grilled meat, vegetable, and wrap you can think of.
Why you'll love Easy Cabbage Salad.
Number ONE: Cabbage salad with garlic and lemon tastes SO GOOD. It's exciting to find a salad that's this fast and easy to make with so much flavor.
Also, this cabbage salad is really versatile. I eat it on its own often, because it's so satisfying and especially because the recipe makes a lot. But you'll find the flavors and texture make it a natural next to grilled and roasted meats, roasted vegetables, fried (air fried!) anything, casseroles. You name it, and cabbage salad with the bright taste of lemon is going to be a match.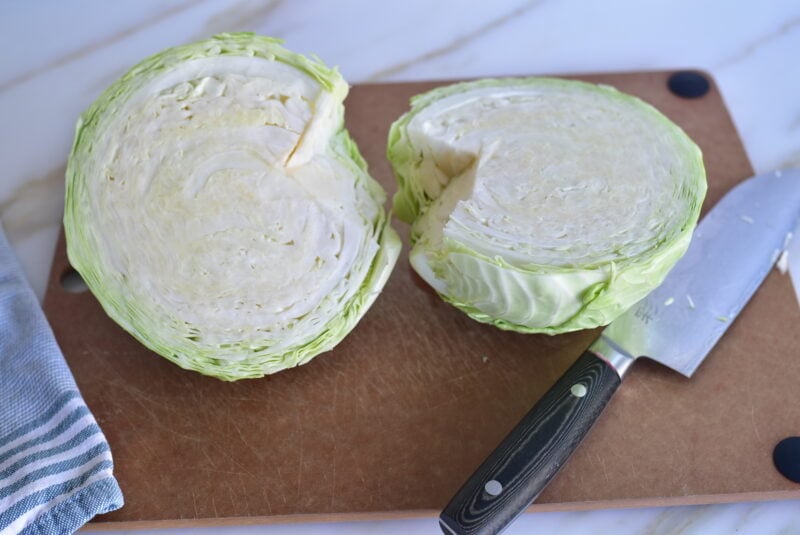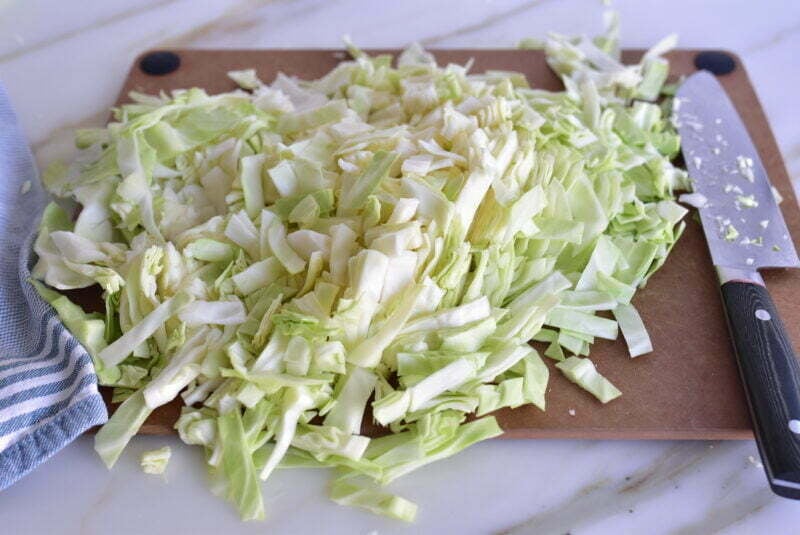 Ingredients to make Cabbage Salad.
Just a handful, and you probably have most of them on hand except the cabbage, which is easy to pick up at any grocery store.
The salad itself is made solely of thinly sliced cabbage.
Then, for the vinaigrette, you need:
Lemon
Garlic
Salt
Extra Virgin Olive Oil
Favorite fresh herb: Cilantro or Mint are my favorites for this salad.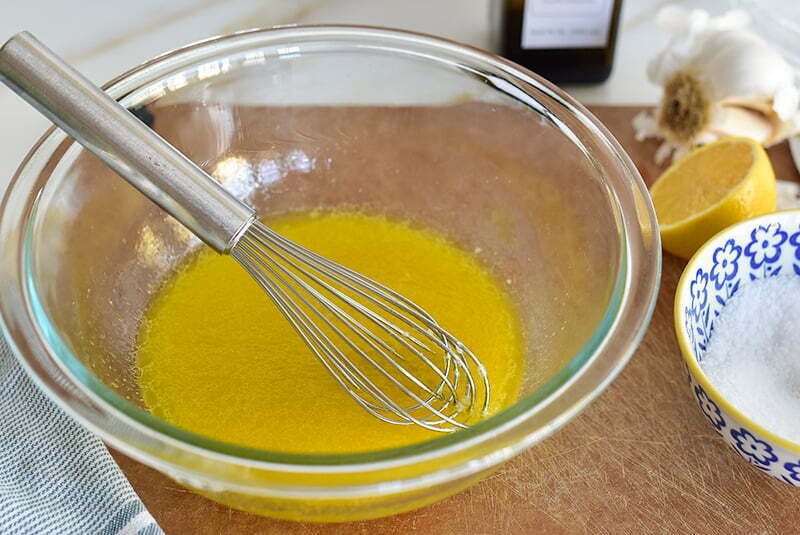 How to make this salad.
Step 1: Trim the cabbage and cut half of it into thin shreds. Save the other half for later unless you need a super giant salad. Half the cabbage makes about 12 cups of salad! Be sure to cut the core out of the cabbage, which can be done before cutting the cabbage in half, or after. Get tips on how to core and cut cabbage here.
Step 2: Make the vinaigrette. I like to grate the garlic on a microplane grater (used for zest)—this makes such quick work of mincing garlic! You can adjust the garlic level here, but that garlicky flavor is much of what this salad is all about.
Step 3: Finely chop the cilantro or mint. Use dry herbs for the easiest chop that won't clump as you chop.
Step 4: Get your big salad bowl out and toss the cabbage with the vinaigrette and chopped herbs.
That's it! Eat it up!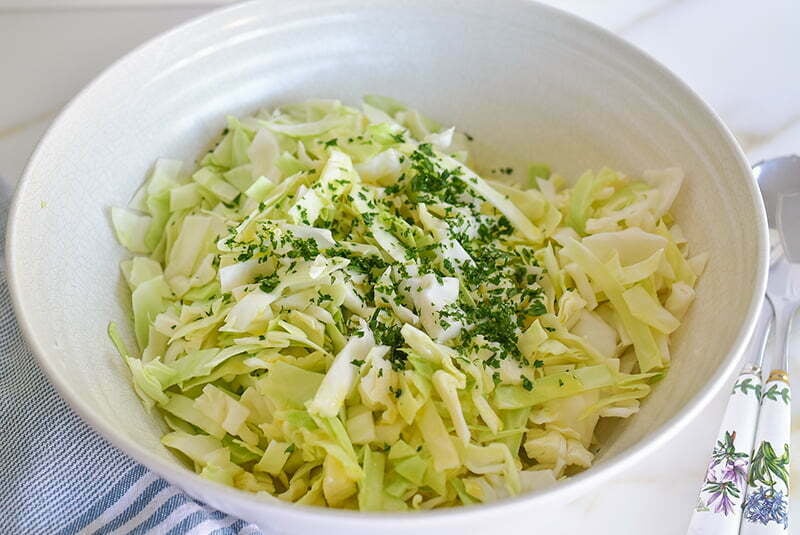 How to store Cabbage Salad.
The fresh-cut cabbage has a longer stability once its dressed than does bagged shredded cabbage. The salad will still be delicious on day two, stored in an airtight container in the refrigerator. The crunch may not be quite as crunchy as on day one but the upside is that the flavors have melded even more into the cabbage on day two!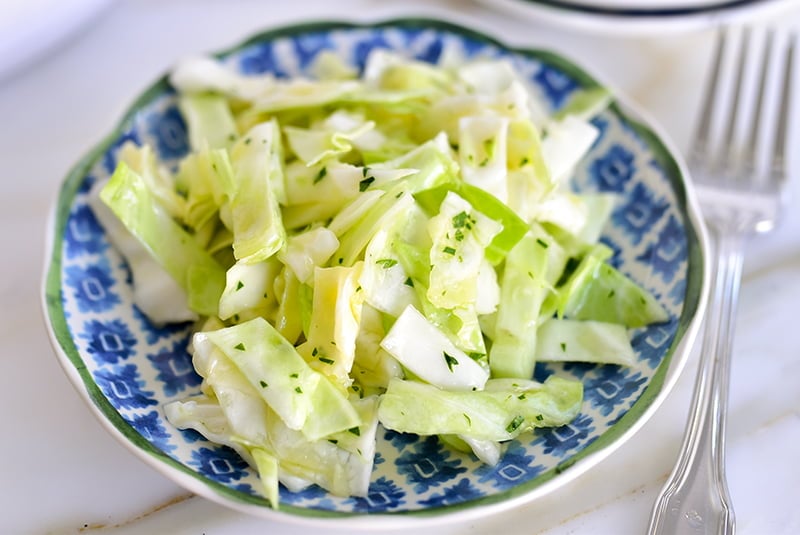 What to serve with Easy Cabbage Salad with Garlic and Lemon.
Oh the possibilities! I eat this salad on its own several times whenever I make a batch. That's no problem because the recipe makes a lot, and there's still plenty for everyone even with all of my own bowls.
The intense flavor and refreshing cool crunch of this cabbage salad are right at home on the plate with any and all grilled meats, fish, and vegetables. Make the salad for a pot luck and any buffet. This is the perfect salad for a party because it makes so much and so easily.
Serve this salad with:
Pomegranate Glazed Flank Steak
Oven Fried Za'atar Chicken Wings
More Cabbage recipes to enjoy:
Malfouf, Lebanese Cabbage Slaw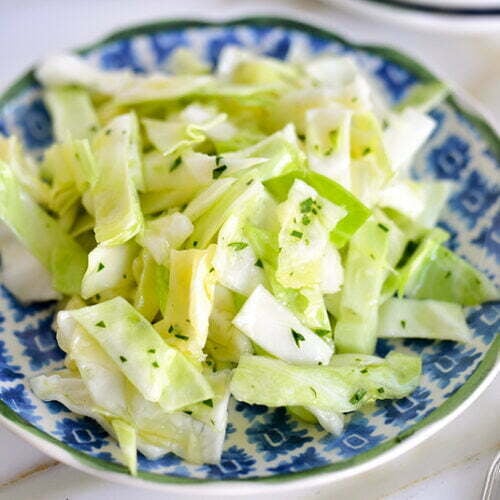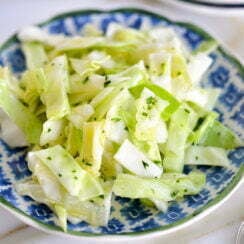 Easy Cabbage Salad with Garlic and Lemon
My easy cabbage salad with garlic and lemon is a winner onall scores: the salad comes together in 10 minutes tops, packs incredible fresh flavorin just a few ingredients, and is at home with most every grilled meat, vegetable,and wrap you can think of.
Ingredients
1

head

cabbage

1

large clove

garlic, minced or grated

1/4

cup

fresh lemon juice

3

tablespoons

extra virgin olive oil

Kosher salt

2

tablespoons

finely chopped cilantro or mint
Instructions
First, core and cut the cabbage. Use a sharp chef's knife. Make deep, angled cuts around the core, pulling it out like a plug. Usually four cuts around will do it, but keep cutting into your cut marks if the core is stubborn,to loosen it. Halve the cabbage, setting aside one half for another use. Slice the cabbage half into fine shreds.

In asmall bowl, whisk to combine the garlic, lemon juice, olive oil and salt.

In a large bowl, toss the cabbage with the dressing and the chopped cilantro or mint.Taste and add salt, if needed. Serve immediately or after chilling.
Nutrition information is automatically calculated, so should only be used as an approximation.
Like this recipe? Leave a comment below!
(Visited 5,201 times, 16 visits today)