Garlic Tahini Eggplant
Oct 07, 2021, Updated May 06, 2023
Garlic Tahini Eggplant is simply sauteed and dressed with tahini sauce, a Lebanese recipe favorite. Studded with pomegranate seeds and mint, and you've got showstopper beauty and flavor.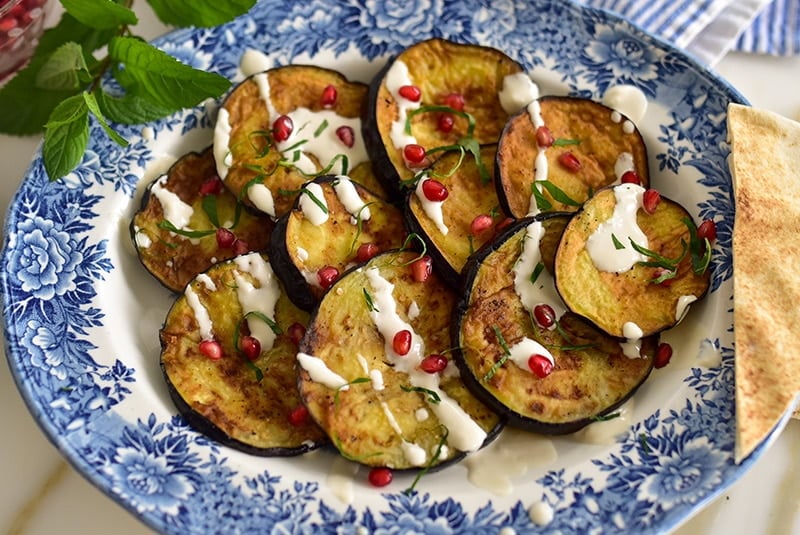 I love the notes you write to me. So many of them speak to how a recipe or a story or memory I've shared inspires a recipe, a story, a memory of your own. We are so much about roots, about nostalgia, and the food we make, touch, smell, share, and eat is a graced pathway there.
My recipe for Garlic Tahini Eggplant is my version of one of my mom's favorites. The very sight of an eggplant floods my head and heart with her, and I buy far more than I could ever use up because I can't resist them. To her, this Lebanese recipe dish was "fried eggplant," but I don't like calling mine "fried" because that always leads one think of deep fried food, which this eggplant is not.
This eggplant is smartly selected, sliced and dredged in seasoned flour, then gently laid to sizzle in shimmering hot olive oil (hot, but not smoking). A finish of garlicky tahini sauce takes the game to a whole other level of layered—as in, deep!—flavor.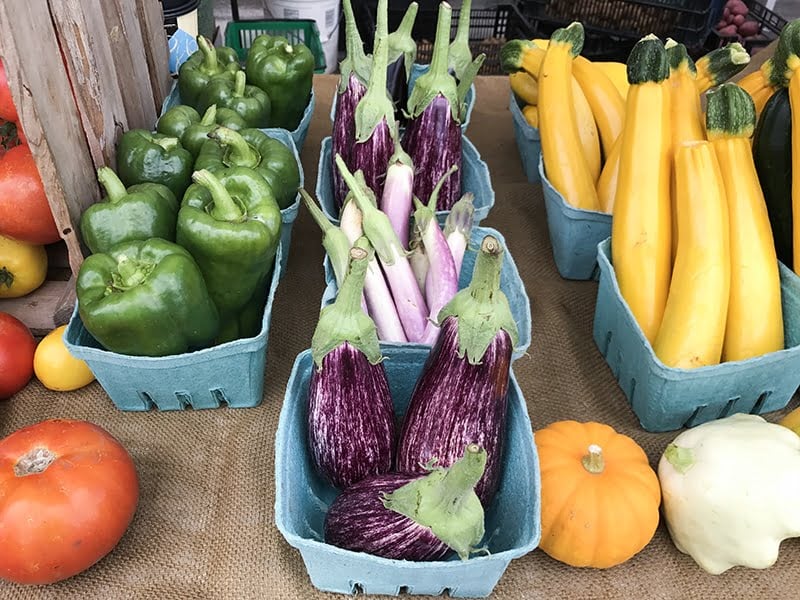 Choose a good eggplant
Any eggplant variety will be delicious sauteed like this. Just be sure your selection is firm, shiny, green-stemmed, and fresh. Read more about the Lebanese love of eggplant here, and how to choose one here.
Season the dredging flour
The flour needs a solid pinch of salt, and I like to also add a hit of dried mint or 7 spice, a few grinds of black pepper. Be sure when dredging to always knock off the excess flour, otherwise the flour will blacken and much up the olive oil. Can you make this recipe gluten-free by dispensing with the flour? Yes, sure can. Season the eggplant directly, or try another type of flour for coating and let us know your results!
Be Generous with the Olive Oil
While not deep fried, there is plenty of olive oil used to make my eggplant. Eggplant is like a sponge. Ask my sister Peg sometime about how I used the best olive oil on the counter to make eggplant one time in Chicago. She'll unleash a fury on the pricey half bottle (she'll tell you it was even more than half) I used to sauté my eggplant. And for an undeserving dude no less. Hey, eggplant, as I said, loves olive oil as much as the rest of us. Just be aware this is going to happen. And embrace. Olive oil is a healthy fat, right?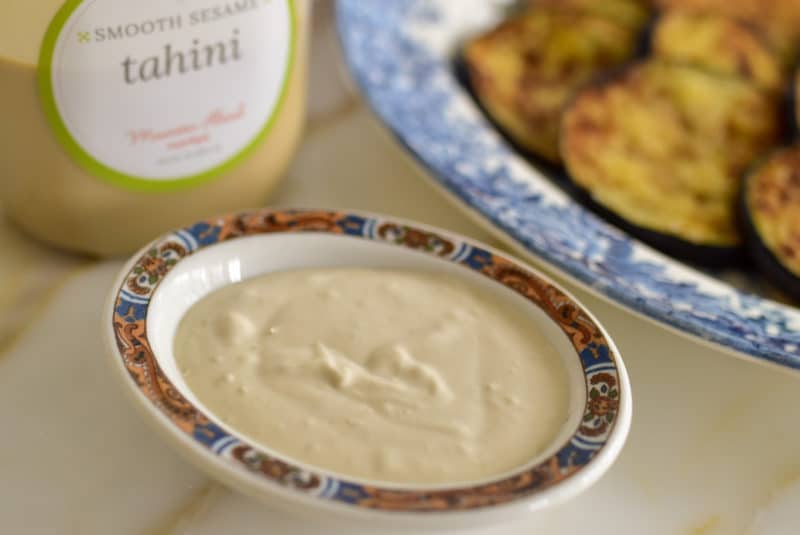 Finish in Your Own Style.
My mom's version of this dish was so so simple. She ate the eggplant immediately, out of the pan, with a dash more salt and thin pita bread. Eyes-closed-divine. I like to dress up a platter of the golden slices with garlicky tahini sauce, pomegranate seeds, mint. A rummage around the fridge and pantry will find your way to dressing your platter: any herb, a yogurt sauce or vinaigrette, toasted nuts.
Divine flavor, divine graced pathway.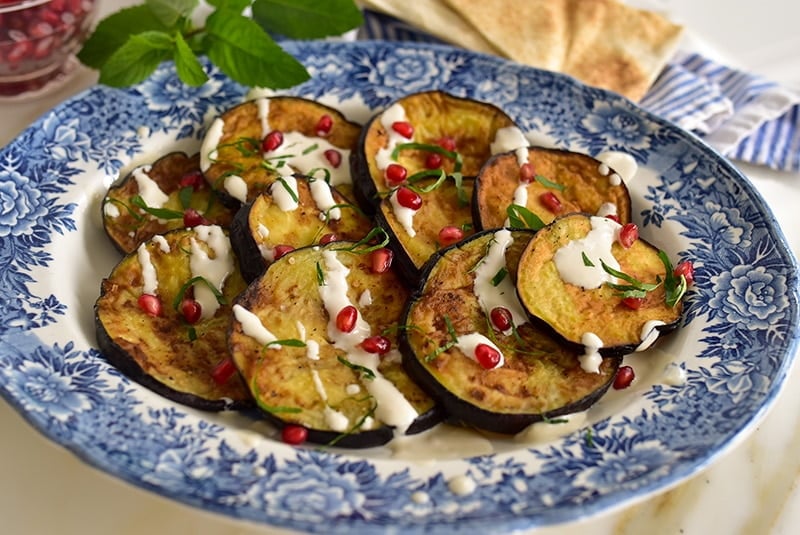 Garlic Tahini Eggplant
Golden brown eggplant drizzled with garlic tahini sauce is a Lebanese recipe favorite. Eat right out of the pan hot, warm, or room temperature–you won't go wrong in any direction here, just wait to drizzle with sauce until just before serving. Serve the eggplant with thin pita bread. It's also delicious atop a salad of greens.
Ingredients
For the Tahini Sauce
3

tablespoons

tahini

2

teaspoons

plain yogurt or lemon juice

1

clove

garlic, grated or minced

1/4

teaspoon

salt

ice water
For finishing:
pomegranate seeds

fresh mint, chopped
Instructions
Slice the eggplant crosswise in ¼-inch rounds.

In a small bowl or on a small plate, whisk the flour, salt, Mint Salt, and pepper. Dredge the eggplant in the flour and knock of any excess.

In a large sauté pan, heat 3 tablespoons olive oil over medium high heat until shimmering, but not smoking. Place the coated eggplant in the hot oil and cook until golden, about 3 minutes. Turn the eggplant and add another tablespoon of olive oil to the pan, swirling the oil to spread under the eggplant slices. Cook until golden, about another 3 minutes.

Remove the eggplant to a paper towel-lined plate to rest fora few minutes.

Make the tahini sauce. Stir the tahini, yogurt, garlic and salt. Add ice water one tablespoon at a time until the mixture is saucy enough to drizzle over the eggplant.

Arrange the eggplant on a serving platter. Spoon the sauceover the eggplant and sprinkle with pomegranate seeds and chopped mint. Serve immediately.
Nutrition information is automatically calculated, so should only be used as an approximation.
Like this recipe? Leave a comment below!
(Visited 5,127 times, 1 visits today)