Homemade Beef Shawarma
Feb 02, 2023, Updated Sep 26, 2023
Beef shawarma can be made at home with great success using my simple recipe and tips. Shawarma is classic street food in Lebanon and throughout the Middle East, made on a turning spit. At home beef shawarma stove-top is just as good!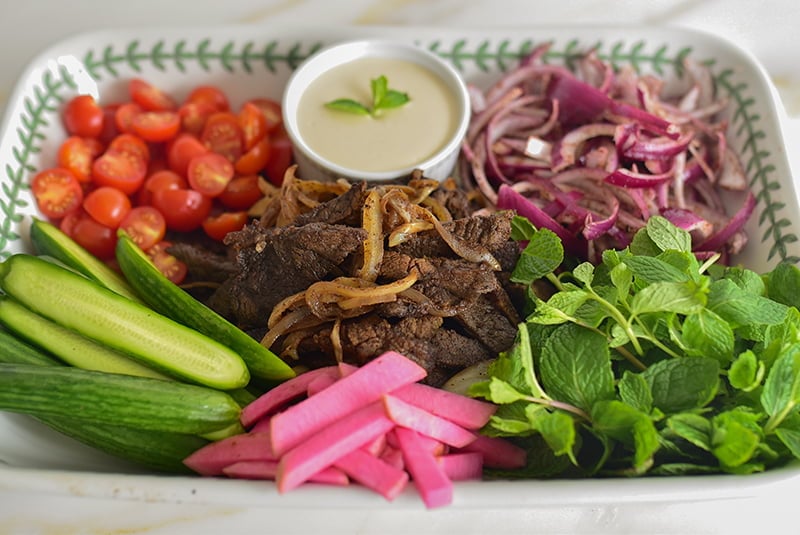 I love asking around the family for their experiences and ideas when I starting developing a new recipe—sometimes the response is as it was when I started on the homemade beef shawarma quest: "that's not a homemade food, Maureen."
Never did I meet a recipe challenge like that without getting more than a little excited to prove an idea wrong (or, my idea right!). Several methods, flavors, and ways-to-eat later, I now present a beef shawarma recipe that gives us a delectable shawarma experience at home, in a skillet, with ease. Read on!
What is Shawarma?
Shawarma is similar to Greek gyro in its preparation: highly seasoned, marinated thinly sliced beef, chicken or lamb is layered tightly on a vertical spit. The spit turns with a heat panel behind it, cooking the shawarma to juicy perfection. The meat is cut with a sharp knife, vertically, and the tender layers fall to a plate or piece of flatbread for a wrap. Who's in?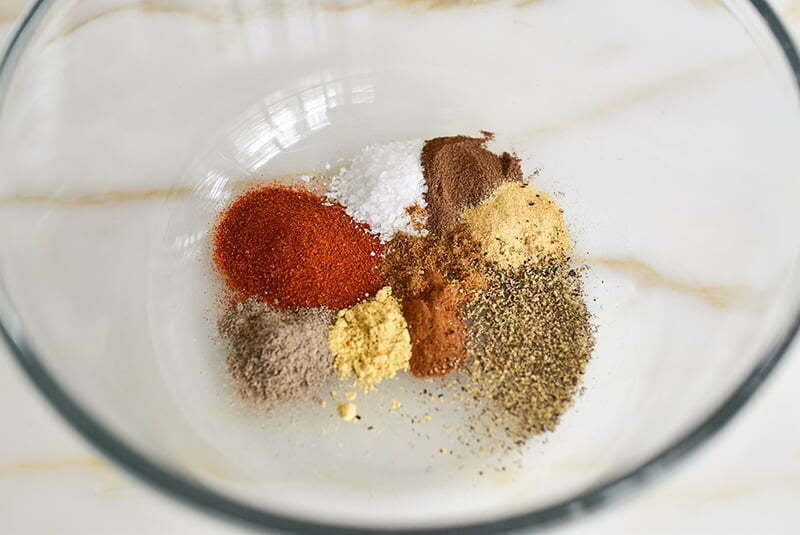 Ingredients for delicious Beef Shawarma
Shawarma flavor is all about the spices. There are many here! Feel free to mix and experiment with flavors you like more or less pronounced. Shawarma blends, like my custom chicken Shawarma spice, are available in Middle Eastern markets. The spice blend for beef shawarma has a different flavor profile than the spice blend for chicken shawarma. Consider scaling up the spice blend for a larger quantity, then you'll have shawarma spice at-the-ready.
Here's the balance of flavors I love for beef shawarma. All of the spices are ground:
Paprika
Cardamom
Cinnamon
Garlic Powder
Allspice
Ginger
Salt and Pepper
The spices are whisked together with olive oil, lemon juice, vinegar and fresh minced garlic. When marinating the meat, know that it need not "swim" in the marinade! The meat should be well-coated and allowed at least one hour to soak up flavor and tenderness.
I always add sliced onion to the marinade with the meat, for another layer of flavor. The onions are then sauteed along with the meat.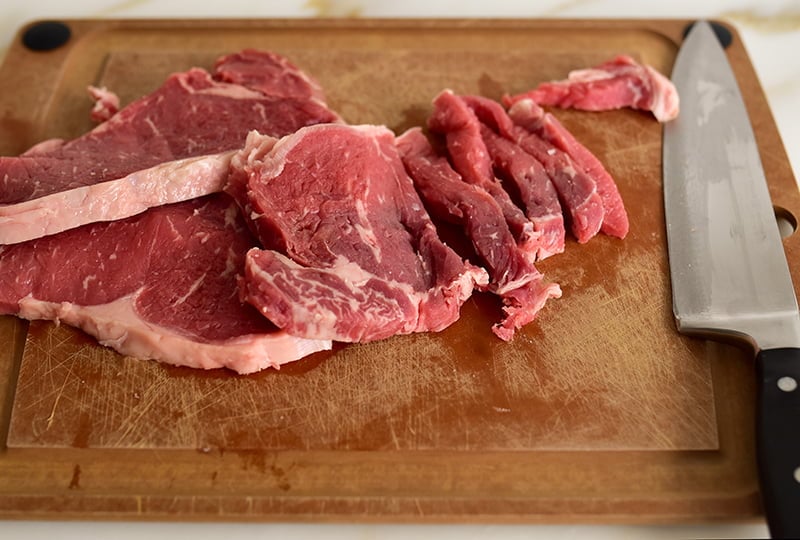 What is the best cut of beef for Shawarma?
Shawarma is not the recipe for expensive cuts of meat! The marinade for the meat tenderizes it while imparting lots of deep flavor, so we that we want a cut that can stand up to all of that.
Try sirloin, chuck steak (not a roast), or round steak. There is no absolute in terms of the cut, so peruse what's available at your meat counter and adapt from there.
Shawarma meat is sliced into thin strips, so the meat can already be thin-cut or a thicker steak of an inch or two also works well.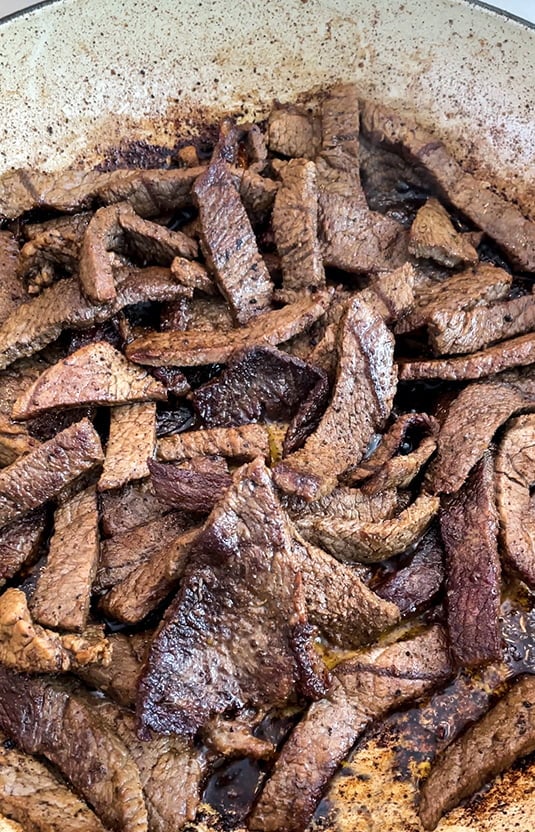 How to make Beef Shawarma
Make Beef shawarma in a just a few simple steps:
Blend the spices, if making your own spice blend, and combine them or a purchased spice blend in a large bowl (to marinate the meat) along with olive oil, lemon juice, and vinegar.
Slice the meat and onion. Use a sharp knife to cut the meat against the grain into strips that are about 3 inches in length and about ½-inch thick. Freeze the meat for about 20 minutes if it's very soft; this will make slicing easier. But a sharp knife is really the key; it will cut through the meat with ease. Cut a medium yellow or white onion into thin slices.
Then add the meat and onion to the marinade, cover, and set aside to soak up the goodness for an hour (room temperature) and up to 3 hours (refrigerated).
Next, sauté the meat and onions in two batches in a large skillet over medium high heat. The meat will release lots of liquid. Keep cooking until some of that liquid cooks off and the meat begins to get some char color (and not just steamed).
Prepare a platter with trimmings, including a great tahini sauce, to make either a beef shawarma platter (for shawarma wraps using pita or flatbread) or beef shawarma bowls (with rice or bulgur pilaf as the basis of the bowls).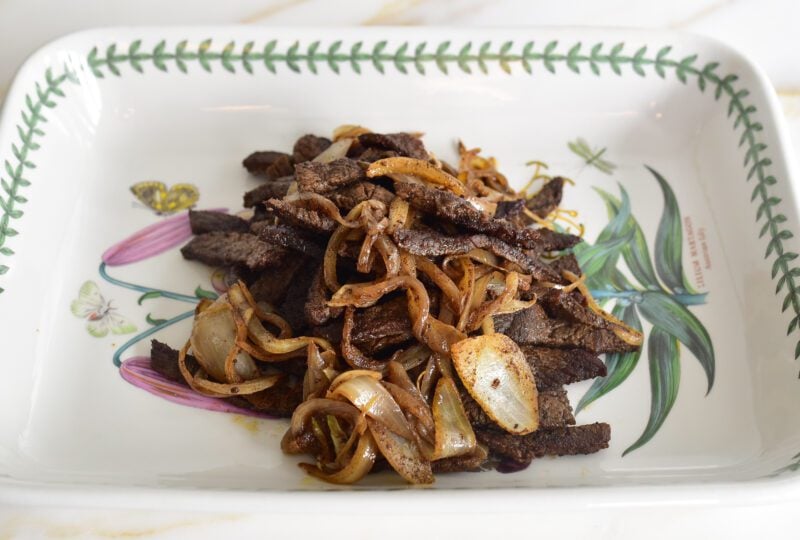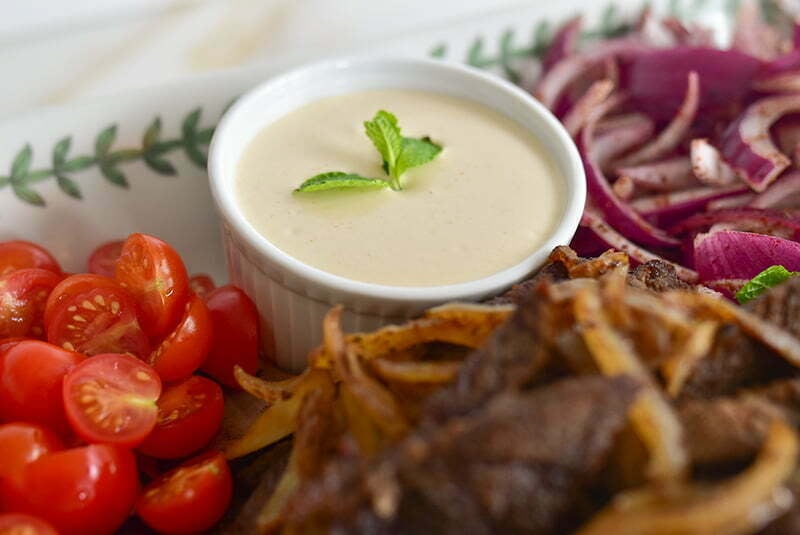 Best ways to serve and eat beef shawarma
Serve Shawarma delicious in a variety of delicious ways. This is great "feed a crowd" food, piled high on a platter with accompaniments nestled all around the shawarma. Eaters can make their own wrap with fresh tomatoes, cucumbers, sumac-spiced red onions, fresh mint, pink turnip pickles, and anything else you love!
Shawarma also makes an ideal, flavorful protein in a bowl-style meal. Layer cooked shawarma with rice or bulgur pilaf and all of those same trimmings used in a wrap and top with a generous drizzle of tahini sauce. I like to add chickpeas to my shawarma bowls for an extra hit of texture, flavor and above all: fiber and protein.
Drizzle garlicky tahini sauce on top to serve.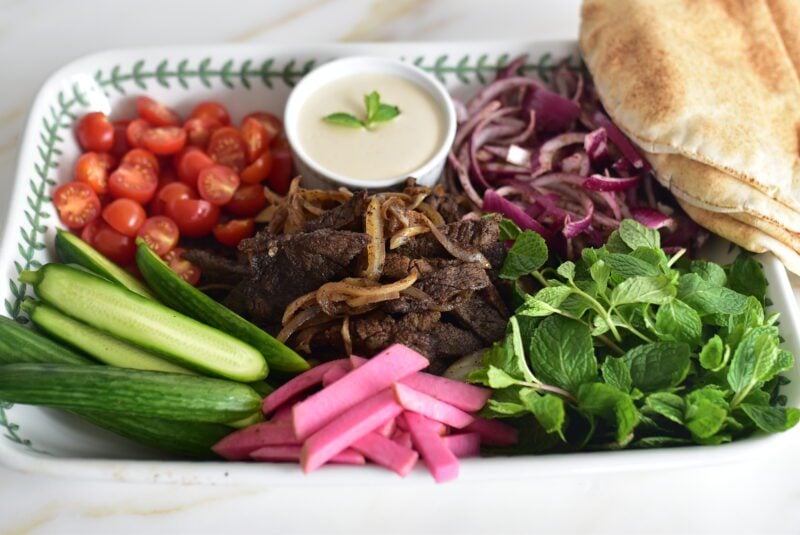 More Shawarma Recipes
Homemade Pita for your Shawarma!
Lebanese Rice for Shawarma Bowls
Bulgur Pilaf for Shawarma Bowls
Here's how to make great Tahini Sauce
Homemade Beef Shawarma
This beef shawarma recipe is easily doubled (or tripled!) for a crowd. Blend your own shawarma spice using the recipe below, or use two tablespoons of purchased beef shawarma spice. Make a big beautiful platter with the shawarma and accompaniments, and everyone can make their own wrap with pita or bowl with rice or bulgur pilaf.
Ingredients
For the beef shawarma:
2

teaspoons

salt

1

teaspoon

cardamom

1/4

teaspoon

cinnamon

1/2

teaspoon

garlic powder

1/4

teaspoon

allspice

1

teaspoon

paprika

1/2

teaspoon

cumin

1/4

teaspoon

ginger

2

cloves

garlic, minced or grated

1/4

cup

lemon juice or vinegar (such as rice vinegar or white wine vinegar)

1/4

cup

extra virgin olive oil, plus more to sauté the meat

2

pounds

sirloin or chuck steak, cut in thin 3 x .5-inch slices

1

medium

yellow or white onion, cut in thin slices
For the tahini sauce:
1/2

cup

tahini

Juice of 1 lemon

1/4

teaspoon

granulated garlic or fresh minced garlic (for a smooth sauce, use granulated)

1/4

teaspoon

salt

1/4

cup

cold water, plus more as needed
For accompaniments:
Chopped or sliced tomatoes

Fresh mint

Sliced red onions seasoned with sumac and olive oil

Sliced Persian cucumbers

Pink Turnip Pickles

Pita bread for wraps or rice or bulgur pilaf for bowls
Instructions
In a medium bowl, whisk all of the spices with the garlic, lemon juice or vinegar, and olive oil. Add the sliced meat and sliced onions and mix well to coat the meat thoroughly with the marinade. Cover and set aside for one hour.

Prepare the tahini sauce: Whisk the tahini with the lemon juice, garlic powder, and salt. The mixture will seize and become clumpy. Add the ice cold water a tablespoon at a time, whisking with each addition, until the mixture is smooth. The finished sauce should be thin enough to pour.

In a large skillet, heat a tablespoon of olive oil over medium high heat. Add about half of the marinated meat and onion mixture. Saute until cooked through and juices are released, about 10 minutes. Continue cooking until much of the cooking liquid is evaporated and the meat begins to caramelize on some of the edges. Transfer the meat to a platter and repeat with the rest of the meat and onions. This process splatters! A splatter guard is helpful!

When all of the meat is cooked, arrange and serve immediately on a platter surrounded by the accompaniments plus pita or pilaf, if making wraps or bowls.
Nutrition information is automatically calculated, so should only be used as an approximation.
Like this recipe? Leave a comment below!
(Visited 3,218 times, 1 visits today)