Lebanese Rice Pudding
Oct 13, 2011, Updated Jun 01, 2023
This Lebanese Rice Pudding recipe (riz bi haleeb) is creamy, rich, and aromatic with flower waters. Comfort food at its finest! Lebanese flower waters are wonderful in this dish.
---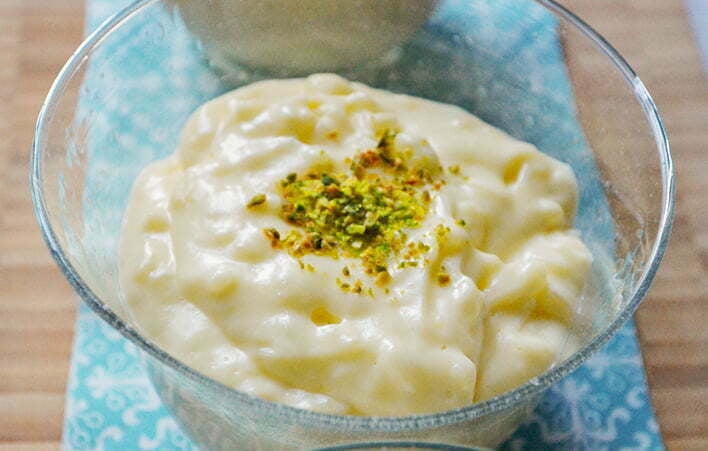 ---
Rice pudding has its tradition in many cultures. Old fashioned rice pudding is a southern favorite, and a dessert beloved among our Greek cousins and throughout the Middle East and Mediterranean. My mother loved rice pudding with all her heart! And so she made Lebanese rice pudding often. It was a comfort to her and reminded her very much of her own mother. Now my sister Peggy and I love our rice pudding and make it as much for its creamy, aromatic lusciousness as we do for remembering eating Lebanese rice pudding with Mom.
Read my story about rice pudding here ("it'll calm you down, too.").
Why you'll love this recipe
So many reasons!
This pudding is so creamy. We eat it warm or chilled and both ways find it creamy and satisfying. A treat.
Lots of options. The Lebanese way with rice pudding is to flavor it with flower waters, orange blossom and/or rose water. But of course, vanilla is a natural for rice pudding. Mom studded her rice pudding with raisins or chopped apricots for added texture and flavor and we love that.
It's easy! One pan, a small bowl, stovetop, and you're off to the races.
---
---
Ingredients to make Lebanese Rice Pudding
Only one of these ingredients is less commonly in our pantries: the rice! Read on:
Medium grain rice. This rice lends itself to a creamier end result for rice pudding. Think risotto. In which case the best rice to use is medium- or short-grain rice such as arbario. Because we love medium-grain rice for grape leave rolls and stuffed koosa, it's likely to be the one in the pantry.
Milk. Any fat-level milk you choose will work. As with yogurt, the higher the fat level, the creamier the result. Whole milk is best!
Eggs. Oh the richness! Now we're talking rice pudding as custard. Eggs provide that luscious pudding texture that cannot be achieved using cornstarch alone.
Cornstarch. Yes, a help with texture. Not to replace the eggs, though.
Flavoring. For true Lebanese flavor, use orange blossom water or rose water. A combination of the two is soooo lovely. But just a tiny. Too much takes these flavors in the perfume direction and not at all how they're intended to taste.
Pistachios. Chopped to reveal their gorgeous green. Nuts on top are optional but I use them because they're so pretty, especially when I serve Lebanese rice pudding as a dessert for company. When it's just Dan and me, we're going right in with the spoon, no time for toppings!
---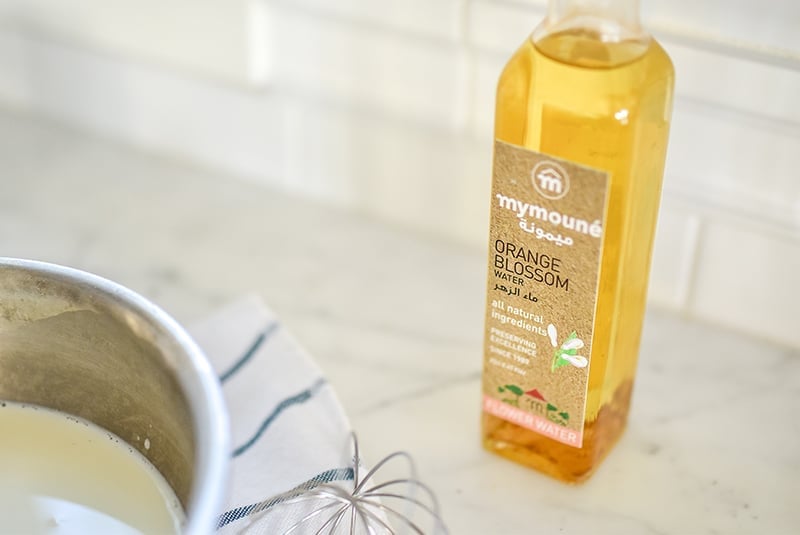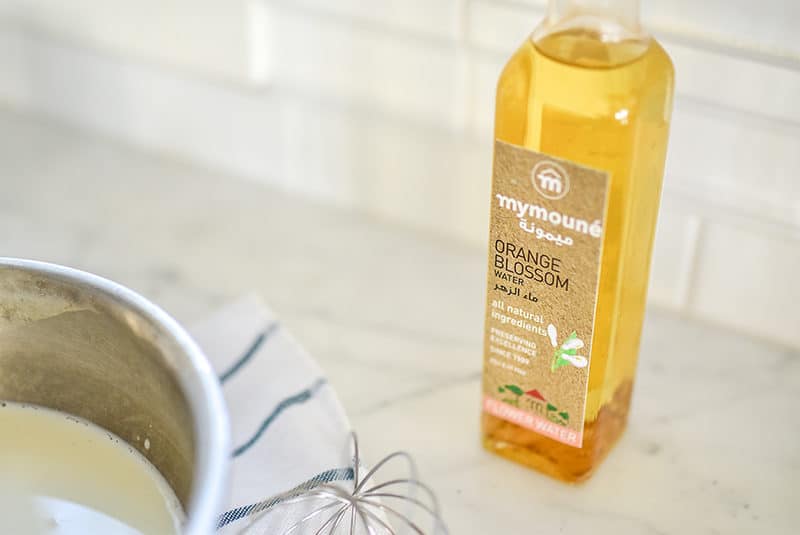 ---
How to make Lebanese Rice Pudding
Easy riz bi haleeb, habibi! Just a few steps like so:
Step 1: In a large pot, heat the milk. Add the rice and cook until softened, about 30 minutes.
Step 2: In a small bowl, whisk the eggs, corn starch, salt and sugar. Temper the egg mixture by stirring in a few large spoons of the hot rice milk. This helps avoid making scrambled eggs out of your pudding by bringing the eggs to the same temperature as the milk. Pour the egg mixture into the rice mixture, stirring constantly. Simmer until thickened.
Step 3: Add the orange blossom and/or rose water.
A few tips for making successful rice pudding
Keep the rice starchy! Don't rinse it as you would when making rice for rice pilaf. The added starch is good for adding additional thickness to the pudding.
Stir constantly. Milk likes to adhere to the bottom of the pot. To keep that thin layer from burning or causing lumps, stir pretty much the whole time the pudding cooks. Consider it your arm exercise for the day!!
Make sure the rice is cooked through. Taste your rice after about 30 minutes cooking in the milk. If it's tender to the bite without much al dente texture, it's ready.
Substitions and additions
Mom loved a dash of ground cinnamon in her rice pudding. Warm and comforting. Do try it!
The cinnamon is especially delicious when you also add vanilla extract to the mix. The vanilla pairs well with the flower waters or can be used solo. Vanilla + cinnamon has that addictive French-toasty flavor….
Mix in dried fruit. Golden raisins? Yes. Chopped dried apricots, dates, and dried cherries are also fabulous mix-ins. I don't recommend mixing in nuts, though. These are better on top so they don't soften. We want crunch with our nuts!
Pistachio alternatives are fun to play with. Use your favorite nut or nut-combo.
---
---
Frequently Asked Questions
Should you wash the rice?
You certainly can wash the rice for rice pudding. My recipe does not call for rinsing the rice because that removes much of the starch that we want in the pudding to give it thickness and body.
How to store rice pudding.
Rice pudding keeps well in the refrigerator for up to 4 days. Be sure to press a piece of plastic wrap over the top of the pudding, even if keeping it in a plastic container. This will prevent a skin from forming on top.
Is rice pudding meant to be eaten cold?
Both warm and cold rice pudding taste delicious. To serve chilled rice pudding cold, give it 15 minutes at room temperature to soften. You can also stir through a little warm milk to smooth out chilled rice pudding before serving. To reheat chilled rice pudding, microwave for a minute, stirring as you go, or on the stovetop, again stirring as you go. Stir through a little warm milk to smooth out the pudding as needed.
Is rice pudding gluten-free?
Yes, this recipe is gluten free because none of the ingredients contain gluten.
Is rice pudding vegan?
There are versions of rice pudding that do not contain milk or eggs, using cornstarch to thicken the pudding. Here I call for both eggs and milk which makes for a rich pudding.
What is the best rice for rice pudding?
Any length of rice: long grain, medium grain, or short grain rice will work for rice pudding. I prefer medium grain rice which is not too long or too short!
How to fix thin pudding?
If your rice pudding is not thick enough, while it is warm add more cornstarch in the form of a slurry of cornstarch and water (1 tablespoon of cornstarch, 2 tablespoons cold water mixed then poured in). Heat until simmering and the pudding will thicken.
More Lebanese Dessert Recipes
Graybeh Lebanese Butter Cookies
Lebanese Rice Pudding (Riz bi Haleeb)
This pudding can be made as rich or as lean as you would like. You can use lower fat, even skim milk. Or to ramp up the creaminess, include a little heavy cream with the whole milk(leave out ½ cup of the whole milk and add ½ cup heavy cream). Often rice pudding is scented with both orange blossom water and rose water, or with vanilla. Throw in some raisins or chopped dried apricots after the pudding is done cooking, delicious.
Ingredients
5

cups

whole milk

1/3

cup

medium grain rice

3

large

eggs

3

tablespoons

cornstarch

1/4

teaspoon

salt

1/2

cup

granulated sugar

1/2

teaspoon

orange blossom water

Pistachios, finely chopped, for serving
Instructions
In a medium saucepan, heat the milk over medium heat just to boiling. Add rice, reduce heat, and simmer for 30 minutes, stirring occasionally.

In a small bowl, whisk the eggs, corn starch, salt and sugar until smooth. Temper the egg mixture by stirring in a few large spoons of the hot rice milk. This helps avoid making scrambled eggs out of your pudding by bringing the eggs to the same temperature as the milk. Pour the egg mixture into the rice mixture, stirring constantly. Simmer until thickened.

Remove from the heat and add the orange blossom water. Spoon into bowls and top each with some chopped pistachios. Serve immediately.
Nutrition information is automatically calculated, so should only be used as an approximation.
Like this recipe? Leave a comment below!
(Visited 10,331 times, 2 visits today)