Lebanese Baklava Recipes
Nov 14, 2022, Updated Mar 23, 2023
Here are all of the expert tips you need to make excellent Lebanese Baklava Recipes at home! Try my simplified pour-over method, so you need not butter every layer! Get pure flower waters for your baking here. Get the foundational simple syrup recipe for baklawa here.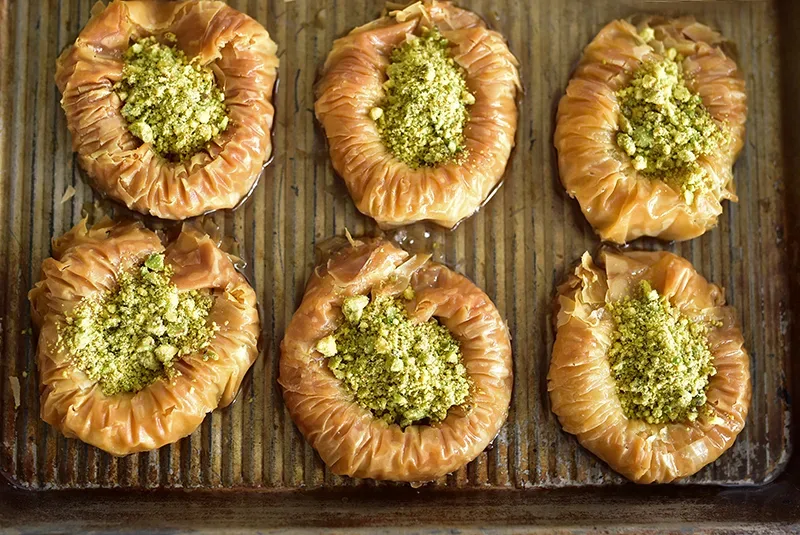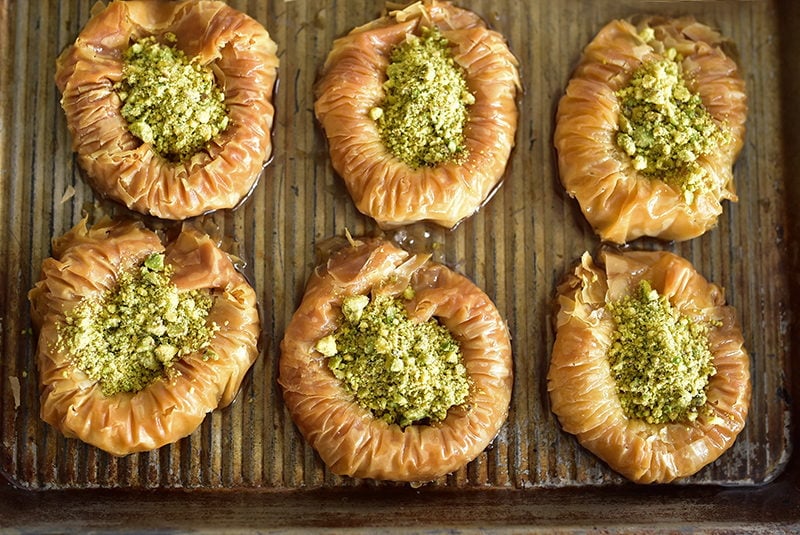 There are so many ways to make and love baklava. Lebanese baklava, or baklawa (bak-LAY-wuh), sets itself apart with aromatic flower water simple syrup and an endless variety of shapes and nuts to try.
What is the difference between Lebanese and Greek baklava?
Many throughout the Mediterranean and of course the Middle East consider baklava their own national treat! History and tradition make baklava a beloved part of the baking and dessert culture we love so much.
All baklava has as its foundation two ingredients: nuts, phyllo dough, butter or oil ghee, and simple syrup. From there, the number of styles, shapes, and sizes are tremendous.
Greek baklava is typically made with warm spices and honey, for a particularly Greek flavor profile.
Lebanese baklava, or baklawa, is made without spices, using aromatic, pure rose water and/or orange blossom water to flavor the simple syrup that is poured over the pastry after it is baked.
My favorite Lebanese baklawa recipes are here!
My roster of baklava recipes developed painstakingly and over many years include many shapes, nut fillings, and methods. I have even developed the first nut-free baklava I've ever seen anywhere (thanks to my cousins for their great ideas!), and vegan baklava, so even those with special diets can enjoy this heavenly pastry.
How to make Lebanese Baklawa
Learn how to make Lebanese baklawa with confidence, ease, and joy! Here you will make phyllo your friend, clarified butter your baby, toasty ground nuts your nirvana. And flower water syrup—that sweet simplicity that distinguishes Lebanese baklawa from all other baklavas—your pure, aromatic nectar. Scroll down to find links to all of the recipes. Let's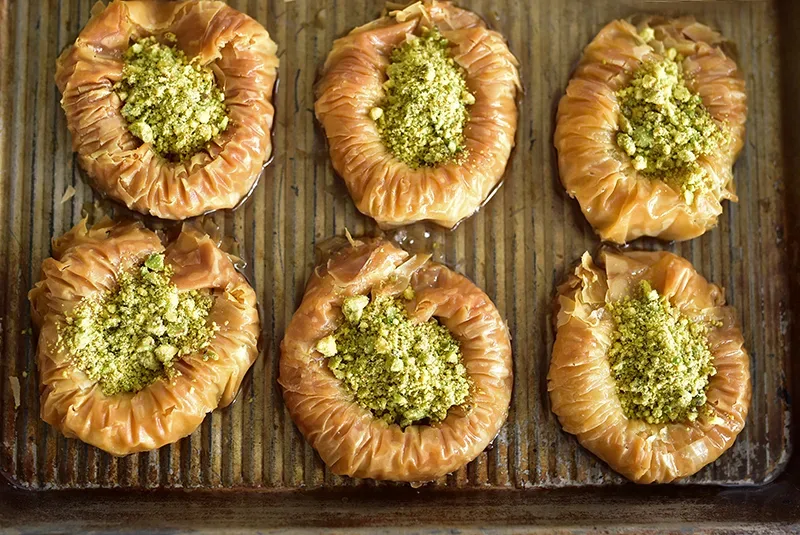 Pistachio Baklawa Nests
Pistachio Baklawa Nests are light, crisp little phyllo nests drenched in orange blossom syrup. The nests are shaped using a narrow dowel, rolled with lightly buttered phyllo, and topped with orange blossom syrup and raw ground pistachios.
Lebanese Almond Baklawa Fingers Recipe
These Lebanese almond baklawa fingers are delicate, crisp, and fun to make. They're flavored with aromatic orange blossom syrup. One of the great things about all of the baking and exchanging of cookies this time of year is finding out about what is treasured enough to get baked up in other people's kitchens every Christmas.
Nut-Free Baklawa
Your nut-free baklawa recipe is here! A combination of seeds make a filling that competes handily with traditional nut fillings, so anyone with nut allergies or simply avoiding nuts can enjoy this buttery, crisp, fragrant pastry. All of the tips for making traditional baklawa with nuts can be used with this recipe (except…the nuts!). Read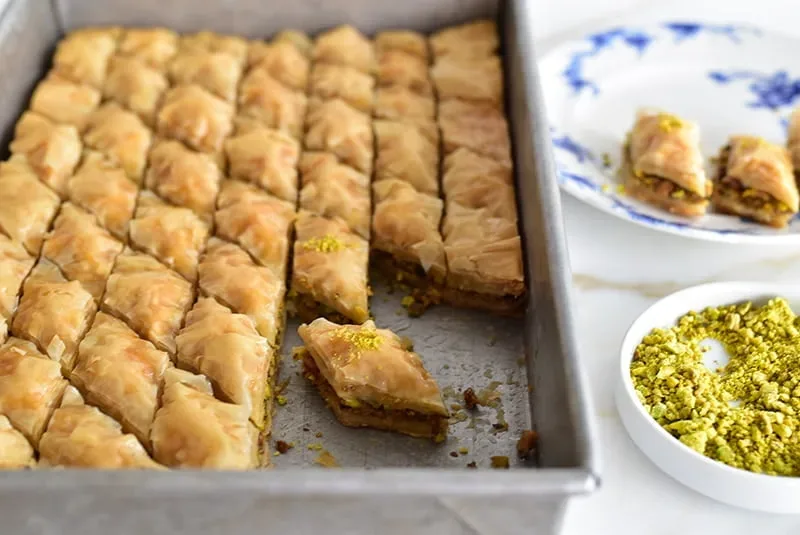 Olive Oil Baklawa with Pistachios
Olive oil baklawa is a fabulous alternative to classic baklawa, or baklava — the Mediterranean pastry traditionally drenched in butter and flower water syrup. How exciting to have a VEGAN baklawa (vegan baklava) option that tastes so very good!
Ingredient: Phyllo dough
Perhaps it's my love of paper that inspires my fascination with phyllo dough. Or maybe it's the other way around. Either way, phyllo dough is a beautiful, delicate pastry that requires a lot of tender loving care when handled. Made with flour, water, and oil, phyllo is an unleavened (no yeast) paper-thin dough that is
Chocolate Baklava
CHOCOLATE baklava?! Oh yes indeed. Deep chocolate flavor is in the nutty filling and the finishing syrup. Buttery, chocolately heaven right here.
(Visited 2,023 times, 1 visits today)