Lebanese Butter Cookies, or Graybeh
Dec 07, 2012, Updated Jan 04, 2023
Lebanese graybeh, or butter cookies are one of the least elaborate, yet most delicious, cookies you can bake. They truly melt in your mouth, with a dough of whipped clarified butter, confectioner's sugar, and flour.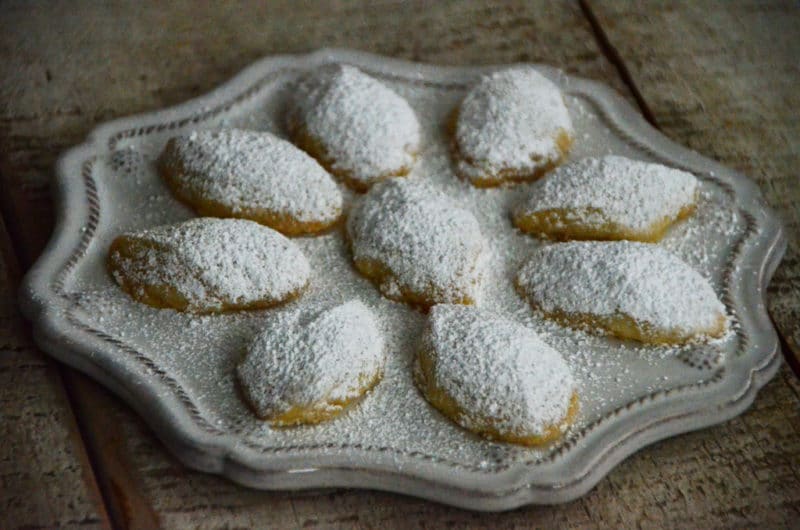 When a cookie is as white and unadorned as this, it's a wonder to me that I love it so much. I'm such a devotee of the toasty, of all that is DGB (deep golden brown), that it takes significant restraint for me to let our Lebanese butter cookies be who they are. But as with many things in life, there is a payoff for the restraint, in this case a remarkably good melt-in-your-mouth cookie that would be lost if not for a light touch in the baking.
There are countless spellings for Lebanese butter cookies—ghraybeh, grhybe, gorayba, ghrybe, ghoraibi—but all are pronounced the same: ghri (like high)-bee (A glottal sound sits on the "g;" it has to be heard to be known). Every single Lebanese and Middle Eastern cookbook I own includes a simple recipe for ghraybeh. There are as many variations on this cookie as there are spellings, and each one has its merits. I do mine the way I learned from my mother, with a rather genius way of achieving the cookie shape, and if you expected a blanched nut on top and I didn't include it, let's agree that it doesn't make me any less Lebanese. It's just that I have more say in my own kitchen than does tradition, and I am not a fan of the blanched nut. And in keeping with my DGB restraint, I pass on using even toasted nuts and let the ghraybeh teach me something about the beauty to be found in keeping things simple.
This is the first of a few great and treasured cookie recipes I'll post over the next week. May our baking this holiday season be filled with joy as it goes out to others, bringing goodness and light.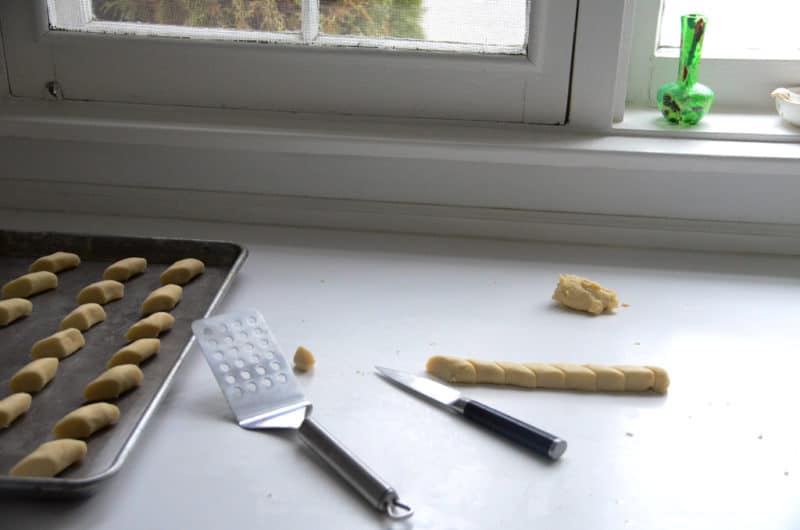 Lebanese Butter Cookies, Graybeh
The Lebanese butter cookie is one of the least elaborate, yet most delicious, cookies in my holiday parade. These cookies can be shaped in diamonds, as I've done here, or in simple flattened circles (start with a small ball, then flatten). Top with a blanched almond or pine nut (before baking) instead of dusting with powdered sugar. Flavor the dough with vanilla instead of orange blossom water, or nothing at all. Good butter (like Plugra) will always make these cookies taste wonderful; be sure it's clarified. The recipe is easily doubled. This recipe has been updated to the same base recipe in my cookbook.
Ingredients
3/4

cup

(6 oz.) unsalted clarified butter, at cool room temperature

3/4

cup

confectioner's sugar, plus more for dusting

1/2

teaspoon

kosher salt

1

teaspoon

orange blossom water

1 3/4

cups

unbleached, all-purpose flour, plus a few more tablespoons as needed
Instructions
Heat oven to 325 degrees and place rack in the center of the oven.

Using a stand mixer with the whisk attachment or sturdy hand-held mixer, whip the butter on high speed until fluffy, creamy and pale, about six minutes. Stop and scrape the sides of the bowl with a spatula for even whipping. Add the sugar and orange blossom water and whip until well combined and fluffy. On low speed or using a spoon, slowly blend in the flour, ½ cup at a time.

Take a large handful of the dough and shape it into a log about 1-inch tall and wide (this is pretty narrow!) on a lightly floured work surface. If the dough is crumbly, gently push it together. Use a sharp knife to cut ½-inch diamond-shaped pieces diagonally.

Place the diamonds on a parchment-lined heavy sheet pan and bake until the cookies are baked through but still pale, about 18-20 minutes. The cookies should not be browned except for very minimally on the bottom.

Remove from the oven and cool completely on the sheet pan. Sift powdered sugar over the cookies (this can be done while the cookies are warm, and again to refresh when serving). Graybeh keeps frozen for months or in an airtight container for several days.
Nutrition information is automatically calculated, so should only be used as an approximation.
Like this recipe? Leave a comment below!
(Visited 47,672 times, 28 visits today)