Lebanese Walnut Ma'moul Cookies
Dec 14, 2013, Updated Jan 23, 2023
Ma'moul cookies are a beloved Lebanese tradition: fragrant butter cookies filled with walnuts, formed in a special mold. Ma'moul cookies are made in three classic shapes; the dome here is typically filled with a walnut-orange blossom mixture. Purchase flower waters here and exceptional ma'moul molds here.

I used to kick-box. A lot. And I loved to brag about it.
What'd you do today? Oh, not much, just worked. And kick-boxed…
Desperate times call for desperate measures, and there was a point when all of the runs up and down Chicago's lakeshore just didn't cut it. Seems I had plenty of pent-up punches to get out of me, and better the open air take the hits.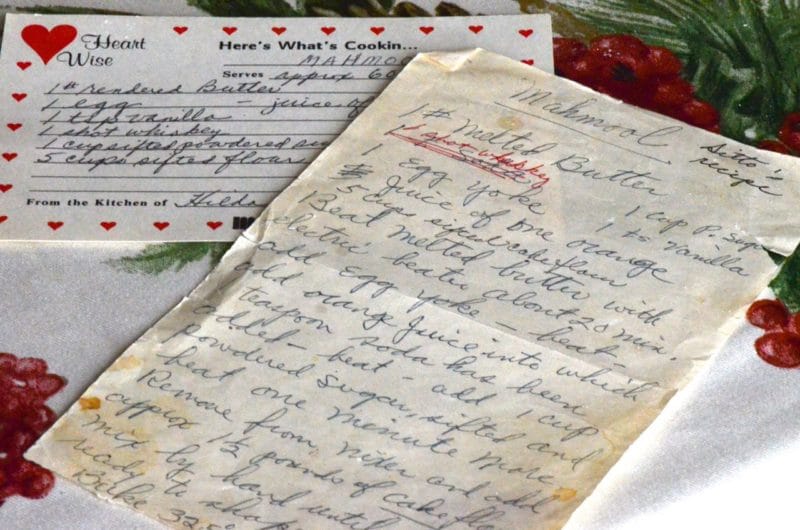 Most of the time my inner kick-boxer is tame, but I know that she comes straight out of the Abood genetic cocktail. We are wired for action, and even more so for reaction. It's a high blood pressure sort of a thing (but mine is low, at least for now; hurray for Mom's genes), a high-intensity, stress-inclined personality that has its benefits and drawbacks. It's an Abood hallmark (is that not true, cousins?).
Aunt Hilda, like her siblings, did not escape the tumult either. I couldn't help thinking about that when I was making my way through her and Sitto's ma'moul recipes recently.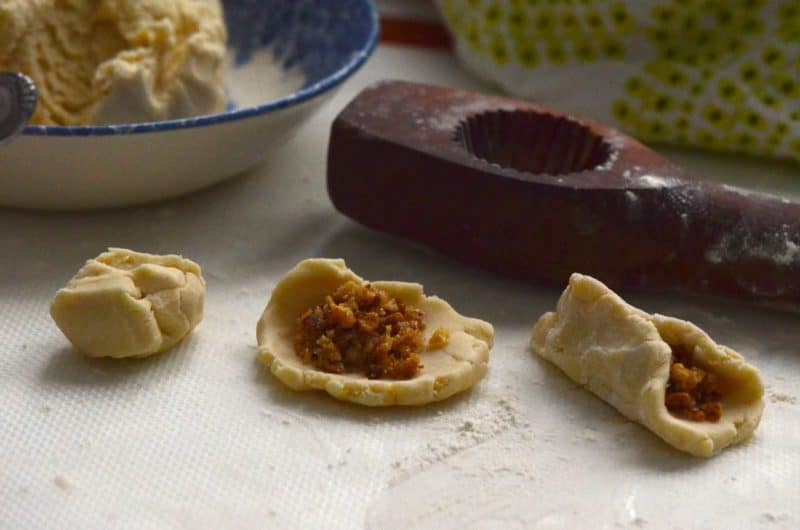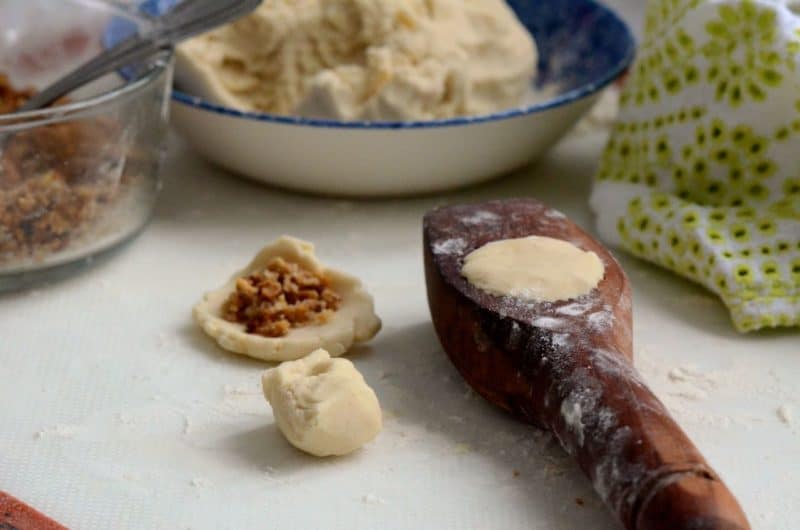 Aunt Hilda always said she wasn't a baker, yet she got after baklawa and ma'moul—beautifully molded, meltaway butter cookies stuffed with nuts or dates—like nobody's business (not to mention her strawberry-whipped cream cake, one I'd kickbox my way to dip a fork into once again). Those aren't exactly rookie pastries to master, and the ma'moul in particular takes some doing.
I'm surprised that the finer points of stuffing the heaven-soft ma'moul butter dough, shaping the cookies and then molding them in their special wooden forms held interest for Hilda, for not being a baker. But then perhaps the most crucial aspect of making ma'moul—releasing the cookies from the molds—was a real attraction: Dust the mold with flour, fill it with a nut-stuffed ball of dough to make the impression, then slam the mold face down against the (sturdy) table two or three times, until the cookie comes out.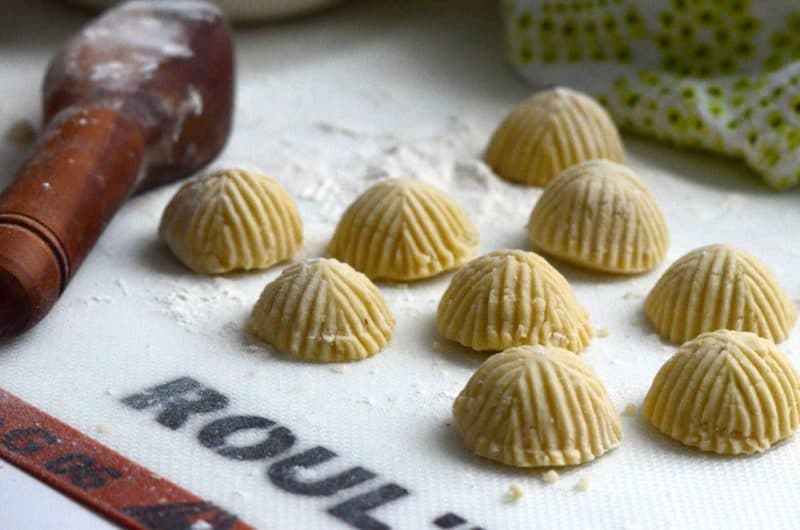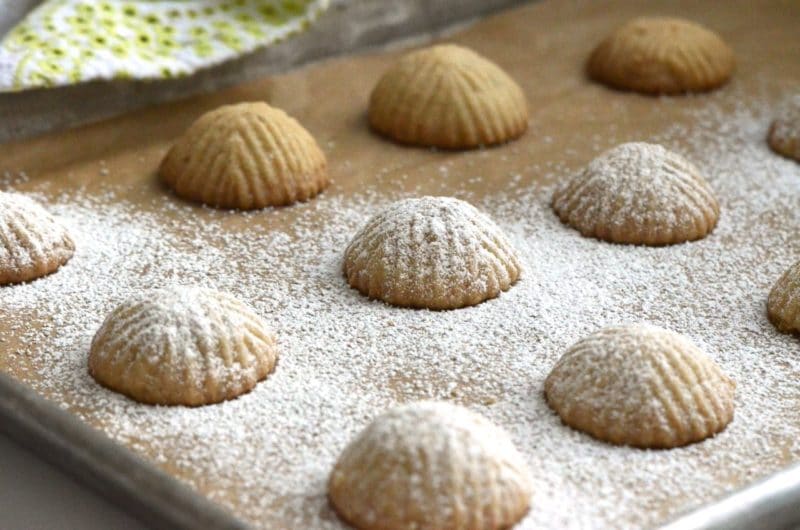 The ma'moul recipes we have in the family are huge, making 60-some cookies in a batch. My sense is that Hilda didn't mind a bit the quantity, both for the beautifully wrapped trays she used to give along with her baklawi every Christmas, and, now I know, for all of the whacking she could get out of every big batch she made. I've been whacking away myself, wondering why I didn't ma'moul my troubles away long ago.
Walnut Ma'moul Cookies
Clarify the butter using this method, or melt the butter over low heat, let it rest in the pot until the solids fall to the bottom, then strain through a fine strainer. Be sure to bring the butter to cool room temperature for this recipe. Find exceptional ma'moul molds at my online shop here. Add 2 teaspoons of mahleb to the recipe! This gentle almond-like flavor is a special addition. Find it here.
Ingredients
For the dough:
1

cup

(8 oz.) clarified butter, cool room temperature

1/2

teaspoon

orange blossom water

1/2

teaspoon

vanilla

3

tablespoons

granulated sugar

1

tablespoon

whole milk

2

cups

plus a few tablespoons all-purpose, unbleached four
For the filling and finishing:
2

cups

walnuts, toasted

3

tablespoons

granulated sugar

1

cup

confectioners sugar
Instructions
Using a hand-held or stand mixer, beat the butter until it is light, fluffy, and holding peaks like whipped cream, about 6 minutes. Enjoy the beauty. Add the vanilla, orange blossom water, and 3 tablespoons of the sugar and beat for another couple of minutes.

Sift in the flour and gently incorporate it into the butter with a wooden spoon. Add the milk, and then add more flour by the tablespoon until, as Sitto says, "the dough is ready to shape." That means you should be able to make a ball that will flatten in your floured palm without melting into your hand or without cracking. Get your hands into the dough and knead it for a minute or two. Chill the dough for 30 minutes.

Make the filling by processing the nuts until they are nearly-finely ground. Don't take them too far or they will become paste. The nuts can also be finely chopped by hand. In a small bowl, combine the nuts with 3 tablespoons of sugar and 1 teaspoon orange blossom water, using your fingers to evenly distribute everything.

Line two heavy baking sheets with parchment or Silpats. Pre-heat the oven to 325⁰F.

To form the ma'moul, I like to press a bit of the dough in to grease the mold, then flour the ma'moul mold generously so that all grooves are coated. Pinch off about a tablespoon, walnut-sized piece of the chilled dough (larger or smaller depending on the size of your mold. A few tries will tell you how much to use). Flour the palm of your hand to prevent the dough from sticking, and flatten the dough in your palm to make a small (about 2-inch) round. Place about a teaspoon of the walnut filling in the center of the dough, then fold it over like a crescent and seal the edges. Stretch the dough a little to get the dough over the nuts to seal.

Gently nestle the stuffed dough, seam-side up (facing you), into the mold cavity. Using a light touch, press the dough into the mold—it doesn't take much for the dough to assume the form of the mold. Flatten the exposed dough and wipe away any access with your fingers, making sure that the edge of the molded shape is clear of dough, for a defined cookie edge. You will get a feel for how much dough your mold takes, and how much filling you need, as you make a few of the cookies.

Turn the mold over and slam it against the work surface until the cookie falls out. If you need to keep slamming to work out any stress in your life, have at it.

Repeat this process with the remaining dough and cookies, moving the cookies to the sheet pans. If the dome of your cookies doesn't seem tall enough, plump them up by nudging the dough around the base of each cookie in a bit.

Bake one pan of cookies at a time, until they are still mostly white but golden on the bottom. Check them by lifting one with a flat metal spatula after 15 minutes, and then again every minute or so for about 20 minutes, depending on the size of your cookies.

Sift confectioner's sugar over the cookies lightly while they are still warm, and then again when they are room temperature. Store them in an airtight container, where they will stay nice for at least one week.
Nutrition information is automatically calculated, so should only be used as an approximation.
Like this recipe? Leave a comment below!
Save
(Visited 41,784 times, 7 visits today)