Lebanese Knafeh Jibneh with Orange Blossom Syrup
May 03, 2013, Updated Jan 19, 2023
One of the greatest of all Lebanese pastries is knafeh jibneh with orange blossom syrup. Knafeh is shredded phyllo dough (find it in Middle Eastern markets) which is filled here with a wonderful cheese blend for a melty, salty-sweet (mostly sweet . . . ) pastry. The Lebanese eat knafeh traditionally for breakfast in a pocket of sesame ka'ik bread. Hearty!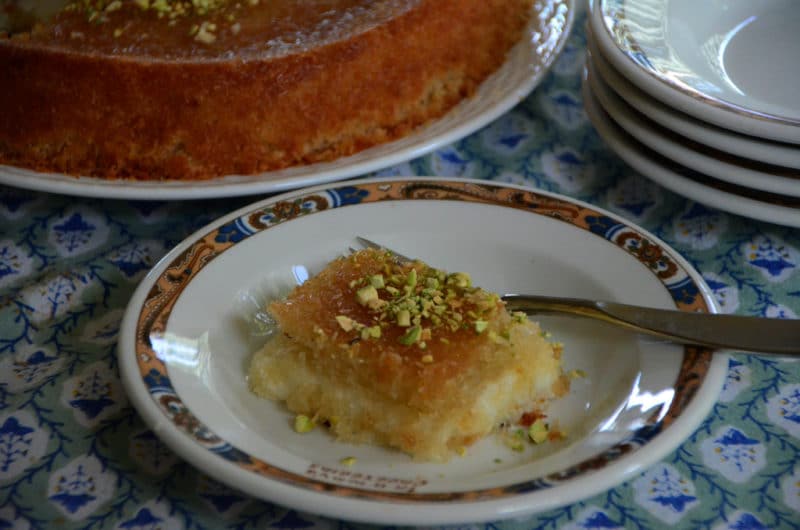 The knafeh was the saving grace that morning. We were driving from Beirut to Tripoli on a quest, my quest, to see the famous Hallab bakery at its source. There had been the friendly assistance of a Lebanese chef in the U.S., who was connecting me with the owners of Hallab in hopes of a tour of the back of the house where all of the pastry is made.
The machinations were comical, with someone at the hotel, the Four Seasons Beirut where we were staying, making all of the phone calls for me in Arabic. It seems I had stepped into some kind of family feud, because when we finally got a hold of the king pin to secure the tour with his cousin at the shop in Tripoli, he denied knowing anyone by that name at all.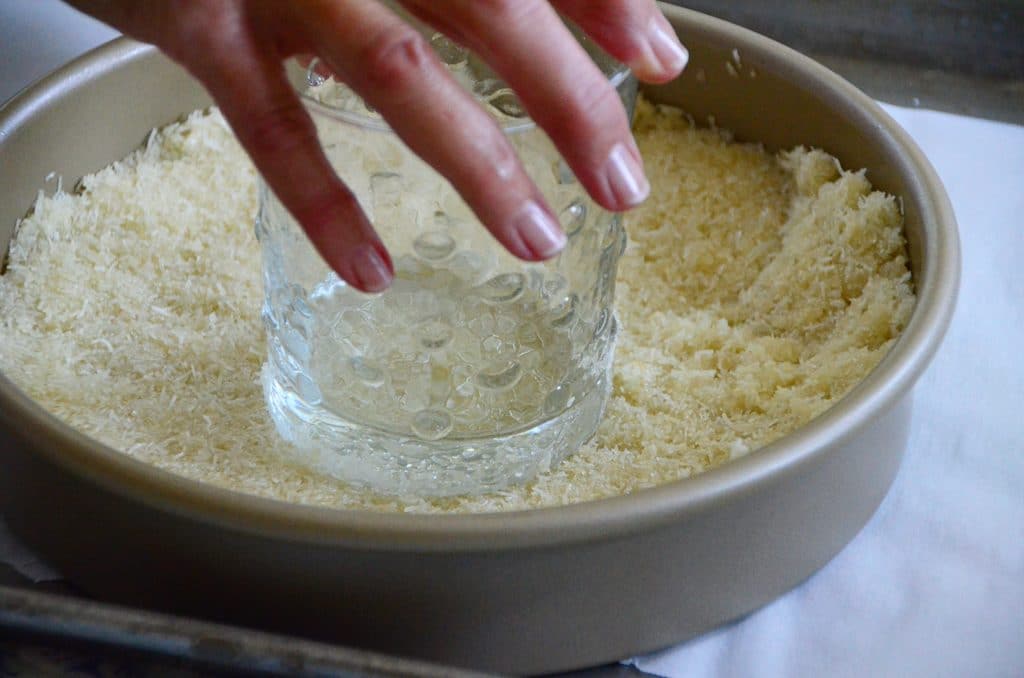 We went for it anyway, the ride north to Tripoli, to see what we could see. There was a detour to deal with a camera glitch (of the sort with which I am all too familiar), plus Beirut traffic, and then finally our arrival in Tripoli. What we saw of the city upon entering it did not excite, and our driver, Hitham (HIGH-sum), was not in familiar territory. He was one cool cat as a rule, but I think I saw him break a sweat navigating Tripoli's traffic jams.
Once inside the bakery, there was no holding back on our table full of treats. I was dead-set on the knafeh jibneh, a royal display in a huge flat platter looking like a golden cake which when cut, revealed its melting, gooey cheese filling. I'd first tasted the knafeh at Al Khyam bakery in Chicago years ago, where I had gone to interview George, the owner, about his shop and especially his thin pita-making method. His trademark Lebanese hospitality that morning included a small plate of knafeh, which he cut for me from one of those gigantic platters and poured a healthy glug of orange blossom syrup over top. It was rich, but in the most unobtrusive way. Before I knew it my little plate of knafeh was gone and I was accepting another, against my better judgment.
At Hallab, Hitham joined us at the table for our morning indulgence, and he ate his knafeh with such gusto that I found this more instructive than any tour of the bakery might have been.
He placed his knafeh into the sesame bread that came in a little basket alongside (a version of ka'ik) and rolled his eyes closed while he ate one mouth-watering bite after another. I followed suit. When he finished, he pulled out his cigarette and smoked one as though he was spent on more than just a plate of knafeh. There I did not follow suit, but understood his response to knafeh that good.
When I reminded my mother and sister about the knafeh we had that morning in Tripoli, they both shrugged it off. Not so much, Peg said when I raved about how good it was. Her memory was more for the sumptuous boxes of chocolates we bought there as gifts for our Lebanese cousins, and for the crazy streets of Tripoli. My mom's experience with knafeh is more like baklawa, with a nut filling in little nests, still with orange blossom syrup (we'll make that version sometime too).
The knafeh combination, granted, is unusual—like a cheesecake, but not—a buttery phyllo crust filled with unsweetened (and if it's mine, slightly salty) cheese, and all of it topped with the orange blossom syrup. Knafeh makes for a hard-hitting breakfast that would take most of us all the way through to dinner, or breakfast tomorrow; I suspect many would prefer it for dessert or a snack. But I'm with Hitham on this: knafeh jibneh earns its place as an object of affection among the cognoscenti. It gives us a rich, satiating, and indulgent experience, and if it's your thing (which it is still, astonishingly for many in Lebanon), one worth following up with a smoke.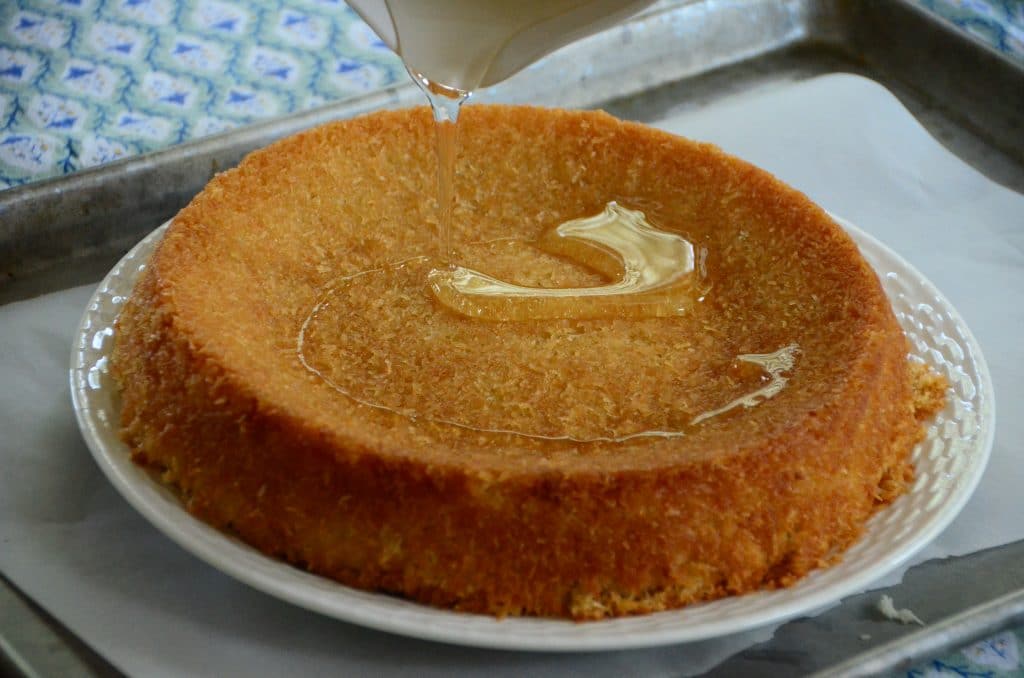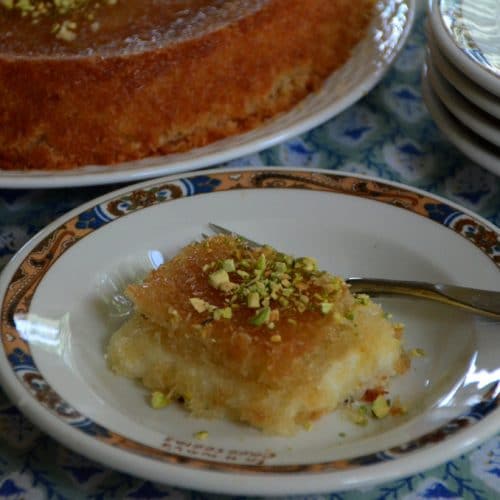 Lebanese Knafeh Jibneh with Orange Blossom Syrup
There are several different ways knafeh with cheese is made (just as there are so many spellings: kanafeh, kenafeh, kunafeh, kataifi…). This recipe, based on one from DeDe Med, is most similar to the knafeh I've had at bakeries in Lebanon, with a finely-textured crust and melting cheese layer which is best eaten warm. The cheese layer is sometimes made from ricotta, the cheese by itself without milk or farina, or with sweet cream rather than cheese. Traditionally the knafeh is eaten for breakfast or a snack, and is often tucked into a version of ka'ik that is a savory sesame bread. Ackawi cheese is a white, firm Arabic cheese that can be found in Middle Eastern markets. An equally good substitute is fresh mozzarella. If the cheese tastes very salty, slice it and soak it in water for a couple of hours to remove some of the salt. I like my cheese for knafeh to have a little salt flavor, though, so that the knafeh has a bit of wonderful salty-sweetness to it.
Ingredients
For the Orange Blossom Syrup
For the Pastry
1/2

package

shredded phyllo knafeh dough (kataifi), or 3 cups

1

cup

panko or plain dry breadcrumbs

1

cup

(2 sticks) unsalted butter, melted

1/2

cup

orange blossom syrup, plus more for serving

2

cups

shredded mozzarella or ackawi cheese

2

cups

whole milk

1/3

cup

farina (cream of wheat)

1/4

cup

pistachios, chopped, for serving
Instructions
To make the orange blossom syrup, in a small heavy saucepan, combine sugar, water and lemon juice and bring to a boil over medium high heat. Reduce heat to low and simmer for 5 minutes. Add the orange blossom water, pour into a heatproof container, cool to room temperature and refrigerate to chill.

Preheat the oven to 400 degrees with a rack in the middle position.

In the food processor, pulse the shredded phyllo dough for about a minute to make it into a fine meal. Place the phyllo in a medium bowl with the breadcrumbs. Add the melted butter and ½ cup of orange blossom syrup and stir until the phyllo is completely coated.

In a 10-inch pie plate or cake pan (or a similar sized sheet pan), add the buttery dough mixture. Compress it very well by pushing it into the bottom of the pan firmly, first with your hands, then pressing with the flat bottom of a cup, or something similar.

If the cheese is too salty, slice and soak it in cold water until some of the salt is pulled out. Change the water every 10 minutes or so. Either with a large, sharp knife or in the food processor, chop the cheese to a fine dice (in the processor, pulse until the cheese looks like coarse meal). Place the cheese in a medium bowl.

In a medium heavy saucepan, heat the milk over medium-high heat until it is hot, but not boiling. Add the farina and cook for 2 minutes, stirring constantly, until the mixture is slightly thickened. Pour the farina over the cheese and stir to combine.

Pour the cheese mixture over the knafeh dough in the prepared pan, and smooth the top. Place in the oven and bake for 30-40 minutes, or until the knafeh is deep golden brown. Remove from the oven and cool for 15 minutes.

Turn the knafeh out onto a platter and drizzle with ¼ cup of orange blossom syrup. Garnish with pistachio nuts. Serve immediately or set aside and reheat before serving. Cut into squares or slices and serve the knafeh warm, with more orange blossom syrup poured over each piece.
Nutrition information is automatically calculated, so should only be used as an approximation.
Like this recipe? Leave a comment below!
Save
(Visited 161,265 times, 17 visits today)