Orange Blossom Gin Fizz
Nov 07, 2019, Updated Sep 27, 2023
The classic Gin Fizz is made even better with a whisper of orange blossom. The froth on top makes for one of the prettiest cocktails you can serve. A post from Peggy Abood.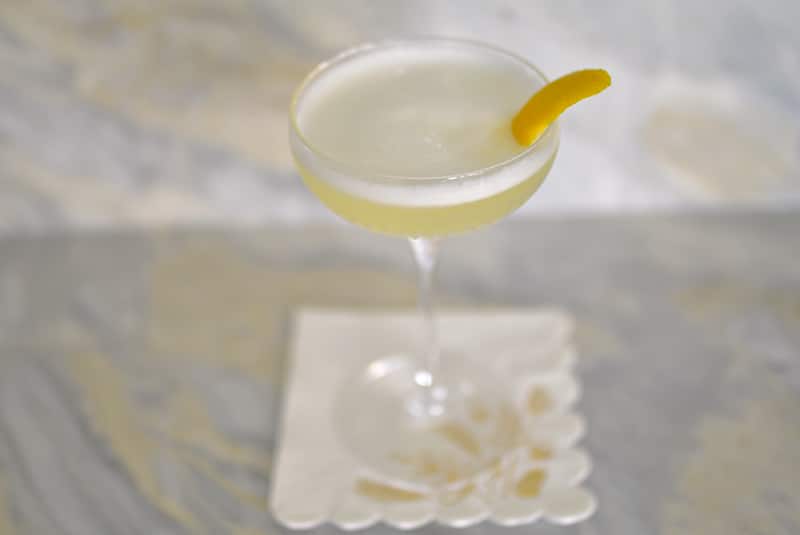 When Maureen and I first started talking about sharing cocktail recipes with you, she said we have to do some that are frothy on top. She then proceeded to text me photos of frothy cocktails non-stop.
She didn't even let up when I sent her my favorite Gin Fizz recipe and suggested we publish that one right away. Here came another shot of just exactly what she has in mind when it comes to frothy cocktails.
So I'm hoping with this Gin Fizz post, my sister will get the message that I've GOT it.
Like the Manhattan, there are lots of variations to this historic cocktail. Our version contains a few drops of one of our favorite flavor makers: orange blossom water. Other variations include triple sec, heavy or light cream, powdered sugar instead of granulated, and lime juice in addition to or in lieu of lemon juice.
The Gin Fizz was a wildly popular cocktail for a time but fell out of favor for a simple reason. Bartenders get exhausted trying to make the drinks in quantity! Once you start shaking, you'll see for yourself. The gin fizz was replaced in popularity by the much easier to prepare Gin and Tonic.
I admit, I'm with Maureen on this one. The Gin Fizz is worth putting back on our radar. One sip of this dream of a cocktail and I think you'll be right there with us.
A brief word on resources and cocktail shakers:
There are many beautiful books on making all of the latest exotic cocktails. I should know since Maureen has been giving them to me every year for the last several years, each one more gorgeous than the last. I love them all but for practicality and the basics, every bar should have a copy of the red bible: Mr. Boston's Official Bartender's Guide (my version is inscribed with a fun note from my friend Colleen who gave it to me our freshman year at Saint Mary's – an auspicious start to my cocktail mixing career).  Even my parents, who always kept a very well stocked bar they almost never used, had a copy of the red bible on the shelf.  The second book worth having is Eric Felten's wonderful How's Your Drink? Felten was the long time Wall Street Journal writer whose column of the same name was an eagerly anticipated weekly treat.
On the subject of shakers: I love cocktail shakers – all types!  The all-metal version is particularly beautiful, but you'll find once you start using it that the twist to open or close it in the center is difficult to open once you've shaken a cocktail. This is because the cold of the ice expands the metal and makes breaking the seal a chore. Consider purchasing a shaker made of a different material. I'm especially fond of the glass model Mason Shaker by the great design duo at W&P Design.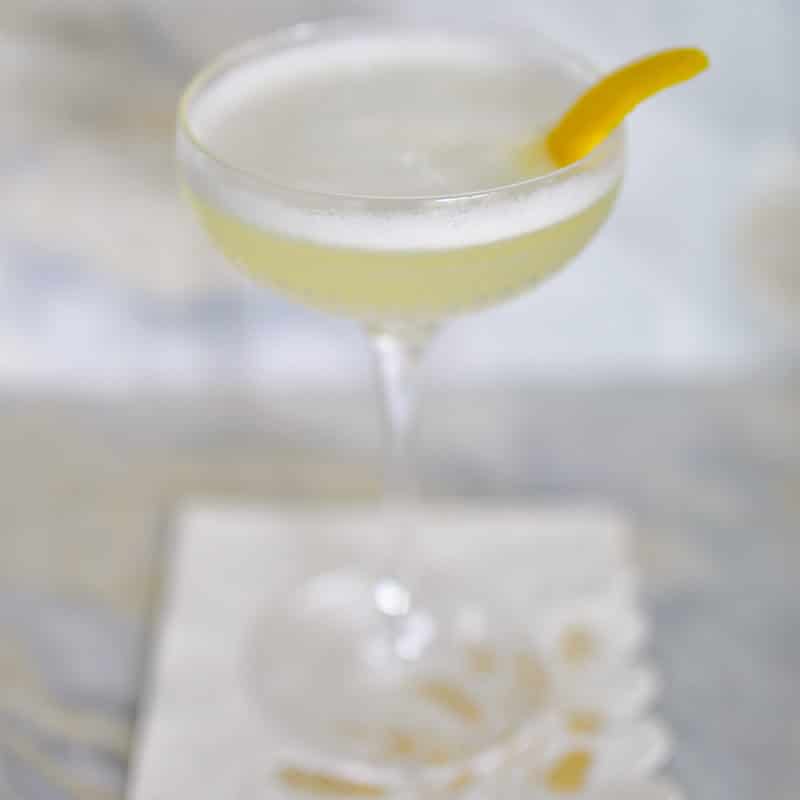 Orange Blossom Gin Fizz
This cocktail relies on raw egg white to create a foamy top. Feel free to leave this out and substitute with a touch of whipping cream.
Ingredients
Juice of 1/2 lemon

1

tablespoon

granulated sugar

1

egg white

2

oz.

gin

chilled soda water
Instructions
Using a cocktail shaker with both the strainer and solid top, fill the cocktail shaker 2/3 full with ice. Add all of the ingredients except the chilled soda water. Secure the top onto the shaker and shake the shaker as hard as you can for thirty seconds. Change hands and shake again for thirty more seconds. If you're using a pasteurized egg white, take a deep breath and shake again for thirty seconds (pasteurized egg whites take longer to foam up than unpasteurized).

Strain into a cocktail coupe (you may need to remove the shaker top and spoon the foam onto the top of the drink) and top with chilled soda water. Serve immediately.
Nutrition information is automatically calculated, so should only be used as an approximation.
Like this recipe? Leave a comment below!