Strawberry Rose Lemonade
Jul 15, 2011, Updated Apr 30, 2023
This post and story about Strawberry Rose Lemonade was the first on my blog years ago! Click here for Part 1. Thank you to my special assistant John. Enjoy!
If there's one thing I've learned in this life, it's that for every joy there is a sorrow. The Lebanese poet Khalil Gibran's "On Joy and Sorrow" says that the deeper sorrow carves into your being, the more joy you can contain. That we can't have one without the other. That this is what it means to be alive. We have to find some way to accept, don't we.
Ruth, my sister-in-law, just two years after that war-torn visit to Beirut to get her baby, started coughing a lot, and for an inexplicably long time. It might be pneumonia. It might even be a fungus, Ruth said, and she laughed at what an awful word fungus was. But there was a more awful word she heard, definitively, from her doctor, and that word was cancer, cancer that had already found its way all around her tiny self, cancer that would take her life despite the fact that she was a new mom to a baby boy with curly hair and brown eyes who she adopted from a foreign country in the middle of a war.
This topic may, I understand, seem incongruous for a blog post about lemonade, and for our first heart-to-heart conversation here. But some relationships take off quickly when old souls meet, and matters of the heart just seem to fall out on the table. Plus, this lemonade is special. This lemonade is about hope. It's about the hope Ruth had as she fought hard to stay alive right up until she died a year and a half ago, and the hope that her children, her daughter Ellie and her baby boy, John, gave her. It's about wishing such a deep sorrow never had to be carved into any of our beings. It's about wanting that original rose water that welcomed my family to Lebanon to taste as perfect as that moment seemed.
Now that it's summer again up north here in Michigan, I'm making rosey strawberry lemonade for my nephew John, who's five now, and sharing a very drinkable glass with him on the front porch.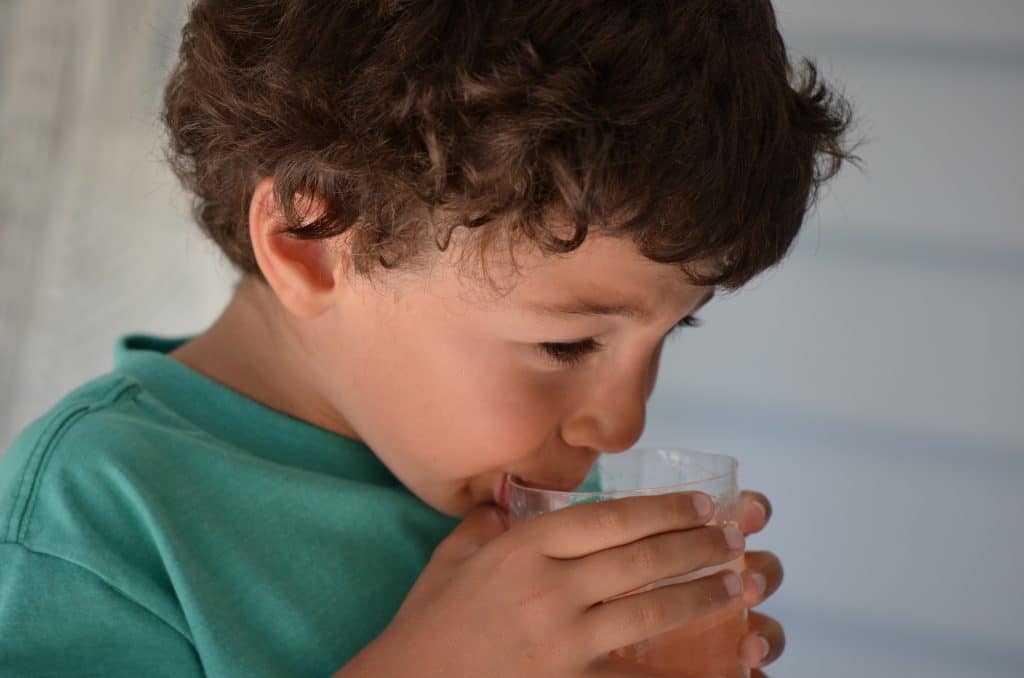 Strawberry Rose Lemonade
There are three components to the lemonade: simple syrup, strawberry rose syrup, and ice water. The simple syrup base is just a way of dissolving the sugar, which won't dissolve well in cold water.
Ingredients
Base for the Lemon Syrup
1

cup

granulated sugar

1

cup

water

1

cup

freshly squeezed lemon juice
Base for the Strawberry Rose Syrup
2

cups

strawberries, hulled and coarsely chopped

1/2

cup

granulated sugar

1

teaspoon

rose water
Instructions
For the lemon syrup, combine the sugar and water in a medium saucepan and bring to a boil over medium-high heat. Once the liquid reaches a boil, reduce the heat and simmer until the sugar is completely dissolved, 3-5 minutes. Remove from heat and strain the lemon juice into the syrup. Stir and set aside to cool.

For the strawberry rose syrup, in a small saucepan over medium heat, combine the berries and sugar. Bring to a boil, then reduce the heat to low and simmer 3-5 minutes, until the berries are very juicy. Use a metal spoon or a potato masher to break up the berries. Add one teaspoon of the rose water and taste, adding more if you like (but do it a little at a time, and pour into a measuring spoon away from the saucepan…it can spill over all too easily, ruin the berries and make this an irritating, rather than a satisfying, experience). Strain the syrup–there should be about 1/2 cup of syrup–and set aside the berries for another use (vanilla ice cream doesn't hurt anything).

To mix the lemonade, fill a pitcher with lemon syrup and the strawberry rose syrup. Add four cups of ice cold water and stir to combine. Taste. If it's too sweet for you, add more cold water. If it's not tart enough, add more lemon juice. If you'd like to taste more rose in your lemonade, add a little more rose water. Add ice to the pitcher just before serving, and serve in iced glasses. This strawberry lemonade, in the glass, takes on a lovely orangey hue.
Nutrition information is automatically calculated, so should only be used as an approximation.
Like this recipe? Leave a comment below!
Save
(Visited 3,450 times, 1 visits today)