Mulberry Manhattan Cocktail
Nov 01, 2019, Updated Sep 27, 2023
Here is a fabulous riff on a classic: the Mulberry Manhattan, using the blackberry-like flavor of Mulberry syrup. You won't find the syrup just anywhere! Check it out here.
Greetings from Peggy Abood! Maureen considers me her family mixology master, so she invited me to share some fun cocktail recipes and info with you.  I say hey, great timing . . . we're going to be holiday-primed.
I love a good drink prepared well. Seems like (most!) drinks served at the busy local bar are mis-measured, barely mixed, served in the incorrect glass and quickly diluted because the wrong ice was used. Follow a few simple tips that will result in cocktail greatness.
We are diving in with a classic that is great to have in your mixing repertoire: the Manhattan. This cocktail takes to riffs really well; my favorite is to add a beloved Lebanese flavor – mulberry, which tastes something like a raspberry-blackberry – to ramp things up.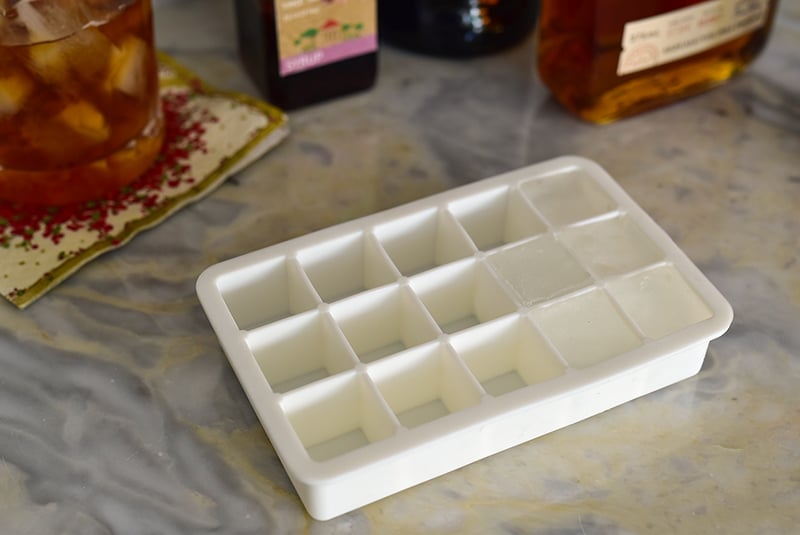 Everyone who mixes cocktails has their own style. In our family, I get push-back that my proportions are wrong (use more vermouth). They say this drink should only ever be served up (I prefer alcohol-heavy cocktails to be served on the rocks). Or that the garnish should be an orange, not lemon, twist.  All of these critiques are right and good—that's the beauty of cocktail making. Experiment with what you like and what tastes good to you. I'm the youngest of five, so I've learned to stand my ground….
Every home bar needs a small array of tools to make cocktails, which we'll cover here in time. Let's get started with the right equipment for the Manhattan:
A cocktail shaker with the strainer top, or a tall glass and a strainer
A bar spoon for stirring and measuring
Proper ice (ice made with filtered water in larger-sized square cubes)
Small sharp knife to cut fruit for garnishes
Heavy-bottomed, low sided glasses. These are referred to as an old-fashioned or double old-fashioned glass. Or, use a cocktail coupe if you prefer the drink served up
Check out some other drinks (including non-alcoholic) you can make with Mulberry Syrup here.
Is there a particular cocktail you'd like to see me feature? Let us know!
Mulberry Manhattan Cocktail
This recipe calls for bourbon. You can also use the more historically correct rye whiskey. Regular bitters are a fine substitute for my favorite orange bitters. I garnish with lemon or orange twist to get the delicious rind oil in my drink, a cherry is terrific too. A twist is simply a piece of citrus rind, typically about an inch long. Simple syrup can sub for the Mulberry, but then you won't have a Mulberry Manhattan! And trust me, you want one!
Instructions
On the rocks: in a cocktail shaker or mixing glass filled with ice, combine the bourbon, vermouth, mulberry syrup and bitters. Stir vigorously with the bar spoon or other slim long-handled spoon for 30 seconds until mixed well; strain into an old-fashioned glass filled with ice. Squeeze the lemon or orange twist over the top of the cocktail, and garnish with the twist.

To serve up (in a cocktail coupe, no ice): same instructions as above but strain into a chilled cocktail coupe. Squeeze the lemon or orange twist over the top of the cocktail, and garnish with the twist.

Don't use the ice from mixing the cocktail in the shaker in the serving glass; it's spent. This ice chilled and diluted the drink, which is all that is needed from it. Toss the shaker ice out and use fresh ice for the next cocktail. You can easily double the recipe and make two cocktails at a time, one for a sister or a friend. I highly suggest this!
Nutrition information is automatically calculated, so should only be used as an approximation.
Like this recipe? Leave a comment below!
(Visited 2,648 times, 1 visits today)