A new Za'atar Flatbread recipe to love
Oct 05, 2017, Updated Oct 02, 2023
This za'atar flatbread recipe originates as a pizza dough recipe and has the ultimate thin yet soft and chewy crust. Hands down this dough makes the best za'atar flatbread I've ever made or eaten, and a tremendous pizza! Bonus: you can make the dough in advance.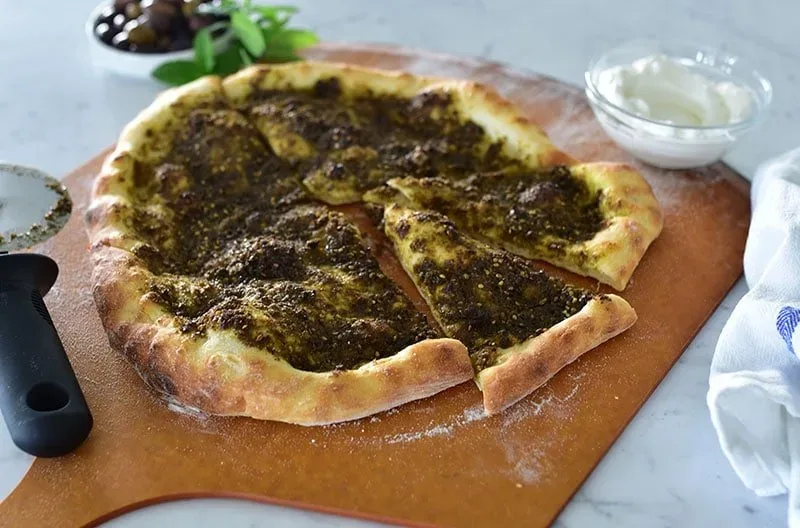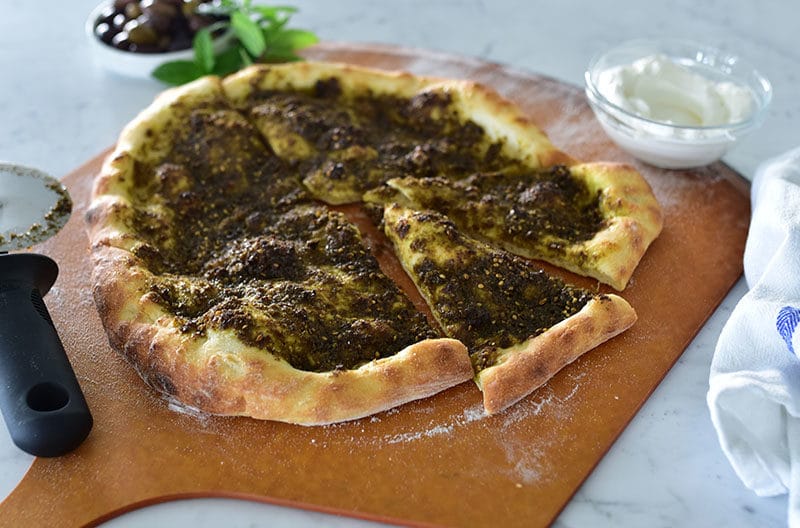 We all have them, or at least I hope we all do.
It's the pizza memories—seems a lot of great times in my life have involved a beautiful, hot-from-the-oven, crusty-chewy-good pizza.
Growing up over on the west side, we had our DeLuca's, the old school Italian hole-in-the-wall. After the game, for birthdays, and a place to hang out with our tight group of teen friends. I keep swearing I'll go back to DeLuca's now that I'm home for good, but it just never comes up. Maybe on a deeper level I'm afraid to touch those memories, now that my pizza expectations have grown so much and knowing that going back to childhood icons can as easily miff as invoke happy nostalgia.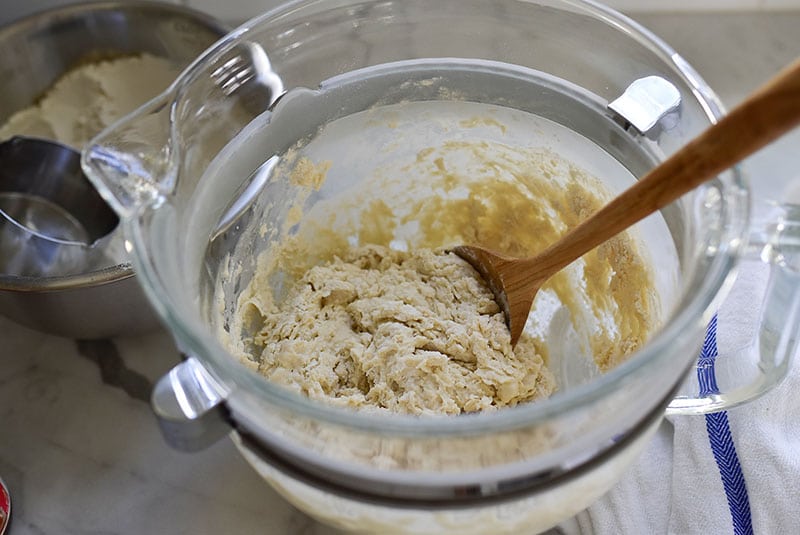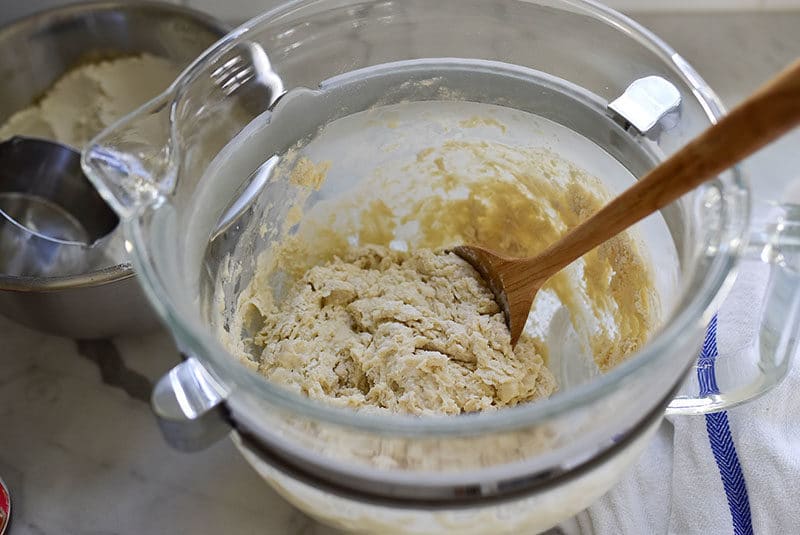 Then there was Chicago, and fourteen years of pizza joy. Pizza Capri became the go-to delivery pizza for Peggy and me, once we finally choked down the last of the spinach-filleds from Edwardo's, deep-dishers from Gino's and Giordano's, the blahs from Lou Malnati's, and the too-crowded-to-do-this from Piece (I did come to love a white pizza with anchovies there, though). We transitioned swiftly to the thin-crusted Neapolitans at Spacca Napoli after eating unbelievable pizza in Italy, standing in line to see the David and grabbing slices for the family (got a long wait? Let's eat!).
Pizza in San Francisco was an important part of the Maureen-love that defined that year of culinary-school-cum-self-actualization. In a word, Delfina. (Where I also discovered amarena cherries, which my brother Chris and I ate on sundaes after the pizza. We asked what they were, and he ordered them on his phone simultaneously. I've never been without a Fabbri jar since) I'd be remiss not to mention Liguria focaccia in North Beach as very, very, beyond very important to me as well. They wrap the bread in paper and tie it with a string. I know you understand.
Along the way, I was led to the pizzeria palace of the universe in Phoenix by one of my primary cooking and baking gurus in this life, cousin Jim: Pizzeria Bianco. Chris Bianco as you may well know is the king, the master, the Super Man of all the pizza kingdom.
His pizza crust is the ultimate in thin-soft-chew with the perfect spots of leoparded char, lightly topped with barely-there tomato, cheese, herb. When anyone I know says they're headed to Phoenix, I'm so envious of their Bianco pizza opportunity.
Living back in Michigan, I've felt a serious loss.
Yes, Bell's Greek in East Lansing is a favorite (and their Greek salad is triple nice, and I used to eat there every week in grad school, and Aunt Rita used to bake baklawa using her special method for them to sell, which makes it all come full circle), but ultimately, this is a talami-like pizza, and I still want—no, need—my thin crust.
I guess I talked and squawked so much about wanting to make my own pizza in a truly hot oven that everyone and their brother knew. Or at least my own brother knew, because his wedding gift to Mr. Shaheen and me was a serious, for real Kalamazoo pizza oven. This gas-fired inferno heats up fast, and while it may look like what my friend John describes as the microwaves of pizza ovens (not a brick in sight, but hey), this thing rocks out pizza! Now that we keep the oven permanently installed up north, Dan has patiently listened to me trying to figure out how we can build a pizza oven into our kitchen downstate. God love him.
Of course, a pizza oven is only as good as its dough. I've tried and enjoyed many, many dough recipes, from my friend Peter Reinhart and Kalamazoo pizza oven and Nancy Silverton to Modernist Cuisine with its hit of vital wheat gluten for extra chew. One of my favorites was a recipe for purchasing the dough, frozen, from our pal Brad at his delicious Wood Fired Up pizza truck that used to be stationed just down the way from our house in town. Such great dough! And lots of it, at the ready. What a generous baker he was to say "sure" when I called out of the blue early one Sunday morning in summer, a-begging for his dough. Then he moved his pizza to Ann Arbor….
What I've really yearned for after exploring all of the pizza iterations we've come to love (caramelized onion+fennel sausage), is to use this dough for za'atar man'oushe (in fact, early on my brother Chris of man'oushe love said: have you tried your pizzas with za'atar?). After all, this traditional Lebanese flatbread coated with za'atar and olive oil, or very often cheese, is nothing short of Lebanese pizza. But I've never made or eaten a za'atar bread that compares to the best of the best pizzas I've eaten. I figure, in the tradition of my brother Dick who won't put anything in his mouth if it isn't great, if you're going to indulge in the bread, then it ought to be perfect.
One summer morning couple months back I set to making my pizza dough for the weekend, trying a new recipe by Chris Bianco I found online from his then-upcoming book, and planning to freeze it in hopes it would still shine when needed. I had an adorable, kitchen-smart 13-year-old Claire with me that morning helping me do some prep for a dinner I was hosting that weekend, so while she stirred up batches of her delicious infused waters, I stretched some of my pizza dough into a round and slathered it with za'atar and olive oil for us to eat a proper Lebanese breakfast.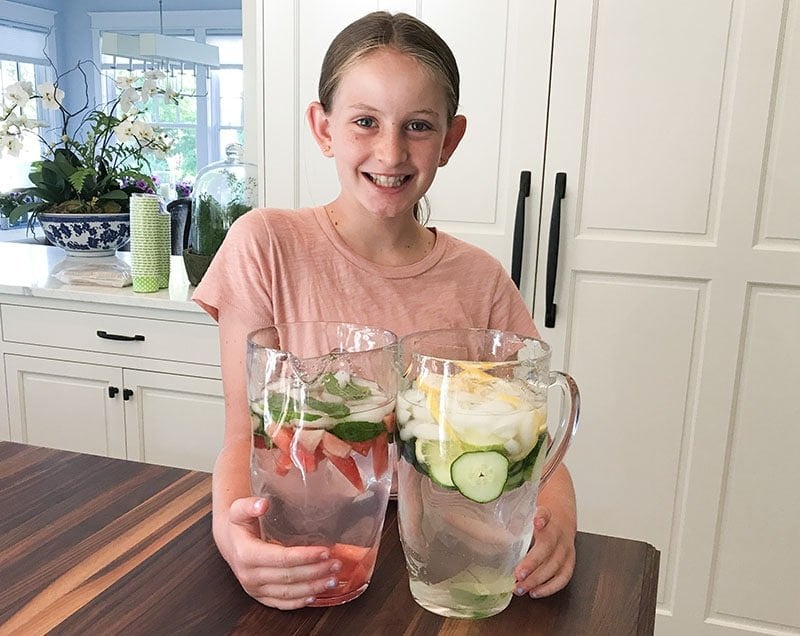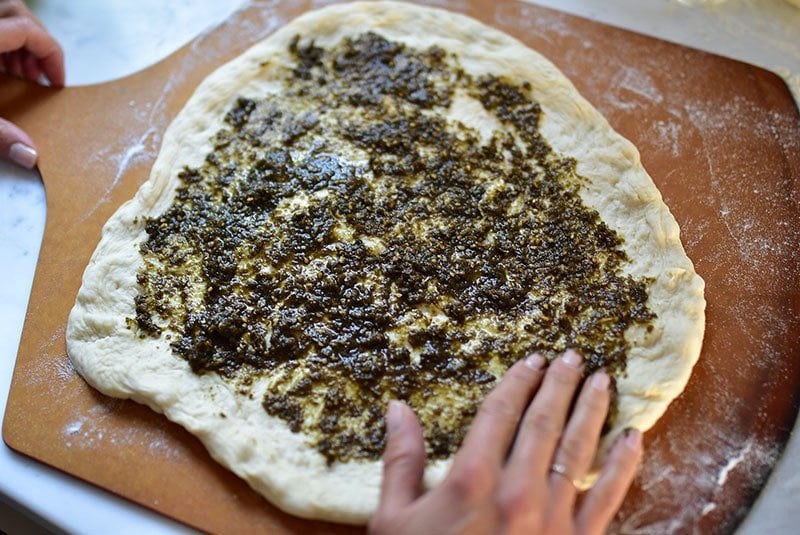 Can I tell you what a revelation this za'atar flatbread is? It's a revelation! Claire and I both went nuts over it and she almost missed sailing school for the eating. I became completely dedicated to the dough all summer long. The dough is perfection, and it wouldn't need a blessed thing on it other than a touch of olive oil to taste divine.
Also, of major importance is that the dough can be made in the evening and put it in the refrigerator overnight, then baked off for breakfast like a true Sitti (minus getting up at 4 a.m. to make it happen, the way my Sitto did).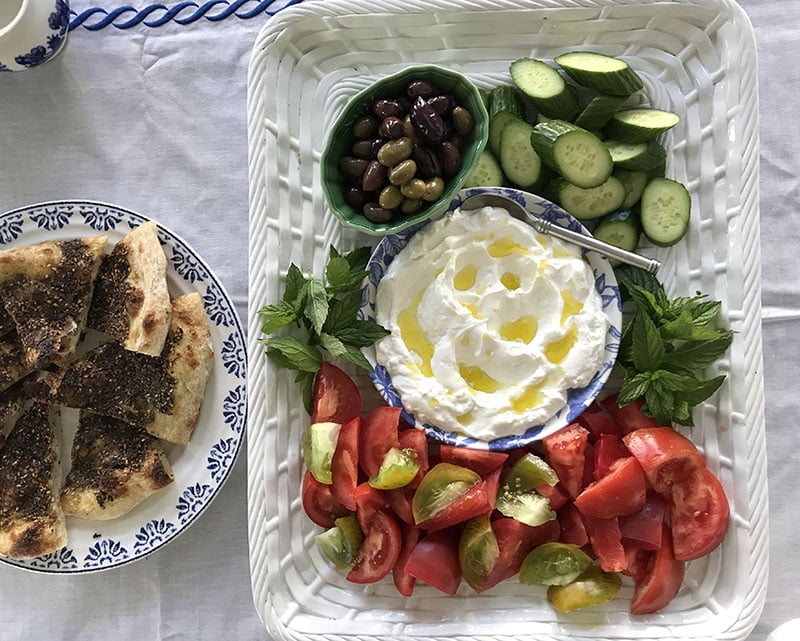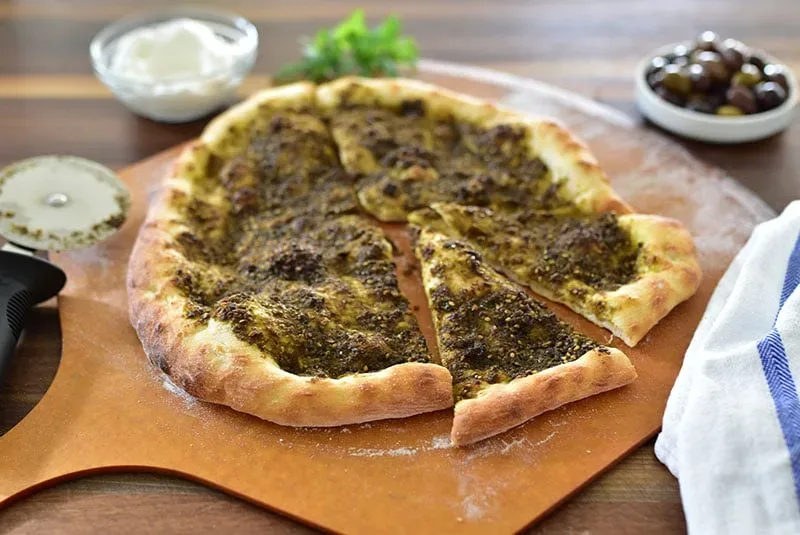 You (and Dan) will be glad to know that the pizza oven is pretty much unnecessary for the early morning za'atar bread. Actually, totally and completely unnecessary. When Claire and I baked some, we had no time for the pizza oven, so I fired up my kitchen oven hot as it would go with an overturned sheet pan as a heating element. Not even a pizza stone in sight. And no rolling pin, either! I love rolling pins, but here I love even more that one isn't needed.
This dough baked up like a champ, giving me a whole new world of happy pizza za'atar flatbread memories to make and treasure.
Za'atar Flatbread
This recipe is adapted from Chris Bianco's, published in Eater for focaccia-style bread from his book Bianco: Pizza, Pasta, and Other Foods I Like (Ecco 2017). Take care not to refrigerate the dough much beyond 8 hours or it will over-proof (yes, I've done it). If needed, freeze briefly and then refrigerate to extend proof time. It's ideal to bring the dough to room temperature before shaping, but I've jumped the gun and worked with cool dough and it was equally pliable and glorious as room temp. You'll need a sheet pan and a pizza peel and long kitchen tongs. You could also use another sheet pan, overturned, as your peel but it's not nearly as easy or fun. I use a stand mixer too; you can of course knead by hand. The rice flour is perfect for coating the peel and doesn't get cakey like wheat flour can here. Don't be alarmed by all of the instructions below! Just read through them before it's go time to get a feel for each step. Makes 4 flatbreads that cut into 6-8 slices each.

Ingredients
1

envelope

active dry yeast (2¼ teaspoons)

2

cups

warm water (105° to 110°F; I've been taking the water's temp and it comes out perfectly)

5

cups

bread flour, plus more as needed and for dusting

2

teaspoons

fine sea salt

3

tablespoons

za'atar

3

tablespoons

extra virgin olive oil, plus more for greasing the bowl

Rice flour, for coating the pizza peel or back of a sheet pan
Instructions
Combine the yeast and warm water in a large bowl or the bowl of a stand mixer, stirring well and allowing the yeast to become creamy and slightly bubbly (about 10 minutes).

When the yeast has dissolved, add 3 cups of the bread flour, using the paddle attachment on low speed or a wooden spoon and mixing until smooth. Slowly add the last 2 cups of flour, working it in gently on low speed or by hand. Add the salt (Bianco says it's important to wait until now, so the yeast isn't inhibited). Mix until the dough comes away from the bowl but is still sticky; if necessary, add up to ½ cup more flour 1 tablespoon at a time (I've never needed to add more myself).

Continue to knead the dough on medium speed or by hand until it is smooth, stretchy, soft, and still tacky.

Brush a large bowl with olive oil (if it's not too doughy, I use the same bowl I mixed the dough in), shape the dough into a ball and turn it over in the bowl to coat with oil. Cover the bowl with plastic wrap and let the dough rest in a warm place until it doubles in size, 2 to 2½ hours.

Turn the dough out onto a floured work surface and cut it into 4 equal pieces. Roll the pieces into balls, stretching the surface of the balls tightly, and dust them lightly with flour. Cover with plastic wrap and let them rest for another hour, or until they have doubled in size.

The dough balls can now be wrapped individually in plastic and refrigerated for up to 8 hours, or frozen for up to a month. Thaw the dough in the refrigerator, then let it come to room temperature before shaping.

When you're ready to bake the za'atar bread, position an oven rack at the lowest point in the oven with no other racks above it. Or, remove the racks. Place an overturned sheet pan on the rack or base of the oven. Heat the oven as hot as it will go, about 550 degrees F.

In a small bowl, stir the za'atar and olive oil so that you have a wet mixture. Add more oil or za'atar as needed to keep it wet, and depending on how much you like on your flatbread.

Liberally dust the pizza peel with rice flour.

To shape the dough, hold the top edge of the ball with both hands, allowing the bottom edge to hang down with gravity. Carefully move your hands around the edges to form a circle of dough, like turning a steering wheel.

Continue to carefully shape the dough as it relaxes, without letting any area get too thin. Cup your hands and use the backs of your hands, knuckles up, to encourage the dough wider. Don't stretch or pull too much, or the dough will get too thin or tear.

Lay the circle of dough on the pizza peel that's been dusted with rice flour. Dab the top of the dough with za'atar and oil, then use your fingertips to stain the surface of the dough with the za'atar and oil. You can use more or less za'atar and oil here; it's up to you how thickly you spread it on.

Shake the peel to be sure the dough will move off easily. If any area is stuck, lift the dough and dust more rice flour underneath it.

Transfer the dough from the peel to the hot overturned sheet pan in the oven. Turn on the light so you can watch the show! The flatbread will bubble and the edges will "leopard" like the finest pizza in the land. Use tongs to turn the flatbread as it bakes to avoid any spot getting burned.

When the flatbread is golden brown (about 4 minutes), use the tongs to pull the flatbread back onto the peel and remove it from the oven.

Let the bread rest for a few minutes, then cut it with a round pizza cutter.

Repeat this process with the remaining dough balls.

Congratulations!

Nutrition information is automatically calculated, so should only be used as an approximation.
Like this recipe? Leave a comment below!
SaveSave
(Visited 17,405 times, 3 visits today)