Lebanese Sfouf Cake
Apr 26, 2018, Updated Jan 04, 2023
Lebanese sfouf cake is a very simple, oil-based yellow cake, given its technicolor with turmeric–sfouf is beloved by the Lebanese, to enjoy with coffee or tea (not, at least according this dessert-eater, for dessert…). Sfouf cake includes a short list of ingredients and is egg-free.
The most typical, classic of Lebanese cakes seem to include semolina flour. There is the plain sfouf semolina cake, and namoura semolina cake that is drenched in fragrant syrup, and a molasses semolina cake (Lebanese carob molasses), also drenched in syrup.
A devoted following (maybe all of Lebanon and all those who've emigrated?) loves and bakes the sfouf cake or gets their fix from any and every Lebanese bakery. I gather this based not on my own personal experience, but on everything I've ever seen or read about sfouf. This very simple, oil-based yellow cake, given its technicolor with turmeric, includes a short list of ingredients and is leavened not with eggs but just a touch of baking powder. The pan is always coated with tahini rather than oil or butter.
I've read every sfouf recipe I could get my hands on, and auditioned a slew of them. The variations seem to primarily be in how thick the cake and how moist the end result. Some call sfouf "almond cake" but that would only refer to using almonds as a garnish rather than pine nuts. The word "sfouf" itself means "rows" (right? You Arabic speakers, please correct me if not!!), as in rows of pine nuts across the top of the cake.
Whatever that thing is in me . . . that makes me the way that I am . . . that thing in me really wanted to reinvent the simple sfouf, the way we gilded a coconutty syrup-soaked namoura cake with sugared roses or toasted the nuts first in baklawa. So naturally the questions arise: How about sfouf cupcakes? Sfouf Bundt? Add lemon zest and yogurt? A pretty pink glaze?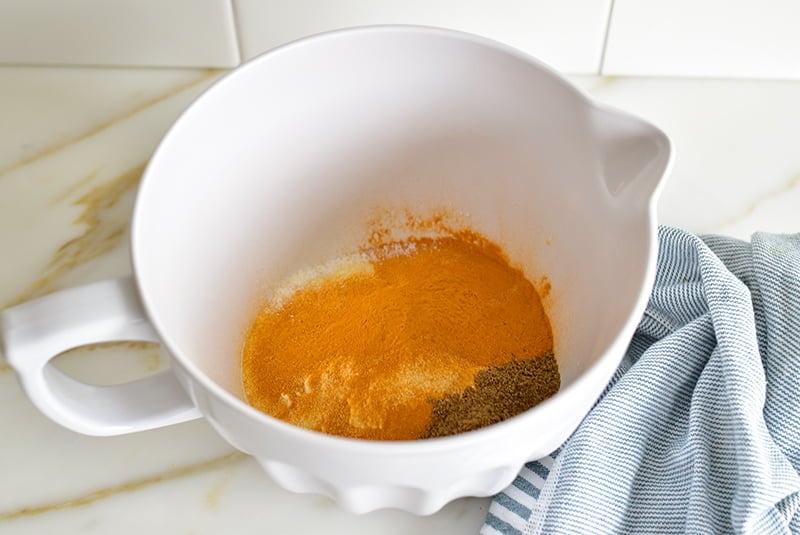 But not matter how exuberant the ideas, I realized in all of my sfouf baking that the inventive path is nothing short of an injustice to your sfouf. This cake is meant to be plain and simple, like the daily bread of a white blouse and jeans. And in like fashion, meant to take just a minute to whip up. Meant to slice cleanly and with ease.
The extent of a sfouf cake flourish is broiling the top to dark golden to offset the yellow crumb within, and cutting pieces in the classic diamond, or lozenge, shape.
I put sfouf in the same camp as biscotti, in that it belongs next to a cup of coffee or tea in the afternoon, or for breakfast. I don't liken the sfouf to dessert, let's be clear. Never could sfouf fulfill that closure of sweet goodness I'm after every night. No, I don't every night indulge, but when I do, I hunt down chocolates or ice cream or frosted cake or a great cookie baked by my sister or . . . you get the picture. Dessert is not sfouf.
Lebanese sfouf cake is "snack cake," which is not really a demotion. I'd rather have coffee with a side of sfouf snack than a lonely cup of coffee any day. I bet you will too.
Lebanese Sfouf Cake
You can adjust the flavorings some if you need to; i.e., leave out the anise if that's not a crowd-pleaser there. Sfouf will keep for a good week in an airtight container. Find excellent tahini here and the very best pine nuts you can buy here, at Maureen Abood Market.
Ingredients
2

teaspoons

tahini

1 1/2

cups

unbleached, all-purpose flour

1/2

cup

semolina flour (fine)

1/2

teaspoon

baking powder

1/4

teaspoon

kosher salt

1

tablespoon

turmeric powder

1

tablespoon

freshly ground aniseed

1

cup

whole milk plain yogurt, or laban

1

cup

granulated sugar

2

teaspoons

vanilla

1/2

cup

neutral oil, such as canola or safflower

1 to 2

tablespoons

pine nuts or slivered almonds
Instructions
Heat the oven to 350 degrees with the rack in the middle position. Coat the bottom of a 9-inch square (or round) cake pan with the tahini.

In a medium bowl, whisk the flours, baking powder, salt, turmeric, and aniseed.

In a large measuring cup or medium bowl, whisk the yogurt, sugar, and vanilla until the sugar dissolves (it won't entirely), then add the oil and whisk vigorously until combined.

Whisk the liquid mixture into the dry mixture until everything is well-combined.

Scrape the batter into the prepared baking pan and smooth out the top. To end up with a nut in the center of lozenge/diamond-shaped pieces of cake, place the nuts about 2 inches apart in rows, but set the nut pointing toward the corners of the pan (diagonally). It also helps to score the top of the batter in diamonds so you can see where to place the nuts in the center of each diamond. To do this, make five scores straight across and seven scores diagonally, the same way we cut baklawa. Or, scatter the nuts evenly over the top of the batter.

Bake the cake for 20-25 minutes, or until a pick inserted in the center comes out clean. Then, turn on the broiler and carefully brown the top of the cake, keeping a close eye on it so it doesn't burn. Cut into diamonds and serve.
Nutrition information is automatically calculated, so should only be used as an approximation.
Like this recipe? Leave a comment below!
(Visited 32,532 times, 14 visits today)