Lebanese Ashta Recipe, with Fresh Fruit
Aug 04, 2017, Updated May 02, 2023
Lebanese ashta cream is a ubiquitous Lebanese milk pudding, fragrant with orange blossom water and rose water. This ashta recipe uses whole milk and cornstarch, but recipes abound and are quite varied, some using white bread as the thickener—and none using eggs, as in a traditional French pastry cream. Ashta is traditionally served in a little pancake for dessert, or as a topping fresh fruit, or as a filling for knafeh and phyllo pastries.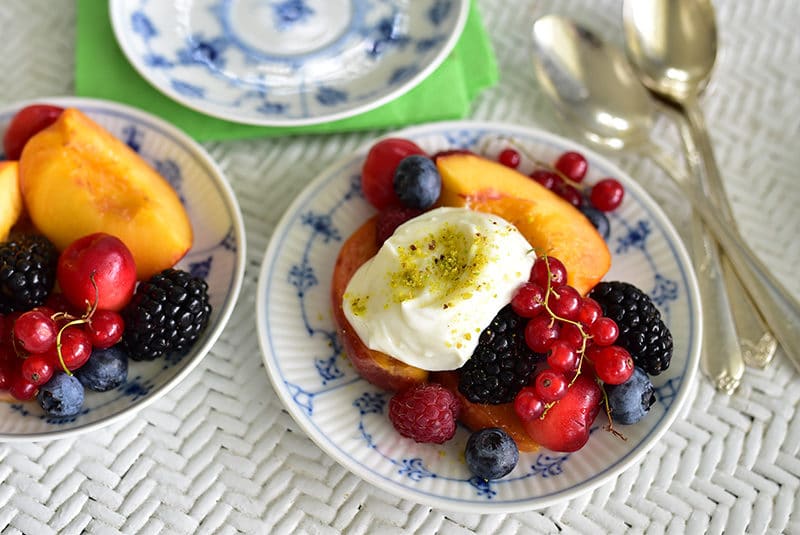 I get asked often, naturally, about a next book. During the early gestation phase of writing, I think I'm not alone as an author who holds the ideas close and wants to let them ferment, long and slow like a good batch of laban. This is how it was when I was considering leaving my job and life in Chicago to go to culinary school: for a time, a long time, I kept it to myself, wanting to really understand it from within rather than cave to my inclination to get others to weigh in. I've noticed that my new pattern of behavior, one I like a lot, is that by the time I'm finally sharing, the idea is pretty solid in my soul.
So. I've got pastry on the brain, Lebanese pastry, and am taking a long and deep look at all of it. It's certainly book-worthy, don't you think? That, my friends, is an idea that's pretty solid in my soul.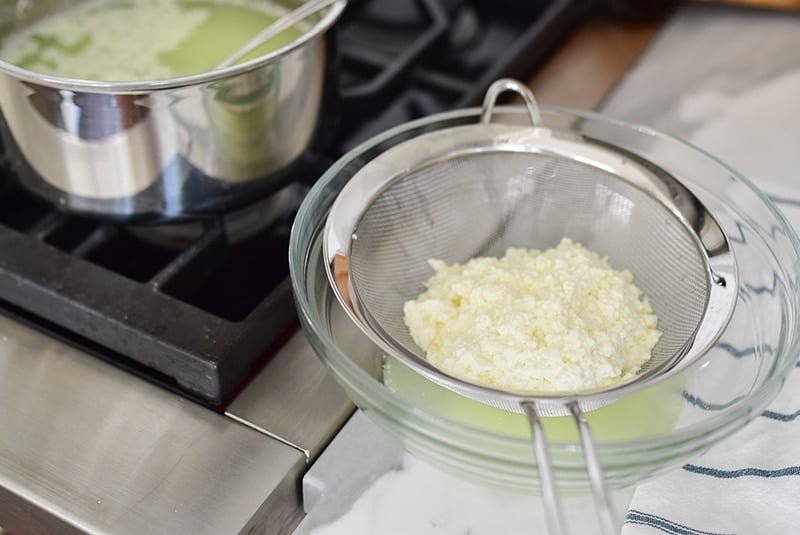 In the world of Lebanese pastries and desserts, there is lots to learn (which I love). This ashta cream is one of those recipes that has intrigued me for some time. I've been asked about it, and couldn't really pony up a whole lot in the way of experience or recipes I rely on.
My array of Lebanese and other Middle Eastern cookbooks rarely–meaning never–cover an ashta recipe. When we were in Lebanon, there was the ashta all over the place, mostly as a filling for knafeh and phyllo pastries or as an ice cream flavor, as well as a filling little pancakes, folded up like a horn around the cream. The people were going absolutely nutty for it, and I can see why: it's creamy, and without any eggs, the milky pudding allows the flavor of the flower waters to shine (enter your bottles of exceptional Mymoune orange blossom and rose water!). Ashta is so often paired with fragrant floral simple syrup that you get extra (but still not overboard) flower water love with it.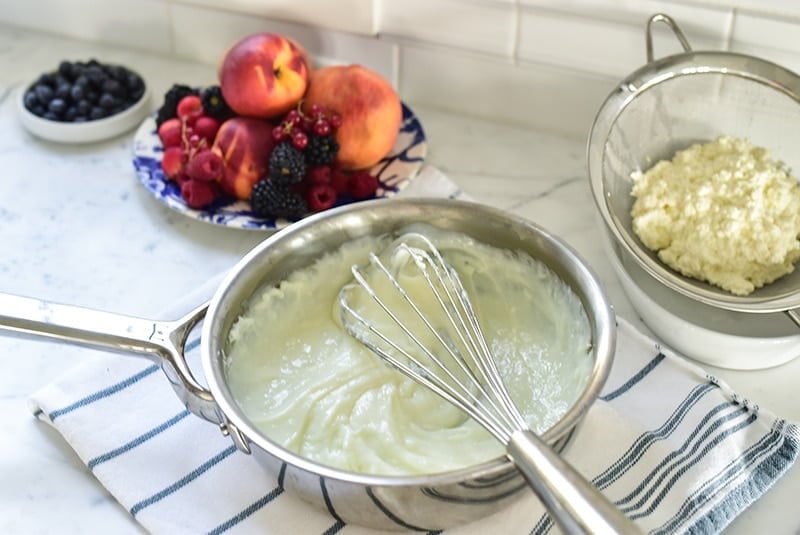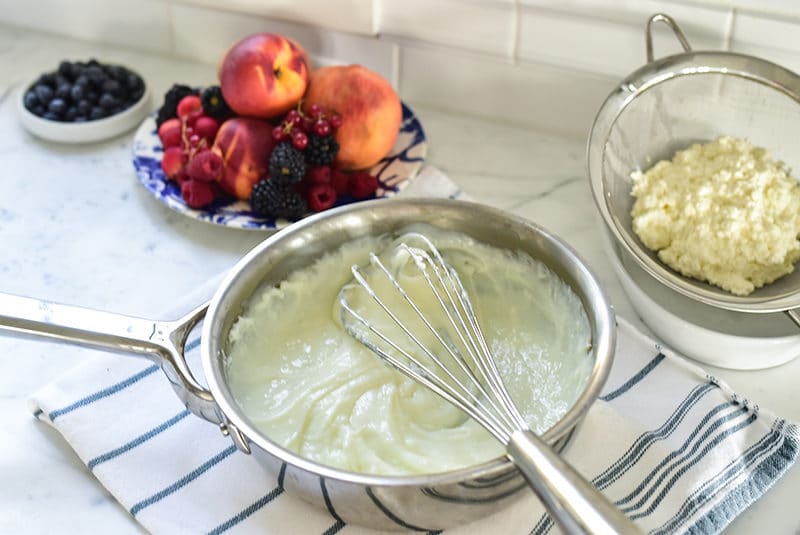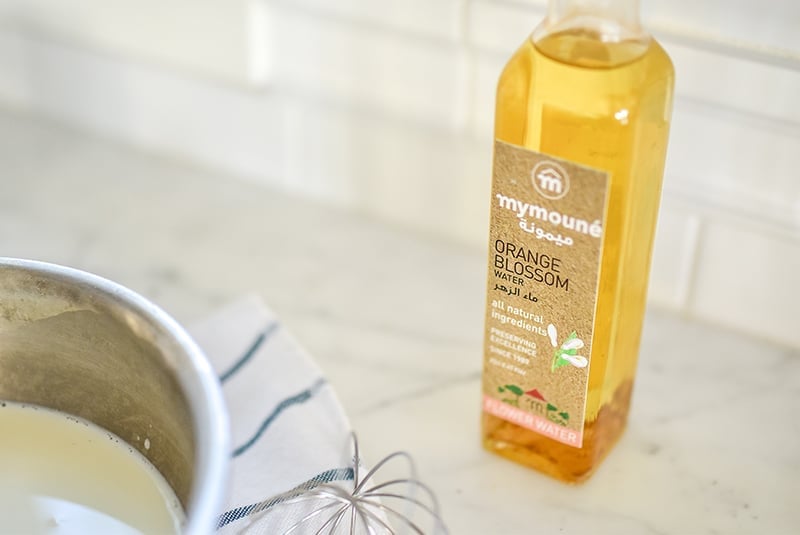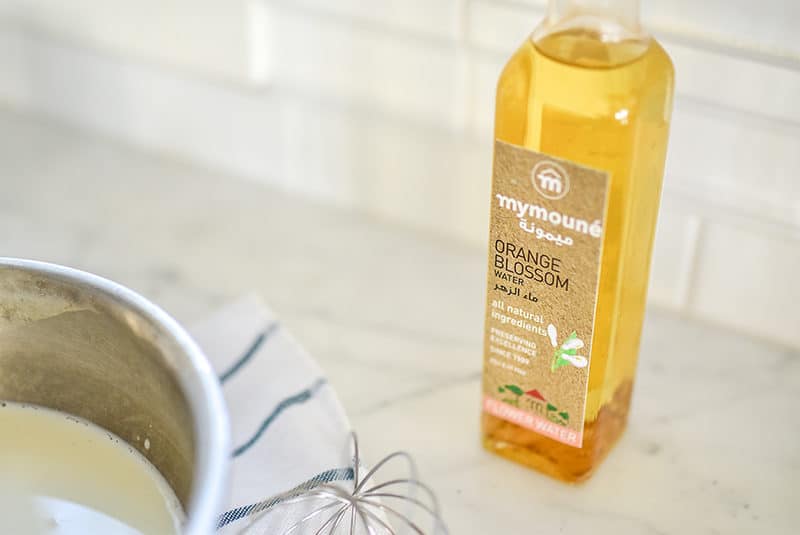 The old-world ashta recipe is a clotted cream that seems to have been made by patiently pulling off the thin skin that forms on boiling milk, again and again. That was parlayed into making clotted whole milk (simply vinegar and milk, boiled to separate the cream from the whey) and combining the resulting clotted cream with milk pudding (simply cornstarch and milk, boiled until thickened). Other contemporary recipes use crust less white bread as the thickener for the pudding, and some use a European cream cheese called Puck, either on its own or together with the clotted cream.
I like the milk pudding method because it can be beautifully blended to make the ashta nice and smooth. And you know how I feel about smooth (see hummus, and more smooth hummus). From what I have seen, most ashtas are shaggy, clotted-creamy and not smooth.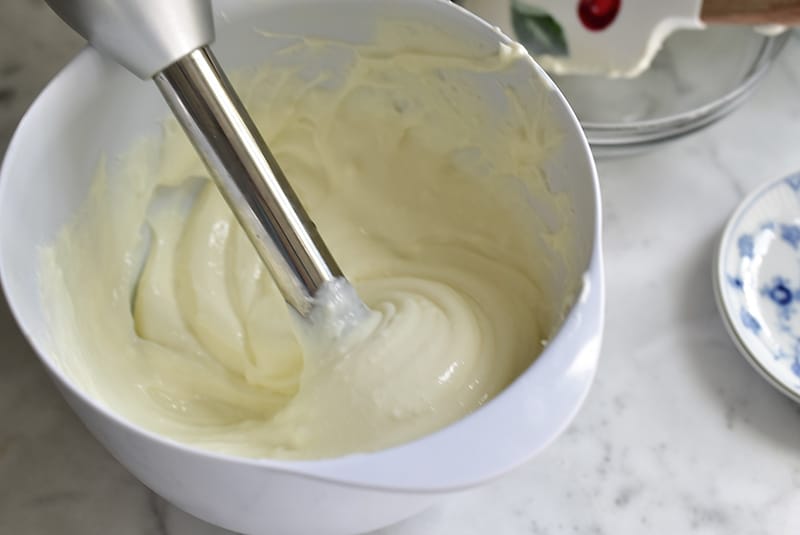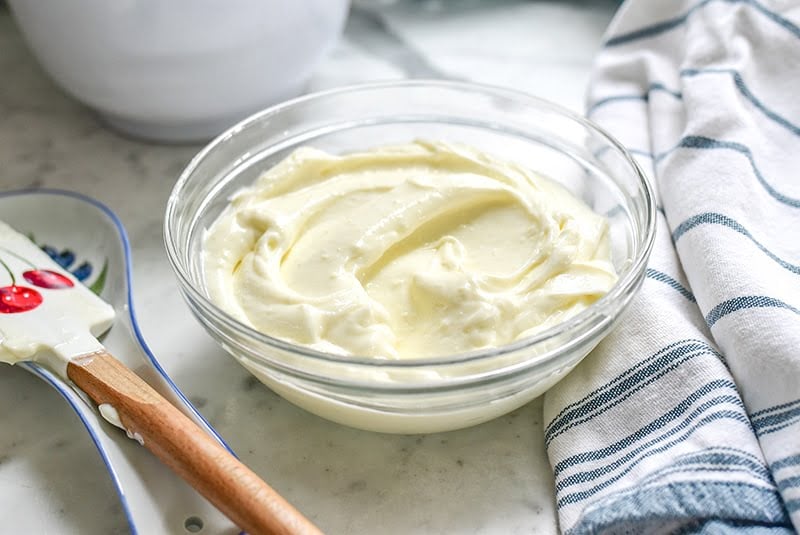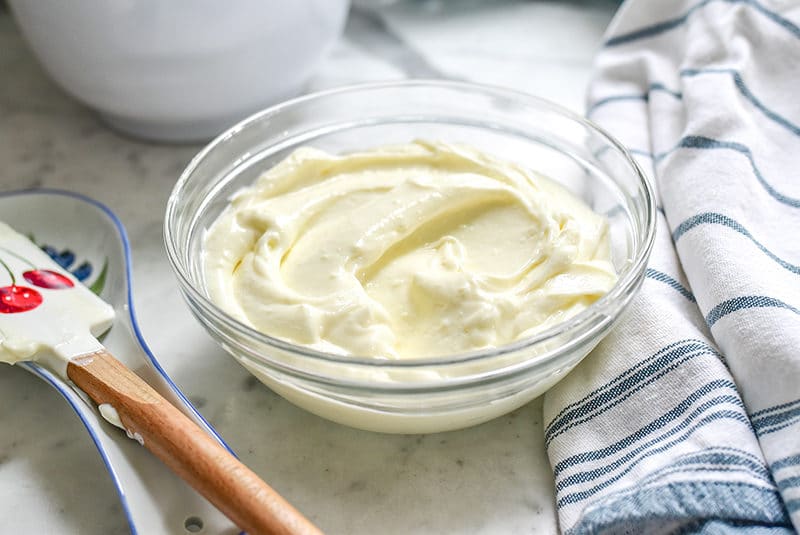 But until I hear that I'm way out of line with the smooth, that's where I stand. Especially for ashta cream that's used as a topping for gorgeous fruit (beautiful meets beautiful. And if you collect pretty little bowls and spoons, there's extra beautiful!). When the ashta cream is used as a filling for knafehs and phyllo, well then the smooth may be an unnecessary added step and that's fine.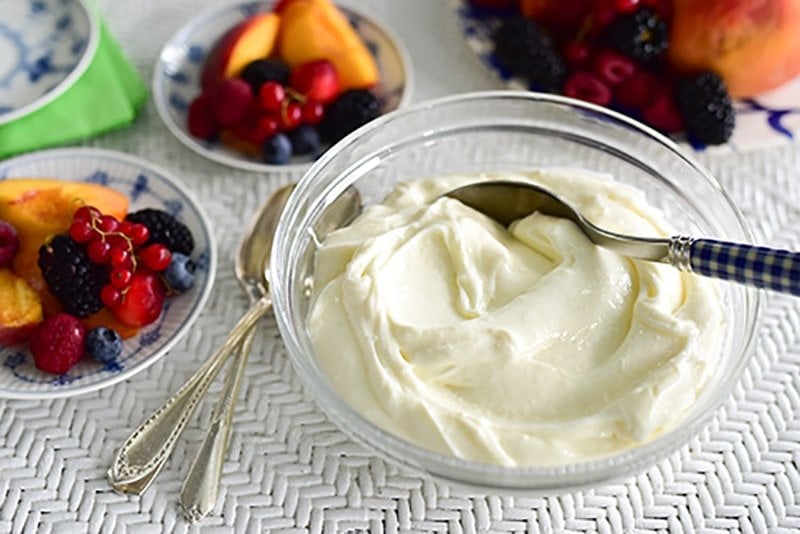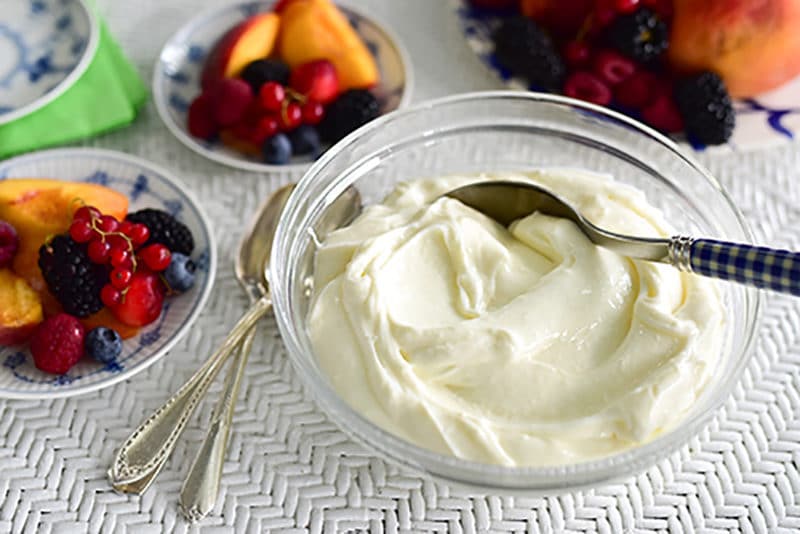 So…research is very much underway! I have to say this is research I much MUCH prefer over the research of my grad school days. I love me a good story and literature is my thing, but long hours in the kitchen and pouring over cookbooks, I'll take that any day over a big old cold university library. And you, so many of you have so much knowledge about Lebanese recipes! I'd love to know if you have an ashta cream recipe you love, and to know how you like to use it.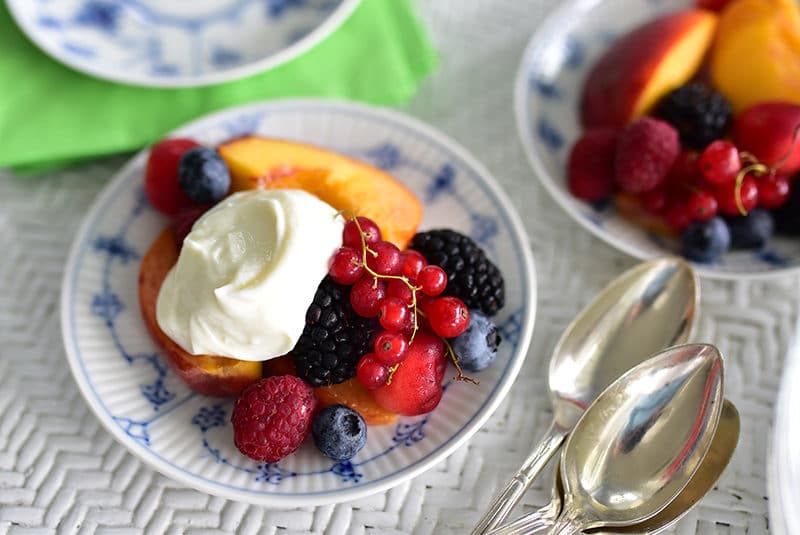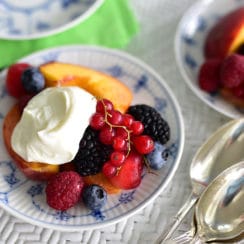 Ashta Cream
Many ashta recipes leave out the sugar because the cream is so often served in pastry that includes a topping of simple syrup. I think at least a little sugar is key in the flavor of this traditional Lebanese milk pudding. Serve it with fruit or use the ashta as a filling for knafeh and other desserts.

Ingredients
8

cups

whole milk, cold

2

tablespoons

white vinegar

1/4

cup

cornstarch

3

tablespoons

granulated sugar

2

teaspoons

orange blossom water

1

teaspoon

rose water

4

cups

Fresh fruit, such as peaches, nectarines, cherries, blueberries, currants, raspberries

Ground pistachios, for serving
Instructions
In a medium saucepan, combine 6 cups of the milk with the vinegar and heat over medium high heat.


Stir the milk until it is steaming and the whey and cream separate. This will happen swiftly.


Place a strainer over a bowl. Turn off the heat and use a slotted spoon to remove the clotted cream to the strainer. Discard the whey left in the saucepan.


In another medium saucepan (or rinse the last one out), whisk the remaining 2 cups of milk with the cornstarch and sugar.


Cook the pudding over medium heat, whisking constantly until it thickens, about 5 minutes.


Remove the cream from the heat. Add the strained clotted cream and flower waters, whisking until fairly smooth. Use an immersion blender or other blender to smooth the cream.


In a bowl, place plastic wrap directly onto the surface of the cream to prevent a skin from forming. Chill for at least one hour and up to one week before serving.


Before serving, blend the cream again. Arrange the fruit in small bowls and top with a dollop of the ashta. Sprinkle with ground pistachios and serve immediately.

Nutrition information is automatically calculated, so should only be used as an approximation.
Like this recipe? Leave a comment below!
(Visited 25,202 times, 3 visits today)