How to Choose an Eggplant
Oct 04, 2021, Updated Jan 03, 2023
Follow these few simple tips to selecting beautiful eggplant, for fabulous Lebanese and other favorite dishes.
Why we love eggplant.
The deep purple hue and voluptuous shape of eggplant put it in the upper echelons of truly gorgeous produce. Of course there's plenty of competition everywhere you turn at the farmer's market. But purple is the color of royalty, and the Lebanese bow down to the eggplant accordingly, making it the crowned prince of many favorite succulent dishes: sheik al mehsheh stuffed boats or casserole-style (fittingly, this means "a meal fit for a king"!), eggplant parmesan, and of course, baba gannouj charred eggplant dip. Then there's my mother's favorite way with eggplant, dredged in flour, sauteed in a little olive oil, and eaten simply with thin pita.
The texture of eggplant is somewhat spongy, so it soaks up oil and tomato readily. The  flavor of eggplant is subtle, though bitter notes can be tasted when there are many seeds present. Various sizes, colors, and shapes of eggplant all yield a similar flavor.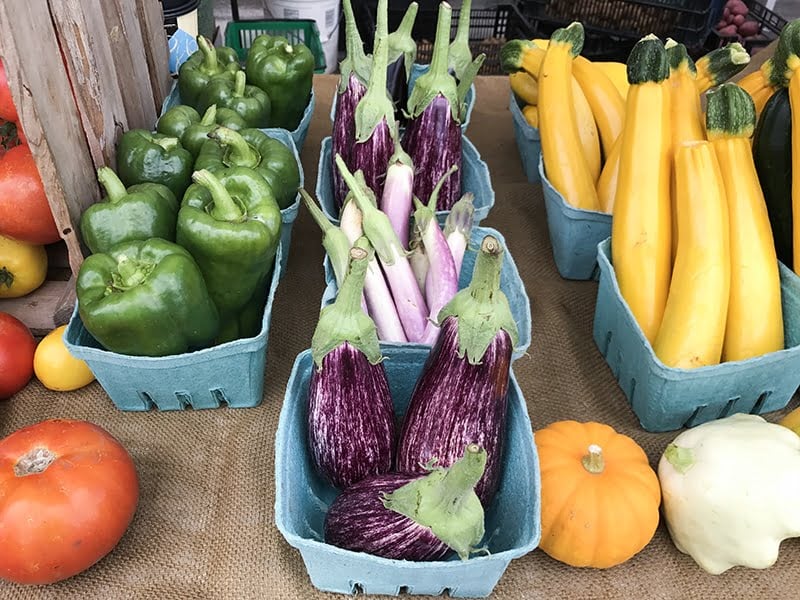 How to choose eggplant.
Firmness is key!
Squeeze the eggplant, and if you find  much give, move on. There is no  real concern about ripeness other than OVER-ripeness, which  is identified by softness as well  as brown spots on the globe and around the stem, which should be green.
Size and shape matter
Look for narrow, deep purple globe eggplant to ensure fewer seeds will be studding the interior flesh. The striated lighter purple-white eggplants are wonderful because they have fewer seeds. If all you can find are large globes, be sure they're very firm, and everything will be fine.
Use eggplant swiftly
Eggplant likes to over-ripen rather quickly. Keep them in the crisper drawer of your fridge, loose (not in a closed bag). They'll be good for about a week. If your eggplant appears to be headed downhill,  roast them in slices or whole, and the cooked eggplant will last another week.
(Visited 2,079 times, 1 visits today)