Fresh Herb Falafel Pita Wrap
Aug 28, 2015, Updated Jan 04, 2023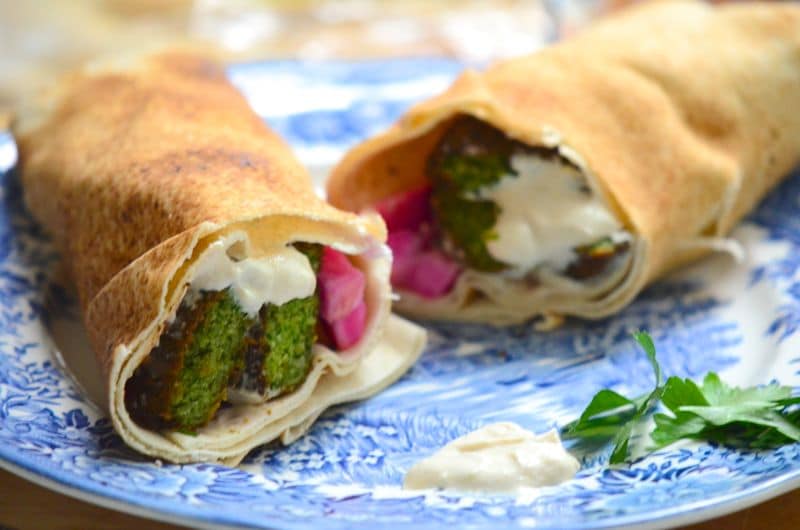 Mother never made that.
That's what mom's sister, Aunt Pat, said when I talked about the falafel I'd be making with the abundance of fresh herbs we have, along with the peeled fava beans we recently started offering over at Maureen Abood Market.
The sisters have been engaged in a dialogue, one that has extended the entirety of their visit these weeks up north, centered largely on their parents. They want to remember, and their memories aren't always in sync—which is understandable, given that my mom was the youngest by many years of the seven children and Pat one of the eldest. They grew up in different households (even though one thing did remain a constant—their mother Alice's nonstop cooking, crafting, cleaning, and otherwise perpetual motion).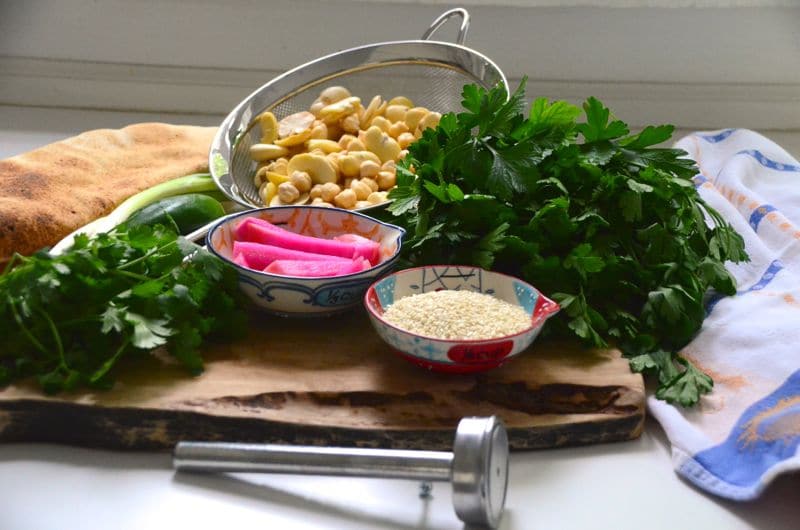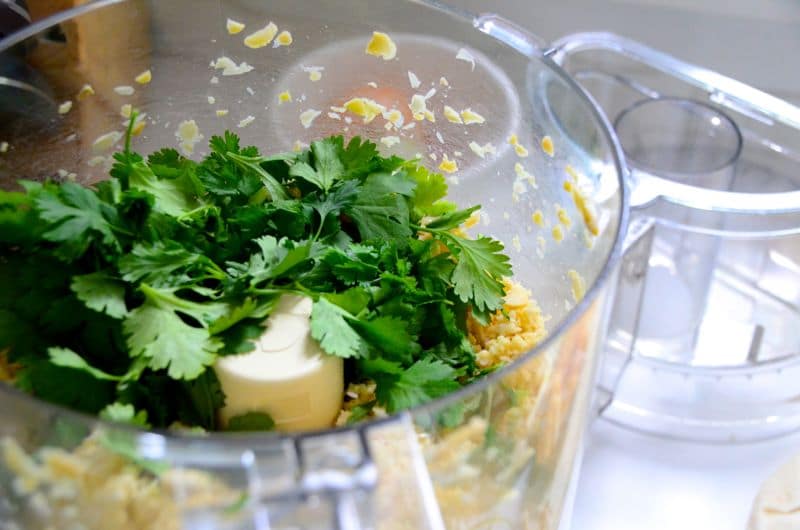 But when it comes to the falafel, they are in complete agreement: Mother never made that. Not ever. And both sisters believe they've never eaten a falafel of anyone's making, even mine, mom says. I see a beautiful photo of it in your book… she trails off. Clearly my neglect knows no bounds.
The homemade falafel is a thing of beauty, and it's so delicious it changes your mind if the only falafel you've eaten is in a restaurant or from a boxed mix. Made from a delicate crumb of soaked (not cooked) chickpeas and peeled fava beans with a glorious shower of fresh mint, cilantro and parsley, spiked with jalapeno/garlic/onion/sesame, then flash fried and paired with an elegant tahini-yogurt sauce…ahhhh, the summer in this is deeply aromatic and flavorful.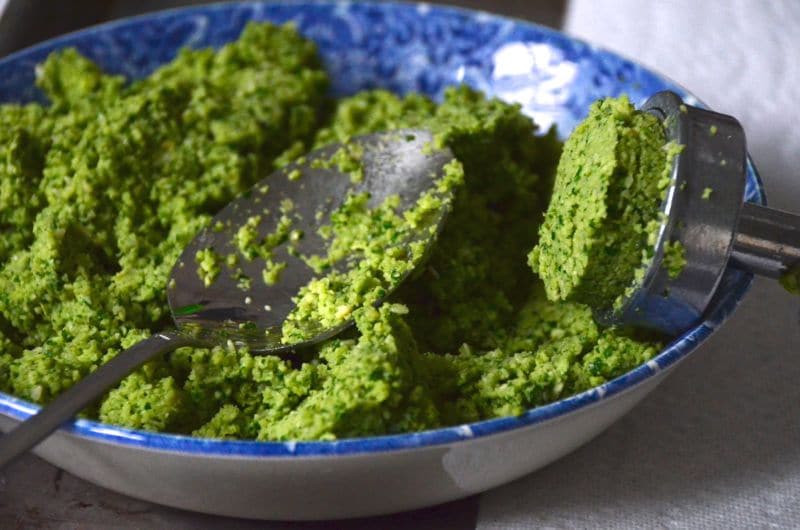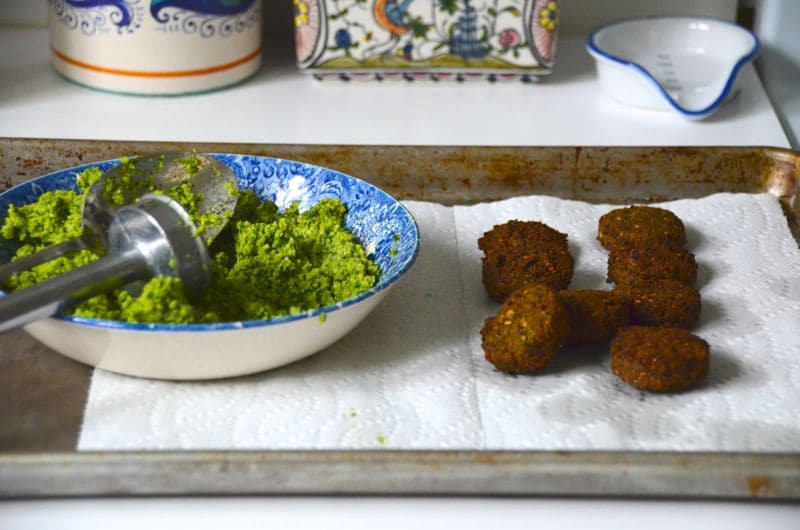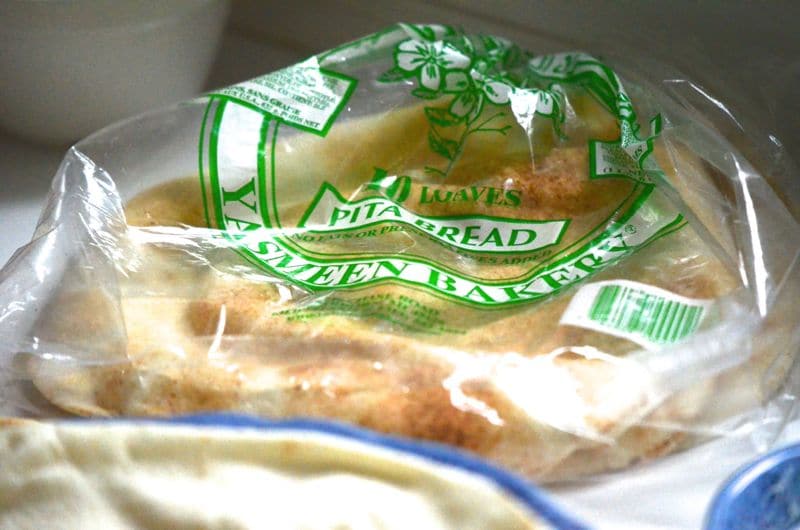 Mom and Aunt Pat wondered then why Maureen Abood Market offers the peeled fava beans (as in: "why in the world…"). The reason is they're just not that easy to find, and like the other legumes on offer at the shop, this makes it much easier for all of you to get a hold of the special ingredients needed to make the very best of your Lebanese dishes.
When the falafel recipe was in testing for the book, my trusty testers (thank you, again and again!) kept telling me the recipe wasn't working out. Turned out their fava beans were not the big white peeled beans, but the dark ones with the skins on. Those are more readily available but they don't work here.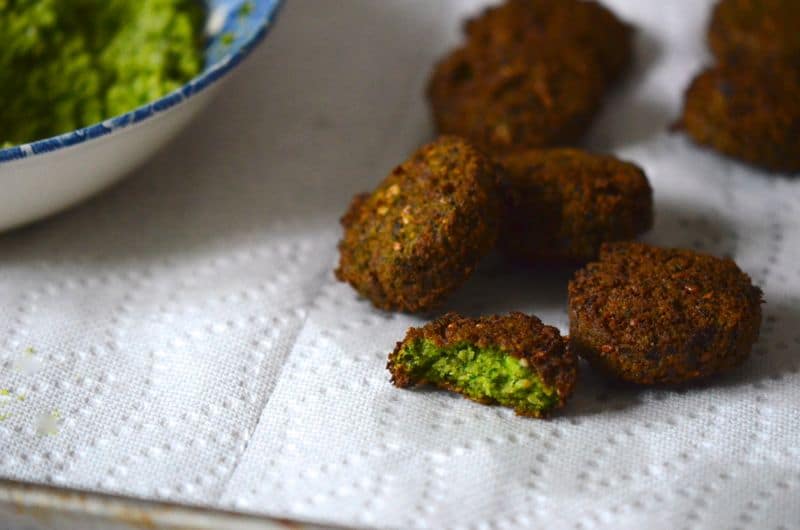 So the peeled fava beans for the shop, for you, in hopes you'll discover how good (not to mention how healthy, despite the frying) homemade, fresh herb falafel is. Just like we did.
Fresh Herb Falafel Pita Wrap
The only way to eat falafel is hot, right out of the frying pan, so make and eat the wraps immediately after frying the falafel. You can use an ice cream scoop or a falafel mold to shape the fritters.
Ingredients
1/2 cup dried peeled fava beans
1/2 cup dried chickpeas (these need not be skinless/peeled)
1 teaspoon kosher salt
20 or so mint leaves
1 large bunch flat leaf parsley, leaves pinched
1 smaller bunch of cilantro, leaves pinched
1 jalapeno pepper, ribs and seeds removed, coarsely chopped, or 1/2 teaspoon cayenne pepper
1 small yellow onion, coarsely chopped
1 garlic clove
1 tablespoon sesame seeds
1 teaspoon baking soda
3 cups neutral oil, such as safflower or canola, for frying
Tahini Yogurt Sauce
1/2 cup yogurt
1/3 cup tahini (stirred before measuring)
1 small garlic clove, minced
pinch of salt
Juice of 1 lemon
4 loaves thin pita bread
1/2 cup lift, pink pickled turnips, cut in strips
Instructions
In a medium bowl, cover the chickpeas and fava beans with cool water by 3 inches. Soak them overnight and up to 24 hours.
Thoroughly drain the chickpeas and fava beans. In the food processor, process them with the salt until they are ground to a coarse crumb. Reserving a few leaves of each herb, add the mint, parsley, cilantro, jalapeno, garlic, onion, and sesame seeds. Pulse until the mixture is finely ground to a moist, bright green crumb. Transfer the mixture to a bowl, stir in the baking soda, and chill for at least 30 minutes and up to 1 day.
Make the tahini sauce by combining the yogurt, tahini, garlic and salt in the processor or whisking by hand. Add the lemon juice, then taste and adjust the seasonings as needed.
Heat the oil to 375 degrees in a 3-quart saucepan until a dropped pinch of herb bubbles dramatically. Using an ice cream scoop or falafel mold, pack the falafel mixture tightly into the scoop and fry a few at a time until they are deep golden brown, flipping them over with tongs as soon as they are browned on one side. Remove the falafel from the oil with tongs to a paper towel-lined plate, and fry the remaining falafel.
Place a thin loaf of pita on each of four plates. Lay several falafel along one side of the bread a few inches from the edge. Top with tahini sauce, fresh herbs, and pink pickled turnips. Roll the pita up tightly, cut in half on the diagonal, and serve immediately with more sauce for dipping.
(Visited 7,463 times, 1 visits today)