What is Za'atar, and How to Cook with it
Nov 05, 2018, Updated Oct 23, 2023
With its growing popularity, many who encounter za'atar for the first time wonder what it is and how to use this popular Middle Eastern Spice. Get all of the details here about this delicious spice and how to cook with it.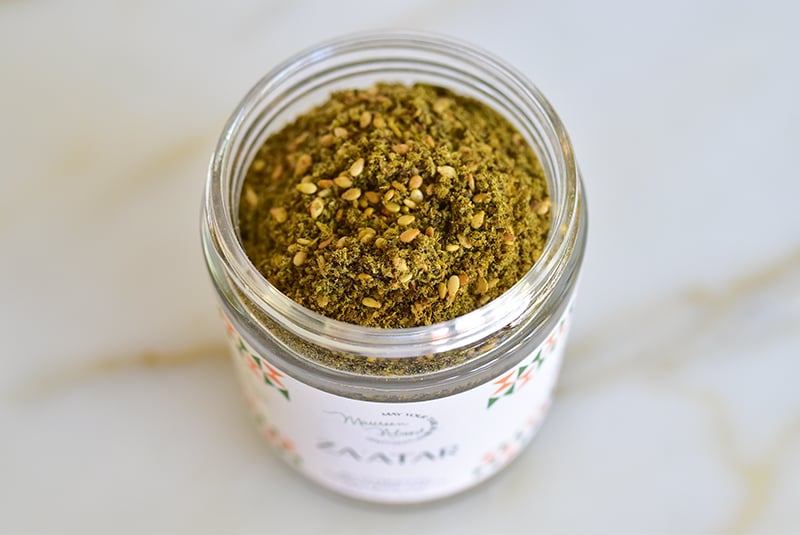 If there is one spice that captures an essential flavor of Lebanese cuisine, it is za'atar spice. This earthy, complex spice blend is among the most defining all Middle Eastern cuisine. I love za'atar so much that I keep a jar handy right on the counter. From here za'atar finds its way into everything from fried eggs and roasted chicken to simple sliced tomatoes.
What is za'atar (zaatar)?
Za'atar (pronounced ZAH-tar) is an ancient Levantine spice blend of herbs, ground sumac, and sesame seeds. The Arabic word "za'atar" means "thyme," which is an essential ingredient, though some za'atar blends include oregano, marjoram, or a combination of these with thyme. This Middle Eastern spice blend, like any spice blend from throughout the Mediterranean, there are regional- and family-specific different version for their own perfect blend.
What does it taste like?
The prominent flavor of za'atar spice blend is the dried wild thyme, which has a rich, herbal taste that compliments the other ingredients in the blend so well. Sumac, a red ground powder of the edible sumac berry, imparts a bright, tangy, tart flavor similar in flavor profile to citrus. Toasted white sesame seeds add another complexity, a nutty flavor. All bold flavors!
The wild thyme, origanum syriacum (or Syrian oregano), in this spice has a different flavor profile entirely than standard garden variety thyme that we typically grow and buy outside of Lebanon and the Middle East. Dried wild thyme is a key ingredient but not generally available. This is why recipes for homemade za'atar will always result in a flavor that is not authentic to the spice if they do not call for wild thyme.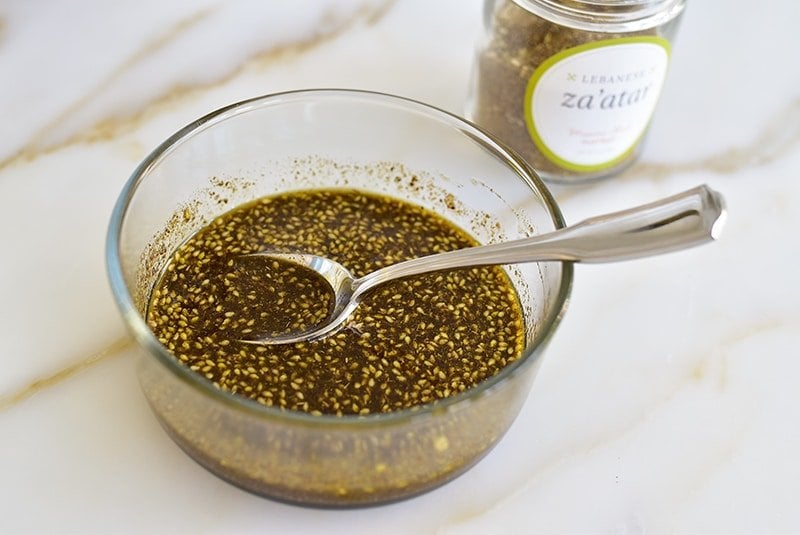 What is Sumac?
Sumac powder is made from the berry of the wild sumac flower. The spice has been ramping up Middle Eastern dishes, it seems, since the beginning of time! It's an ancient spice, with a tangy, bright, lemony flavor—not surprising, given its bright red hue.
How to use Zaatar Spice?
Keep this seasoning blend handy and you will think of it as a finishing flavor for all kinds of dishes, like fried eggs, salad dressings, roasted and fresh vegetables and chicken, dips such as hummus and baba ganoush, bread, potatoes, atop avocado toast and kale chips.
One of the simplest, most delicious and traditional ways to eat the spice is za'atar paste, combining the spice mixture with olive oil as a dipping oil for bread, a simple but incredibly flavorful and healthy appetizer or snack.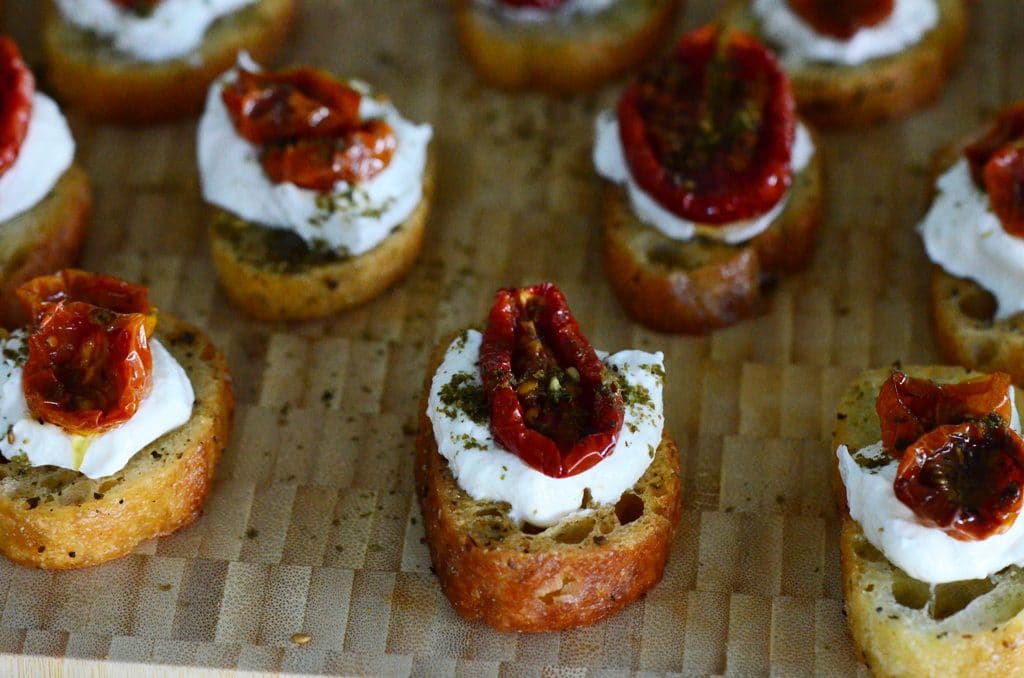 How to make it yourself
Remembering that homemade za'atar will not taste as it should without wild thyme, you can make a za'atar recipe using one part wild thyme (or a combination with oregano and marjoram) to a half part sumac and fourth part sesame seeds. A good rule of thumb: combine 2 tablespoons herb, 1 tablespoon sumac, ½ tablespoon sesame seeds, and 1 teaspoon fine sea salt in a small bowl.
Where to find Za'atar seasoning
It is becoming so well-known that the spice section in many grocery stores now includes the blend. But not all are created equal! I love my own za'atar blend so much that it is one of the spices that helped launch my online shop. Click over to check out my favorite Lebanese Za'atar, a green za'atar from Lebanon.
Best Za'atar Recipes
Here are many of my favorite recipes and ways to cook with za'atar. But once you start cooking with this special spice, you will find many ways to use it frequently.
The most iconic way the Lebanese eat za'atar is atop flatbread, man'oushe. Za'atar bread, like thin pizza dough, rolls into a fantastic wrap with other fillings such as labneh, cheese, and fresh vegetables. Heaven!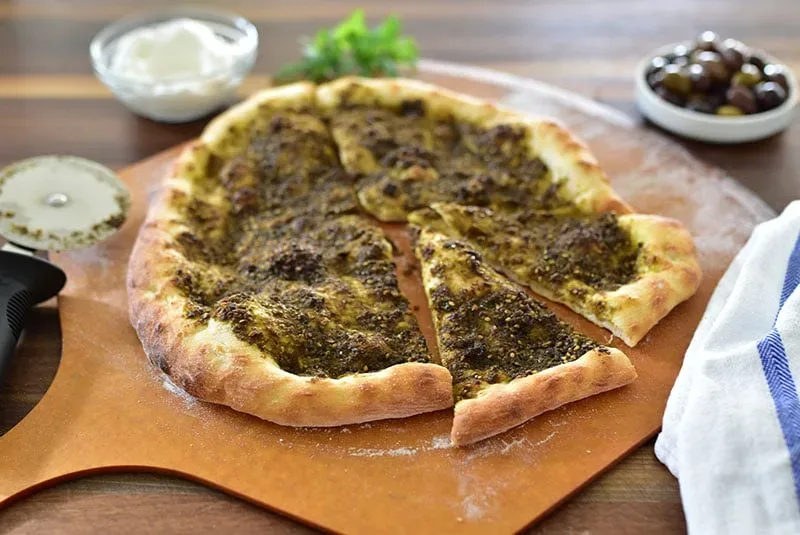 Za'atar Roasted Potatoe Wedges are golden wedges that take the spice beautifully.
White Beans with Za'atar Roasted Tomatoes is a divine Mediterranean dish to capture the spice's flavor, a wonderful way to pair with roasted tomatoes. A little parmesan on top and you are one happy eater!
Lebanese Cabbage Slaw is brightened with a lemon juice dressing and a generous dusting with some additional sumac, too.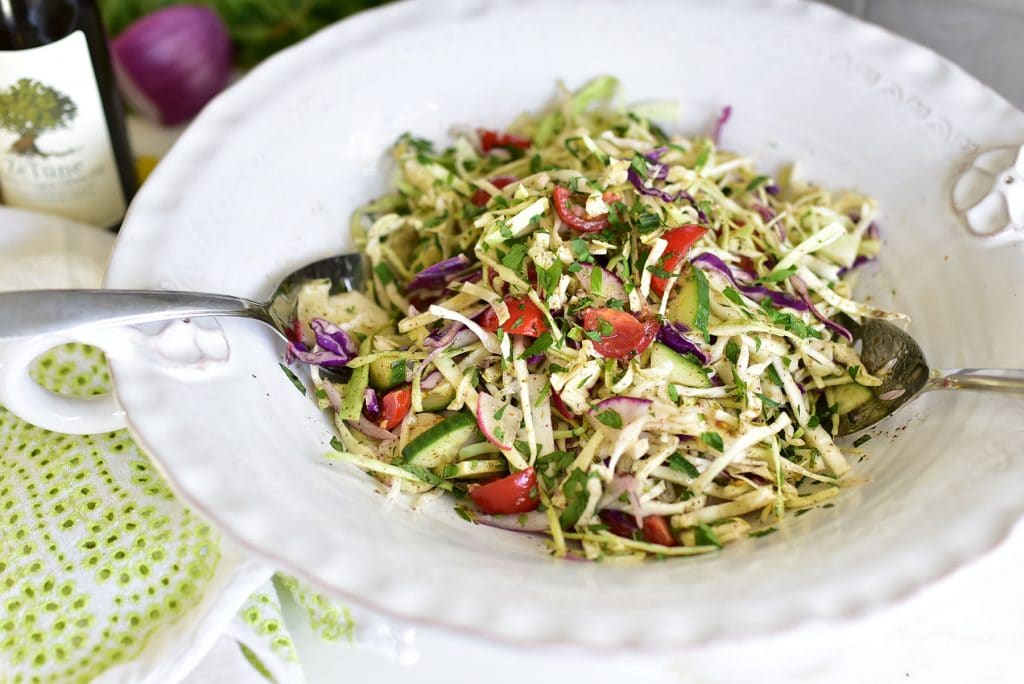 Sprinkle your next batch of homemade hummus, french fries, or a fried egg with a spoonful, and your next batch of popcorn with a drizzle of olive oil…it's so good, there is no going back!
Frequently Asked Questions
What is zaatar made out of?
There are three primary ingredients: dried wild thyme and possibly oregano or marjoram, sumac, and roasted sesame seeds. A little salt too.
What is a substitute for zaatar?
There is no real substitute for the flavor of this unique spice. But alternatives include dried thyme or marjoram.
What does zaatar taste like?
There is an earthiness to the spice that is its hallmark, with a wonderful tang from the sumac and nuttiness from the sesame seeds.
What do we call zaatar in English?
The term za'atar is an Arabic words that means thyme.
What is it used for?
Dust on dips such as labneh or hummus. Mix with olive oil to make a coating to spread on flatbreads or as a dip for breads or vegetables. Coat roasted vegetables or chicken with that same blend.
(Visited 3,453 times, 1 visits today)