Za'atar Kale Chips, and a family story
Jul 25, 2013, Updated May 02, 2023
Za'atar kale chips are baked kale, crisped with olive oil and seasoned with a good dusting of za'atar, the Lebanese spice of wild thyme, sumac, and sesame seeds. Absolutely addictive (and healthy to boot).
A family is really a collection of stories.
That's what Dave O'Leary said when he and Janet were over recently for dinner. Mom was there, and her brother Tom and his wife Anne Marie. They hadn't been gathered in this particular configuration of people, of old friends, in a very long while. In years. As they sat on the front porch in the twilight, their talk recalled a world I know only in stories, a world I piece together bit by bit over my lifetime, like a giant 5,000 piece puzzle that keeps you chipping away at its form with a piece that fits here or there each time you come at it.
That world is populated with grandparents who were just the parents then, with Greenlawn Street in Lansing, with the grocery store and the butcher shop—an era that only a few are around to recall from memory.
With every turn of the conversation that night, I would think I have to go write down that story, I have to remember that one, and would they be offended if I just video tape the whole evening start to finish?
Since Dave can tell a great story about whoever he happens to be with at any given moment, he told the story of the time when he was at Tom and Anne's wedding. My Jiddo, my father's father, was there too. It was a country club affair, and Jiddo wanted a beer. He was told by the server that he could have champagne; they were not serving beer. But Jiddo didn't drink champagne. He drank beer. Aunt Anne was mortified to hear that her club wouldn't bring a beer, as though it happened last weekend and she might go give them a piece of her mind.
Here at this point I must have been serving up the za'atar kale chips and falling all over myself about how incredibly good and how clever they were, because I missed the transition to how Dave ended up going off to find a beer for my grandfather at the wedding reception. It's moments like that when I wish I had never laid eyes on a kitchen, when I wish I would just sit there and stop with the food so I can get after the important stuff, the story and its telling in the twighlight on the front porch in Harbor Springs. I know less of Jiddo—and all for a (yes, super-delicious, but still) kale chip. Food is love? Hogwash.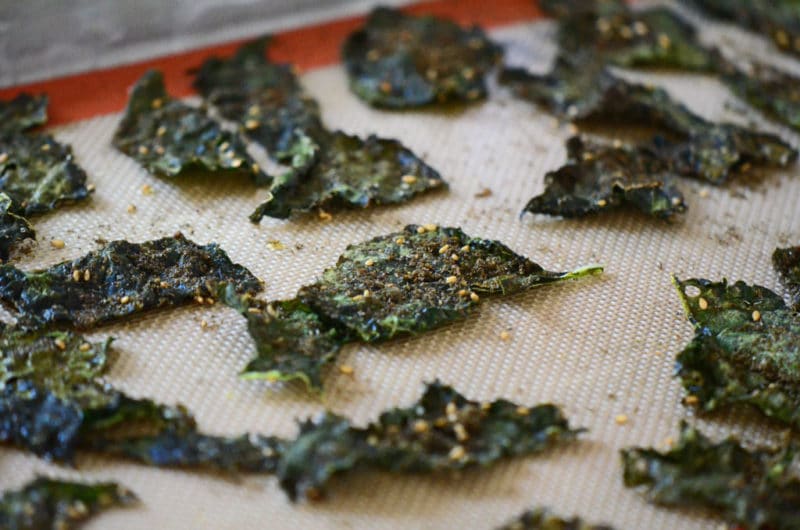 When I resurfaced into the story with za'atar all over my face, Dave was out of the club now and down the street knocking on the door of a home and asking for two beers. If you know Dave you are not surprised that he was given the beers outright, probably even sat and visited for a few minutes with his beer-benefactors and made them laugh so much that they wished they could head back over to the party with him.
Now he's running, not walking, back to the club to present the beers to Jiddo, who started drinking the cold brew immediately and whose stoic face offered nothing more than a slight nod in Dave's direction in response. It was a nod that said you can go now. No questions asked about how the beer was procured when there was none to be had in the club. My Jiddo, Salim, he expected the beer to appear, and it didn't matter how it happened. Luckily he had this Irish 'fifth son' who did what sons did back then: whatever their father said, with pleasure.
OK, maybe food, or at least a beer, is a kind of love after all. It's for certain that a good story is love, and a whole collection of them? That's nothing short of a family.
Za'atar Kale Chips
Crisp kale chips are the perfect conduit for my favorite flavor-maker on the planet, za'atar. Taste your za'atar and if it's salty, no other salt is needed; if not, a sprinkle of salt over the kale will bring up the flavor nicely.
Instructions
Line a heavy duty sheet pan (18"x13") with parchment paper, foil or Silpat. Place a rack in the middle position of the oven, and heat the oven to 300˚F.

Tear the kale into 3- or 4-inch pieces. Some will be smaller, and that's fine. Place the kale in a big bowl, drizzle some olive oil over the top and sprinkle with salt if using. Mix the kale and oil with your hands until the kale is thoroughly coated.

Spread half of the kale out on the sheet pan in a single layer, with the dark green top-side of the kale facing up (veiny side down). Sprinkle liberally with za'atar.

Bake for 20 minutes, rotating the pan halfway through. Taste a chip to see if it has crisped up, baking another minute or two if not. Remove from the oven and repeat with the remaining kale.

Serve with cocktails, sandwiches, or just a good story.
Nutrition information is automatically calculated, so should only be used as an approximation.
Like this recipe? Leave a comment below!
(Visited 2,709 times, 1 visits today)