Za'atar Roasted Potato Wedges Recipe. And always on my mind.
Jan 24, 2014, Updated May 20, 2016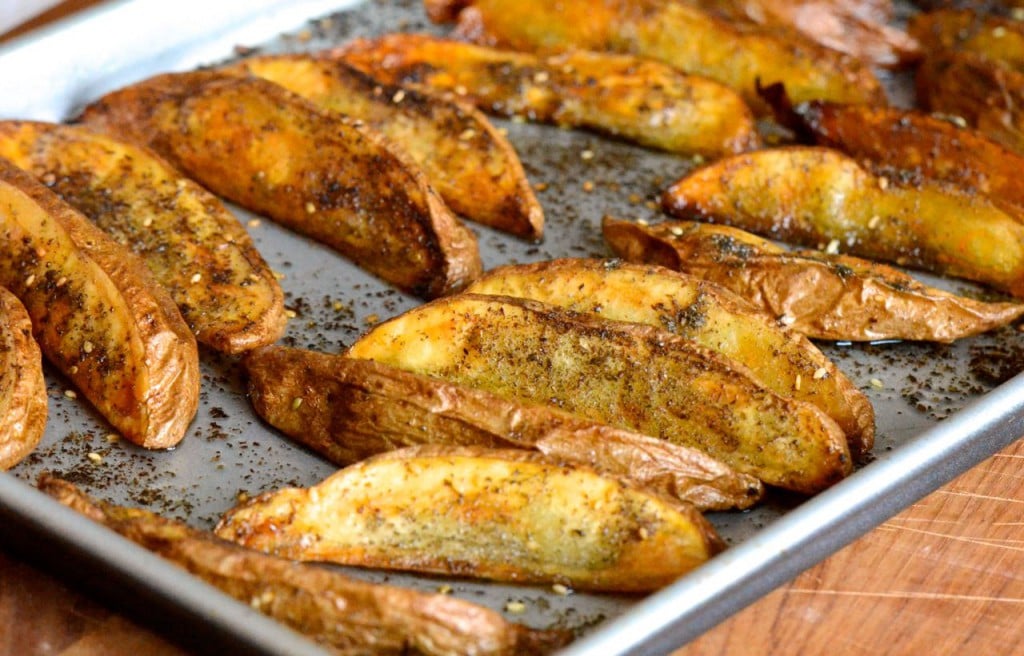 Hi everyone.
Are you still with me? I'm still with you, as much or more than ever, because you are who I think of as I'm working away at Rose Water & Orange Blossoms, the cookbook. Which recipes to include, which innovations to explore, what stories to tell…even though it's a certain solitary path, you're always on my mind as I think these things through, every step of the way.
Writing this book is a little bit like a roller coaster ride. There's all of the prep work, thinking, brainstorming, the coaster ticking its way up an incline. And the grocery shopping, that slow moment just before dropping ten thousand feet, which never seems to go swiftly even if I give myself a make-it-snappy pep-talk on the way in.
I'm a notorious picker of the slowest check-out lane. I find myself going through a whole new and improved training program for the slowpoke checkers in my head, while I balk at whoever the managers of these tortoises must be. Until I get up there and see, as I did the other day, that this checker is slower not due to lack of training, but a problem with her hands that appears to be something she has dealt with all her life, and still found her way to a job using her hands as a cashier. She welcomed me up with a confident apology and a smile. It's moments like that when one is so grateful that the mind is a private place.
So there are recipe-testing days, and there are writing days. On testing days, there is an abundance of food at all hours of the day and a kitchen where it's generally best, for its mayhem and mess, to be alone, except for all of the food that needs to be eaten. Writing days, also alone, but without the abundance of food. Then there are plates of cut-up vegetables, a good deal of toast, and when I get fancy, vegetables roasted in the oven.
I was reading recently about the spices we should keep around that will make us better cooks, with ease. A shake of one or the other of them can change a meal, especially if that meal is nothing more than the potatoes you happily found in a bag at the back of the pantry leftover from Christmas.
Wouldn't you know that our za'atar, our sumac, are all-stars on that list of best spices? We're not surprised, and it's great to think of someone who has never used za'atar before pulling it out to ramp up the plate (notwithstanding the $8 small jars of za'atar now sold at Williams-Sonoma).
I like finding new and delicious places to sprinkle my za'atar too, like recently when I cut my potato-find into wedges, doused them generously with oil, spooned heaping scoops of za'atar over them and baked them at high heat until they got crunchy on the outside and soft inside.
These are very, very good, that's what went through my mind as I ate the za'atar potatoes. I found myself asking you if you didn't think so too?
When I realized you weren't actually there to answer, I thought I'd better come on out here so we can have at them, together.
Za'atar Roasted Potato Wedges
For great za'atar flavor, use a whole lot of it when seasoning the potatoes. If you're za'atar has salt in it, you won't need but a pinch of salt.
4 tablespoons neutral oil, such as canola
2 large Russet potatoes
3 tablespoons za'atar
Pinch of fine sea salt
Pour 2 tablespoons of the oil into a rimmed baking sheet, and heat the oiled pan in the oven as you preheat the oven to 425⁰F.
Meanwhile, slice the potatoes in half lengthwise, then into 4 wedges lengthwise per half, for a total of about 8 wedges for each potato.
In a large bowl, coat the potato wedges with 2 tablespoons of oil. Dust them with the za'atar, stirring well after the addition of each tablespoon of za'atar, and salt.
Remove the pan with the hot oil from the oven and carefully arrange the wedges with cut-side down on the pan (listen to a great sizzle), along with any remaining za'atar and oil in the bowl drizzled over the potatoes.
Roast the potatoes until they are golden brown, with a crisp exterior and soft interior, 35-45 minutes. Turn the potatoes over and rotate the pan halfway through roasting. Serve the potatoes hot.
(Visited 11,556 times, 1 visits today)