Vegetarian Stuffed Koosa
Aug 09, 2018, Updated Jan 04, 2023
Vegetarian stuffed koosa is based on the classic Lebanese dish of hollowed-out, stuffed summer squash poached in tomato (or yogurt). Koosa squash is a lighter green version of zucchini; dark green or yellow zucchini work beautifully for this dish if you don't have Lebanese koosa. In any case, always select smaller squash, about 6 or so inches long. See my video on how to make koosa here. See the recipe for the meat-rice filling here. See more on how to core koosa here.
I've never been much of a fan of trying to disguise one food to taste like another.
I mean, if you're eating frog legs, you're eating frog legs. Not chicken.
Same goes for the vegetarian and vegan attempts to feign meat. I do understand it, in that when I ate vegetarian for a time, I craved meat and so meat-like foods were of interest. But as a meat-eater, the meat-like seems so . . . not meat-like.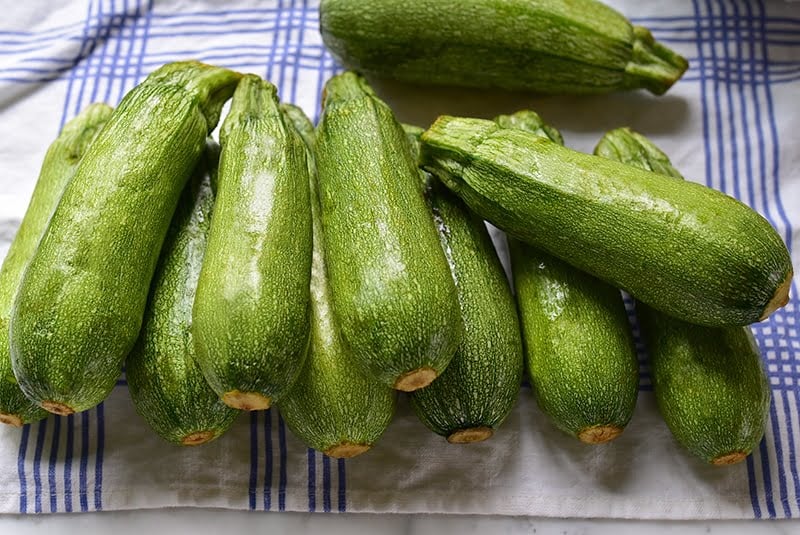 Therefore, I come from a place of not trying to make my vegetarian stuffed koosa into a wanna-be traditional meat/rice-stuffed koosa.
And yet, you wouldn't miss the meat. Because this version tastes so very similar to the meat version!
Does the vegetarian filling look like meat? No. So that's promising, in the way of not trying to be meat-like.
But you get all of these savory, deeply flavorful filling ingredients together, using both green and sweet onion, tomato, parsley, mint, rice, salt, pepper, cinnamon . . . then stuff the hollowed out koosa squash . . . then poach in tomato sauce seasoned with garlic cloves and onion and salt and pepper . . .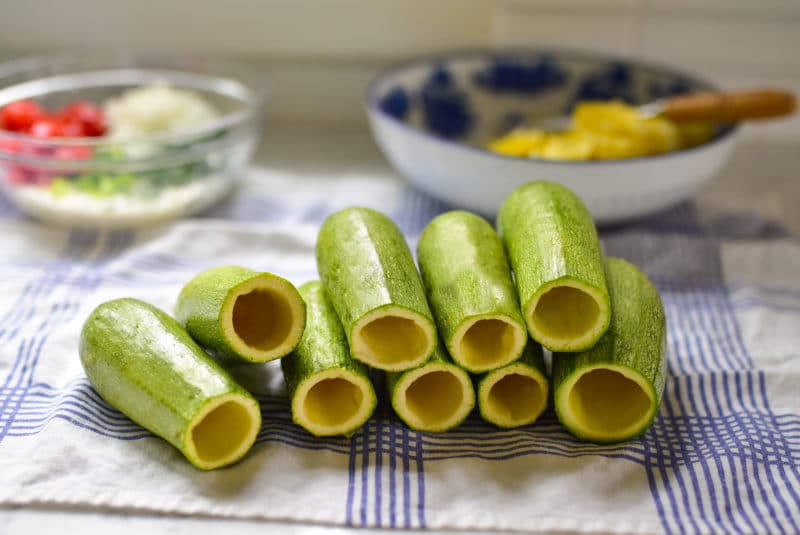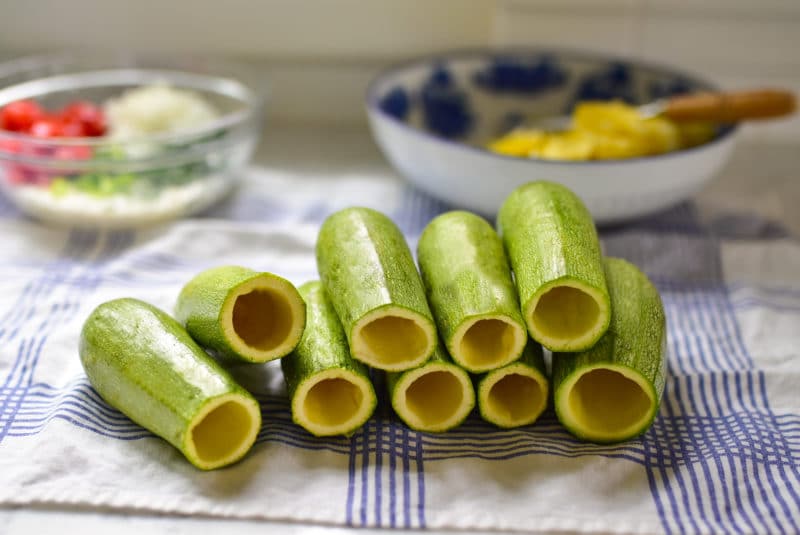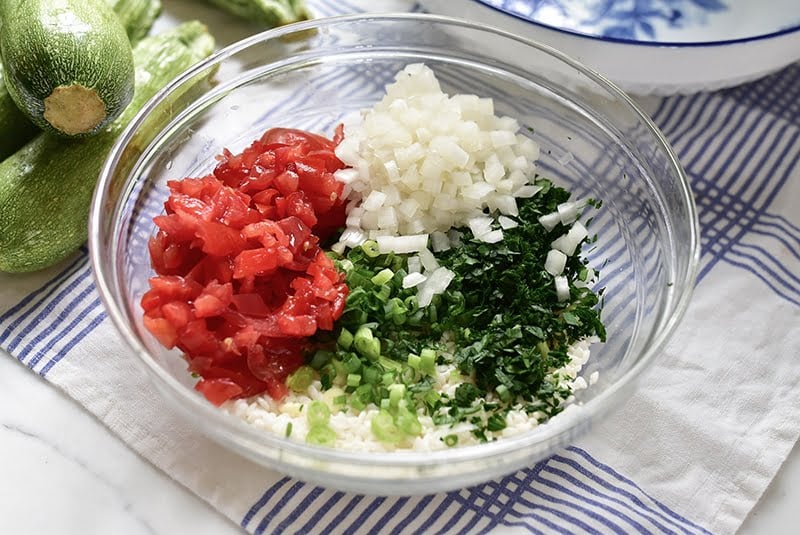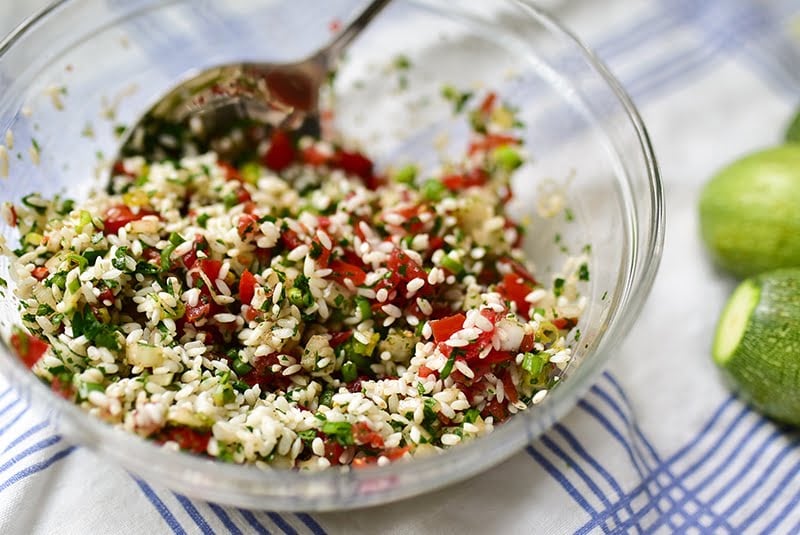 Shazam! We're eating stuffed koosa and we changed the filling and it still tastes so VERY MUCH LIKE, you guessed it: our traditional meat-and-rice-stuffed koosa! And by that I mean that the flavor is mouthwateringly delectable. There is good reason why koosa is the darling of the Lebanese table in summer, and why everyone goes a little kooky when they hear koosa is a-coming. The long-simmered garlicky tomato broth gets richer by the minute, and the koosa itself becomes infused, and meltingly soft.
You may find it to be true, just as we do around here, that gathered around the table at any given time is an array of eaters. We have our vegetarians, our vegans, our gluten-free folk, and our boring/not borning I'll-eat-anything-you-put-in-front-of-me eaters. Oh, and the I'm-not-hungry eaters (they tend to be itty bitty peoples).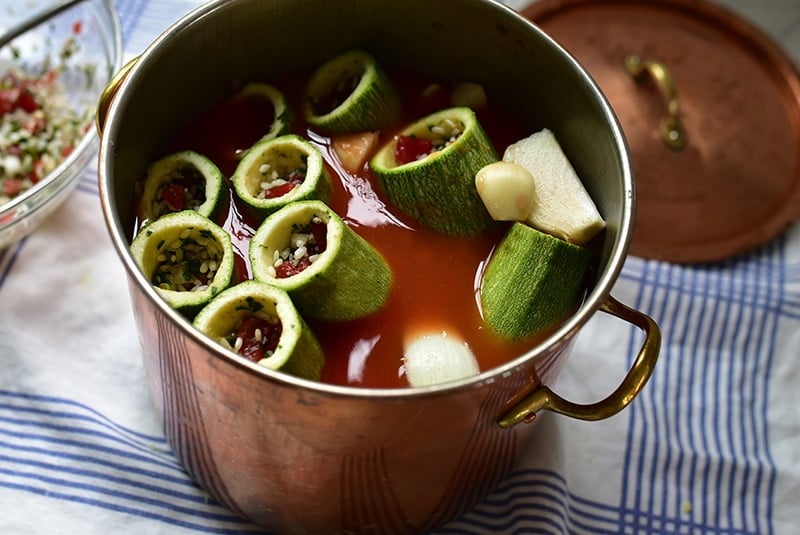 But make a meal that centers on koosa with vegetarian filling, that plate full of goodness, and the meat-eaters, vegetarians, vegans, gluten-free folk, the not-hungry, all of them: we're eating well with this koosa, very well my friends. To the meat-eaters, they won't miss that there's no meat for them on the plate. To the rest of the crew, they will thank you that they get to eat koosa without a thought to whether it's right for them.
Peg looked sideways at me the first time I told her we were having vegetarian koosa. What's it taste like? she asked before agreeing to eat it. I told her she could be the judge of that. She took just one on her plate, and it was a single bite that sealed the deal.
Oh! She said. It tastes like koosa!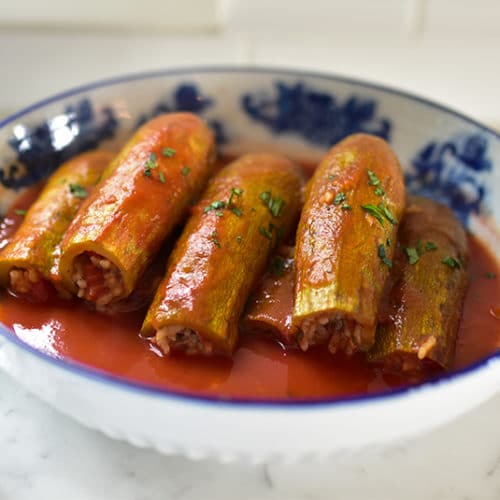 Vegetarian Stuffed Koosa
Learn more about how to make this dish in my video, here! Lebanese koosa is a light green version of zucchini, or summer squash. Hollow the koosa out using a koosa corer (or, if you don't have the Lebanese tool, a zucchini corer will work). The recipe is very easily halved or doubled. This recipe is vegetarian, vegan (leave off the labneh), gluten-free, and tastes just as wonderful as a meat-lover's koosa!
Ingredients
For the koosa:
12

Lebanese koosa, about 5-8 inches in length

3/4

cup

medium grain rice (substitute long grain)

1

large

tomato, seeded and finely chopped

2

scallions, finely sliced

1

medium

vidalia or other sweet onion, finely diced

1/4

cup

flat leaf parsley leaves, finely chopped

1/4

cup

fresh mint leaves, finely chopped

1/4

teaspoon

cinnamon

Several grinds

Black pepper

1

teaspon

kosher salt
For the tomato broth:
6

cloves

garlic, peeled and trimmed

1

large

yellow onion, quartered

1

48 oz.

container tomato juice

1

teaspoon

kosher salt

Several grinds

black pepper

1

tablespoon

tomato paste (optional)
Labneh

for serving (optional)
Instructions
First, trim the koosa. Cut the stem end of the koosa low enough to remove any bend in the koosa and to create a flat top. Slice the very tip of the round end off as well.

Hollow out the koosa using a Lebanese koosa corer or zucchini corer, leaving about 1/4-inch perimeter inside the koosa (it's quite hollow; be careful not to make the interior too thick). Don't worry if you poke through a koosa, it can still be used! Discard the cores or save for another use (the Lebanese like to drain the cores and cook them with eggs, ijjeh).

In a medium bowl, rinse the rice and pour off the water. Stir in the tomato, scallions, onion, parsley, and mint. Season with cinnamon, salt, and pepper and stir well.

Fill the koosa with the rice mixture, spooning it into the hollowed squash and gently pushing the filling into the cavity. Be sure to leave at least 1/4-inch headroom with no filling at the top of the koosa, otherwise once the rice cooks and expands it will fall out of the koosa.

Place the stuffed koosa in a large pot, leaning the koosa against one another on an angle. Tuck in the garlic cloves and onion slices. Pour the tomato juice over all, then fill the container with some water and pour that over almost to cover the koosa. Season the broth with salt and pepper.

Cover the pot and bring to a boil over medium high heat. Reduce to medium low and simmer for about one hour, or until the koosa is tender.

Transfer the koosa to a serving dish and reduce the sauce a bit to thicken it. You can add tomato paste as well (loosen it with the sauce before adding to the pot). Increase the heat to bring the sauce to a boil, and boil for about 10 minutes, or until the sauce thickens and gains some body. Take care not to scorch the bottom of the pan or to over-reduce the tomato sauce here. Unlike pasta sauce, In the end this sauce is still quite liquid, which is what we want.

Ladle the tomato sauce over the koosa. To serve the koosa, cut the top side open lengthwise and spoon the sauce over. A dollop of labneh is delicious served on top!
Nutrition information is automatically calculated, so should only be used as an approximation.
Like this recipe? Leave a comment below!
(Visited 20,312 times, 1 visits today)