Lebanese Stuffed Kousa Squash
Jul 27, 2011, Updated Jul 26, 2023
Lebanese Stuffed Kousa Squash (koosa) is a traditional dish of summer squash stuffed with a meat and rice mixture, cooked in tomato broth. Find my "kousa story" here; many comments in the section below this recipe post are about this original favorite story!
Ohhh the heaven that is our beloved Lebanese stuffed squash. This is the dish we take ultimate comfort in for the tender summer squash filled with a seasoned meat and rice mixture, simmered in a deeply savory tomato broth. One of my favorite stories that I originally published about kousa (I'm a kousa, are you?!) is here.
Watch my video tutorial for how to make kousa (koosa)!
What is kousa?
Kousa is the Arabic word for squash or zucchini, often also referred to as Mexican squash, and gray squash. Their short and somewhat wide shape makes them perfect for stuffing with a ground beef and rice mixture, then boiled in tomato sauce or tomato broth, and thus, kousa mahshi!
You will see "kousa" spelled a variety of ways: kousa, koosa, coosa, cousa, kusa, and no doubt other spellings beyond these! I have used them all…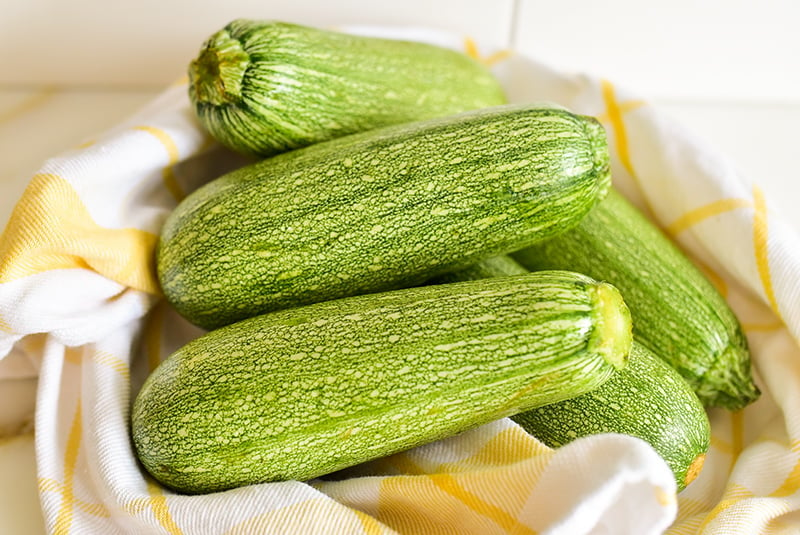 Why you'll love stuffed kousa
This Lebanese kousa recipe is a traditional dish of light green summer squash, stuffed with a meat and rice mixture, cooked in a deeply savory tomato broth. Kousa mishi is a true hallmark recipe of most every Lebanese family.
Ingredients for stuffed kousa
Koosa. Small lebanese zucchini, or yellow squash, washed, trimmed, and cored.
Ground beef. Use any type of lean ground meat, I like ground chuck or lamb!
Rice. Medium grain for the rice stuffing. Long grain rice or short grain rice both work – any white rice – if that's what you have on hand!
Salt and pepper. Kosher salt and black pepper to taste!
Cinnamon. Ground cinnamon is a crucial flavor in Lebanese cuisine, it's a great way to add depth of flavor.
Tomato puree. Tomato puree, tomato sauce, tomato juice, add tomato paste, etc. Any variation of creating a delicious, rich tomato broth for the kousa!
Garlic. 6-8 cloves of garlic will do the job for flavoring the broth, simply tucked in among the squash.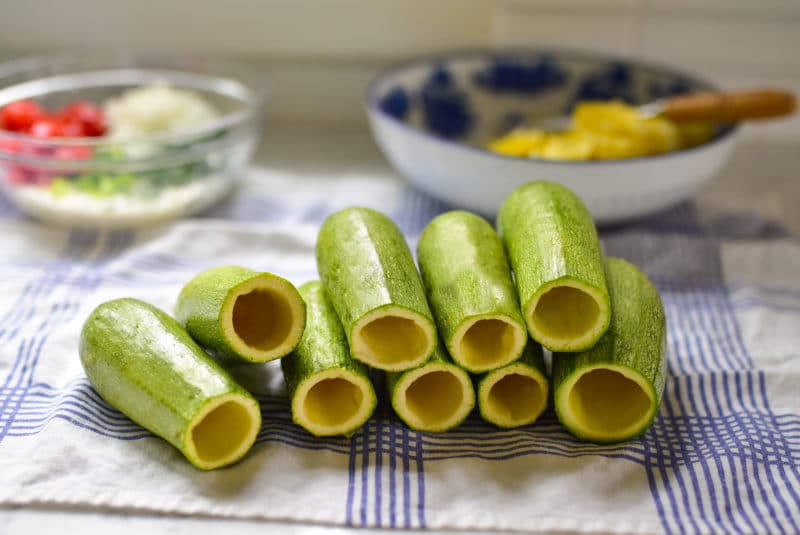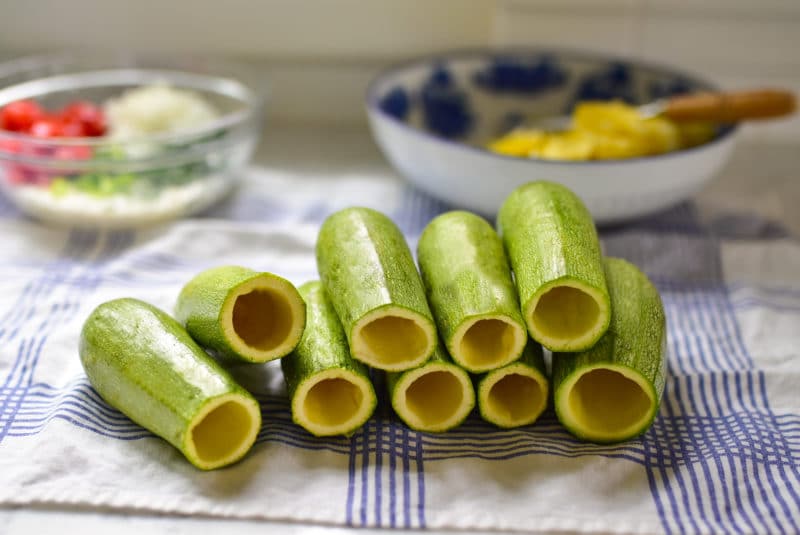 How to make authentic Lebanese stuffed kousa
Step 1: Core the squash. First, cut off the stalk end and dried tips, taking care not to cut off too much of the zucchini flesh. I've found that the best way to hollow the kousa is to use a special tool: zucchini corer, apple corer, or paring knife are different kinds of tools that would work perfectly for accomplishing cored zucchini.
Watch up close how to core koosa here:
Step 2: Make the filling. In a large mixing bowl, combine the meat, rice, salt, pepper, and cinnamon.
Step 3: Fill the squash. Make sure you fill the lebanese squash loosely. Since it's uncooked rice in the meat mixture, it needs room to expand. Cousa squash should only be filled ¾ of the way full, not packed in. If using small zucchini, use even less filling.
Step 4: Cook the stuffed kousa in tomato broth. Put tomato sauce or tomato puree in a deep pot, season with salt and pepper, dispersing the garlic cloves throughout. Make sure the stuffed end is up, but that the stuffed kousa is tilted so that you don't need as much liquid to cover them. Cover the pot and bring to a boil over medium heat. Then, reduce to low heat and simmer for about an hour.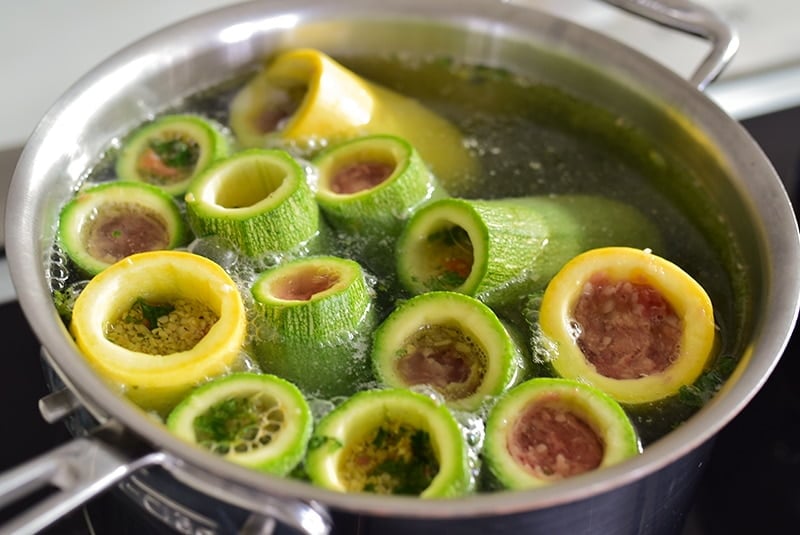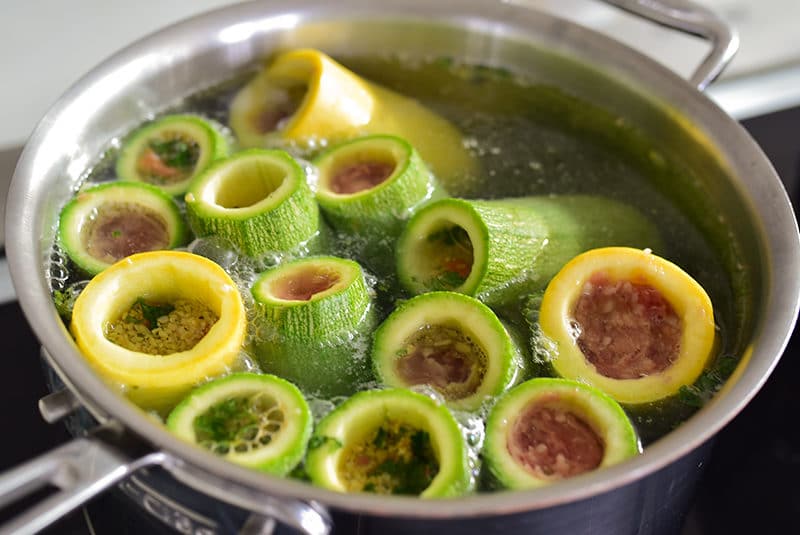 How to serve Stuffed Kousa
In a bowl to contain the juices, cut open the length of the kousa and ladle the broth over top. Add a spoonful of labneh (yogurt sauce), drizzle of olive oil, and/or chopped herbs (parsley or mint). If you don't have fresh herbs on hand, a squeeze of lemon juice will give this delicious meal some zest.
Serve with pita or flatbread, or side-by-side with some of my favorite middle eastern dishes; Lebanese Fattoush salad, Lebanese Tabbouleh Salad, or Lebanese Salad (salata)!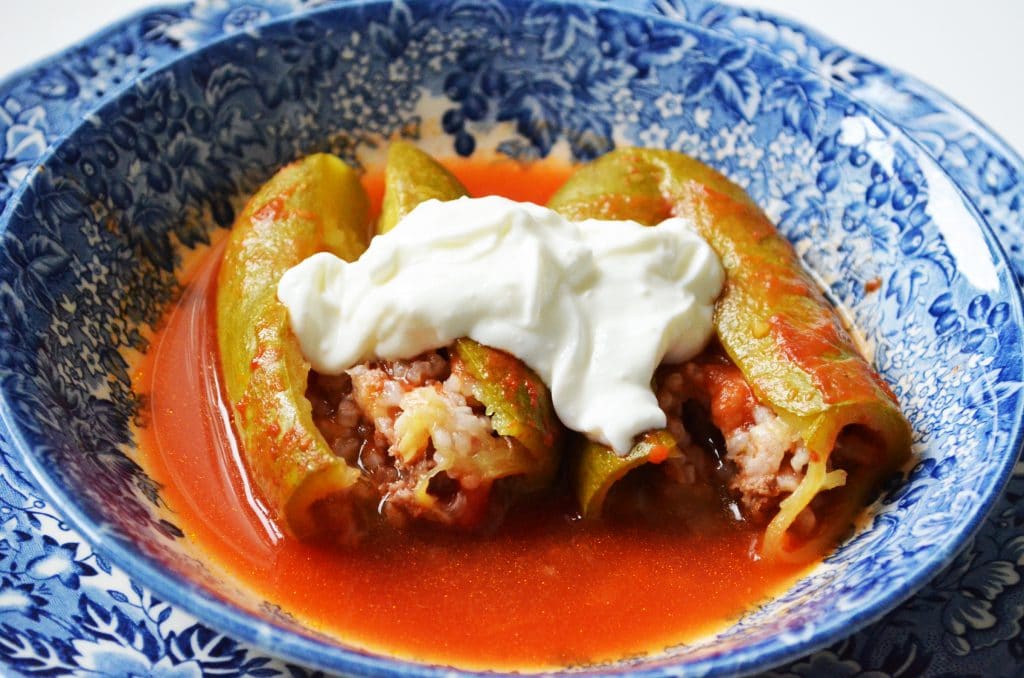 Tips and Variations
Be sure not to overstuff the kousa or pack them too tightly.
Take care not to puncture the kousa when coring, using a paring knife after the initial coring will help with this.
Put a plate on top to hold the kousa in place while cooking, exactly like when making grape leaves!
Can use zucchini yellow or green or combination of the two.
For a crunch element, half a cup pine nuts can be sprinkled over top of the final product.
You can make a vegetarian filling instead of this meat version; see my recipe for Vegetarian Stuffed Kousa. Try minced bell peppers in the mix!
If you're looking for an alternative to the tomato broth, cooking in yogurt broth or chicken stock. This is called kousa in yogurt sauce, or kousa bil laban.
Use the zucchini cores for other zucchini recipes like zucchini bread, as a koosa core saute, or with eggs to make zucchini fritters (ijjeh).
Add fresh herbs, I like fresh parsley for its bright flavor.
Frequently Asked Questions
Where can I find kousa?
You can find this kind of squash at your local grocery store or farmer's market!
Can you freeze kousa?
Some people core and then freeze the kousa before stuffing and cooking them. They do get soft when frozen so it is better to make them from fresh, room temperature squash.
What is the best tool to core kousa?
A special kousa corer is best because it's narrow enough to get into small squash. Apple corer also works and so does zucchini corer, just select bigger kousa for these.
Is kousa the same thing as zucchini?
Yes and no! Kousa is the Arabic word for squash, of which there are many variations. Mexican zucchini, white squash, grey squash, are all an alternative type of zucchini appropriate for this popular Middle Eastern dish. Typically kousa refers to small light green squash.

Can you make the stuffing vegetarian?
Absolutely. Check out my Vegetarian Stuffed Koosa recipe. This filling uses bulgur and lots of fresh herbs, tomatoes, and spices. Chickpeas are also delicious in vegetarian koosa.
Can you make stuffed kousa ahead of time?
Yes, it's even better the longer it sits, and can be stored in an airtight container, or the pot it is made in for easy reheating, in the refrigerator for a couple days.
Are there any other alternatives for this recipe?
Yes! Try using baby eggplants instead of zucchini, or something as simple as white pepper instead of black pepper for a slight variation in flavor, as well as different cooking methods. You can use a pressure cooker or dutch oven over medium-high heat instead of a large pot.
More Recipes for Kousa
Lebanese Kousa Soup with Meatballs
Vegetarian Stuffed Koosa Squash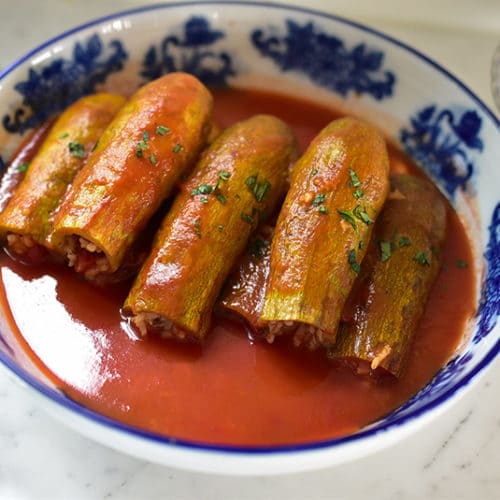 Lebanese Stuffed Kousa Recipe
The meat and rice stuffing mixture for this recipe is a basic Lebanese stuffing that is also used for
cabbage rolls
and
Lebanese stuffed grape leaves
. I like to use ground beef for this dish, but you can also use ground lamb. If you have the patience to let the kousa (koosa) rest, after it's been cooked, for a day in the refrigerator before eating it, you'll find the flavors develop wonderfully. Serve the kousa topped with labneh (thickened yogurt) and thin pita bread or Lebanese flatbread.
Ingredients
12-18

kousa, small zucchini, and/or yellow squash, washed, trimmed and cored

1/2

pound

ground chuck or lamb

1/2

cup

medium-grain rice, rinsed

1/2

teaspoon

kosher salt

Few grinds

black pepper

1/2

teaspoon

ground cinnamon

1

28 oz.

can tomato puree, sauce, or juice

6-8

cloves

garlic, trimmed, peeled and halved
Instructions
Use your hands to combine the meat, rice, salt, pepper and cinnamon.

Loosely fill each squash with the stuffing. Loosely is the key word here, because the rice does not liketo be crowded. It needs room to expand, so fill only about ¾ of the kousa with stuffing, and don't pack it in. You may have leftover stuffing that you can form into meatballs to be cooked with the kousa.

In a bowl, season the tomato puree or sauce with ½ teaspoon salt and pepper. Place the kousa (stuffed end up but tilted so that you don't need as much liquid to cover them) in a tall pot with the garlic cloves interspersed and the meatballs on top.

Pour the tomato puree over all. Pour water over that until the kousa and meatballs are just covered (some can stick out a bit above the liquid). Cover the pot and bring the liquid to a boil over medium heat. Reduce the heat and simmer until the squash is tender and the meat is cooked through, about an hour. It's fine to continue to cook at a low temperature for up to 2 hours.

Remove the kousa to a serving bowl and taste the sauce. Adjust seasonings, adding salt and pepper as needed. Serve the kousa in individual bowls or on plates with the sauce spooned over it. You can also make a cut down one side of the kousa with the side of a spoon and ladle the sauce over that, to whet the whistle of the stuffing.
Nutrition information is automatically calculated, so should only be used as an approximation.
Like this recipe? Leave a comment below!
(Visited 24,889 times, 3 visits today)