Lebanese Koosa Soup with Meatballs
Jan 11, 2023, Updated Sep 17, 2023
Lebanese Koosa Soup with Meatballs is an easier, faster way to all of the flavors we love in a beautiful, warming bowl of soup. Koosa (kousa, cousa) is a light green squash typically stuffed and cooked in tomato broth. Let's enjoy the mouthwatering flavor of stuffed koosa but simplified!
I make it known around my kitchen that chopping is not my favorite task. Ask me to knead the dough or whisk the meringue, and I'm running straight to it. Dice a huge onion? Sure, I know just how to do it well from my mom-training and culinary school (sharp knife is key). But it's not going to get me excited and if you're standing by looking for something to do, I'll be asking.
Enter stuffed koosa, koosa mehsheh. I'm not saying it's so bad as my onion-dice that I want to avoid coring the koosa and stuffing it with meat and rice. No I'm not saying that. No. BUT: I think rather often about how to enjoy my koosa flavors without the coring and stuffing. One of you let me know over the years that he makes a koosa mash-up by simply cooking all of the ingredients in tomato broth, to get there faster and easier. I love that idea!
Here's my easy way to stuffed koosa flavors: as a soup. No coring necessary. Beautiful, deeply savory Lebanese Koosa Soup with Meatballs! And rice!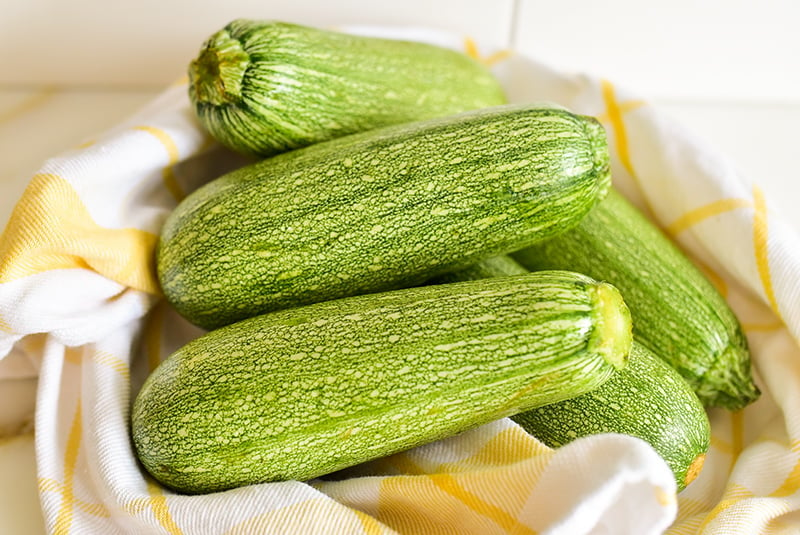 Ingredients for Lebanese Koosa Soup with Meatballs.
The key ingredients for Koosa Soup are the same key ingredients in stuffed koosa mehsheh. Plus a few others to give us all of the flavors and textures we need in the soup form of this incredibly delicious dish.
Here's what you need:
Koosa squash. This is a pale green, small squash a little less long and lean than green or yellow zucchini. Many grocery stores carry koosa, but it's more often called tetame or gray squash. I've also seen koosa sold as "Korean squash." If koosa isn't readily available, substitute green or yellow zucchini.
Yellow onion and celery. These are soup basics, diced and aromatic. I love what celery does for the flavors in this soup even though it is not typically included in stuffed koosa recipes.
Tomato juice. Plain tomato juice is used as the broth for the soup. It's looser than tomato sauce, and we loosen it even further with some water.
Long grain rice. Rice is a basic in our Lebanese stuffed vegetable recipes and works so well in soup! My mother's favorite was Uncle Ben's (now Ben's). Mahatma or any long grain rice work well here too. See below to substitute brown rice.
Ground lamb or beef, for meatballs.
Fine bulgur, also for the meatballs. I use bulgur here in place of bread crumbs. It's a favorite in Middle Eastern cooking, but also: it's healthier! Bulgur is a higher protein grain.
Flavor Makers.
Spices. Use cinnamon as in many stuffed koosa recipes, or try 7 Spice or Baharat here. Dried mint is incredibly flavorful in the meatballs, along with fresh garlic.
Herbs. Chopped mint gives fresh flavor and color to the finished soup.
Labneh. Dollop, on top of each bowl of soup, just as we do with stuffed koosa. Cool richness here.
Lemon Juice. Squeeze half of a lemon in the soup just before serving. Brightness galore.
How to make Lebanese Koosa Soup with Meatballs.
One of the main reasons to make Koosa Soup rather than Stuffed Koosa is how easily and quickly it comes together! Like so:
Saute the aromatics—the onion and celery—in a touch of olive oil. Season with a pinch of salt and few grinds of black pepper. Add the squash and minced garlic with another dash of salt. Saute, cover, and cook until softened.
**Adding a little salt with each addition of ingredients gives those ingredients even more flavor!
Make little meatballs! These are a fun, pretty, and much more flavorful way to include ground beef or lamb than simply ground. The meat is mixed with fine bulgur and spices. The meatballs are very small, about 1-inch. Think Italian Wedding Soup!
Add the long grain rice and cinnamon. Stir to coat it.
Add the tomato juice and water to the soup pot. Cook until the rice is soft.
Add the meatballs and continue cooking until they are are cooked through.
Add more water to loosen the soup if the broth is too thick.
Taste and adjust the seasonings as needed.
Finish with lemon juice, and serve in warmed bowls with a dollop of labneh and chopped fresh mint.

Easy Substitutions for Lebanese Koosa Soup with Meatballs.
If koosa isn't readily available, substitute green or yellow zucchini.

If you're interested in brown rice rather than white, use cooked brown rice. Brown rice takes longer to cook, and absorbs more liquid, which is why it's best to use pre-cooked brown rice.

To make Lebanese Koosa Soup vegan, leave out the meatballs and labneh. Add a can of drained, rinsed chickpeas to the pot after adding the tomato juice. Chickpeas are a nutrient and fiber-rich addition even with the meatballs in the soup.
More Lebanese Soup Recipes to try:
Garlicky Lentil Soup with Swiss Chard
Lebanese Vegetable Soup with Chickpeas and Kale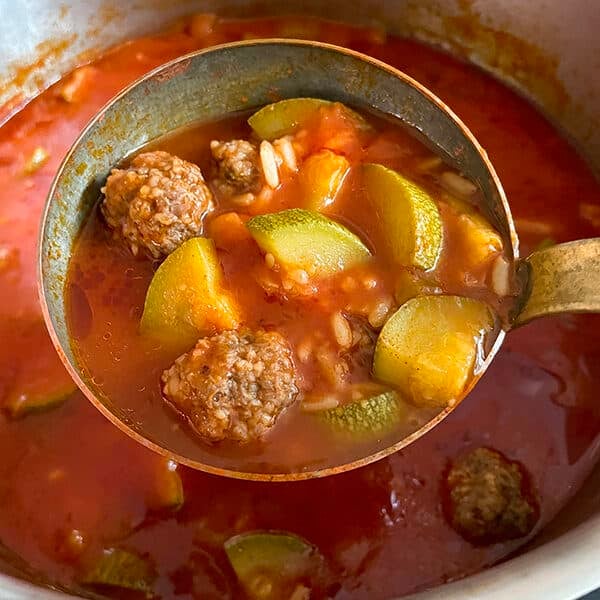 Lebanese Koosa Soup with Meatballs
We love our stuffed koosa squash cooked in tomato broth–consider this Koosa Soup with Meatballs an easier, faster way to all of those flavors we love in a beautiful, warming bowl of soup. If reheating the soup from the refrigerator, add water to loosen the broth, and more salt if needed.
Ingredients
For the Soup:
2

tablespoons

extra virgin olive oil

1

small

yellow onion, finely diced

2

stalks

celery, finely diced

2

teaspoons

kosher salt

3

medium

Lebanese koosa, or green or yellow zucchini

1

clove

garlic, minced

1

teaspoon

cinnamon

1

cup

long grain white rice

48

oz.

tomato juice

2-4

cups

water

Juice of 1/2 lemon

1

cup

labneh, for serving

10

leaves

fresh spearmint, finely chopped, for serving
Instructions
In a large, heavy soup pot, heat the olive oil over medium heat. Add the onion, celery, and 1/2 teaspoon of the salt. Stir to combine, then saute until soft, about 5 minutes.

Cut the koosa into small wedges. Trim the squash by cutting off the ends. Cut the squash lengthwise into quarters, then cut into 1/2-inch wedges. Add the koosa, garlic, cinnamon, and rice to the pot, season with 1/2 teaspoon salt, stir, and cook just until the koosa is softened, another 5 minutes.

Add the tomato juice and 2 cups of water, along with 1/2 teaspoon salt, increase the heat and bring the soup to a boil. Reduce the heat to low and simmer until the rice is cooked through, about 20 minutes.

Meanwhile, make the little meatballs. In a medium bowl, combine the beef or lamb, bulgur, garlic, cinnamon, salt, and mint. Shape the meat into small, 1-inch meatballs (makes about 50 meatballs).

Add the meatballs to the pot, increase the heat and bring to a boil. Reduce the heat to medium and cook until the meatballs are cooked through, about 15 minutes.

Add the remaining teaspoon of salt and lemon juice. Taste and adjust seasoning, if needed. Serve in warmed soup bowls, with a dusting of the chopped mint and a dollop of labneh on top of each.
Nutrition information is automatically calculated, so should only be used as an approximation.
Like this recipe? Leave a comment below!
(Visited 4,765 times, 1 visits today)