Lebanese Village Salad
Jan 20, 2022, Updated May 06, 2023
Lebanese Village Salad is a chopped vegetable salad. The ingredients are so flexible! Mine contains a special twist with chopped apple and a honey vinaigrette.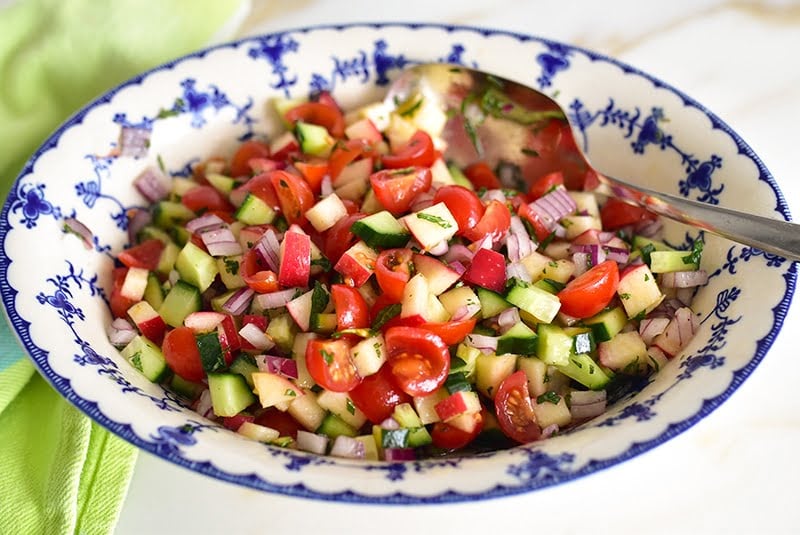 At the top of the traditional Lebanese salad list is the Village Salad. This chopped salad typically includes cucumber, tomato, and onion. From there, the palette is as varied as your crisper drawer. Peppers, carrots, celery, you go!
Just as my incredibly talented god-daughter did. The girl can COOK! She stands on the shoulders of her salad-guru grandmother, and now both of my adorable nieces are the known salata-makers of the family. Plus, they keep me on my toes, cheering their aunt on with her social media and her "you should make this" list.
Maria went after the Village salad some time ago, with the addition of apple and a honey vinaigrette. BRILLIANT. And not I-love-my-girl-so-much-anything-she-does-is-brilliant brilliant. This is salad is such a perfect balance of flavors that we want it all of the time. So, it's for absolute real brilliant! Plus, anything she does is brilliant….
The Vegetables. And Fruit!
We are all about seasonal cooking, but not to the extent that we don't go for this kind of salad all year long. The key is finding great produce in the off-season that has enough flavor to make a salad great. That's where the apple makes such an excellent addition, providing some sweetness where the tomatoes and cukes may be lacking. We are huge fans of organic honeycrisps. So much so that the giant box at Costco is not even daunting.
Don't skip the onion.
My brother Richard's simple statement is our mantra: whether you like onion or not, the flavor of a salad is not complete, is not nearly there, without it. When our onion-haters are at the table, I simply slice the onion larger so it's easier to push them aside as they eat. Red onion is a beauty in any salad, but Vidalia is always a winner too. See how to dice an onion like a pro here.

The Vinaigrette. With Honey.
The vinaigrette rule of thumb is 1:3 parts acid to oil. I love a tart vinaigrette so I'm often 1:1. But, vinaigrette flavor is so varied, depending on the flavor of your produce, that the good cook always tastes and adjusts not just the vinaigrette in the making, but once it's on the salad. Add more honey, add more lemon juice, salt, pepper, etc. I rarely need to add more olive oil, as we just want to kiss the produce with oil and not overun it.

The Herbs.
Same category as the onion, though we don't ever have herb-haters at the table. Fresh and dried herbs MAKE the village salad. For classic Lebanese flavor, it's all about spearmint. Maria adds cilantro to the herb shower on her salad and it is divine. I'm certain any mix of herbs will glorify this salad.
If the salad is made ahead, chill it and don't dress it with vinaigrette or herbs until just before serving.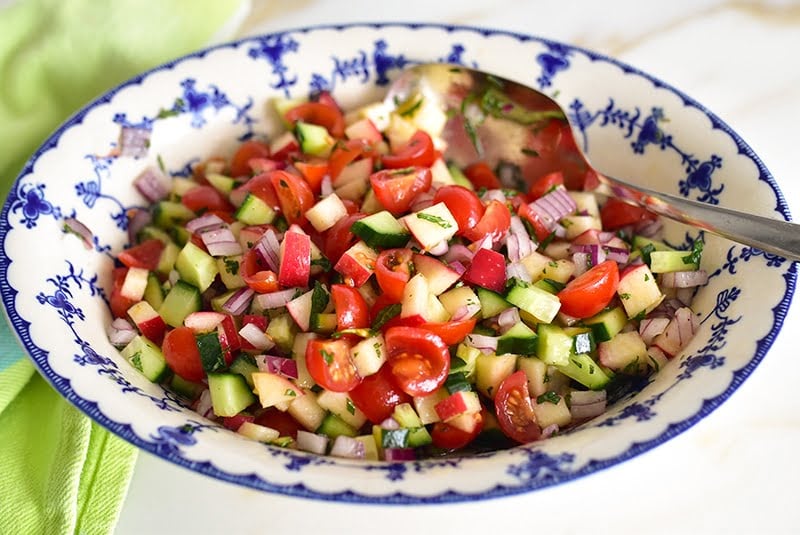 Lebanese Village Salad
Lebanese Village Salad is a chopped vegetable salad. The ingredients and quantity are so flexible! Mine contains a special twist with chopped apple and a honey vinaigrette.
Ingredients
For the salad:
2

Persian cucumbers or 1/2 English cucumber, finely chopped

2

cups

cherry or grape tomatoes, quartered

1

small

red or vidalia onion, finely diced

1

Honeycrisp apple, finely diced

20

Fresh mint leaves, finely chopped
Instructions
Combine the chopped cucumber, tomato, onion, and apple in a serving dish. Top with half of the chopped fresh mint and toss to combine.

To make the vinaigrette, in a small bowl, slowly whisk the olive oil into the lemon juice. Whisk in the honey, garlic, dried mint, and salt and pepper to taste.

Toss the salad with the vinaigrette and finish the salad with the rest of the chopped mint.
Nutrition information is automatically calculated, so should only be used as an approximation.
Like this recipe? Leave a comment below!
(Visited 6,621 times, 1 visits today)