Tabbouleh makes me shake shake my bootie
Feb 28, 2023, Updated Apr 25, 2023
Tabbouleh is a Lebanese chopped herb salad of parsley, mint, tomatoes, onion, and just a touch of bulgur wheat (which can be substituted with cooked quinoa). A perfect salad with grilled meats, and also delicious on its own with a dollop of hummus. Find the full Tabbouleh recipe and tips on the recipe post.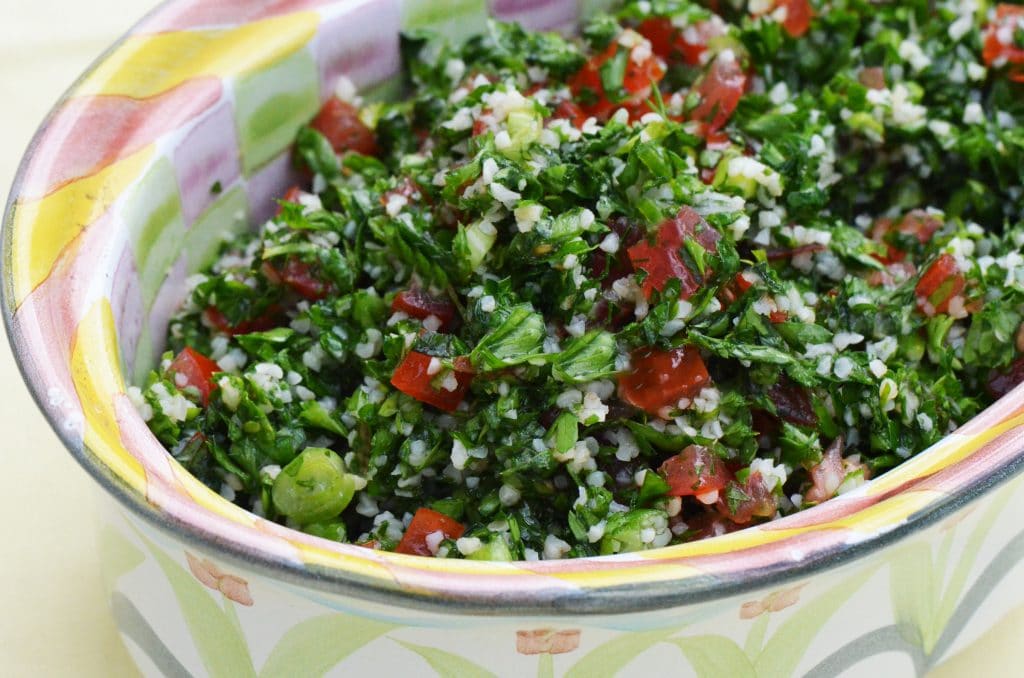 ---
The backyard garden where I grew up on Wagon Wheel Lane presented me with one of my first love-hate relationships. I loved running out to the garden as my mother cooked dinner to bring in an abundance of vegetables. Loved having the garden as a scenic backdrop to my afternoon sunbathing (I started that at a young age….like the rhubarb in spring, I was an early bloomer—and there was no moratorium on sun in that era). Loved taking baskets of whatever we had too much of to the neighbors, especially Jimmy Georgi, the boy next door (though he preferred the chocolate chip cookies to the tomatoes).
But I hated all of the insects that hovered around and in the garden. Hated coming home from anywhere to find my siblings weeding the garden. That always meant someone was in trouble, and when one of the five of us was in trouble, we all were in trouble. Hated how dirty everything was, and how it got under my nails and wouldn't come out (I discovered since then that this is the plight of anyone who works in the kitchen professionally).
---
All of that ambivalence melted away, though, when I pulled my chair up to the table for dinner. My mother knew how to coax the most flavor out of everything from the garden, which meant letting the natural taste shine through. We had salad with our dinner every night, made in Mom's style: dressed directly on the salad without first emulsifying anything, with fresh lemon and oil, salt and pepper, a little garlic powder.
That dressing is like a go-to little black dress. It goes a lot of places, and there's never a question about how it's going to show. It's the same dressing she makes for this wonderful tabbouleh salad, but we don't use the garlic powder here (you could though, and it would be good). Lebanese tabbouleh salad is a lemony parsley salad with diced tomato, thin slices of scallion, mint, and a bit of soaked cracked wheat. We've all seen tabbouleh that is mostly white, a bulgur salad. Near East brand boxed grains makes a tabbouleh "wheat salad" that causes me shake my head every time I see it on the grocery store shelf. That's what I get for veering from the perimeter.
---
---
I was reminded yesterday that tabbouleh makes people so happy that they dance and sing like crazy people about it. As in, "tabbouleh makes me shake-shake my bootie" happy. My 5-year-old nephew John turned into some kind of adult man getting down in a 70s disco club when he watched this with me; I wondered if I should run upstairs and put on that little black dress. If I hadn't been laughing so hard I would have been concerned about the whole scene. So here's a little something extra to give you all the tabbouleh love you want and need, even if you didn't pick the ingredients from the garden yourself.
Get my recipe for authentic Lebanese Tabbouleh Salad here!
---
(Visited 969 times, 1 visits today)